The LeMoyne Star
Opening doors brings in the unexpected in Waterford, Virginia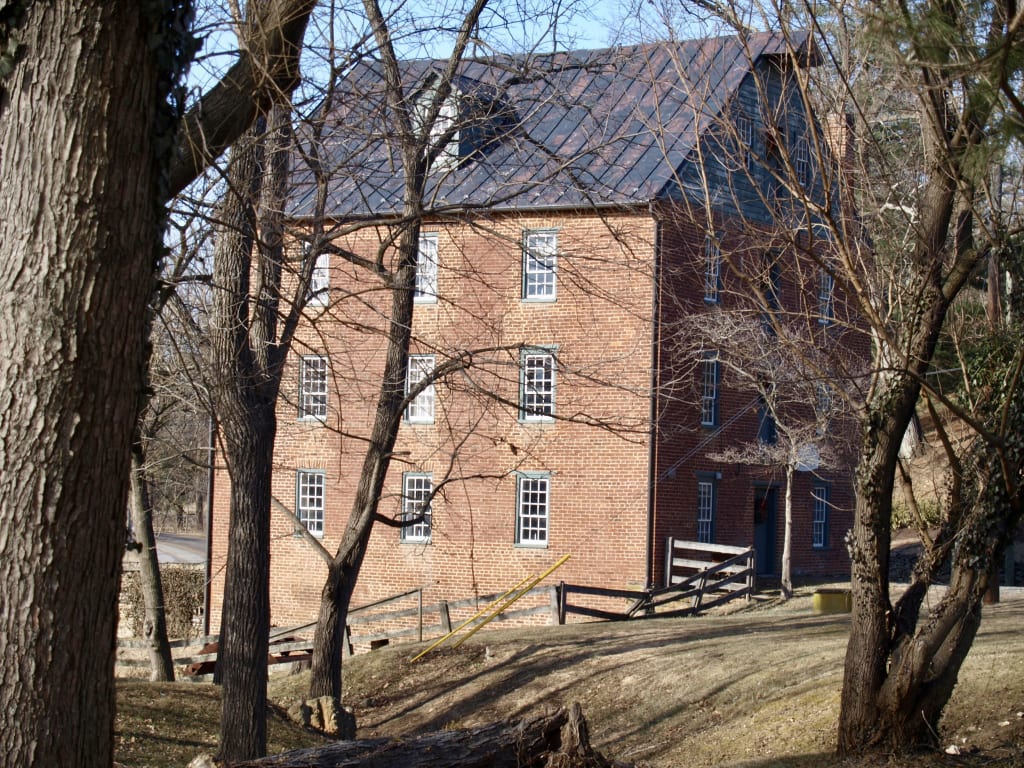 Old Mill, Waterford. Photo by author.
"Hmm, maybe the purple is best right here by the green." Belinda Owens sat on the back porch of her log home in Waterford. The village's handful of streets sprouted vernacular Virginia houses dating back a century and more. Sure, DC – only fifty miles away - was historic but the District never gave her this feeling of timelessness, of crisscrossing with ages past. Belinda found it easy to imagine she was living fifty, one-hundred, or even two-hundred years earlier. She and Dolph, her husband, called Waterford "the magical village." Quiet this time of day. No hustle. No bustle. The front porch of her log house would have been equally peaceful as nothing much was going on. Nothing. Well, maybe Joe Smythe across the street was weeding his perennial bed but Joe didn't make much noise.
Tidy stacks of fabric lay before her, organized by shape and color: diamonds, triangles, squares; purple, green, yellow, and white. Belinda scanned the piles of traditional tiny buds, blowsy roses, and regimented tulips.
"Glad Dolph and I found the shop in Gettysburg. That was a fun day trip. Should have figured out they'd have historical fabric in there. Eh, Patches?"
Patches, half asleep under Belinda's work table, weighed in by beating his tail against the wooden floor. A rescue from the Loudoun County Animal Shelter, bits of terrier and pieces of Labrador erupted in the dog's scruffy black and tan coat. Mismatched ears, one up and one flopped, added to his eccentric appeal. Patches spent most of his day dozing. He limited his excitement to rambles with Dolph, inhaling kibbles, and nosing about the backyard. Otherwise, Patches relaxed. He was not a working dog - never had been, never would be. Just fine with Belinda and her husband, Dolph. They were retired themselves. Like Patches, the Owens spent their days having their druthers.
Belinda's gnarled but, nevertheless exacting, fingers hovered over the piles. Like a bird of prey, her hand swooped down to pluck just the right puzzle piece. Though an onlooker might be suckered into thinking Belinda had all the time in the world, what with her carefulness and serenity, Belinda did not. Welcome to quilt making on a deadline. Belinda's granddaughter would walk down the aisle at St. Luke's in June. And today was May 1, May Day in so many ways.
"Wish Missy and Raj had decided earlier on their wedding date. Not much notice. But who am I fooling? I always cut it short and then have to pull an all-nighter. Don't you agree, Patches?"
Only a single thump came in reply. Patches closed his eyes.
High-charging government careers preceded the Owens move to their 1800s log house on Factory Street. The two old lovers congratulated themselves weekly, if not daily, on the accidental wisdom of their decision to bail out and retire to Waterford.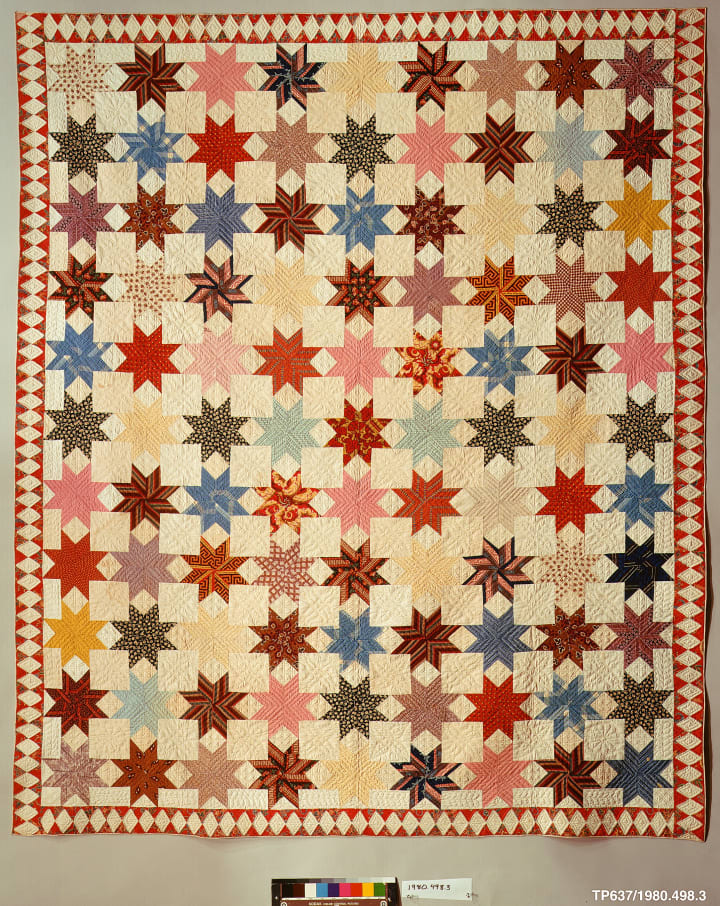 Belinda was handsewing the quilt, going totally old school. Even the pattern was antiquated, a LeMoyne Star motif. Getting the eight points of the squat stars to line up took skill, but she was game. She'd stitched many quilts since she began at age ten back in Ohio. Her first effort, a 4-H club project of simple red and white squares, hung upstairs on the bedroom wall. Memories saturated every quilt she'd created. Each transported her back to the time they were sewn, which was no small part of her pleasure in quilting. She wanted this quilt to become a talisman, a reminder of Raj and Missy's joy at the time of their marriage. Belinda knew love could change and memories, soothe.
Belinda swept a handful of purple diamonds toward her and spread them out. Choosing eight, she began the first of the forty-two squares she'd need.
"Little dog, this quilt is going to take over six hundred pieces. Can you believe it? And that's just for the squares. Not counting the borders and the sashes around each square. Am I a fool? Nah, we'll be fine."
After a sip of her lemonade, she pulled her cotton sweater a little tighter over her scrawny shoulders. A slight chill in the air and no clouds suited her just fine.
Around four Belinda went into the house to start supper. Patches padded after her on the off chance she'd drop something interesting. Dolph's car would crunch the gravel out front any minute. Didn't take the man long to get from Leesburg. Though, when her husband volunteered at the Master Gardeners' Demonstration Garden he might get caught up yakking about chard or eggplants or even dahlias. An Indiana farm boy at heart, Dolph relished nurturing plants. His tanned hands nimbly tamped seedlings into place, yanked weeds, and plucked veggies. Dolph made growing things look easy.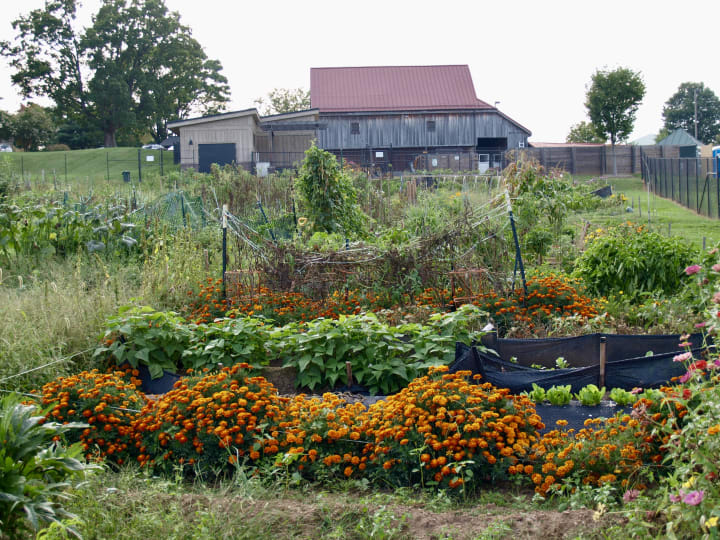 Belinda browned the chuck roast then put it in her enameled casserole. Humming, she sliced onions onto the meat, then clattered the dented lid over the whole shebang.
"That'll do it."
The good wife popped her casserole into oven and returned to the porch.
"Hmm. I thought I only had two squares done. Now there's five. Must have counted wrong. Oh, well. Hope I'm not getting forgetful just when I've got time to enjoy life."
Patches, stretched on the steps, raised his head then went back to sleep.
Belinda threaded a needle with one-hundred-percent cotton thread.
"Patches, you are one cute dog. Few things as lovely as a May afternoon, right old pal?" Patches said nothing.
A little before five, Belinda packed up. She organized the cut pieces into sets, each one with all the parts to make one square. Every set went into an envelope. She could have used plastic bags, but Belinda was trying hard to be kind to the environment. She saved her junk mail envelopes. Envelopes which carried pleas for votes from political hopefuls or begged for money from "iffy"-sounding charities lived on for a little while longer as storage units.
Done with quilting for the day, Belinda set up a welcome for Dolph on the front porch. A bottle of wine, glasses, and a plate of tiny cheese wedges did the trick. Not five minutes later, the Volvo pulled up to the house.
"Hey, honey, what're you up to?"
"Made us a little snack."
"Mmmm. You're so thoughtful. And a Norton wine. Great."
"How was the Garden?"
"Well, done early today. Ted brought his grandsons to help. So I dropped by the Balch Library to snoop around and guess what I found?"
"Uh, no idea."
"Well, the original owners of our home – the Penningtons. Free African Americans. Apparently, Mr. Pennington - Elias was his first name - worked in the chair factory. Isn't that neat? Knowing exactly who the first owner was and even his occupation?" Dolph's pale blue eyes crinkled with his smile. Pulling off his baseball cap showcased his beginning farmer's tan. His scalp line, protected by the hat, gleamed white, but the lower half pinked with a sunburn. Seeing it, Belinda's brows knitted together.
"You forgot your sunblock, Dolph. Well, what about Elias's wife? Find out anything?"
"Only that her name was Daisy. I'm gonna do more research next rainy day. The Balch makes it easy."
"It'd be fun to find a Waterford chair and buy it. Those chairs are beautiful, but hard to find. Did the carpenters sign their work?"
"Don't know. Something else to find out. What's for dinner? Smells wonderful."
Over the next few days, Belinda's pile of completed squares grew. She didn't understand how she was getting so many done.
"I guess I'm a quicker quilter than I thought. Must be the new anti-inflammatory or the turmeric."
On Friday in the hour before lunch, Belinda sat on the back porch with an oversized cup of Sumatran coffee, French-filtered of course. The aroma pleased her as much as the taste of the fresh brew.
"Wedding's coming near. Let's figure out, Patches, where we are with this quilt. Gotta get it done."
Belinda dealt everything out into piles on the dilapidated 1950s card table. She wasn't picky about the table but made sure her butt was in a comfy chair. Dolph had grumbled wrestling the chintz-covered relic from the attic, but the recovered inheritance from a long-dead aunt fit her perfectly.
"Let's see. I need forty-two squares. Oh, my. We've got twenty-eight done and only fourteen to go. Should just maybe make it."
"Hellooooo," came from the front of the house.
"Oh, no. Of all things, Raj and Missy are here. Where's Dolph – he was right here a minute ago," Belinda whispered to Patches. She hurriedly stuffed the squares and envelopes into a reusable grocery bag and threw it in the broom closet by the back door.
Piling into Raj's SUV, the foursome headed off to lunch in Purcellville. The conversation quickly turned to the upcoming marriage.
"How's your wedding planning going," Belinda said, half-hoping for a delay.
"Everything's right on track," said Raj. "Very smooth."
"We wanted a simple ceremony," said Missy. "That makes things easier. Raj's sister has helped a lot with the details. We're focused more on what comes after, our life together, aren't we, Raj?"
"Yes, my love."
The couples' happiness elated Belinda, though she still could have used a few more weeks for finishing the quilt. Oh, well.
Their lunch stretched out over an hour and a half. Conversation covered everything from politics to wedding vows. Back in Waterford, the engaged couple lingered, enjoying their time with family. No quilt squares were completed that day, nor the next as the Owens had already committed to an outing with D.C. colleagues. On Sunday Belinda, antsy and anxious, skipped church to quilt.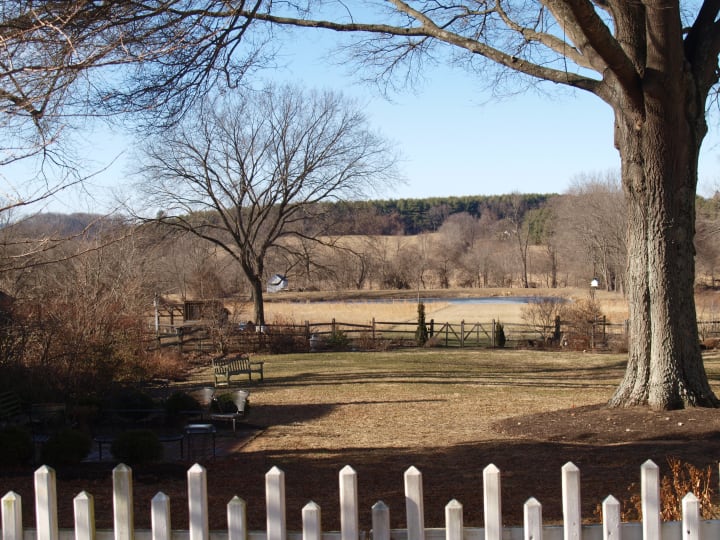 Monday it rained. Oatmeal finished, Dolph drove off to the Balch for further exploration. Belinda carried her cup of Earl Grey into the living room. Landscapes of Loudoun on the white-washed walls recalled sunnier weather. Her mother's old clock measured time from the mantle. An oak log crackling in the fireplace added to the soothing background noise and spiced the air. Belinda nestled under a brass lamp and sewed and sewed and sewed. After lunch, she climbed upstairs to nap, a highly satisfying habit picked up on a duty tour in Spain. When she awoke Dolph was home watching a public television show, the back of his silver head visible as she came downstairs.
Counting her finished squares, Belinda had two more completed than she expected.
"Dolph, did anyone mess with my quilt squares? Did you by chance help me out and sew a few?"
"Are you kidding? I haven't used a needle and thread since I married you thirty-five years ago. Why?"
"Well, this quilting seems to have a life of its own. Or maybe my brain is sputtering. I sure hope not. Whatever it is, I'm glad to be getting this quilt done. We've got the Waterford Home Tour next weekend and then the wedding. So busy."
"Well, sweetie, since you asked, I did find out a bit more about the house. Pretty interesting. I'll write it up and we can make a handout for visitors. There were a number of free African Americans living here before the Civil War and after – tradesmen and such, living among the Quakers and everyone else."
"I didn't know that."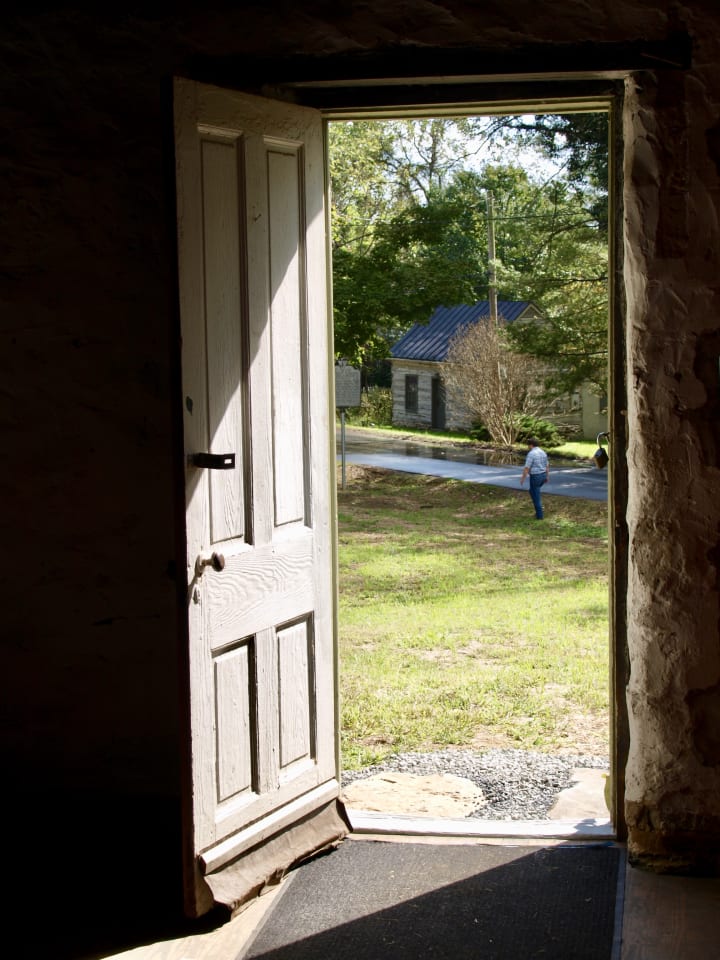 "Yeah. The Penningtons were part of a family with deep roots in the area. Wonder, since Elias worked in the chair factory, if he built any of the cupboards here? Or did he build the house? Guess we'll never know. Speaking of building, have you seen my ballpeen hammer? Did you move it? I'm sure I left it on the back step. Just can't ever find my tools where I left them. Seem to have a life of their own."
"I never touch your tools, mister. Maybe a neighbor borrowed some."
Somehow all the squares with the LeMoyne stars were completed by Tuesday. On Wednesday Belinda arranged them into a pleasing composition and sewed up the quilt top.
Thursday Belinda spent the day with her quilting group, the Quirky Quilters. Expert quilters, the dozen women and two men had agreed to have an old-fashioned quilting bee. Gathered in the biggest room of the old Waterford School, they began the get-together with a catered brunch then got down to business. Bluegrass, folk tunes, and a little Johnny Cash set the right tone. Thimbles and needles flew over the quilt stretched taut on the wooden frame. Windows open, the sweet scent of Japanese honeysuckle came and left the room, traveling with the breeze. They sewed together their quilt "sandwich" of quilt top, batting, and backing. Belinda's heart rose to see the neatness and tininess of their stitches. The Quirky Quilters were giving her a gift she could never buy – their love.
By suppertime, Belinda's LeMoyne Star quilt shone with beauty. Saffron yellow highlighted the purples – deep rich royal purple, lavender, and periwinkle. A white background added crispness. Pale green brought it all together.
Belinda choked out a tearful, "You'll never know how much this means to me," to her friends.
Her fellow Quirky Quilters applauded and shouted "Huzza, Huzza."
As her car tires crunched on the road in front of her Factory Street home, Dolph came out flourishing a bouquet of flowers and a bottle of champagne.
"Since the pattern is French, I thought lilies and champagne were just the ticket, Bel baby."
"You are the most considerate man I've ever met," she answered with a smooch, then buried her nose in the sweet-smelling lilies. Dolph pulled the quilt out of the back of the Volvo.
"Belinda, you've made many great quilts, but I have to say this is one of the best. The colors are just WOW. Of course, your stitchery is always so fine and consistent. You're going to display it at the home tour, aren't you? It really speaks to the crafts and tradition and spirit of Waterford."
"Well, I thought about that. It is a gift, but Raj and Missy won't be at the home tour so their surprise won't be ruined. I'd like to show it off after all the work. Do you think it'd be OK if I folded it at the foot of the bed in in the guest room?"
"Sounds nice, honey. Here, come on in the house. We need to toast."
After dinner, Dolph decided to install a shelf by the front door as a docking station.
"I figure we can stack the handouts here on Saturday for the tour along with some pamphlets about Waterford and Loudoun from the Visitors Center."
A few minutes later, he came to Belinda with a puzzled look on his face.
"Honey, have you seen my little hand drill? The old-fashioned one?"
"No, maybe some poltergeist got it. Your tools seem to walk these days."
"Yeah, you're right. Oh, here it is – right behind the door. Now how did it get there? And we don't have poltergeists. If you'd studied German instead of French, you'd know that. Poltergeist are noisy ghosts. We don't have them, or we'd hear them."
On Saturday dawn announced a perfect late spring day, not too hot and not too cold with shreds of white clouds in a sapphire heaven. Dolph and Belinda grew up in the Midwest. Humidity and heat merged on the plains to churn out colorless skies laid over a suffocating blanket of heat. Nothing like the skies over Loudoun.
Dolph drove Patches to the doggy hotel at seven so he wouldn't miss any of his naptime. Like most retirees, the Owens had plenty of time to prepare. No dust balls lurked in the house. Dolph's handouts about the log cabin sat folded and lined up with military neatness on his docking station. A vase of yellow tulips glowed from the front porch, centered on a Provencal tablecloth camouflaging the disreputable card table. Belinda even wore a dress, an attention-grabbing red polka dot number. She refused to don one of the historic outfits other houseproud women wore. She'd told Dolph their home wasn't big enough for a hoop skirt.
"Hey," said Dolph. "Let's have our coffee and croissants right here."
Hundreds of visitors succumbed to the weather and flowed through the village in a river of foot traffic. Couples out from D.C., Loudoun families, singletons, history buffs, and seekers of new ideas for old houses wandered the village streets. Food trucks enticed them with startlingly pink fluff on a stick and the aroma of roasting peanuts. Behind the town market, Ben Smithers had literally gone "whole hog." After a night spent roasting his pig, Ben offered its shredded and charred meat on buns with all the fixings. Children google-eyed, with a mix of enchantment and horror, the dead pig's cooked head laying on a wagon. Gingerbread, ham biscuits, iced tea, and lemonade added historic flair to the day. Musicians picked dulcimers, strummed guitars, or just plain sang as calorie-free entertainment.
"This is so much fun," said Belinda to their neighbor Marsha. Marsha studied architecture at Virginia Tech and had volunteered to shepherd people through the Owens' home. Dolph's well-illustrated handouts quickly made their way into pockets and handbags. Digging into the archives of the Balch Library, he'd unearthed photographs of the Penningtons along with period shots of the home and Factory Street.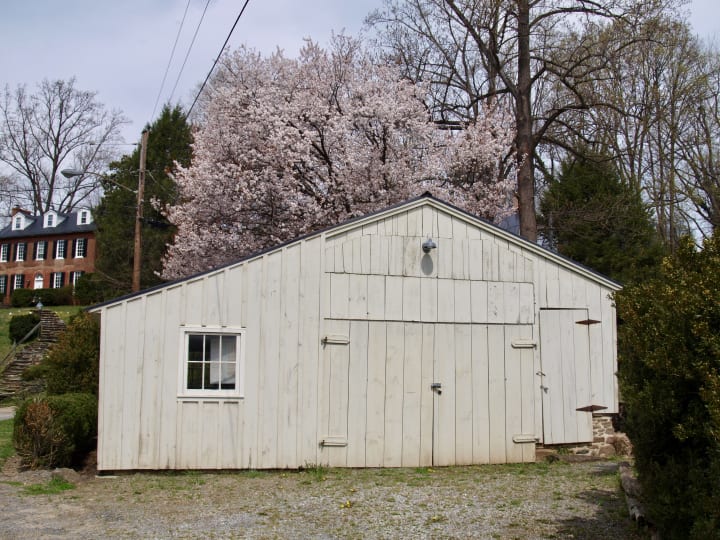 Over the noon hour, the stream of visitors to the Owens' place narrowed to a trickle, diverted to the bales of straw set out in the village as impromptu benches. Leaning over paper plates heaped with everything from falafel to salad, mouths kept busy either talking or eating. Dolph, Marsha, and Belinda took advantage of the break with chicken salad sandwiches on the front porch.
Just as Dolph wiped the last bit of mayo from his mouth and Belinda picked up her empty paper plate, three women appeared at the wrought iron gate. Two of them, in their fifties, could have been twins except for the six-inch difference in their height. The third, a willowy young woman, shared the family resemblance.
"Come on in," said Belinda. "See the house."
The taller of the "twins," in khaki pants and a coral pullover sweater, smiled. A chignon at her nape kept her brown hair in order. Everything about her looked put together.
"You sure we're not interrupting your lunch?"
"Oh, no. We're done." Dolph rose to welcome them.
The three stepped up onto the porch.
"Hi, I'm Janelle," offered the woman in the coral sweater. "This is my daughter Ronnie and my sister Daisy. We're so excited to be able to tour your home. Our great-great-grandparents built it and Ronnie's never seen it."
"Oh, my. Are you kidding? You're Penningtons?" said Dolph.
"Well, no. My last name and Ronnie's is Johnson. My sister Daisy married a Bellville. But we are direct descendants of Daisy and Elias Pennington. That's where Daisy got her first name. We have a brother Elias, too."
Daisy Bellville flashed a wide smile. Belinda thought she could see a bit of Elias Pennington in Daisy's amber eyes.
"Well, we've only lived here a couple of years. Just beginning to get to know the house's history. Love the house," said Dolph.
Janelle went on to share a bit of Pennington history. The family had moved away around 1900, settling in Philadelphia. Janelle came to Waterford once as a child. Back then, she accompanied her grandmother to a homecoming service at the John Wesley Church up the street. Always meant to come back but then started her family.
"And you know how that goes."
"I sure do. Please, make yourselves at home. And we'd welcome anything you can tell us," said Belinda.
Right about then a couple came through the gate. Belinda took Janelle, Ronnie, and Daisy to see the house.
"Excuse while me while I help these new people. Be sure to catch me before you go so I can hear what you think," said Dolph.
Over the next half hour, the three women from Philadelphia wandered with Belinda through the first floor and the backyard.
"Do you think Daisy planted this boxwood, Mom? I read boxwood lives for decades. And what about this cherry tree?" Ronnie had planted her first marigolds at eight. She was studying at Temple to a landscape architect.
"I actually do remember a couple of cherry trees from when I came here with Granny. I tried to climb one and fell. Got in trouble. Don't remember much about any bushes," offered Janelle.
"I don't remember anything except that fireplace and the kitchen," said Daisy. "I'm not as old as your mother."
"Thanks for that reminder, Sis."
The women made their way back into the house and trailed upstairs. Belinda showed them the tiny closets as well as a clawfoot tub. A prior owner found it in Lucketts and installed it to add vintage charm.
"My, I'd love to have a tub like that," said Daisy. "I'd soak in a pile of suds and read a mystery. Relax away any aches and pains."
Hearing Dolph calling her name, Belinda excused herself and left the visitors to explore the bedrooms with Marsha.
The trio ambled downstairs a little while later, appearing buoyed by remembering old times and family long gone. They approached the Owens.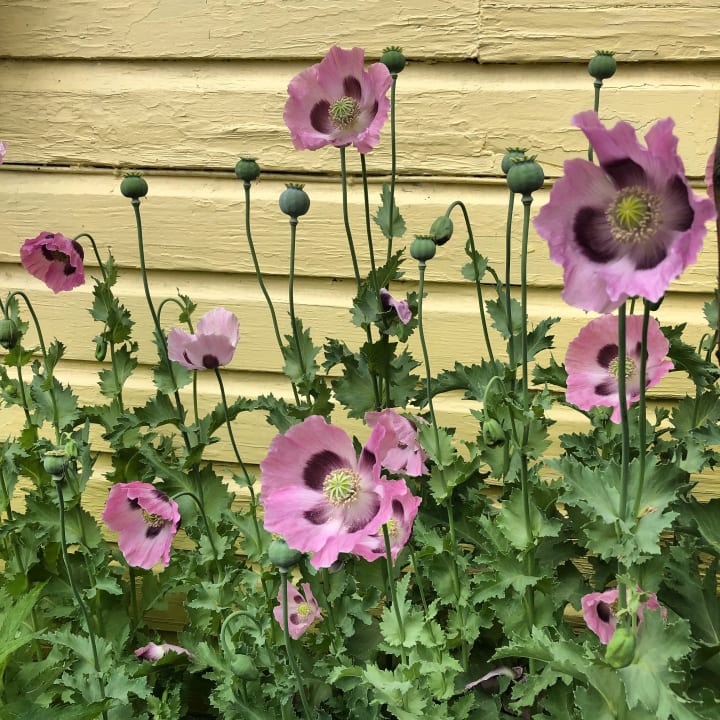 "That was wonderful," said Daisy. "We're so happy you opened your home for this tour, and we could see it. We don't get down this way often."
"Yes," said Janelle. "I see where one of great-great-grandmother's quilts has stayed with the house. She surely loved her star quilts. Do you have any of Elias's chairs, too? We each have a quilt – though not as well-preserved as yours and our brother has one of granddad's chairs."
Flustered, Belinda skipped a beat before responding.
"We don't have any of Daisy's quilts. Did you find one in a hidey hole in the attic or someplace?"
"No, the quilt is right out on the bed. I know it's hers. It has the daisy embroidered on it. She always used to mark her quilting with one, an embroidered daisy. And anyways, the stitching – so even and fine – is just like my quilt back in Philly."
Astonished, Belinda went upstairs with the women to see which quilt they were talking about. The Philadelphians beelined to the LeMoyne Star. Janelle lifted the quilt's corner. There, on the underside, was Daisy Pennington's hand-embroidered insignia, a two-inch daisy. The stem was in a green chain stitch, the leaves in satin stitch. White lazy-daisy stitches created petals and, in the center, clustered painstakingly made yellow French knots.
"Yep, same as mine. Here, I'll show you mine on my phone. "
And there it was – the signature of Daisy Pennington on a quilt in Philadelphia. On a LeMoyne Star quilt.
Belinda and Dolph's eyes met, rounded with surprise, their eyebrows lifted. After a few beats of silence, Belinda managed to say, "Yes. We are honored to have one of Daisy's quilts."
About the Creator
Diane Helentjaris uncovers the overlooked. Her latest book Diaspora is a poetry chapbook of the aftermath of immigration. www.dianehelentjaris.com
Reader insights
Be the first to share your insights about this piece.
Add your insights