The Debt of the Summoner
Always Read the Fine Print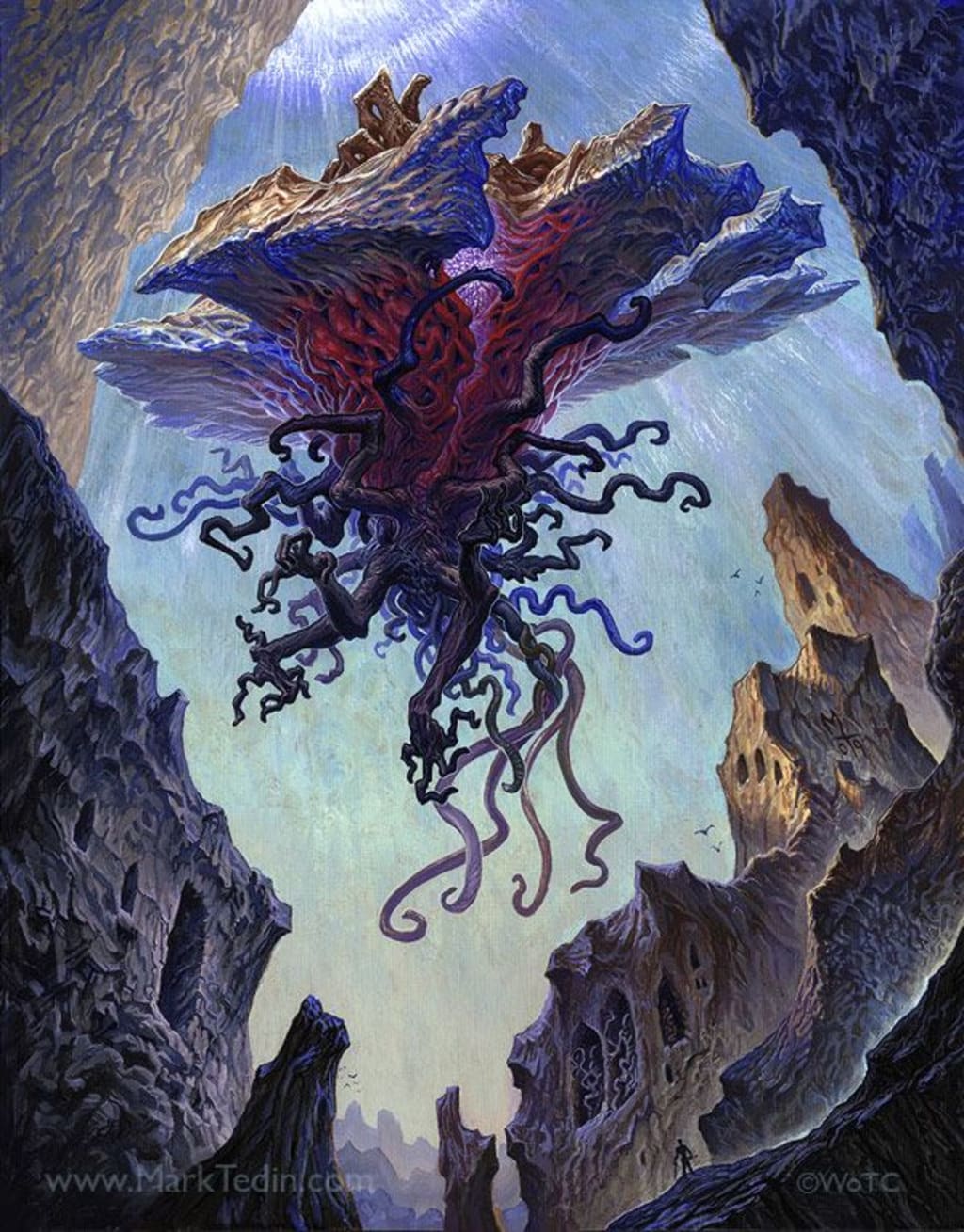 Most people remember Doctor Gordon Chen as a Chinese expatriate, a well respected expert on geo-politics, an author, but mostly as a bitter critic of the communist regime in Beijing. However, I remember him as my mentor, my friend, and a master occultist. Almost no one remembers his mysterious disappearance, but as it took place the day the whole world changed that is to be expected...
Many people, I know, would find our friendship odd to say the least. He, a man in his sixties, the sole surviving member of a family persecuted in China by the communists for their beliefs, and a brilliant scholar. And myself, the son of the bluest of blue collar Marylanders, a troubled veteran, with barely a high school education. But friends we were, through one common thread: The occult.
I had encountered supernatural phenomenon in my time as a soldier in the middle-east, but that is a tale for another evening. Dr. Chen? I never really knew what sparked his interest, but I suspect it was through the religious practices of his late family. However, a few years into our friendship Dr. Chen acquired a book. I never knew if this tome had an official name, and if it did? Well, I doubt I could pronounce it. Dr. Chen told me that most of it was written in a dialect that was old when Aramaic was new.
Dr. Chen told me it referenced a realm called the Spaces Between the Spaces, and he seemed excited about one "chapter" in particular. A chapter that detailed a formless being known only as the Teacher Beyond the Veils. An entity, if summoned could grant knowledge, or...fulfill desires. And I now know that it was this last part that ensnared Doctor Chen.
Doctor Chen never spoke of his family, or their demise at the hands of the communists, or even how he had escaped China. But I knew this time, and these losses, had effected him greatly. He was determined to summon this Teacher and use it to bring down the CCP. And I remember our last conversation on this topic, like it was only yesterday:
"Paul, you know that the supernatural is real. You yourself have experienced it." Dr. Chen asserted.
"Doctor. I believe the supernatural is something that isn't supposed to happen, but it does anyway. I don't know if its a good idea to 'invite' it to happen."
"That is not a very scientific attitude. How will we ever advance, if we do not explore, or try?" He argued.
"Science? You are talking about conjuring an entity from another dimension sir! To grant you wishes like a genie!" I shot back.
In response Dr. Chen pulled his phone from his pocket. "See this? We all have them. Go back to your ancestors a thousand years ago. A box that glows and lets you talk to distant people and view information? You would have been burnt as a witch! Today's science is yesterday's witchcraft!" He was more passionate than I had ever seen him. And I knew he would eventually convince me. So to save time, I gave in.
"I will help you Doctor. You know in the end I will. What do you need from me?" I said meekly.
After a few moments, Dr. Chen replied: "two things Paul. Your aid, and the use of your families vacant farmland on the shore. There we will attempt our ritual."
"And I suppose this has to be done under the light of full moon, or some such?" I said half-sarcastically.
"Quite the contrary. Under the light of a blazing sun. Shall we try at high noon on Monday?"
All right, I'm in. Just promise me that you will not be too disappointed if this fails to work." I replied.
"Oh Paul, I have every confidence this will work." He said smugly.
Oh how I now wish I had stood firm...
----------------------------------------------------------------------------------------
Dr. Chen was right. It had worked. Arcane symbols drawn in the dirt, some esoteric chants on his part, and it appeared...the Teacher Beyond the Veils...
The ancient text had described it as formless. However, that was not the case, as the creature had a form, but it was one that was so complex and so convoluted that my mind could not take it all in. A gargantuan mass of mixed metal and flesh, and something else, something that my ape brain could not accept, let alone explain. A type of matter of a sort I could not name. Oh, it wasn't that I didn't know the words, it was if the words had not been invented yet. It was that the language, the very concepts of what I was witnessing were alien to my terrestrial mind.
Oh yes, formless was the wrong word, but indescribable was not. This horror, it was indescribable...
It then regarded us with multiple orbs, I guess these spheres served the monstrosity as eyes, but I hesitate to use such a sane word to describe these objects, because they seemed to move on their own throughout the whole, as if they were living, independent beings, separate from the monstrous body.
And then my mind nearly cracked as it spoke to us...
WHO HAS SUMMONED ME TO THIS HATEFUL SYMMETRICAL HELL? Its voice was booming, as I expected it to be, what I failed to expect was that the voice would be beautiful and graceful. When I heard the voice it filled my mind with images of a beautiful scarlet haired woman, walking through a field with a child in her arms. These images made this being even more unholy in my thoughts. And I held my face in my hands and shook my head to clear it, as I whimpered "No...no, she is not real" out loud.
I turned to Dr. Chen, I nearly shouted at him: "Surely you don't mean to deal with this, this thing? This is an abomination!"
Dr. Chen looked at me, his face was pale, and I could see the conflict within him. "Yes, I do. You were not there. You didn't experience it! The horror! The lives lost! The lives that continue to be lost even now because no one will act out of fear or greed! I will deal with this thing, or even the Devil himself if I had to! To stop the things that I've seen, the evil that is still happening right now."
"Deal with the devil you say?! What do you think this is? If anything, it's far worse than any mere fallen angel! It's far more monstrous than anything I could've ever dreamed. I beg you sir do not do this!" I retorted.
"I must. Tell me, what would you do if you could stop Hitler and the Nazis? The CCP are this centuries' Nazi party! That is the scale of the choice I face!" It seemed to me that he was trying to convince himself more than me that this was the course of action he must take.
It was then that the creature spoke again, but this time I saw no images of feminine beauty: YOU HAVE SUMMONED ME. MAKE YOUR DEMAND. I WISH TO LEAVE THIS PLACE OF LIMITED POSSIBILITES AS SOON POSSIBLE.
Dr. Chen turned from me and faced the monstrosity. "I wish for you to go back to the nation of my birth, China, and destroy those in power and all those who willingly serve them. If possible, limit the collateral damage. But do what is needed." He said grimly.
IT WILL BE DONE. BUT FIRST, YOU MUST PAY THE DEBT OF THE SUMMONER. ARE YOU PREPARED?
I turned to Dr. Chen and saw him nod once before answering. "Yes. He is the payment of my debt." And he pointed at me.
"What!?! What the hell are you talking about?" I exclaimed as I noticed Dr. Chen held a pistol in his right hand. And it was pointed at me.
"I am sorry Paul. But one life, even yours my boy, is a small price to pay to stop them. I sacrifice you for justice, for the slaughtered tens of millions, plus those this will save. I am sorry, I have no choice."
The sense of betrayal I felt, the man who was my mentor, almost like a father to me. Turning me over to this alien horror. I was beyond words.
BUT HE IS NOT MY SUMMONER, YOU ARE.
Dr. Chen turned to the abomination, a look of panic on his face. "But the ritual? The ritual said the cost is a life. A life of value to the summoner. He is like a son to me. So I offer him." He explained still aiming the pistol at me.
THE COST IS INDEED A LIFE. THE SUMMONER'S LIFE. YOU PERFORMED THE SUMMONING. THE TASK WAS SPECIFIED. BUT KNOW THIS, YOUR ENEMIES WILL MEET THEIR FATE. BUT THE DEBT OF THE SUMMONER MUST BE PAID.
"No! I rescind the ritual! I cancel my demand!" Dr. Chen screamed to the abomination in rising panic.
THE SUMMONING WAS PERFORMED. YOU CALLED, I ANSWERED. THERE CAN BE NO UNDOING OF YOUR DEMAND. And with this a pseudopod, a mixture of flesh, metal, and the unnamable matter, shot out from the mass and enveloped Dr. Chen, the last sound I heard him utter was his echoing scream as he quickly disappeared from my sight.
I fell to my knees and looked up at the monstrosity, "please, please do not do this, think of the innocent that will die with the guilty, he's gone now you don't have to do this!" I begged.
In my mind's eye, the beautiful woman approached me, THE LAWS MUST BE FOLLOWED. I MUST DO THIS AS THE DEBT HAS BEEN PAID. BUT DO NOT WEEP FOR YOUR FRIEND, FOR HE IS NOT DEAD, HE IS BUT A PART OF MY WHOLE. HE WILL EXPERIENCE WHAT ALMOST NONE OF YOUR KIND EVER DO. FIRST HE WILL FALL TO THE FREEDOM YOU KNOW AS MADNESS, BUT SOON HE WILL TRANSCEND HIS THREE-DIMENSIONAL PRISON OF FLESH AND WILL DWELL IN REALMS YOU COULD NOT IMAGINE, IN TIME HE WILL ACHIEVE IMMORTALITY. THINK UPON THIS LITTLE MORTAL, FOR ONE DAY YOU TOO MAY WISH TO SUMMON ME, BUT YOU MUST BE PREPARED TO PAY THE DEBT OF THE SUMMONER.
The woman touched my face tenderly with her right hand, and then faded from my mind, and with that the entire mass of the creature rose into the air, and I continued to stare at it until, finally overwhelmed, I fell to the ground senseless.
I awoke to the world changed forever, because the abomination was true to its word and the government in Beijing was no more, and uncounted millions had died with it. The world would never be the same. Many more were driven mad from the sight of the creature. And try as they might, the United Nations, and others could not suppress the truth. Cellphones, and YouTube saw to that.
Everyone had a theory, it was a secret biological weapon escaped from a lab, an alien invasion, or the hand of God. These were the most popular theories, but there were certainly others. People had taken to calling it the "Grand Revelation", or just "Revelation Day". For everyone, no matter their beliefs, realized one thing. The universe was reveiled to be a scarier place.
I kept what I knew secret out of fear. Not merely fear for my own life, because there was certainly that, but more for fear of the knowledge I contained. Because even though everything has changed, there's one thing that never changes, it's mankind. And I am afraid that if others knew that I knew how to summon this thing, they would force it from me regardless of the consequences. Because there is always someone, some desperate fool willing to risk the debt of the summoner.