The Beautiful Place
Within our minds and souls exists an incredible beauty.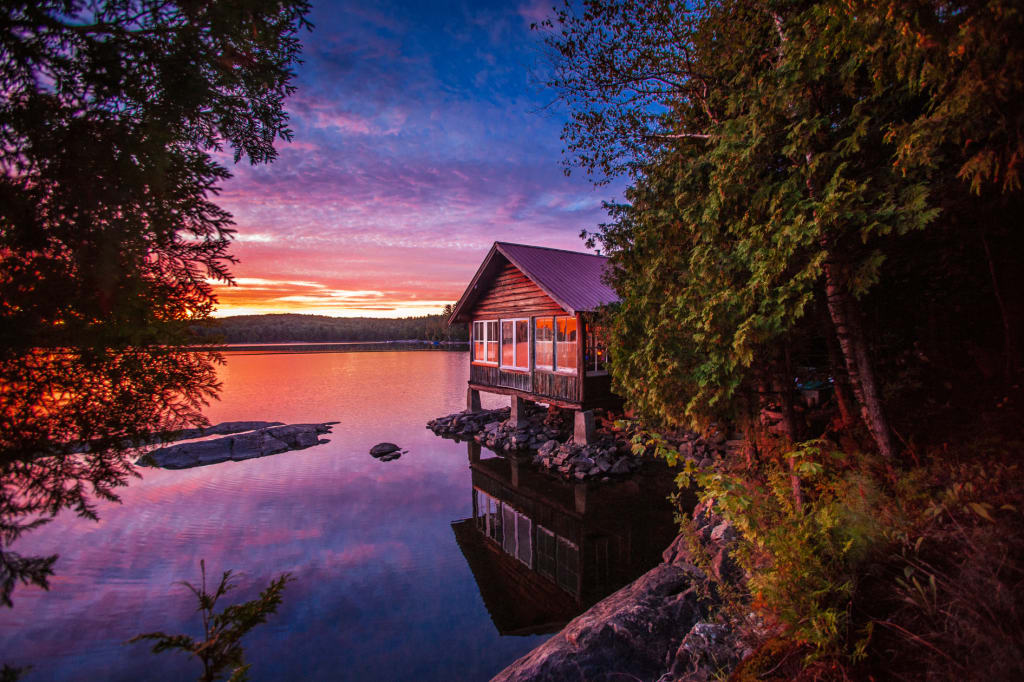 Image Source: Canva.com
The cabin in the woods had been abandoned for years, but a candle burned in the window one night.
It's odd, though. I don't know who lit the candle. I don't recall how I came to the cabin. I don't know how I knew that it had been abandoned. Who had built it? How long has it been here? But, most important of all, why am I here?
The cabin was quite comfortable, clean, and cozy. The bed had fresh linens and a clean tablecloth on the small kitchen table. No electricity or running water, but that didn't bother me. There was a hand pump for water in the sink and a small outhouse behind the cabin.
Outside, the full moon hung lazily in the sky above the tall pine trees, and a wispy fog drifted through the forest. The cabin sat near the shore of the lake. I could make out mountains in the distance beyond the far shore.
I felt pretty tired, though I don't recall from what. The hike into this place, perhaps? I wish I could remember. I drew some water from the hand pump into a bowl and used the toothbrush I conveniently found in one of the cupboards to brush my teeth. Then I slipped out of my clothes and climbed into the bed. The sheets were smooth against my skin, and the mattress caressed my body in comfort. Within minutes I was asleep.
I woke the next morning to birds singing just outside the cabin window. Sunlight spilled into the cabin, and a light mist hung over the lake.
With no running water, I decided to swim in the lake. I had found a bar of soap and some shampoo I had found. There were no other cabins anywhere that I could see. I was utterly alone. I dipped a toe into the water; it was delightful, not too cold or too warm. I slipped out of my clothes and into the water.
After my morning swim, I felt refreshed and hungry. There wasn't much in the cabin in the way of food. A few canned goods, some spices, but nothing really to eat. I had noticed an apple tree outside near the lake, so I walked over to pick some. Then I saw several other fruit trees. Peaches, pears, blueberries, grapes, and raspberries. An abundance of food. I explored a bit further and found a large garden. It looked neglected but was filled with fresh vegetables. Nearly everything you could imagine. Potatoes, squash, tomatoes, sweet corn. I won't starve here.
I spent the next few weeks just lazily living in the cabin. I was comfortable and happy here. The weather was pleasant, with warm sunny days and occasional showers or thunderstorms. Yet something was missing. Companionship maybe? Though I was comfortable being alone. But I decided to explore further around the camp.
On one of my walks, I came across something. It wasn't far from the cabin, maybe a 10-minute walk. There was a bunker of sorts built into the side of a hill. A door blocked the entrance. I tried pulling on the handle, but it was locked. There was a keyhole, but I had no key to open it.
Several days went by. Then one night, I heard something in the distance. It was sound coming from the direction of the bunker. So I made a torch from a branch of wood and some pine sap. Then headed down the path to investigate.
When I arrived at the bunker, I could hear muffled noises coming from behind the door. And a white light lit up the rim of the doorway. Something was behind the door. Eventually, it subsided, and I returned to the cabin.
This continued each night. And each night, the sounds from within the bunker became louder and a bit clearer. The voices were muffled, but I could hear someone calling my name.
Then one morning, while swimming in the lake, I noticed something shiny on the bottom. I dove down and picked it up. It was a key!
I quickly dried off and put on my clothes, then headed down the path to the bunker. The sounds from behind the door were nearly constant now. I could hear people talking; sometimes, I could listen to names. But, still somewhat muffled, and I couldn't quite make them out.
I inserted the key into the lock. It slid in perfectly. I gently turned the key, and the lock began to open. But I stopped short of unlocking the door. I was afraid.
What was on the other side? There were people and loud noises. Something told me I should open the door and go down to see who and what lies within the bunker. But I also somehow knew that I could ignore it. Something else was compelling me to throw the key back into the lake. Throw it out deep, beyond where I could ever find it again. I was torn. What should I do?
Over the next few days, I noticed that the sounds and light from the doorway were beginning to fade. No longer was the glowing light bright on the other side. The voices and sounds became more distant. I knew I had to make a decision. Either open the bunker or throw away the key and stay here forever.
The following day I woke and went for my morning swim. Then I cleaned up the cabin, putting everything back where it belonged. I wanted the place to be warm and inviting for the next traveler who would come here. Somehow I knew this would be a one-way trip once I opened the doorway. I wouldn't be coming back.
When I arrived at the bunker, I slid the key into the lock and turned it until it clicked open. The door lifted upward with a creak and swung open. A set of stairs led down into the darkness. There was no sound or any other sign of life below.
I stepped into the doorway and started descending into the darkness.
My eyes slowly opened. My vision was blurry. I could feel someone holding my hand, and I turned my head to see who it was.
"Oh my God, Christine!"
"Richard?" My voice sounded hoarse and weak. Then, my vision slowly cleared, and I could see myself in a hospital bed. My husband Richard was holding my hand in a chair beside the bed. A doctor entered the room and took my other hand as he examined me, then shone a flashlight into my eyes, blinding me.
"Christine, do you know where you are?" The doctor asked.
"In a hospital?" I answered.
"Christine, you were in a bad car accident. You've been in a coma for three months."
"I thought I had lost you," Richard said, his voice trembling and tears welling in his eyes.
"Christine, we didn't expect you to emerge from the coma. Your brainwaves have been flat; we thought you were gone. But the brain is an amazing thing. You were healing."
The doctor finished examining me. Then he looked into my eyes and asked, "What's the last thing you remember?"
"I was in the most beautiful place. It was an abandoned cabin in a forest on the edge of a lake. I was so happy there; I didn't want to leave. But something was calling me …."
"Thank God, Christine. Thank God you came back," said Richard as he held my hand.
"Well, that's not a ghost or horror story. But it's what happened to me one time. I want to think I was in heaven. Or somewhere on the edge of heaven."
"Councilor Chris, are you afraid to die?" asked Tommy.
Christine looked at 12-year-old Tommy sitting on the other side of the campfire and answered, "No, Tommy, I'm not afraid to die. You don't need to fear death. There is a beautiful place waiting for us. A place like this camp, with a lake, trees, flowers, and birds."
"But weren't you lonely?" Asked Tommy.
"Not really. There were no other people, but I've never felt so happy in all my life. I'm glad I came back because I wouldn't be here with you if I hadn't. But I look forward to the day when I can return to the cabin and swim in the beautiful waters of the lake once more."
* * *
Copyright © 2022 by RN Manchester. All Rights Reserved.
Fantasy
About the author
I write mostly short stories and some poetry. Pretty much any genre, though I lean toward science fiction, fantasy and horror. I try to publish at least once a week.
Reader insights
Outstanding
Excellent work. Looking forward to reading more!
Top insights
Heartfelt and relatable

The story invoked strong personal emotions

Easy to read and follow

Well-structured & engaging content

Excellent storytelling

Original narrative & well developed characters
Compelling and original writing

Creative use of language & vocab

Eye opening

Niche topic & fresh perspectives

On-point and relevant

Writing reflected the title & theme

Expert insights and opinions

Arguments were carefully researched and presented
Add your insights