Talea The Volleyball Star
Having ago as a team will success your life, with one bounce of ball.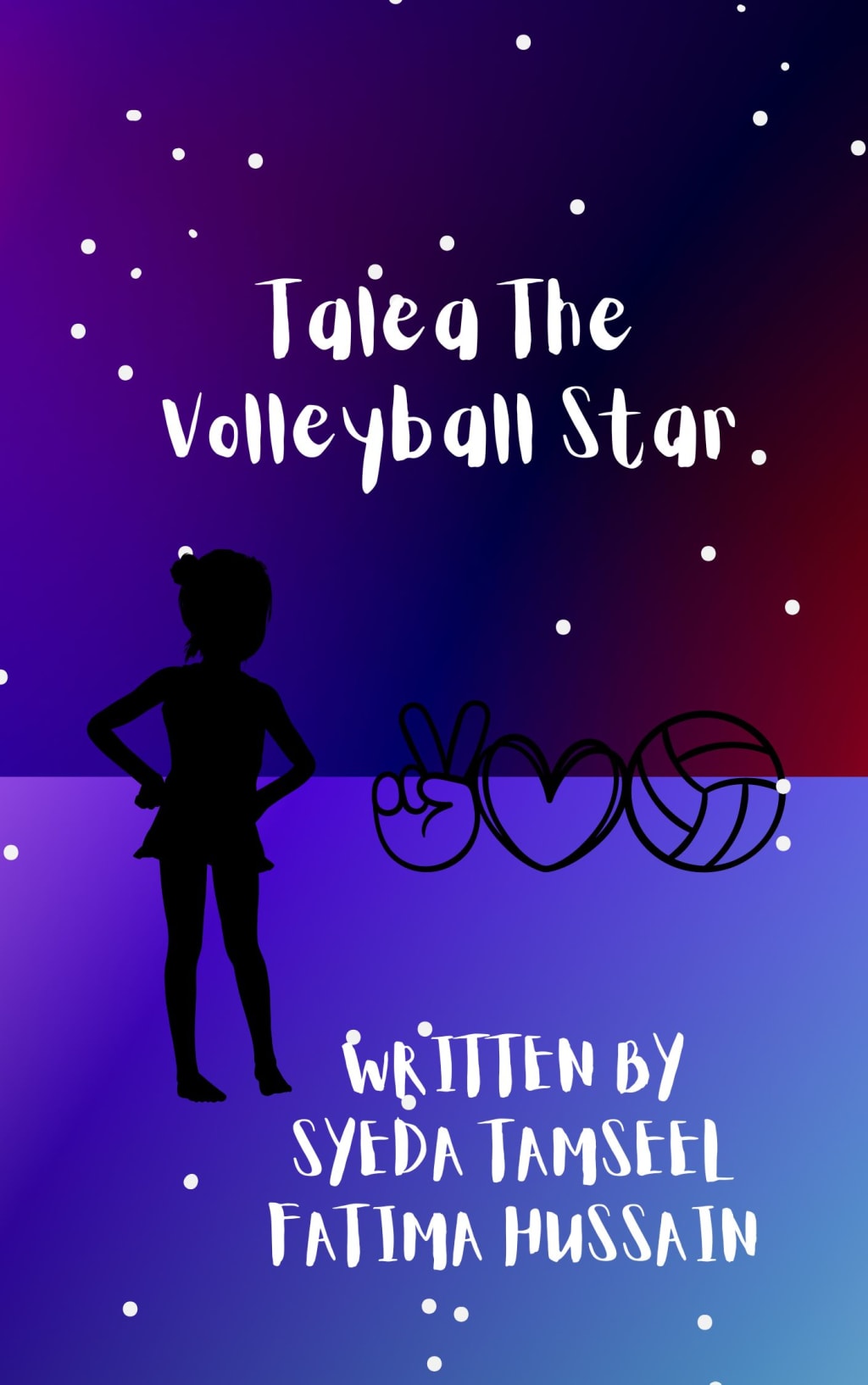 Life will force you to have everyone, so you can succeed.
It was lunchtime, Talea was eating lunch and talking to her best friend Timothy. They always ate first and then went to play on monkey bars. Today at this break it was raining, the monkey bars were wet. Talea could not go and play on monkey bars, so one of her classmates came. It was Zach and Lachlan and his volleyball team; he came over to us. They asked Timothy if he wanted to play volleyball in the shed, and Timothy said yes. Timothy asked me if I wanted to play Volleyball, and I said yes, but then Lachlan said, 'girls can't play volleyball.' Then Zach agreed, and he said 'You do not even know the rules to play this game.
Timothy asked me again if I wanted to play; I said no because your new friends do not want me to play. Then Timothy went away, Talea was left alone outside the classroom, everyone asked 'where's your best friend.' Talea did not reply to her classmates, she said 'he has some other work to do,' then Talea went to toilet and sat there. Talea was feeling sad and cried.
When one of her classmates came, it was Emily and she said, 'Talea would you like to play volleyball?' Talea was sad, and she said yes. Talea then stood up and remembered what Zach and Lachlan told her, she sat down again and cried. Emily asked Talea 'why are you crying?' Talea told what happened. Emily told 'Talea you can play with us.' Talea was still sad, and she did not know how to play volleyball, Talea told Emily, Emily said 'you can learn how to play volleyball.' Talea went and learned how to throw and catch.
Talea went and learned, and she told Emily that she miss her friend Timothy. When the break was over, Talea and Emily sat together, and later Talea was happy to forget what happened. Emily and Talea were in PE class, learning same thing how to play Volleyball. Later when Talea and Emily were in a group catching and throwing volleyball with its skills, she was happy; Timothy was alone. Timothy's new friends Lachlan and Zach told 'you can play with your old friend Talea.' Timothy was sad and sat out alone. When Talea saw Timothy alone, she stopped playing and told Emily. Emily and Talea went over to Timothy and told him 'You can join and play'. Timothy went and played volleyball, and Talea was good at it. When PE class was over, at 3 when Timothy and Talea were going home; they were sad. Talea's mum came to pick her up, and she noticed Talea and Timothy were sad. Talea and Timothy made a plan.
When next day at 1st break, Talea dressed up and a boy. She went and play, everyone was shocked how the other team won. When Zach and Lachlan found they lost this game, he went over to the player, which was Talea, they did not know. Timothy was laughing and was happy that Talea won. Zach asked Timothy why he was happy, Timothy told it was Talea who basically helped her new team win.
Zach and Lachlan were sorry about what they said to Talea, and they asked if Talea could play with them next time.
Main Characters:
Talea
Timothy
Zach
Lachlan
Emily
Moral
You need to include everyone so you can be successful!
Written by
Syeda Tamseel
Fatima Hussain
Hey Everyone,
this is my own work, so please do not copy my work. If you copy my work i will report to Vocal. Media office directly.
About the Creator
Hey Random Person,
My name is Tamseel, and I am poetry writer, story writer. I write about what I see, think, and feel.
Reader insights
Be the first to share your insights about this piece.
Add your insights