Sunflowers
An Australian Flash Horror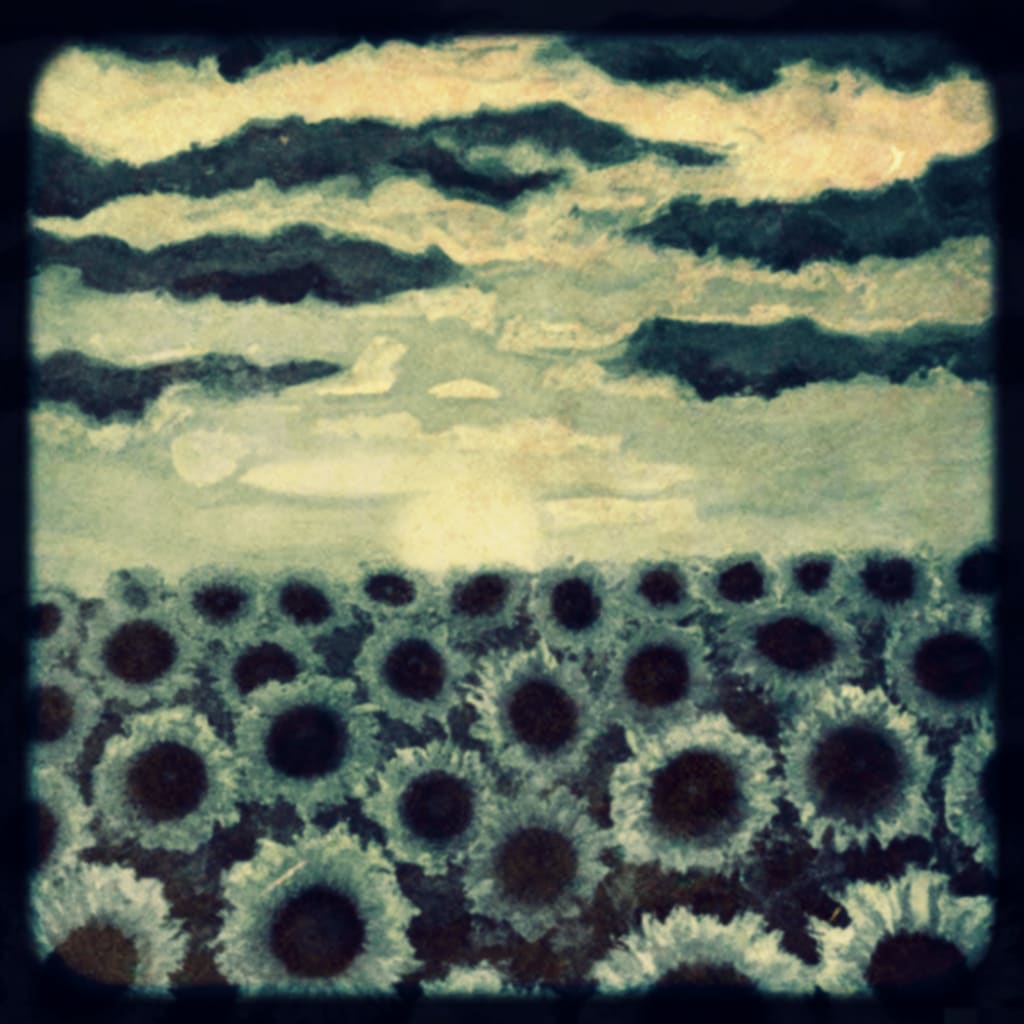 AI-generated image created with Dall.E
Eighty-eight days of sunflowers. That's what this was supposed to be.
Eighty-eight days of endless fields, and gold dust petals, and clear skies overhead—a frosty beverage at the end of a hard day's yakka. That's what I pictured when Gary suggested this gig and, as I look across the sea of headless flowers before me now, scorched and brown and so far from the white sand beaches of the Gold Coast, I can't help but feel duped.
We'd been dreading this part of our working holiday—the one every backpacker knows is lurking beyond the lazy days of freedom, the carrot dangled by the visa fun-police if we want it all to continue. Compulsory farm-work. Regional work. Far from the jumping bars and the busy shopping strips, and the places we'd come to call home. I think we were good at pretending for a while, fooling ourselves that we wouldn't have to leave the buzz of Cavill Avenue, but soon it was time, and Gary said if we had to do it let's do it somewhere that reminds us of what we're coming back to—somewhere golden.
So we chose sunflowers.
And then Gary went on one of his benders, and I was worried about my legalities so I made the journey alone in a van with no air and a driver's window that wouldn't budge. Sixteen hours and one cracked water pump later, and I'm standing in a scape of beheaded stalks, wondering how long eighty-eight days might feel in a wasteland.
"And where the hell are you, Gary?" I hiss down the line, fourth day in a row. "This place is the absolute pits. There's no sunflowers, Gary. Only seeds. Dead fields and lots and lots of seeds. The farmer is creepy. The wind won't stop howling–"
I am cut off by a dismissive beep, and his voicemail box is full, and I haven't even told him the worst of it. About the feeling of being watched as I work, sifting chaff from seed in that gaping shed, looking over my shoulder for the farmer who seems to appear from nowhere. And the spiders. The snakes—oh god, the snakes! Some of the deadliest in the world, out here and I found one of them on my first day, coiled on the wooden floor in the sunflower dust like it was tanning itself on a Surfer's Paradise beach.
And then there's that bird. That weird fucking bird.
Every day it's here, stalking. Talking. Ready to steal the seeds I harvest. It watches as I bash sunflower heads against metal buckets, excitement rising when I blow the dust from the crop, bobbing its head and flapping its wings, black eyes peering from beneath its sulphur crest. Blow! Blow! Blow! it cries, ready for the feast ahead, its voice always strained and breathless. I asked the farmer about it—the talking—he said it's just something cockatoos do. And he mumbled his answer in such quiet tones I knew it couldn't have been him who taught it to say the same damn word over and over, like a record stuck on loop.
I wonder if I should call Gary again, but my battery is low and the wind is picking up, so I trudge back to the shed.
The bird is there, as it always is, perched on the overhead beam with prime view of my yield. Beady eyes watching as I move to the pile of dried sunflower husks. I pick up a metal bucket and right on cue, it starts squawking. Blow! Blow! Blow!
I do my best to ignore it. Just keep separating seed from flower, dust from seed. Wondering, all the while, if Gary will ever grow up—if coming here might've hastened the inevitable end of us.
There's a sound nearby, like floorboards creaking. I check over my shoulder for the creeping farmer. Nothing but an empty shed.
Blow! Blow! Blow!
I ignore the bird. Keep working. The cockatoo flies down, and perches closer by.
Blow! Blow! Blow!
I shoo it away, but it hovers like a seagull, and suddenly all I want is a bag of hot chips and the ocean air, and to feed a hungry bird so I pick up a fistful of seeds and scatter them across the floor. The bird cocks its head, hops down, pecks at the seeds. Pecks at the cracks of a manhole, cut and concealed, in the wooden floor.
I move to inspect it. Crouch down as the bird is squawking, and I don't hear the creak this time...don't see the creeping farmer. Don't fight when he covers my face with cloth that smells like sweet sunflowers.
****
At first I think it's the sun—that I'm back on the sand, and my limbs are heavy from surfing, swimming, all the things I wish I were doing. But then I remember I'm looking up through the shed floor, catching slivers of light through the cracks. The first light in days. There are footsteps above. A familiar voice. Gary.
"So you haven't seen him since Friday, then?"
"No," says a second, quieter voice. "I assume he took the pineapple trail."
"The pineapple trail. Why didn't I think of that?"
Then the farmer puts him to work above me, leaving him to bash seed from flower, and I want to scream out but my voice is hoarse from dust, and it's been so long since I've had water. I kick feebly. Knock my heel against the cellar wall. Gary pauses.
"Hello?" he calls out.
"Below," I whisper back. Strained and breathless. "Below."
He doesn't hear me. Starts deseeding again.
And as I drift into the grey, right there under the floor with all the others who came before me, I can hear that damn bird calling from the overhead beams, as it always has. Ignored as it always will be.
Below! Below! Below!
Reader insights
Outstanding
Excellent work. Looking forward to reading more!
Top insights
Compelling and original writing

Creative use of language & vocab

Easy to read and follow

Well-structured & engaging content

Excellent storytelling

Original narrative & well developed characters
Add your insights