Smelly Rudy
A Corolla Story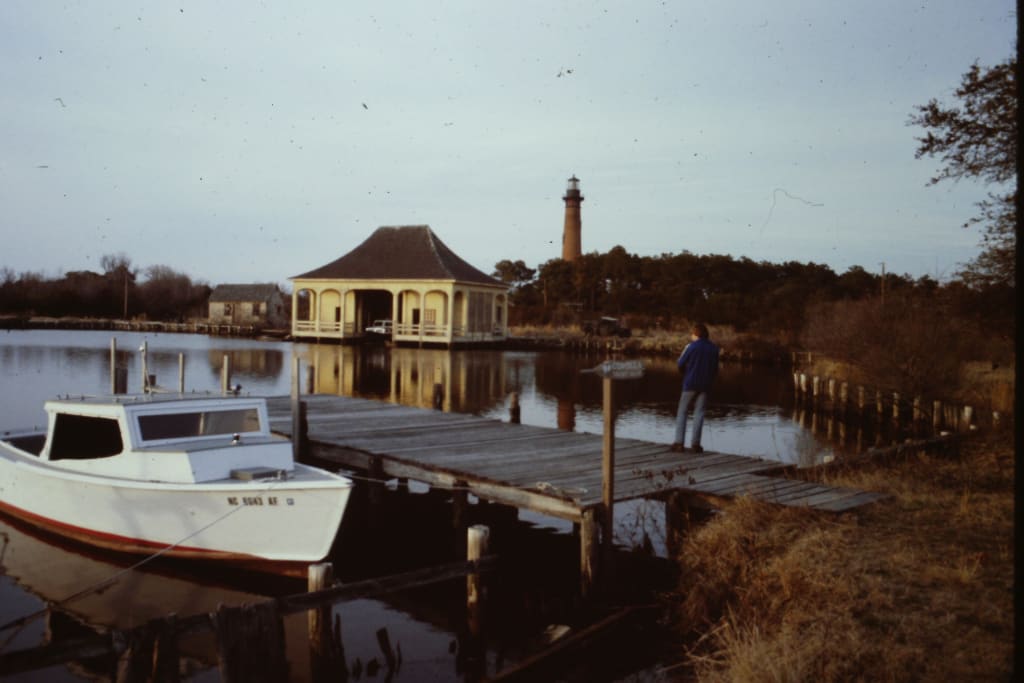 Boat Basin at Whalehead Hunt Club, c. 1977 (David Alan Reid)
Smelly Rudy was a big, big dog like a malamute but a mutt. He probably weighed 150 pounds and like many large dogs he was very nice and loving. But he smelled so bad. You wanted to love on him and he wanted to love on you but omg no. Smelly Rudy no. Go away Smelly Rudy. This always made us feel bad. It was me, Sarah and Caroline. We were at Corolla. Smelly Rudy would come lumbering down the road from his house and we would say oh no here comes Smelly Rudy and we would want to encourage him and send him on his way at the same time.
Sarah said Mommy I love Smelly Rudy but he smells. Caroline was only three. She said nothing. Smelly Rudy belonged to the Pages, Anne and Rosie Page. They built a beach house in front of our beach house which was the Barracks. I don't think their house had a name. It was the Pages. But the kitchen was strawberry wallpaper and strawberry everything. And of course it was new.
The Barracks was built in WWII. It was really a barracks, an old army barracks because during the war the army used Corolla as a remote location for strategic training exercises. The Barracks was empty for a long, long time.
My mother's parents had a house in Nags Head milepost 12. It was the last house on the southern side for a long time. We used to go there a lot in the summers. There was an apartment on the ground level where my mother's sister Liz lived. Upstairs was where we stayed during our vacations and this house was wonderful with screen porches going all the way around and hammocks swinging. It was oceanfront. We loved it.
My mother's parents didn't live there anymore. They built a house back over across the bridge in a community called Point Harbor. We always stopped there on the way to the beach. I didn't like that except when we would go digging for clams in the sound and that was fun. You could walk way out only up to your knees and you dug for clams with your toes and the sand was soft and velvety and squishy. It wasn't scary. When you found a clam with your toes you reached down your hand and grabbed it and put it in the bucket.
Now we stayed at the Nags Head house many summers. But then my grandparents sold the house and my parents said new beach place. That was 1970. That summer my parents investigated up north of Nags Head. Thirty miles north maybe. There were no roads that far. A little after Duck it just stopped. My parents worked with a realtor from Currituck Realty named Caleb. Caleb took us to Corolla across the Currituck Sound in an old fishing boat.
We loved Corolla. It was an enchanted magic magicland. There was a big long abandoned mansion with a green copper roof and lots of windows and wild horses standing in the tall grasses by the sound and a red brick lighthouse, a little three building town, sand road with an old school house and a little white church and a tiny little post office and no people but the Austins and a few Pontons and one lady that lived there year round.
My parents said sold on Corolla. Ca-rall-a. Not Co-roll-a. It was a fine adventure for our family. My father bought a number of lots from Caleb, ocean front lots and lots on Carotank Road and he said these are my retirement and I use these properties to make money so that I can pay my employees and create their benefits packages. He purchased five lots for fifty thousand dollars. This meant the Reids were big landholders in Ca-rall-la. No one else was then really. Just us.
Then my father said what is that abandoned building in front of my Carotank Road lots? Tell me about that Caleb and Caleb said old army barracks. It needs tearing down. My father said nope. I want that too. And that's how we got the Barracks.
Now my father had a partner in the Barracks named Shafik. Shafik was Eqyptian and I do not know where Shafik came from to become my father's partner. But my father and Shafik worked on the Barracks to fix it up, chopping a third of it off and hauling it away because it had disintegrated. The other two thirds was really just fine. It needed to be fixed up. So that happened. It was bare bones like camping but nicer.
The Barracks was actually a duplex, two apartments one on top of the other and the rooms were large and plain. There were four rooms in each apartment with a hallway and bathroom in the middle. We made the upstairs apartment the kitchen and living space with a master bedroom because it had the oceanview. Downstairs was the kids' rooms, one for the boys and one for the girls, a laundry and utility and another bedroom for parents.
We always stayed at the Barracks with our parents' friends the Krulaks and after Shafik left the partnership early on Uncle Bill and Aunt Mae Mallory were our partners in the Barracks. We loved this. Uncle Bill and Aunt Mae Mallory were my godparents.
Uncle Bill and Aunt Mae Mallory had Amy and Billy. Amy was two years younger than me and Billy was exactly my brother Alan's age. They were born in 1966. Amy and Billy were like our cousins. We loved them. We had a ball together every summer and some Thanksgivings too. Winter trips to Corolla were special fun. Summer trips were amazing always always amazing.
There were not any other people on the beach. Just us. We had four wheel drive and we drove on the beach. Our truck was a Chevy Suburban. It was huge and green with wood side panels. We drove the Suburban onto the beach through the soft sand and we set up our beach camp and that's where we lived all day every day.
We had big red coolers full of drinks Dr. Peppers and Cokes and Sprites and we had sandwiches and watermelon. The boys collected driftwood and other wood from all over the beach and built a fortress every summer. The girls read books and sunbathed. We listened to the radio Moonshadow Moonshadow. We played for hours in the water and drifted in big tire truck inner tubes far far out. It was paradise.
We played the dictionary game and charades and we played gin rummy and spades and other card games as a family every night. The dictionary game was our very favorite because we made it up. We had a big red dictionary in the book closet and the game was to find a word that no one knows and everyone makes up a definition for the word and everyone presents their definition for the word and then we vote on which definition is the right one. Everyone loved this game. We laughed and laughed and laughed.
Then we used the words all vacation in lots of funny ways except sometimes we used the wrong definition because it was funnier like Aunt MaeMallory would say Bill move your kanga but it didn't mean rear end it meant colorful clothing or dad would say mateef mateef acting like his teeth hurt when it really meant mixed race. Dad was a dentist so that made this extra funny.
We had shell competitions. We collected our shells all vacation and then we looked in the shell books and figured out what they were. Keyhole limpets. I loved those. Angel wings. Augers. Cats eyes and spindles. We collected sea glass and devils purses, starfish, sand dollars and whelk casings which had the teeny tiniest little whelks inside no bigger than a grain of rice.
We collected sand fiddlers and coquina shells in big buckets then let them all go in the surf watching their scamper and dig dig dig. The tiny coquina shell digs with a little tongue muscle very fast and has bright rainbow colors very beautiful.
We followed little trails in the sand all over the dunes and found lion ants at the end of them. A lion ant creates a little sand trap for its prey and when the prey comes along across the top the lion ant dig dig digs from the bottom and creates a shelf of falling sand like a miniature avalanche. It traps its meal like that. I found that in a book.
Uncle Bill and my dad are also both artists. They painted a lot at Corolla. They painted oil portraits of Corolla. We hung these on the walls of the Barracks without frames. These paintings were very, very good. My father's best painting is of the lighthouse. The Currituck Light. You could see the Currituck Light out my bedroom window. I looked at it from my bunk. The Currituck Light was right behind the Barracks about a quarter mile away. It still is. From my bunk I counted at night to fall asleep. Eighteen seconds between light and light.
My dad and Shafik built big bunk beds in each of the kids' rooms. We grabbed the mattresses for all the bunks out of the mansion. We stole them I guess. We went into the mansion and it had sand in it. Lots of sand like drifts of it like snow blow up against a wall. Two bunk beds in each room so four beds each, so eight mattresses we got from there. That's really all that was in the downstairs rooms at the Barracks. The bunk beds. One dresser drawer in the girls' room, one in the boys but they never even used it. Everyone had to pass through the boys' room to get anywhere downstairs but the boys didn't care about that. The girls' room had a door and privacy. The bunk beds were so big out of raw pine planks so big that they had to stay in the rooms forever. I imagine they are still there. I wouldn't know because I haven't been to the Barracks in many, many years.
***
More From Patricia Anne: