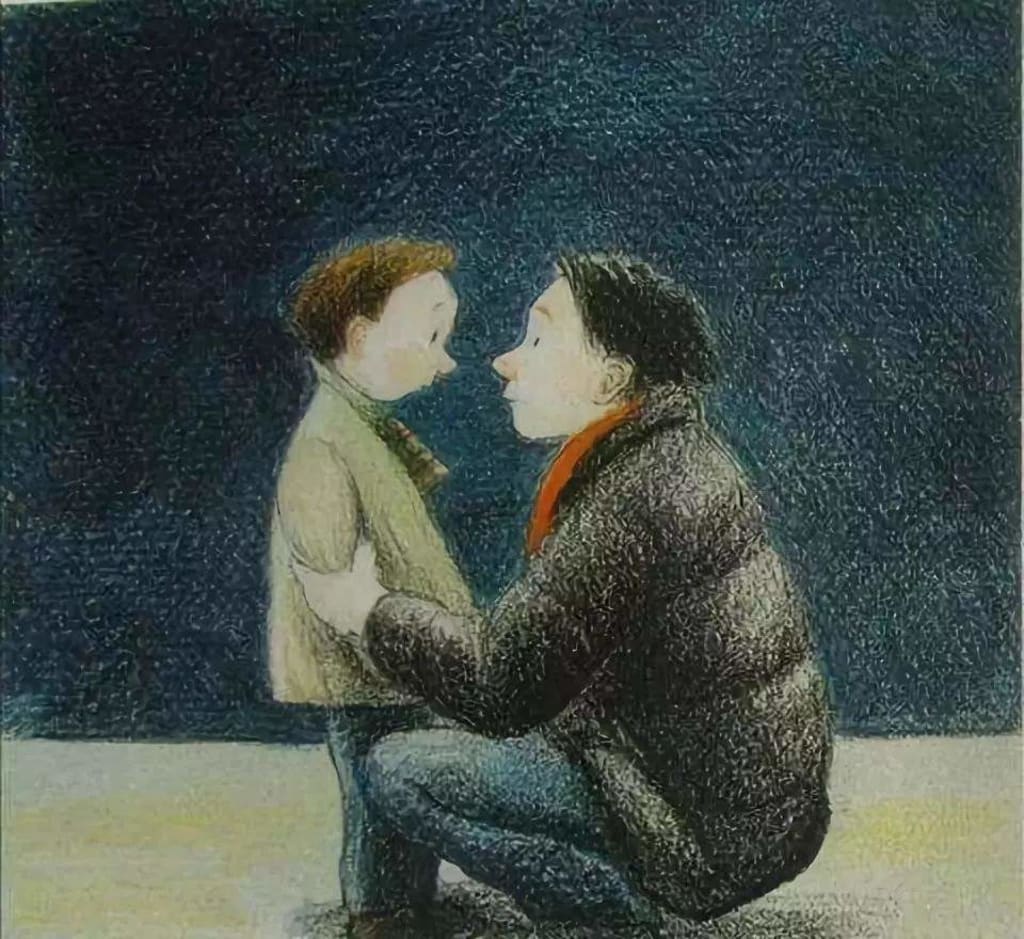 The tram is coming. Dad's tram...
At the beginning of the fall, my mom and I moved to this small town. I haven't seen my dad since then. However, today I can spend a day with my dad.
"Did you hear that, Dim? You stay here and don't move until Gianni comes!" Mom said, leaving me on the platform and leaving. My name is Dim and my father's name is Gianni.
The tram finally came. The tram made a sound like a sigh, and "bang bang" stopped. Are you tired of running from a long way? The door also "squeaked -" exhaled and slowly opened.
Ah, Dad! However, as my mother said, I stood on the platform and didn't move.
So, Dad ran over and picked me up.
"Ah, Dim! I'm finally here, I really want to see you. What are the two of us doing today?"
Why do you need to ask? Don't worry, I know. Just do what Dad and I want to do.
As soon as I got out of the station, there was a small shop selling hot dogs. As soon as I stopped, my dad shouted, "Give me two hot dogs!"
"I just want ketchup, no mustard," I added quickly.
Then, the two of us gulped down the hot dog. Dad finished eating first.
I pointed at my dad and told my aunt at the hot dog shop, "This is my dad, his name is Gianni."
When I got to the cinema, I saw a cartoon being played.
"Don't you like cartoons?"
When Dad asked this, I nodded vigorously.
At the entrance, a bearded uncle tore the two tickets together.
"This is my dad! Let's watch a movie together!" I told my uncle.
Although it was dark inside the cinema, it was very warm and comfortable.
Dad laughs from time to time. I know because his throat is shaking.
After the movie was over, as soon as the lights came on, Dad gave me a "thump" on the shoulder.
"Let's go eat pizza!"
The name of the restaurant is "Sandana", the clerk's brother, who lives in the same apartment as me.
As soon as my brother saw me, he called me: "Yo, isn't this Dim?"
"Well, I'm with Dad today, his name is Gianni!" I held my breasts straight.
I ordered orange juice and kids' pizza, and Dad ordered beer and pizza rolls.
A pizza roll is a pizza that is rolled with a filling.
The beer was bubbling.
I left all the round edges of the pizza on the plate.
Dad ate clean and drank all the beer.
"It tastes great!" Seeing my dad wiping his mouth and taking out his wallet, I called out in a voice that could be heard throughout the store: "My dad is going to pay!"
Outside, it was getting a little dark. Dad glanced at his watch.
In the evening, Dad will go back.
However, not right away, there is still time. Go to the library!
We sat side by side in the picture gallery chairs while Dad flipped up the magazine.
As for me, I put the book on my lap and thought about it.
What time is it now? If only time could stop. If only the tram didn't open.
I stood up slowly and walked towards the place where I borrowed the book. Dad followed.
Kunila, with her hair tied and big glasses, sat at the place where she borrowed books.
She is the big sister who often comes to kindergarten to tell us stories.
"I'm here today with Papa. His name is Gianni. But I borrowed the books, not Papa," I said, pointing at Papa, and Kunila laughed.
Walking out of the library with the book in his arms, Dad said, "Before we go home, let's have a drink together!"
There is a cafe on the corner of the shopping street. Dad picked me up so I could see what was on the shelves. When paying, he hugged me tightly. I asked for apple juice and cupcakes, and Dad asked for coffee and cinnamon bread.
"Put me down!" I said, and Dad released his hand.
Dad finished his coffee and it was finally time.
On the way to the station, I held my dad's hand the whole time.
Dad's hands are so big they can wrap around mine. "Dad's hands are so big," I grumbled.
When I got to the platform, I said to my father, "I'm going to wait here for my mother to pick me up."
Dad looked at the ticket: "It's okay, there are still two or three minutes left!" After speaking, he picked me up and got on the tram.
There were already a lot of people sitting on the tram. Some were putting boxes on the luggage rack, some were hanging up their coats. There is also an old grandpa who is about to take off his shoes.
Dad found his seat and suddenly shouted, "Can you all listen?"
Everyone stopped and looked back at Dad.
The old man who took off his shoes was stunned, just standing there with his socks on.
Dad stretched out a hand and continued loudly, "This kid is my son. The best son. His name is Dim!"
Then, Dad hugged me down to the platform.
He made me stand up straight and rubbed my eyes: "Goodbye, Dim! See you soon. You wait here until mom comes." After speaking, he hurried back to the tram.
The tram opened. I saw Dad in the window. Dad is waving.
I waved hard too. Dad's hands gradually got smaller.
I kept waving. As my mother said, stay on the platform all the time. In the other hand, holding the book borrowed from the library.
"I'm waving at Dad, I'm seeing Dad! Dad's name is Gianni!" I said to an uncle who passed me, and he looked at me and nodded.
The tram was soon out of sight. But there was a slight noise from the tracks. The tracks were long, long, all the way to the city where Dad lived...
So, the tram will definitely come back, right?
Pulling my favorite dad -- dad's name is Gianni.
Reader insights
Be the first to share your insights about this piece.
Add your insights