Mother Knows Best
"Sometimes the best memories are those that follow us to the future."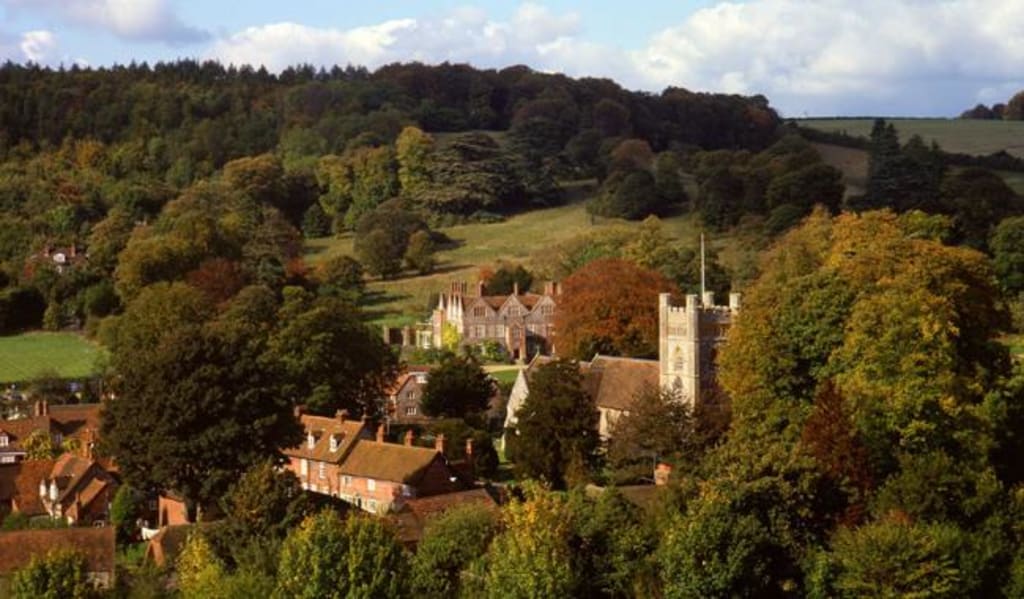 Hambleden, United Kingdom
Hambleden was a small village of South East England with roughly just over 1000 people who called it home. To the passerbys stopping through on their way to visit the homes used in great British films throughout the years, this seemed like the most charming town in all of Britain. The perks that come as a child living in Hambleden seem endless to outsiders, but only those children know what it truly is like to grow up here.
Misery filled the lives of roughly the 600 children and young adults who were forced to call Hambleden home. With absolutely nothing to do for activities after year 1, the youth of Hambleden were a collective black hole of mourning a childhood that has yet to take place. As one of those children, I can vouch for the others to a certain extent. Indeed I was a cheeky child always causing chaos out of boredom or feeling lost and throwing tantrums. I was constantly in trouble with neighbours or the McMullough family, pestering their daughter to give me a chance and meet every school night past curfew. This was my life on the daily until year 9, when my mum and dad were killed by a drunk driver on a holiday to Blackpool.
My apologies for the abruptness, I have never been the best at giving warnings. In this case, I guess it might have been better for some who need those "trigger warnings" I often see on my social networks. I've always wondered if they actually work or does it just intrigue the character even more? It seems I'm getting carried away, let me continue. Year 9, parents are no longer, and I have made the decision to boycott Blackpool for the rest of my existence. I thought the worst had already come while being born and bred in Hambleden as a single child, but this was the sodding worst that had ever happened to me. I was in absolute shock, so much that I went from a total bastard to a reserved and disassociated teenager in a matter of months. My friends had collectively decided that my misery was too much to pack onto their own, caused by living in Hambleden, and the McMulloughs, being the McMulloughs, had another reason to never let me near their daughter.
I was absolutely alone in this quiet and well reserved town, where gloom reigns over but it is all hush hush. Of course, there were the neighbours who did try to console me and be there for me, especially after the funeral, but it hadn't done much because I knew this town all too well. Once the condolences were out, they would walk back to their cobblestone houses and speak about how sorry they felt for me and how I will never have a proper upbringing. This made me resent Hambleden even more.
By year 10 I had blocked out most of year 9, but my personality was the same. I was alone in this big cottage built centuries ago with misery lurking in the walls, but I was too zoned out to care. A few of my aunts and uncles came by to offer to stay with me until the house sold, but since it was in my name now, I couldn't let it be. This was my only shelter, and my only thing left from my mum and dad. I told every aunt and uncle and fourth anf fifth cousin to bugger off, as each time it became more and more about money and less about "where is James going to stay?".
Visits with the local social worker Victoria were always as unpleasant as her obnoxiously loud coffee sips, every 7 seconds of her two hour visit. I took the option to be emancipated, and despite dreading Victoria and her visits every few days, I was finally trusted to be on my own.
Year 11, and not much, again. Year 12, university applications and occasional house parties here and there. Thank christ for university, it gave me subtle hope that I can finally leave Hambleden and start fresh for a good reason. Year 13, school is done, I've committed to King's College London, and I am leaving mid-summer to settle in. The money I had made from the tips for delivering mail before school were tucked in a jar under the heaps of bags I had not touched since year 9. The inheritance would help me with school as well. Things were starting to get more practical.
With all the accomplishments the year has brought, I have still felt like the same James from year 9. But my resentment of Hambleden has only grown, since I know I have my golden ticket to a potential new start and life outside of the grey and gloomy Hambleden. I remember I was in my childhood home and realized that all these years, I had never once touched anything that was not purchased after my year 9. Nothing from mum or dad, nothing of mine except clothes and uniforms. The iPOD nano was not working anymore, my football had no air in it. I used to write fictional stories about how the cast of Star Wars will come to Hambleden. I knew this wouldn't get sorted on it's own, so I started to do what needed to be done. I faced my biggest grief that night throughout sunrise, and it continued for another three days. I don't know if this was the lack of sleep, but I heard my mum in my ear telling me to continue. I was thinking, "continue what?", I was so lost because I was simply scrambling for any mementos of them and things that I could keep or throw away. After another two days of unhealthy reorganizing and packing for my new life at university, I found it.
I knew why she wanted me to continue. I did not know after all these years I would have a connection with her anymore. When I found it, my heart sank. This was something I had never seen before, but carried a very heavy connection that made me feel sick inside. Curiosity overtook my body, so I picked up this thing and placed it on the dining room table, which was cleaned entirely for the first time in years. I sat and looked down at this wondering why it made me feel this way, why I was so focused on it and what to do. The suspense filled my entire body as this boxed package, wrapped in kraft brown paper and a few tears on the side, had been finished off with a twine bow and a letter in between the knots.
I removed the letter, wanting to make progress as one who was absolutely mortified as to how this package found me. I opened the letter, not expecting what I saw next. It was my mums writing.
"James ,
My sweet boy. Happy 14th birthday my darling. As you grow, I grow prouder of you everyday. I wish you can stay my little James forever. This present is our memories together as best as I could find, and I hope you will keep mummy and daddy close with you as you grow and grow forever.
I love you,
Mummy & Daddy xx"
And as I opened the box, I was welcomed with photographs of my family and I. Us in our home, playing games. Us at the parks and at the chapel with dad and I dozing off on Sunday services. Mum holding my hand as I am crying outside of the sweet shop with a massive lolly in hand (god was I spoiled), with the biggest smile on her face. All these memories were here in Hambleden.
So as I pack my last bag and head to London for a masive culture shock university experience, it is with great disdain that I say "maybe Hambleden is not so bad after all".