Marigold Mondays
The Friends We Used To Be.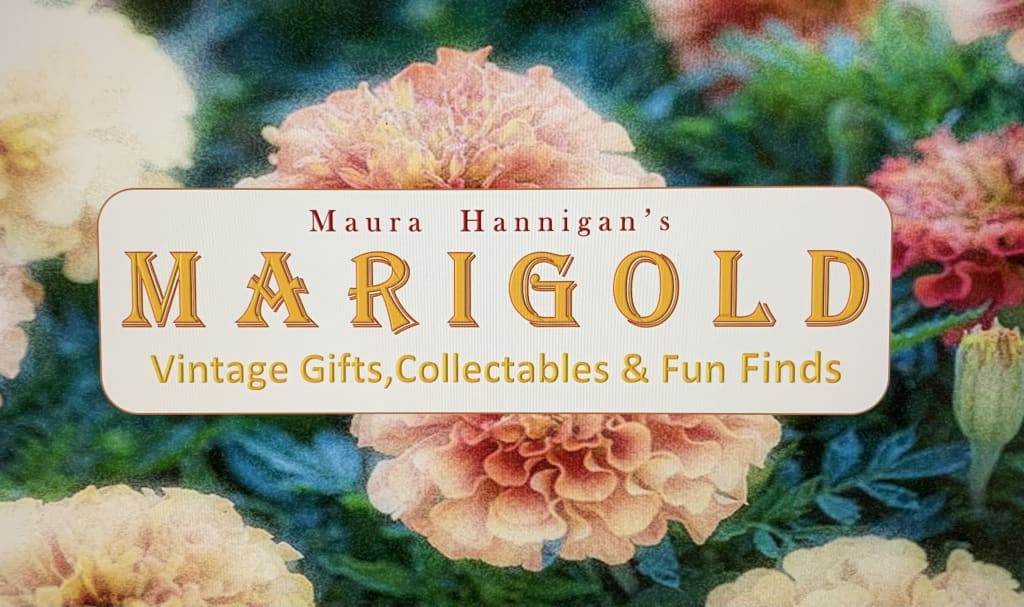 When we first met I believe it was a Monday in April or maybe May. Mondays were shopping and restocking days for me. Springtime in the Hamptons is beautiful, the empty trees sprouting a green bud here or there, as if checking the weather out for the rest, then bursting into lush greens. Colorful flowers at their feet-barren when you went to bed, and seemingly out overnight in all their glory. Fact is, the working class Hamptons were all so busy readying their businesses and properties for the rich and famous who would descend upon this quiet and inviting hamlet come Memorial Day , that they missed the Winter to Spring transformation entirely. For 3 pushing 4 months the wealthy 2% would use this island as their playground for parties, beaching, shopping and more. We would all cater to their every need, whether we landscaped their yards, bought or cooked their groceries, cleaned their houses, drove them around in our rented town cars or as Maura and I did, became their retail servants. We filled our stores with whatever was trending in the vintage world. We scoured yard sales, other stores in nearby towns, made house calls and even upcycled items from the town dump then sold them to our summer clientele for much more than we paid.
Maura's store was called Hannigan's as that was her last name, mine was my full name followed by Antiques and Collectables. Likely because we both had been told by someone who had gone before us that they will remember the person before they would recall a cutsie or clever name or play on words. Not true.
Our shops were on the same street, just six or eight buildings apart, but we had never shopped in each other's stores. Kind of an unwritten agreement, you don't buy in your own back yard- instead you were obligated to tell the fellow shop owner that this such and such is priced too low, they could easily double that. But I set up at shows as well as had my shop, so items I bought from Maura I took to shows or stocked my rented spaces and cases up island. She bought things from me that she loved and would take home to use or display, but it would always find its way into her shop. Not because that was necessarily the intention, just because we both needed the money more than the things. Except in the winter- we all bought from each other in the winter; we had to, or we'd starve. During the season, I had a line at my door waiting to buy from me every weekend day, dealers who knew my routine and would buy my items at my flip prices and then double or triple the price in their shops. I was fine with that, I got my money, made a profit and still got the rush from the thrill of the hunt. Maura did a huge consignment business, she was an East Hampton native and knew everyone and they knew her. She loved to shop just like the rest of us, but really didn't need to as the items came to her. They trusted her.
Our lives were similar in that we were both divorced, single mothers to a boy and girl each, though the ages were much different. She was just a couple years older than I was and we became fast friends. We allowed each other in just so far though, gotta keep those walls up for a while.
Soon we were spending evenings feeding the kids together, weekends running to tag sales and weekend nights partying a little too much. Until then, I really hadn't gone out to bars since moving there. My ex never drank, and so our social life was much different. Maura was lonely- she was one of those females that felt like a failure without a man in her life, and not just by nature-but due to circumstances. I had initiated my divorce and her husband has left her for another woman- that's the worst. It leaves you empty inside, doubting everything about yourself and the relationship you thought you had- leaving a scar on your soul.
Maura tried to fill the empty with different relationships that served her well. She had many male friends that helped and protected her. Doing all of the 'male' sort of everyday tasks and insulating her from harm if they could. Then there were those that did favors in hopes of gaining a little more than friendship. Good old boys that figured a newly divorced woman in need over 35 might look their way if they filled that need. She wasn't interested in any of them, but did her share of encouraging when the grass needed mowing or there was something wrong with the car. She figured they started the game, she was just playing along.
As time went by, she gained confidence-especially after the 'divorce diet' (always good for 15-40 pounds), began getting better attention and decided to make some changes. Hannigan was her married name and although she wouldn't go back to her maiden name, she didn't want to see it hovering over her door everyday. So we went on a name finding mission, lasting the better part of a month. She wanted to overhaul the store, clean things up and start fresh. Every time a friend called or came in the store they'd offer a name, but nothing fit. It needed to suit her- to feel like it fits. She was 6' tall with long blonde hair to her waist. She dressed daily in long flowing, colorful skirts and coordinating tops. She was lace and flowers, vintage and girly. She loved things that might be a little shabby but she could always find what was chic about them.
One day her 10 year old daughter, Katy, came running in the shop, eyes sparkling and sweet face smiling wide. Out of breath, she dropped her backpack on the counter, unzipped it and began digging inside while she spoke. "Happy Birthday Mommy!" she stopped digging and wrapped her arms around Maura's neck and planted a big kiss on her cheek-then continued digging.
Right behind her, was little brother, Kyle, face pouting and close to tears. "Katy you were supposed to wait for me! Gandma said so-it isn't fair , its from both of us. Hi Mommy." he said leaning in for a half hug with one arm.
" I didn't even start yet, cry baby!" Katy spat back.
" I am not a cry baby! Mom, she's calling me names!" Kyle whined.
" Stop it- both of you. " I scolded. "Not a nice way to act on your mom's birthday."
" I don't know if they should have cake, " Jack chimed in from the overstuffed chair he adopted everyday about this time. Jack was Maura's protector, a forever friend from childhood. The kids went right for the cake and suddenly the squabble was over. Jack said he's cut them each a slice but first weren't they about to give something to their mom?
"Oh yeah! Kyle, you had the card, right?" Katy asked, again digging in her backpack. Ahead of her, Kyle produced a dog-eared envelope full of hand drawn pictures of hearts and flowers and handed it to his mom. Katy carefully pulled out a small planter with 3 marigolds sprouting inside.
" We bought the green dish cause it is your favorite color and grandma helped us plant the seeds." Katy said proudly.
"Yeah, and we watered it and took care of it for 2 whole months- and we kept it a big secret!" added Kyle.
Maura had tears in her eyes and bent down to their size to get a proper hug. As they shared one of those magic moments, Jack and I looked on.
" Well," I said, " I think we've found a name for the shop."
"Yep, " Jack agreed. "Marigold it is. I'll go get started on the sign."
I keep this picture of her in my mind- standing with her kids, watering this little plant and giving it the place of honor atop a plant stand in the store window. She was a good mom, and a good friend.
As the years passed our friendship changed and evolved. We shared good times and bad, business ups and downs, helping each other when needed and lots of laughter. We'd bicker and bounce back, but one fight left a year long rift between us. I had been dating someone she didn't care for -and he felt the same about her. Then I saw her at one of my antiques shows and greeted her as the long lost friend she was, forgetting what that last fight was even about. There was something really comforting about being able to pick up where you left off as if time hadn't passed. A year or so later we had another disagreement, not a fight really-just parted ways. It was something I felt I had to walk away from- and I guess she felt the same.
As much time as we spent together, we didn't really run in the same social circles and so living in the same small town and being in the same business didn't cause us to run into each other and when we did it wasn't awkward. It just wasn't anything anymore.
I reached out recently on social media, just catching up, swapping photos, exchanging small talk. We were 3000 miles apart now, but much more than geographic, there was a space between us that time had placed there, that couldn't be brought closer. It made me a little sad. I hadn't mourned our friendship over the years, but now I realized I missed having her in my life.
The next day she called, having gotten my number from someone we both knew, and she let me have it for not even saying goodbye when I left the state. And I gave her hell for not letting me know her mother had passed. And she shot back-well, your daughter was really sick and you still lived here and I had to find out from a friend we don't even like! We ended in laughter and talked for another hour or so.
We were both a little broken when we met, keeping up our guards for protection-retreating when things got too rough or someone got too close or we hurt each other. Baggage finds it's way into all kinds of connections. But true friendship prevailed! I'm sure my perception of what came between us is much different than hers, and the truth was somewhere in between; but I don't think we'll be trying to dissect the past anytime soon. It's good to have my friend back-even from afar.
We may not share life as we used to, but maybe we will carve out a chapter 3. Right now, I'm going to go buy some marigold seeds and a green pot.
Short Story
About the author
I am a transient New Yorker (always in that New York state of mind) living in glorious southern California. I am currently working at a private K-12 school where I teach theatre outside of the box and am the Artistic Director.
Reader insights
Be the first to share your insights about this piece.
Add your insights