Love Lost
Should be let go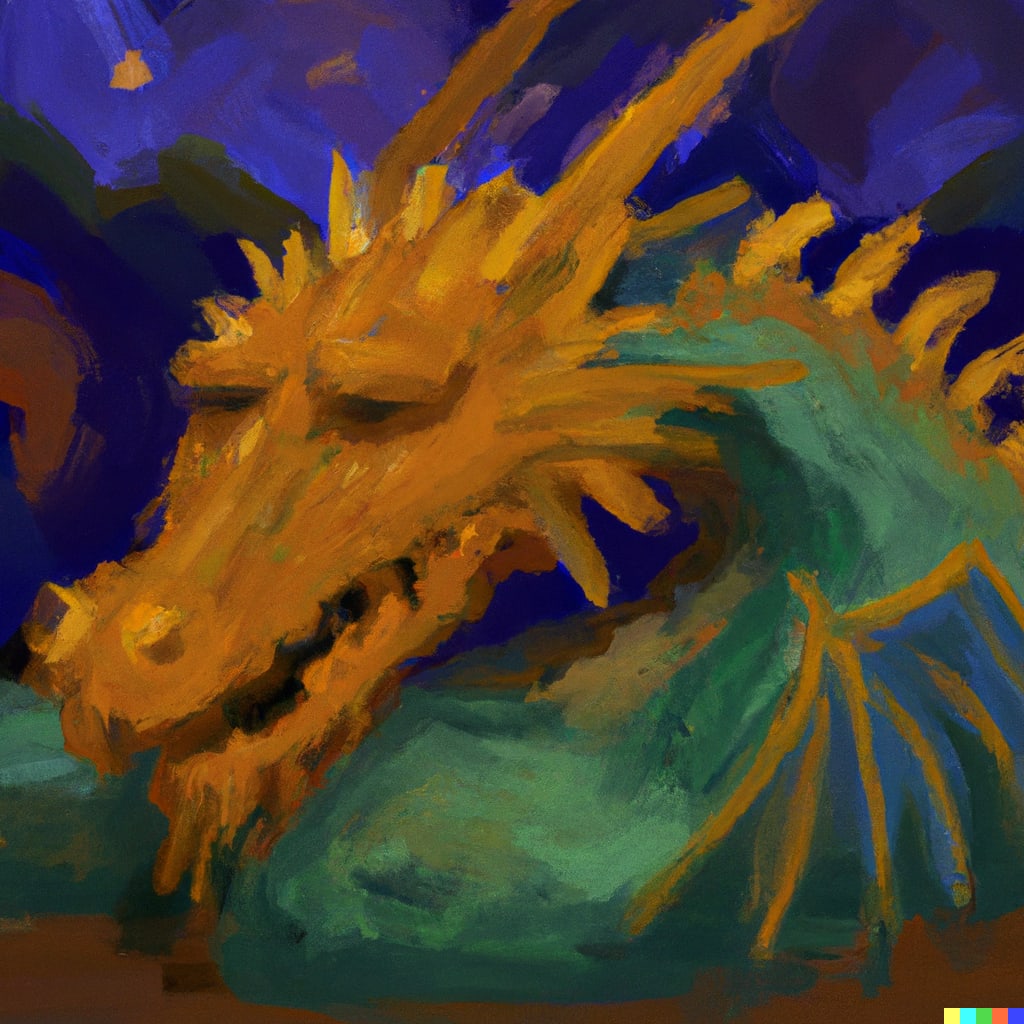 Letiper spotted the child in the forest long before its parents realized it had wandered off. He was quiet and swift, knowing that the humans would never hear his approach. He snatched the child up and crushed it in his claws before it could cry out. It was exactly the ingredient he needed for his potion.
This made him remember the time with Lenarala when they first met....
====================================================
"I'm so stupid," she said, after eating the flower he gave her.
"You're not stupid, you're smart," he said, "You just didn't understand what I meant, and that's okay," he smiled, knowing it would make her feel better.
"Thanks," she said with a smile.
"Let's talk about something else," he smiled at her again, but she was looking curiously at something. It was a human child that was about to wander straight into a pit of mud. Surely, it would drown in the mud, but it wandered forward with no apparent regard for its own life. Letiper thought to simply let it waddle to its death, but something about the way Lenarala was looking at the child made him act.
He grabbed the child and held it up almost as a display of his achievement.
"Oh," Lenarala said, "How sweet of you to rescue the little creature."
Letiper only smiled in response. Smiling was a basic gesture that usually brought good responses.
"We should return it to the village. It is nearby and I can show you," Lenarala said. She was eager and full of excitement and convinced Letiper to comply.
"See?" he said, "I told you that you're smart."
====================================================
Letiper smirked as he flew back to his home where he would work alone on his alchemy. He was always alone, and he resented it. He was miserable while alone, but any time he tried to keep company, they became miserable as well and left soon after meeting him. He hated them for that and began to hate everyone including himself.
But there was one that he loved, and her name was Lenarala. She was the only dragon who seemed to fit with his puzzling mind. To him, everything seemed exactly right, but she still separated herself from him and closed herself off. In public, she no longer acknowledged him, and he felt sad when she ignored him.
Ultimately, all of this made him angry and suspicious. There was no reason for his love to leave him unless she had been deceived and wooed by another. There must be another dragon stealing his love's heart or she would surely still be with him, for he was the perfect partner, and he knew it. He led the relationship with assured authority, and she complied diligently to his demands. There was no clear reason for her to end their companionship without intervention from the outside.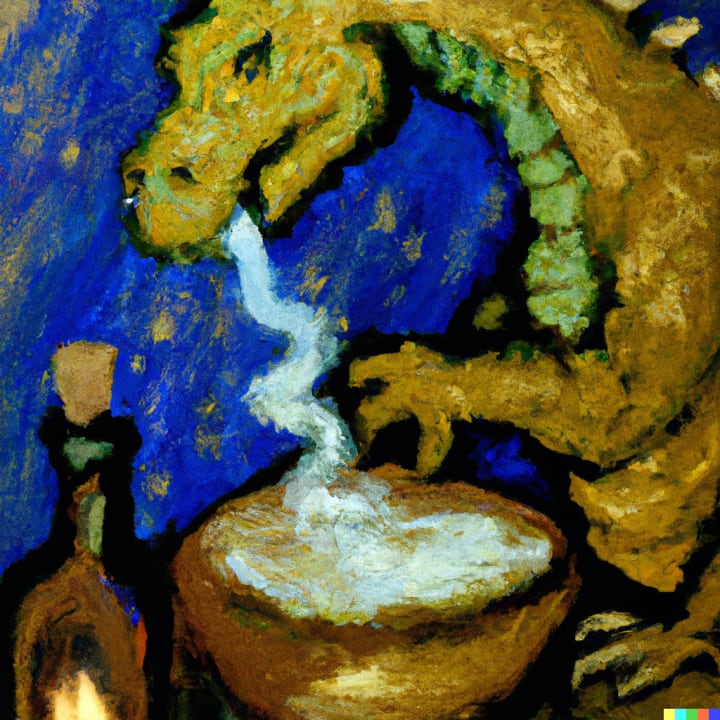 The potion was an easy one to brew. It was well-known throughout the dragon community but was condemned and any dragon who brewed it was to be exiled and, in most cases, executed.
Letiper was unconcerened with the social consequences of his actions. He did not care what the world thought of him. He cared only about the truth, and he would seek it no matter what. He would understand the mind of his lost love despite any consequence that may come.
====================================================
The dragons were having a celebration and Letiper was attending. This was his chance to know the truth. His heart was racing as he plotted to drug the refreshments. There was a magical spring, a spell, cast in the center of the celebrations, and none suspected that any among them might poison the waters. Letiper took advantage of this and poured his potion into the fountain. This would spread through all the water that the dragons drank throughout the night, even Letiper for he was not afraid of the truth on this night, and Letiper waited patiently.
The dragons soon began to converse more freely and then suddenly all quieted for there was an unusual air. This was when Letiper struck and began questioning Lenarala.
"Did you take on another lover while we were together?" he asked her.
She replied truthfully, "I did not," though she was shocked at how quickly she responded. She didn't want to answer him, but she acted compulsively and against her own will.
"You cheated on me!" he screamed.
"I didn't," was her response. She almost followed it up with an explanation, but she felt that she should not speak more because she was not in complete control of what she might say.
"Then you must have lied to me. You never cared about me."
"I cared about you."
She felt that she should not have spoken because he began to cry out in rage after her statement. The others around them began to utter their own emotions aloud in response to the scene he was causing. Their mumbling became a low hum and grew gradually into a roar as they all panicked at their apparent loss of control over their own voices. They could speak, but only in truths, and many of them spoke truths that should not have been spoken. These truths brought more truths forward from those who heard and a violent rage overwhelmed the dragons and violence ensued.
Many dragons fell in the violence, all of them overtaken with a pure rage that was the truth within all dragons. The ones who survived the slaughter slumbered and never awoke.
In the turmoil, Letiper asked Lenarala one final question, "Why then, did you leave me?"
She answered swiftly, honestly, and against her will, "You told me all along the reason I would leave you. You even told me when we first met."
"Why," he said, "Tell me why."
She smiled, because she began to like the truth, "Because," she said, "I'm smart."
Short Story
Fantasy
About the author
I'm an aspiring author and poet, on a life-long journey of self-discovery and learning. I'm an avid reader and lover of all things creative and independent.
Reader insights
Nice work
Very well written. Keep up the good work!
Top insights
Compelling and original writing

Creative use of language & vocab

Easy to read and follow

Well-structured & engaging content

Eye opening

Niche topic & fresh perspectives
Heartfelt and relatable

The story invoked strong personal emotions
Add your insights