Grounded on Christmas
(or a Peanuts fanfiction)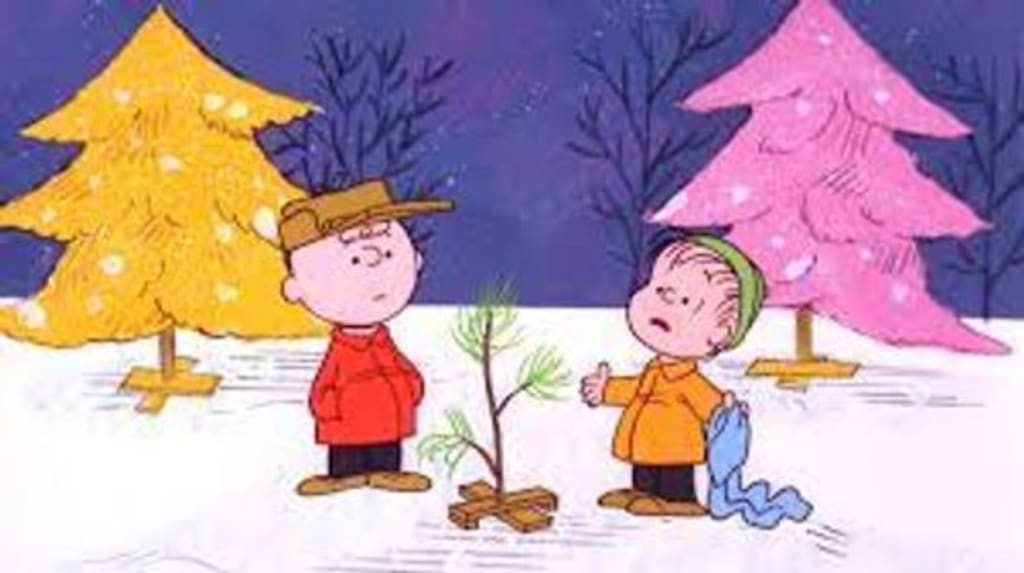 A little context: Shortly after I first discovered the author service, Reedsy.com, I wrote this story in response to the following writing prompt they offered: You own a Christmas Tree stall. One evening, a young boy comes in and picks the smallest, scrawniest tree you have.
Anybody who knows me personally knows I love Charlie Brown Christmas so I couldn't resist this nod to it. I might have missed whatever contest this one was offered for, but when I learned that Vocal now offered a fiction section, I figured I'd share it here.
Uncle
"Hey, Evan!" I call to my nephew, loitering at the checkout. "Net up the tree that the Johnson's want and help them tie it on the roof of their car. Then, go pitch in with the new stock when you're finished. Pouting around gets you nowhere, son! Back to work!"
He's been acting like a punk for months now and his mother thought that volunteering him at my tree stall might help straighten him up. Three weeks into the season, he just seems like a tired punk to me, with either a shuffle or stomp in every step depending on his mood, and a sapping scowl on his face most of the time I have him. I can see he's in a stomping mood as he plods from the checkout with the netting clenched in his fist. The trees don't take themselves home, son. I think to him.
He comes by after school everyday and works until closing, and spends the whole day with me either on the weekends or snow days. He had enough of a fit with his parents and failed enough tests to warrant some severe grounding punishment along with his community service. His privileges with the tv, the phone, the car, and his allowance are revoked, and his curfew has been moved up to 7:00; just enough time for him to get home after his busy days here. I can't imagine the kid's worked so hard in his life, though a better attitude would make the load more bearable.
Evan
If uncle thinks I'm staying a minute past six tonight, he can kiss my foot! I think to myself. Today has been the busiest day ever for his tree stall. I've barely been at the checkout a minute to catch my breath when I hear him bossing me around.
Nobody understands my life! All my friends have dates to the upcoming Christmas dance, and the girl I like is interested in going with somebody else! Corrine Meyer is all I can ever think about, so excuse me for being distracted from my homework! Especially since my grades aren't as stellar, Mom and Dad are always ragging on me to think about what I'm going to do after I graduate school almost as if thinking about something like the school dance is a crime. I'm just sixteen; I have a few more years to figure it out.
On top of all that, Christmas time is starting to irritate me. The stores have had holiday stuff out since the middle of October. The name isn't even spelled right anymore, and the songs and decorations are getting obnoxious. I haven't seen a white Christmas since I was eleven, and artificial trees are suddenly popular. So much for the old-fashioned Christmas anymore. I don't want to go out in all the commercial racket, but Mom and Dad get mad over me not wanting to go anywhere with them. I can barely understand why they want me run errands with them or help with chores when they want me to focus on my homework too? Watching tv has been about the only thing I can tolerate, and I can't even do that anymore after our last fight. So, I'm big-time grounded and have to help my uncle run his tree stall. He does nothing but boss me around, though.
Uncle
Evan's shuffle back to the checkout an hour later tells me he's getting tired, but instead of keeping the counter held up, I notice he gets the broom and shovel to clean snow from the walk. Without being told! That's normally been rare for him, but this is the second time this week I've caught him doing something without me on his back so much. He'd get a bonus if he were getting paid.
I was suggesting trees to some indecisive customers when I see from the corner of my eye two young boys wandering among the stall. The oldest had to be half Evan's age, and his friend carried a blanket with him. I wouldn't have recognized the kids at all if not for the blanket. I see them around town all the time. Sometimes with a funny beagle. I get to wondering if they are supposed to be working on a school play or something? I would've asked if I wasn't occupied. Evan had handled the children's transaction, and they were on their way from the stall by the time I had a free moment, but I saw enough of them to notice that the boys had left with a scruff of a tree branch. How did something like that even get on the sale lot? I wondered as I prepared to help the next customers.
Evan said he wanted a ride home as we were closing up for the night. I quit asking after a few days when he seemed more insistent to sulk home in the snow. Even now I won't deny him though. As I drive him home, some more of the neighborhood kids catch our attention.
"Merry Christmas, Charlie Brown!" We heard them shout when we stopped. Out in a yard were the boys from earlier, surrounded by some of their friends, and the pint-sized, bedecked tree I almost didn't recognize as being from my own lot. They all looked like little carolers as they belted "Hark! The Herald Angels Sing". I thought it was adorable, but what was more touching was noticing Evan's glower evolving into a smile at the scene. Suddenly, he urged me to go back to the stall where he picked out a tree to take home. Then he goaded me to stop at the supermarket, where we picked up decorations and fruitcake he took home with him. He might have been breaking curfew and disregarding his grounding, but I imagined tonight would be forgiven when his parents saw this new spirit in their son.
I imagined his parents scolding his tardiness when he got in the door, but they themselves might have even been floored with his smile, his hands full of holiday goodies, and his heart seeming full of seasonal goodness. For perhaps the first time in years, he greeted his parents kindly and affectionately and went to helping them around the house with decorating and with dinner.
Evan
Being grounded on Christmas stinks! I think to myself while at the counter. I'm grounded during the Christmas dance. I can't be out with my friends like they are today, either playing in the snow, or helping shovel sidewalks for a little money. Any other year, I bought gifts with that money and my allowance, which is also revoked right now. As hard as I'm getting worked here I'm not being paid. Carolers are out too; something else I've enjoyed doing.
I'm about to breathe a bah humbug when two kids wander into my uncle's stall, one of them with a blanket. I haven't seen any other kids come by without adults with them. Most of them will play hide-and-seek in the trees while their parents are preoccupied with haggling for a tree, but these two look like they're here on business. I also wonder if they should be at rehearsals for the annual school Christmas play? Besides, the trees are bigger than them too. How do they plan on moving it from here? I may have been feeling like a Scrooge, but I don't want to be mean and chase them off either.
I was thinking about the school play when the same kids made their exit. They just so happened to find a kid-sized tree! Albeit its not enough of even a stick to shake anything at, but I play along, and take the milk money they offer for it. The school plays that I was in were often simple, and perhaps even all too typical with the nativity scene every year. I myself played a shepherd every year I participated. Watching the kids trek back to school made me wonder if even the play was going commercial this year?
I asked my uncle to give me a ride home from the tree stall tonight. I was too tired and the weather was too cold for me to walk like I usually did. I might have been grounded on Christmas, but I suddenly felt like I wasn't missing much after what Uncle and I saw: all the young, neighborhood kids--including the two that came by the stall earlier--gathered around the little tree singing "Hark! The Herald Angels Sing," Neither of us knew why they were doing it, but I especially loved it!
"Hurry back to your stall, Uncle!" I was inspired, "I want to take home a tree!" I didn't care if I didn't have the money or if I was late for curfew. The kids had me believing that the old-fashioned Christmas wasn't dead yet!
"We might need decorations!" I realized before we got uptown, and we stopped for some at the supermarket, and picked up some fruitcake too. On the way home, I got to thinking that if anybody were going to keep the old spirit alive, I should try to at the very least. And doing so meant doing my part when I got in.
"Merry Christmas! Mom and Dad!" I greeted them at the door. I don't know what they were more worried about: the fact that I was late, or how much holiday spirit I suddenly had!
Uncle
He returned to the stall the next morning still with the same energy from the night before. His step was more lively, his face glowed, he wished all the visitors a Merry Christmas, and did a lot of his work without being told. I caught him on the phone at one point, and heard: "Yes, ma'am…Thank you. I love you, Mom."
"Could we go to the children's play tonight?" He turned to me after hanging up the phone, "I just got permission from Mom and Dad." I agreed. I was curious myself what the kids had prepared this year, but more so reminiscing on when Evan was small enough to participate.
Their show this year depicted the Biblical Christmas story; the running theme since Evan was in their shoes on that stage. Every Christmas he did it, he was a shepherd, just like that boy, Shermie, has for the last couple years. Though it was far from monotonous with that kid, Charlie Brown, supposedly directing it this year. A Beethoven music selection was an interesting addition, but besides that, Charlie Brown and the crew did quite well expressing what Christmas was all about between the performance and even the other night with the tree. I imagine my nephew's change in demeanor must have come from remembering all that himself.
He was still grounded until Christmas, which was a shortened sentence that was originally up at the end of the month. But he was less ornery and more dutiful and pleasant ever since. When the new school semester started, he did his homework to keep his grades up and didn't fight with his parents as much. He was even interested in helping with the tree stall again next year.
Fan Fiction
Random blogger and published short story writer-
https://kjohns323.wixsite.com/kjswritersblock/portfolio