Gingerbread
An Anti-Fairy Tale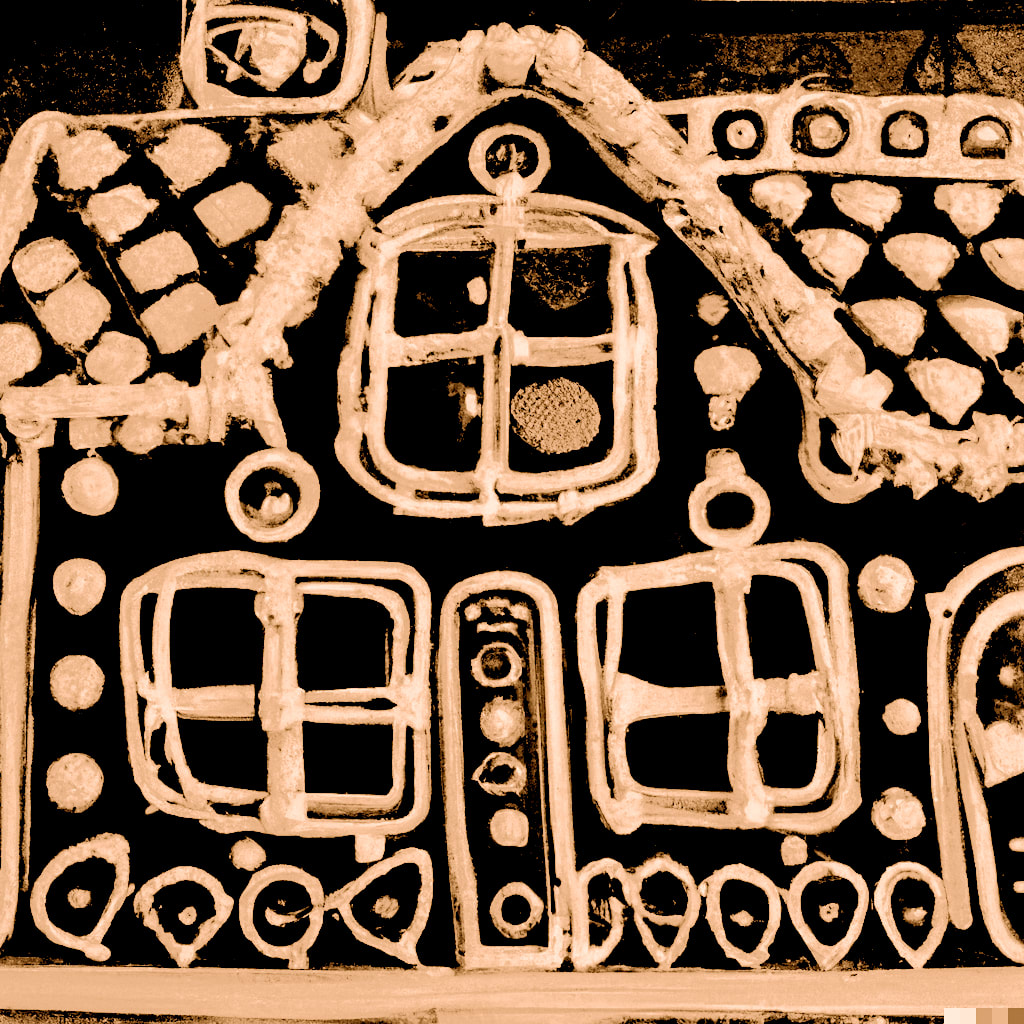 AI generated image created with DALL.E 2
If walls could talk, they might tell you she learned to bake in her mother's Lord's kitchen – long before the rats plagued, and her toes turned black, and the beaked doctors came with their poking sticks and futile remedies – but those old stone baileys never uttered a word so that's not where this story begins.
My tale starts from sweeter origins. With six simple ingredients.
I was made from scraps of sugar and spice; from butter, flour, eggs and cream. She found the goods stashed in the root cellar, hidden beneath rotting potatoes, and used them to bake gingerbread bricks in her dead Lord's oven. She'd been alone for some time by then, but she knew the recipe by heart, and even in the empty kitchen she could hear her mother's whispered lilt—make it well, my lambkin, lest it falls apart.
She carried each gingerbread brick deep into the forest, and laid them one by one. Constructed me, course by course. Daubed my cracks with marzipan to keep out the damp. There was nobody left to ask her why, so she never bothered to explain – she just spent her days baking and building, and soon enough I was complete. Four walls of cake and crust with six sugar-frost windows. She crowned me with a biscuit roof and called me home. A confectionery cottage in the wet, black woods. She baked herself a gingerbread mother, and together they lived in the safety of my folds.
And for a time there, we were happy.
But that's not where the story starts either. Not really.
This tale begins and ends, as it generally does, with the two greedy children and their trail of breadcrumbs.
She might have known they'd bring bad fortune, had she not been so lonesome. She might have guessed by the way they chewed at my cornices with their gaping mouths. The way they took without asking. But she longed for real company so she welcomed them in, mouths and all.
"We're hungry," they said, and so she fed them.
She roasted the turnips that grew in the garden, cooked barley and rye into loaves of brown bread. Churned milk from her cow's udder, and boiled up the eggs her pheasant friends left in the yard. Soon the table was laden with a feast fit for a nobleman, and the children ate in filthy fistfuls, snorting and snuffling like pot bellied pigs.
"Do you like it, my lambkins?" she asked them, hopeful.
The boy child glanced up between mouthfuls of egg yolk - Hansel, he called himself. "Meat," he replied.
"I don't have any meat, my dear. Perhaps I could prepare you some nice curds and whey-"
"Meat," he repeated, yolk-stained and unblinking.
And since she couldn't bear the thought of them leaving, she said goodbye to her pheasant friends and roasted them up too. Finally, the children were satiated. They left her to clear the mess alone, falling asleep by the open fire with swollen bellies and greasy faces. And as she scraped bird carcasses from the table, she avoided the stare of her gingerbread mother.
"Hush, Mother, all will be well," she said. But later she wept for her feathered friends, and I knew she was troubled. I wanted to tell her to trust her inner knowing. That she should make those children leave. But she didn't create me with the magic of speech so all I could do was protect her from the chill of the outside world and pray she would find sense on the morrow.
Still – when daybreak seeped grey through my sugar-frost windows, and the children were hungry again – she fed them.
She seated them at the kitchen table, seated them next to her mother like a real family, and set to work. She snipped up the herbs that sprouted on the window sill and broiled them up with cabbage and peas. She gathered fruit from the quince tree and turned it into jelly. She roasted carrots and parsnips, and baked maslin loaves, and soon the children were feasting on vegetables and bread and preserves.
"Meat," said the sister, Gretel, teeth sticky with parsley and jam.
"There are no more birds, my sweeting. Perhaps I could prepare you some porridge or gruel."
The girl-child pointed to the old cow chewing cud outside. Eyes cold. "Meat."
And she couldn't bear to be alone, so she did as she was asked, and the children ate roast beef until there was none. And when they were done, they didn't thank her. They just left her to clean up the marrow-sucked remains. Fell asleep by the open fire. And her gingerbread mother sat watching, silent, as she cleared the table.
"The bovine was aged, Mother," she whispered. "All will be well."
She wept for her dear old cow that evening, and I was once again helpless. If she'd created me with hands, I might have touched her shoulder. Told her she needn't worry about being alone...that she had never been alone. But all I could do was stand strong against the impending winter and listen to her cry.
The next morning the children were hungry again, but there was no milk to quench their thirst, no boiled eggs to fill their bellies. The garden was empty. The quince tree was bare. She tried to appease them as they wailed and moaned. She baked bread with the last scraps of wheat, made a broth out of beef and bird bones, but they spat out the offerings and rose from their chairs, angry fists pounding the table in a unified beat.
Meat. Meat. Meat.
"I don't have any," she said, backing away. There was something in their eyes – something ravenous.
"Meat," they chanted. Closing in.
If walls could speak, I would have shouted for her to run. Told her they were about to attack. But all I could do was watch as the boy pounced upon her, tore at her knotted braids, sank his teeth into the flesh of her arm as she tried to break free. Watch as the girl-child opened the oven and forced her inside. Listen to her scream as they ate her gingerbread mother with their gaping mouths and wild eyes, spilling crumbs all over the kitchen floor.
And when she finally burst out of the oven in her purest form, enraged and powerful and charred with lessons learned, the children fled. They followed that trail of dirty breadcrumbs right back through the woods, and I knew they'd run back to their village. To their kin. That they'd feed their faces with pork stew, feed their family full of lies about the witch in the gingerbread house, and when winter was over they would come back to hunt her.
And I wanted to tell her all of this, to warn her, but I stood silent and strong as was my purpose.
Silent and strong, as she dressed her burns with bone broth fat.
Silent and strong, as the winter took hold, and her kitchen grew cold, and she shivered into the morning hours believing she was alone.
Silent and strong, when the plague rats followed that trail of breadcrumbs. Caught the scent of biscuity spice and found us deep in the black forest. Gnawed at my candied cornices. Turned her fingers and toes black with sickness.
Silent and strong when the doctors came, and the vengeful villagers came, and the fairytale made its wicked whispered course from gaping mouth to gaping mouth.
If walls could talk, I might have saved her from becoming the villain. Shouted out the truth as the rats bit at my very foundations, as she took her last laboured breath and cried for her mother.
But, alas, even gingerbread walls cannot speak, so I said nothing (as all walls do) and prayed she knew she wasn't alone.
Reader insights
Outstanding
Excellent work. Looking forward to reading more!
Top insights
Compelling and original writing

Creative use of language & vocab

Easy to read and follow

Well-structured & engaging content

Excellent storytelling

Original narrative & well developed characters
Expert insights and opinions

Arguments were carefully researched and presented

Eye opening

Niche topic & fresh perspectives

Heartfelt and relatable

The story invoked strong personal emotions

Masterful proofreading

Zero grammar & spelling mistakes

On-point and relevant

Writing reflected the title & theme
Add your insights