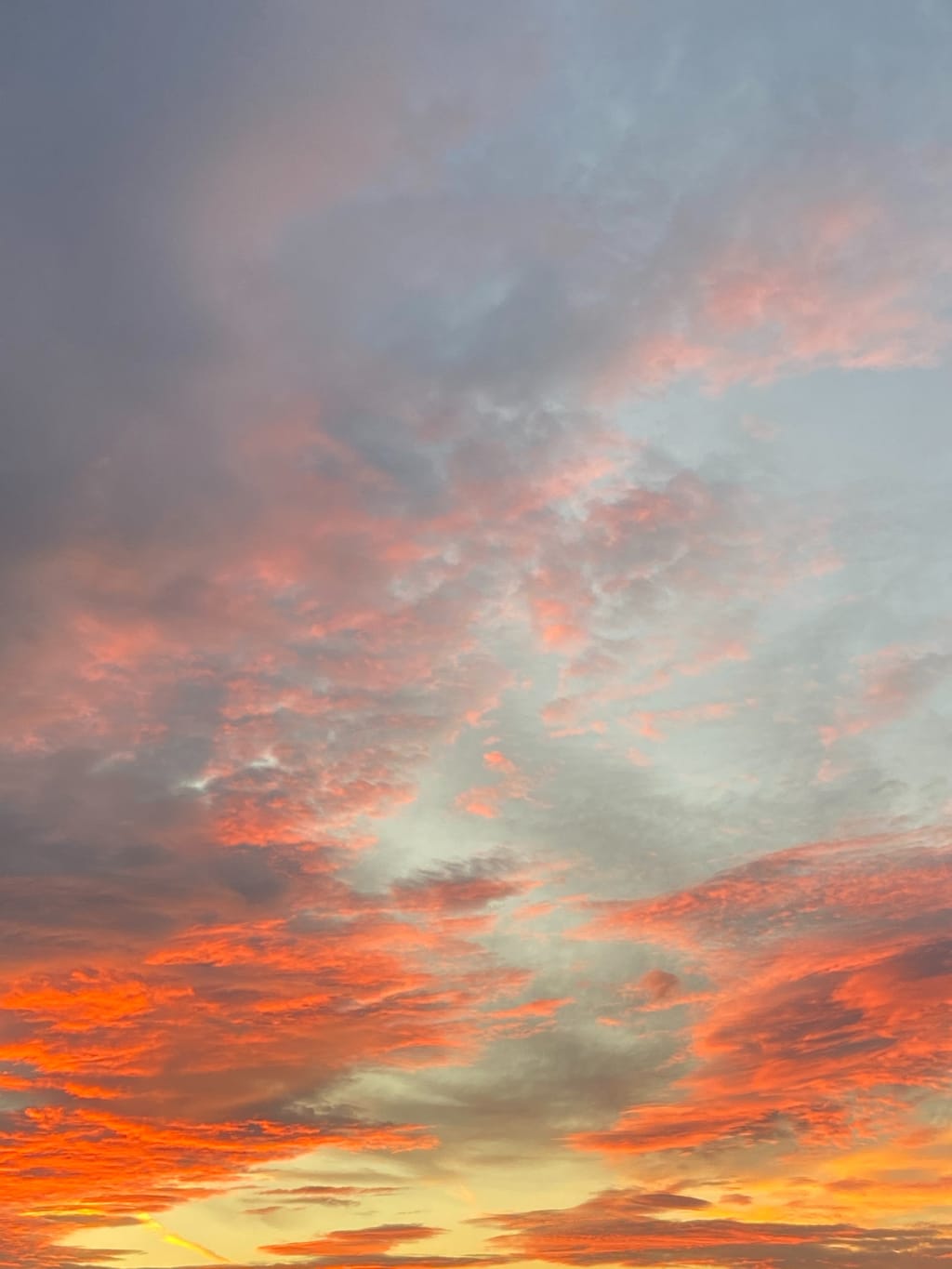 Pexels Art
Trickling thunder met the horizon. Like dew drops almost suspended as the storm subsided. Orange skies filled the distance. The space between nature and herself was sparking clean.
A station shuddered. A painted tarmac glistened. A blank beach stared upward past the orange.
Tired and worn she shook the sand from her head, again. Squinting, she stood up from the beneath the tree. Suntanned skin inside a short, white eyelet lace, A-cut dress. Mussed white hair, beach flats cupped her feet. Diamonds on her ears shining in the sun.
"Why, there is Eve herself," he whispered through the strangest looking glasses. He stared a moment longer then disappeared nearby.
With nothing to do she steadied forward. She had saved her money all year long for this trip. Now this. An improbable paradise? Turning the night around in her mind. They had danced around the small fire pit, she and her friends. A little tipsy she wandered off behind a rock to pee. Then sat for a moment, enraptured in the exotic essence of the island. She gazed up at the stars and before long she curled up and slept. Just like that. It had been a long flight. It had all caught up with her, the excitement, the heightened energy, the ultimate!
No one went looking for her apparently. She woke and the music was gone, so was everybody else. No lanterns to guide her way she walked by moonlight in the direction she believed would lead her to the hotel. The group of them had walked there, they weren't that far but there was nothing to show her the way. What was a landmark in the near dark? She couldn't even find the firepit or her phone, but she had her small boho bag. Daylight will show, she trusted.
She continued her walk until she met a tree. There she sat and again fell asleep, lulled by the sound of the waves. Waves were a dreamer's favourite friend. In that moment everything was perfect.
Now, with each footstep she carried on knowing that she was lost. In fact she could not be more lost. She had no sense of direction. This had happened before to her. When she did her clinical internship she would get lost if she was on the wrong floor of the nursing home, would gravitate intuitively toward the elevator to get some sense of where she was. Once she went to the Montreal Jazz Fest. She had a day to herself to roam the downtown. In utter bliss of the music and the movement of people she cascaded through every venue she could, admiring the musicians as they played. Then dreamily wandered past various stores looking for flowers to buy. Before long she was very lost and out of place but since she didn't like a worried feeling, she didn't worry. Instead she asked people how to get back and even though she didn't know the language everyone was very helpful. They checked the address written on her hand and pointed her eventually to the bus.
This was different. There were no people. Not even a friggin' bird she noticed. Maybe because of the rain.
He sensed her contradiction in stance. One moment she stepped assuredly, the next she either stopped to think or looked around. What was out of place? Well, her of course. But did she realize how far she had walked? Most people couldn't achieve it. He wondered how long it would take for her to sense him. Some did, some didn't.
A predator you may think? No, not. Not at all. Someone far different.
By afternoon she was hungry. She turned and there was a banana so she ate it. Where did it come from? It was just laying there as if waiting for her. It was too hot, she had to retreat from the sun so sat under a tree again. There was seriously nothing but sand, treeline behind, and water. This was impossible, how did she get here? Well, I will just have to sit here until someone finds me, she decided. I'm tired of the quiet. She closed her eyes.
"Let me be your compass." The lightest blue eyes smiled at her. "Do you have a name here?" Now, lost in the moment she almost forgot it. "My name? It's Lara. Where did you come from?" He smiled again with a slightly furrowed brown and did not answer. "What don't you know?" he replied. Then he waved his hand and cast away the dimensional shadow of the branch. She started to remember...maybe she had met him before. "How w..." Then he placed his first finger in front of pursed mouth, "shhhhh." Green eyes met blue eyes and together they stood. His skin translucent, his features, strong jaw, straight nose divided the center of perfection, hair as light as the reflection off the waves. A sudden awareness and she fainted.
He had little time. This took him years to prepare for. It took her moments to succumb. Now what. Too much sleep could hurt her in the after draft. She needed to be alert or all would fail. He had to collect them all. It would all come back to her later. Sheer magnetic force drew her away from the crowd. It wasn't difficult to. As of now her memory would not serve her. Too bad. Eventually there would be people looking for her. So he picked her up with ease and carried her like an infant.
He walked along the path of the water, his gaze straight ahead, never wavering. He walked like that four more hours. Then she trembled and woke with a start. Believing she was being kidnapped she turned and bit him. This would not do. He tossed her emphatically in the water, "wake up!"
Sputtering and shocked she stood, fists at her side. "Who are you." Noticing his size again, "what are you?!" He laughed. "Come here," he demanded and as if hypnotized, she did. "I'm not here to hurt you. I am here to show you a place. It's important. You forget. That's normal. It's a place you have been before..." He explained patiently. "Just follow me and don't say a word. It shouldn't be long now." Without many options she did as he said.
Some kind of predestined act is performance. Like when the seas meet a storm in the clouds and raindrops fall. All a smooth glide for nature. Quite an upset for the fish. Still they gravitate with the swell and dips of the performance. Nature adapts like that. So did Lara. This fascinating man had some kind of power, like the ocean. Adapting moments were all she had. The sense of being lost left her. Replaced by a feeling of being found. A sort of excitement like a smooth torrent inside.
***
The Being translucent, stared into a large glass elipse on an instrument panel. The interior showed a time piece like one of ancient times. He waited patiently for the arm to move. Then he looked upward at a large screen that centered the room. The beacon showed brightly on the screen, that was his friend cast onto the garden below, the island as they called it. It was all growth from here.
For decades they had done this. For those facing trouble or soon to be discovered. It was abrupt but the only way. The small bright dot that was her gliding beside the beacon could also be seen and he smiled at the thought of her awareness.
He watched them near the turn-point. Timing is also a movement as nature is. The turbulence upon entry would cause more rain. With a glide of his hand his crew went into action and thrust the vehicle forward.
***
The sky hadn't turned violet yet. Still plenty of light. He walked on determined. She kept up beside him. Neither spoke. As they walked she began to forget. She forgot her friends back at the hotel. She forgot her people at her workplace. He felt a couple drops on his skin. He hurried. She forgot her schedule for the next day. She forgot about hunger and the length of the day. She forgot her feet barely touching the ground as she kept up. Then they saw it. In unison, they both looked up at a shooting star. He ran. So did she.
The wind burst down in cascading force blowing the sand away as if creating a dent in the surface of the beach. It shook the trees and made the waves tall and pushed back. Moments of massive confusion. Then the brightest light shone through it all and before Lara could figure out what was happening, he grabbed her around the waist and jumped up and into a vast doorway, open for a split second only. Yes nature times things well and so do beings of another universe.
She slid across the floor of the ship and wide eyed stared around her. The room was filled with transcendent ones. She closed her eyes for the second time that day, smiled and remembered.
The shooting star went upward back toward the clouds.
Copyright © 2022 Lisa A Lachapelle. All rights reserved.
Lisa Lachapelle's links: Vocal Stories & Website
Leave a tip or a pledge if you wish to and I in turn will wish for you.
If you would like to be updated on all my writing just sign in to Vocal for free and click Subscribe on my work. Or brighten my day with an email [email protected]
About the Creator
Novels in 2012, 2013, 2015. Poems in Library of Congress editions, World Poetry Movement,Great Poets of America. Wordpress,Notes From Caeli's Well; RPI Poets Are Heroes Valiant Edition mag, Vocal. https://lalachapelle.webstarts.com/
Reader insights
Outstanding
Excellent work. Looking forward to reading more!
Top insights
Excellent storytelling

Original narrative & well developed characters

Easy to read and follow

Well-structured & engaging content

Expert insights and opinions

Arguments were carefully researched and presented
Eye opening

Niche topic & fresh perspectives

Heartfelt and relatable

The story invoked strong personal emotions

Masterful proofreading

Zero grammar & spelling mistakes

Compelling and original writing

Creative use of language & vocab

On-point and relevant

Writing reflected the title & theme
Add your insights