Eragon
Book 1 of The Inheritance Cycle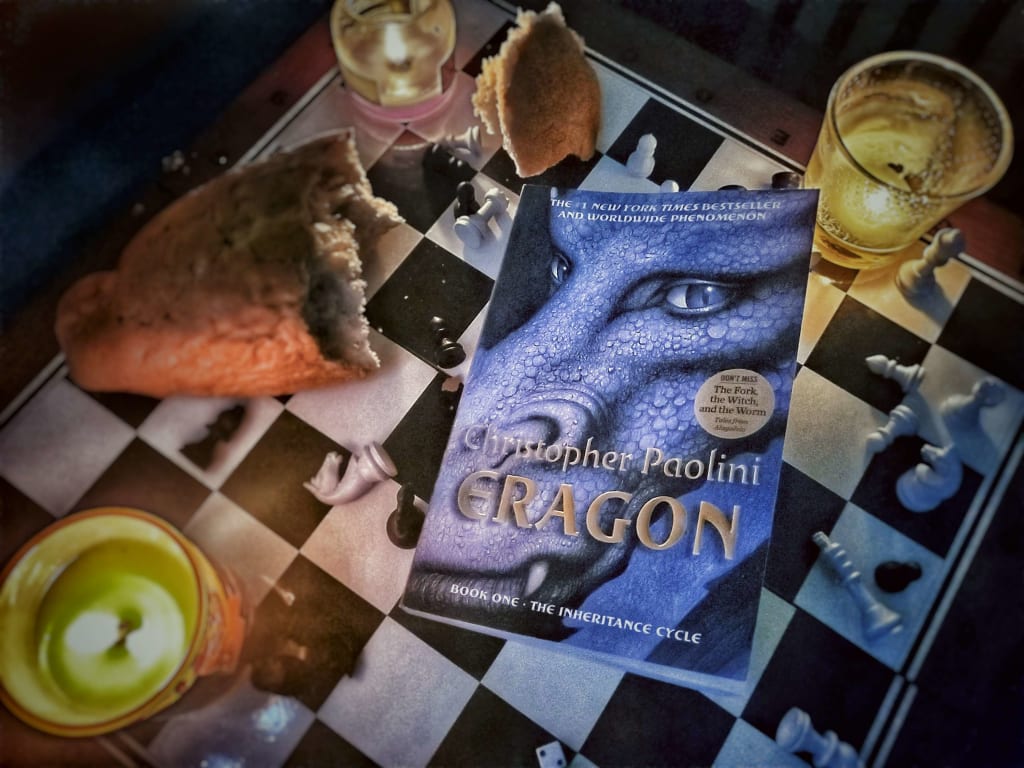 Photo credit: Hannah Mešić
Eragon
Written by: Christopher Paolini
Published: 2002
Book 1 of The Inheritance Cycle
My rating: 4 out of 5 stars
Disclaimer: Keep in mind, these are personal opinions. You do not have to take these things into account or pay attention to them when YOU read the book.
I first read "Eragon" when I was around 12 years old. I have had lovely memories of snuggling up with hot tea, a big blanket, stealing my siblings' pillows to have a big pile of comfy-ness in which I would read this book for hours under the living room window. So, I had to purchase the entire Inheritance Cycle from Amazon before leaving the US in October 2021. It has since sat on my shelf, waiting to have its turn amidst all my other books. But hearing recently that Disney+ and Mr. Paolini are working together to create a TV series, long-awaited by us Eragon fans, who were severely disappointed by the 2006 film, I HAD to start re-reading the series.
I will admit, though, that I listened to the soundtrack for the film on repeat for probably 6 months. Patrick Doyle is an absolute master of nostalgic fantasy music; if you haven't experienced his other works, I highly recommend checking them out. For now, I'll stick with Eragon because it is the topic of this review.
Back to the book!
From the very beginning, the storyline keeps you riveted. This is one of those books where, if I didn't have other responsibilities, I'd probably have read the whole book in one to two days. This is not only due to the story being quite interesting, but also because it is written for easy reading. This is the main reason I had to remove a star, making it 4 out of 5 stars. I understand that it is aimed at young adults, it fits into that category, AND it was written by a (then) teenager, however even as a YA book, it sometimes felt a bit TOO much like a teen writing.
I don't say that with dislike for how teenagers write, in general, however they are inexperienced in the world of writing. I know this because 1) I used to be a teenager (SHOCKING!), which I remember VERY well, and 2) I used to teach the language arts to teens. Taking this into consideration, as well as the fact that books have to go through editors before being published, I have always found it a bit odd that at least Paolini's editors didn't seem to help him with the way he wrote certain parts. On another note, Paolini's parents published this for him and then it got noticed by larger publishers. So maybe he didn't go through the editorial process, except for his own editing (all writers typically go through editing multiple times before going through publishing)?
From a personal standpoint, I also am more of a Tolkien, Dickens, Brian Jacques, Wilkie Collins, Grimm, Hodgson Burnett reader. I love the detail that is included and the higher level of writing. Another reason I had to dock a star. Again, I understand this is YA, but even then... The Hobbit is YA but it's BEAUTIFUL writing. Anyhow, that's my critical side.
As I say, I love this book and have VERY fond memories attached to reading it. The plot is intriguing, the story: captivating. It is among my favourite stories and I SO look forward to reading the rest of the series! I am also VERY excited to see how Disney+ does with the tv show. But at the end of the day, I know I will always have the books (the full series) to return to and fully enjoy the story, even if the show falls short. And I'm sure I WILL return to reading the book in the future, as I've done twice now.
Happy Reading, Bookworms!
About the Creator
I've lived a lot of life, read a lot of books, and have loved writing from the moment I first held a pen. I used to imitate letters with a pen, before I could even read or write properly. I want to share the power of words with the world.
Reader insights
Be the first to share your insights about this piece.
Add your insights