Enid & Floyd & the Moon
by kings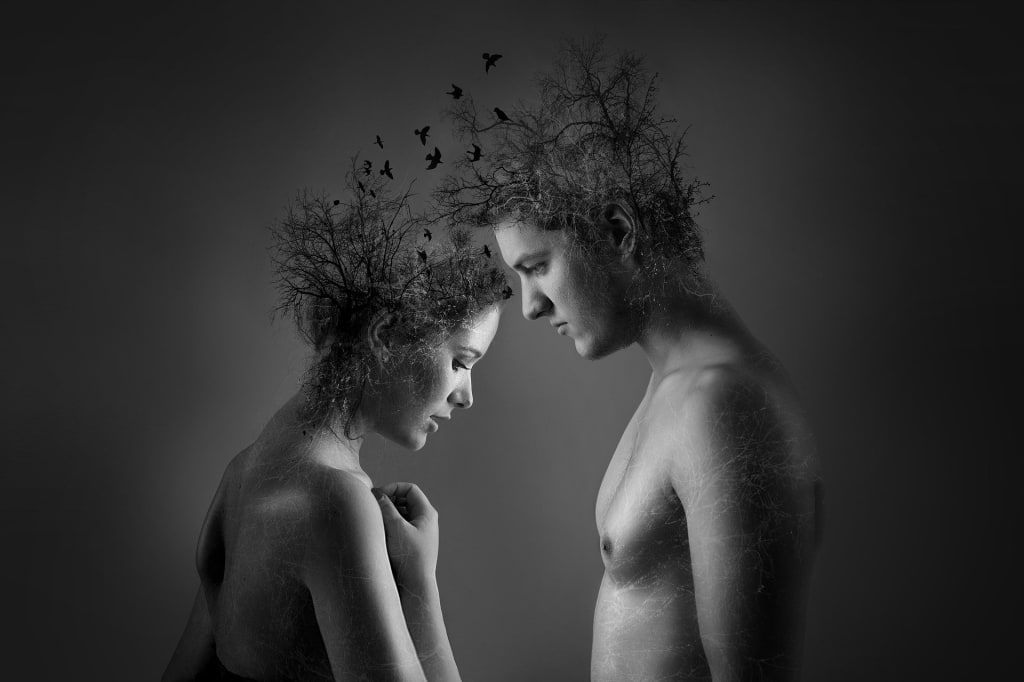 image from pixabay
Floyd, Enid's husband, dyes her scant hair while she leans over the sink. The clear plastic gloves that came with the Clairol "Flame Red" coloring kit are covering his veined, unsteady hands. The gloves are too tiny and come to a halt just below his wrists. It's awkward, but then again, everything is awkward or hard for him. He tries to slice the top off the squeeze bottle with an old pair of children's scissors. His hands are as if they were mute paws.
Enid's back is rigid from age, yet she manages to bend forward far enough for her sixty-year-old husband to gently pour water from the spout onto her head with a cupped palm. Maybe twenty times, back and forth, back and forth, back and forth, back and forth, back and forth, back and forth, back and forth, back There is no need to rush.
A beige towel hangs like a stole from her thin shoulders. Enid is a petite woman who, in her old age, must weigh no more than ninety pounds. Her complexion is freckled and pale, like that of a redhead, but her hair has turned white. Floyd dyes it for the purpose of himself. Enid had been blind for a long time.
Enid and Floyd live behind their house in a detached garage. It was turned into a suite by Floyd. Two ripped reclining chairs, a black-and-white television, and a bookcase can be found in the living area. Two walls have fake wood paneling, one has a garage door, and the living room and kitchen are separated by a half wall.
All of the appliances in the kitchen were found at garage sales: a micro fridge, a two-burner hot plate, and a toaster oven. They eat in the living room, where Floyd does all the cooking, on rusted TV trays acquired at a rummage sale. Their room is just a smidgeon bigger than the double bed. There is no door to the bathroom, which is located off this small room. Should someone come to visit and need to use their restroom, a sliding curtain provides privacy, however this has never happened.
Too cold?" Floyd asks.
"A little."
Floyd applies the dye to his wife's hair, massaging it from root to tip, as directed on the box. He informs her, "Now we have to wait five minutes."
Floyd wears a Motel 6 shower cap over her hair. He paid five cents for twenty-five of them at a garage sale. Each one is packaged in a cute little box. Enid is seated in a kitchen chair while he pours them glasses of Nescafé and evaporated milk. Enid sits quietly on the edge of her chair, her eyes closed. She's dressed casually in black pants with an elastic waistband, bright white running shoes, and a Gap tshirt.
The kitchen door is open because it is hot outside in the summer. Floyd would raise the garage door and let a good cross breeze in if he were stronger. A cement patio, a clematis-covered trellis, and a bright blue sky greet them outside their kitchen. They wait while Floyd sets an egg timer.
Floyd rinses and blots Enid's hair with a ragged towel when the timer goes off. He takes a plastic comb from his polyester short-sleeved shirt's breast pocket. Three of the comb's teeth are broken. It could be twenty or forty years old.
Floyd recalls how he used to cut his son's hair as he combs a side part into his wife's hair. Jimmy died of brittle diabetes twenty years ago. Floyd's mind replays the long, sad story every now and then when he can't stop himself. Jimmy was unable to experience the normal aspects of life, such as employment, marriage, children, and old age, due to his illness.
Enid's hair is also trimmed by Floyd, but not today. They're both exhausted now, so Floyd leads Enid out into the patio, where they finish their coffee. Floyd raises his eyes to the clematis vines. Enid directs her gaze toward her hubby.
"Last night, I had a dream that the moon had fallen out of the sky," she explains.
"What occurred after that?" says the narrator. " he inquires.
"It dropped on the sidewalk and was cold and smelled like rain and wind when I picked it up."
Floyd chuckles. "What then?" you might wonder. "
"I had to re-insert it into the sky. I went out and got a ladder and pinned it."
They both burst out laughing.
Enid and Floyd rent their home, a three-bedroom, two-bath bungalow they purchased when they first moved to Madison and Floyd was promoted, to a woman who promised to cook them Sunday supper and assist them with shopping and doctor appointments in exchange for lower rent. She doesn't do much at all. When Floyd protests, she cries, apologizes, and tells him about her issues.
"I get awful migraines," she confesses, tears welling up in her eyes. But, unless something comes up, she cooks them Sunday supper most Sundays.
The mother will offer them hot dogs, potato chips, and Seven Up tonight because it is Sunday. A process server will knock on the door after dinner, while they are having orange sherbet. Floyd's hearing is so terrible that he won't listen to the woman pledge to hand over the bench warrant for the unpaid citations she has on Floyd's vehicle.
Who was that?" Floyd asks when the woman returns to the dining room.
"Jehovah's Witnesses," she says and sighs.
"You should have invited them in for sherbet," Floyd says.
"Yes, they'd like that. I bet they could use something refreshing," Enid says.
"Next time," the woman says.
Eventually, Floyd will find out about the tickets, the dented fender, the rent checks that bounced, but not tonight.
Floyd pushes back his chair. "Guess it's time to hit the hay." He carries their dinner plates into the kitchen, leaves them clattering on the counter, then returns to help Enid.
"Let's stay outside for a bit," she says.
Floyd and Enid sit on the patio under the trellis, their hands entwined. The night air is warm and still.
"The moon is full," Floyd tells her. "I can see the Big Dipper and Orion's Belt."
"What else?" Enid asks. "Tell me everything you see."