Desert Flora
Medical Education in the American Southwest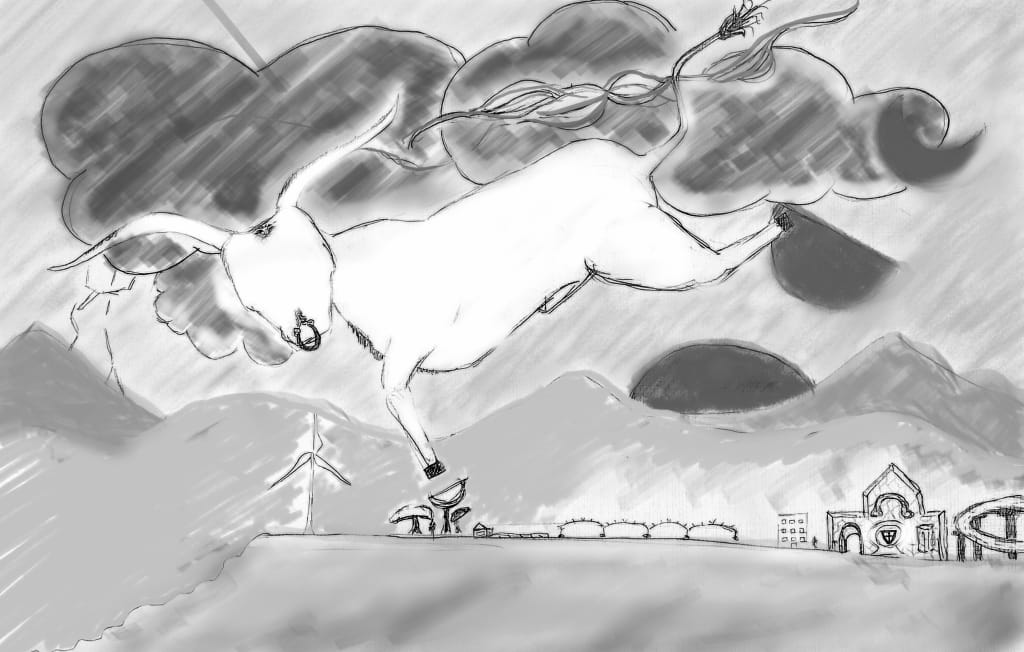 Clouds over Lubbock. MD Reed, 2021.
A quiet thunder on the arid plains, as Artur eviscerates atmosphere with hot aluminum. The summer puncture leaves behind a gasping tunnel, hunger of air for air, parted on the frame of an old Ford Ranger, dented mass that careens over and down the dry hills of North-Central Texas. Westward, the world transitions from verdant green and piney canopies to yellow waves of grass fractured by bare red rock, like a scalp split open under the weight of a hammer. The truck's radio is exultant, loud with 90's rock, but the cacophony of turbulent trails sheered by open windows and a dangling arm is louder. Smoke falls out the nose and mouth of Artur, tobacco warmth, alert asphyxia, ancient chemical mood, a fire upon the universe of thought; and in the breath of distant solar flares his left arm corrupts in midday, until it becomes red and boiled, then pained, peeled, dark. The proof of this moment will be a peculiar half-sided tan, patina human-gold.
Southeast of Lubbock the high plains smell of volatile hydrocarbons, and the Earth is interrupted by abandoned derricks, patches of well-irrigated agrarian metal and green, collapsing farm houses grey as death, a petulant bull, a despondent mare, and rows of immaculately engineered, ivory windmills that climb into the sky and reveal in motion the ubiquity of forces invisible. The ghosts of the past whisper jealously onto the clouds and spin the atmosphere as roads climb the shallow canyons, rocks rise to hide distant land from eyes, and the spirits of horsemen and warriors (no strangers to fierce exertion) spill their blood and the yellow fat of the buffalo into the setting sun. But as one passes into the vestibule of this college town, this exurb in the culturally disputed territory between the Texas Triangle and Denver, with the arrival of dusk, the memories of the Earth's past give way to the mass action of present entropy, and the war of here and now, a city of three-hundred thousand souls on the verge of night. Such is the effect of civilization, the acceleration of chemistry through intentional superposition of histories, a willingness to let one's life bleed into mine, until our colors are all one, come what may.
To be professor of medicine in Western Texas, after training in New York, Miami, and Portland is to be Schopenhauer in the moments he sat alone to write, with his unique enthusiasm, The World; it is to be one of two or three men in all of Germany familiar with the Vedas. It is to have a mission that is vital to the future, but which is entirely unknown outside of academia, and rarely articulated within it. Briefly, one takes upon himself the mission of the un-sensed filial love that redeemed humanity through all of its unknown pasts, as it progressed to unknown futures, vigilant sentry against the collapse of civilization through advancement, anthology, and synthesis of power and custom made in far off places, and the practice of kindness and benevolence. The price of this position is relative anonymity, but it is balanced by the boons of actual significance, the pleasure of knowing many things, and most of all, the dharma of gentle persons. And so it is that Artur returns to his apartment smelling of smoke, his appointments, his patients, and his trainees, all of which will be sanded down to the bone by a steady current of red dust. Ephemeral is the memory of the places that made him, they no longer matter. Here, in Lubbock, is his charge, and what will come of it is a diamond forged by those forces escaping consideration.
He carries the rose-stained meat of hewn and milled pine trees up the stairs of building five of Cheyenne Bow apartments on the edge of the city as the light of distant stars have their long-awaited say on this planet, having been drowned out by the cyclical, furious effluence of the sun of our happenstance. And there, as he turns his small brass key within a well-lubricated lock, the toes of his ostrich boots kick open the heavy apartment door, this dust-professor, arms full of wood. He lays the stained planks down in his still-unfurnished home office. A guitar, a flashy-looking bass, and amplifier are hidden in the corner of the room that won't be seen on web camera. There are piles of books fifteen- to thirty-high separated by subject: classics, fiction, non-fiction, religion, psychiatry and psychology, medicine, basic science, and study guides from years of schooling and federal examinations. There are three piles of philosophy books, precariously large, which will consume at least one shelf when these planks are bolted together. He will try to sleep, only to wake in the middle of the night, and assemble the book shelf, and arrange his books, between the hours of two and four.
The next morning Artur rises at ten, somewhat happy to see his professor's abode progressing, and distills water through a suspension of finely ground coffee beans on the electric stove. He rides a stationary bicycle he acquired during his psychiatric residency for thirty minutes, stretches his back and legs. He swallows one-hundred milligrams of sertraline, and smokes a cigarette (or two) on the balcony while sipping espresso. By three he has read some, and grows hungry, and he begins to contemplate how this hunger should be approached.
He will have to go out, but the city in daylight is fearsome to Artur. He does not like to be seen by other human beings outside of his professional role. He finds it uncomfortable to order food at a restaurant, or to check out at the grocery store. People are unhappy when they are working, or doing anything other than resting, playing, eating, drinking, or fucking. Suddenly his high thought about his role here becomes flimsy and weird –there is no part of him that finds comfort in civilization, in being around or speaking with people, in any role other than lecturer or physician. Does he really care about anything other than untangling the aesthetic of the present?
He encourages himself to view each outing from his apartment as an exercise in bravery and optimism, connecting with his fears of socialization in advance, and prepares himself to make each interaction deeply forgettable, plotting word and gesture. My god, this is exhausting. No wonder he finds it so very hard to live, and is happiest in the middle of nowhere, and remains unmarried, and largely friendless. Despite the suggestion of his old colleagues (at one time or another each had suggested it), he refuses to adopt a cat; he does not want to pay the deposit, or to have a litter box in the home. But he no longer cries himself to sleep.
***
It has happened again. And this time there are no wise, thoughtful analysts to protect him. Now it is November, and ten years since Fiona jumped off the balcony in Portland, collaborating with gravity for twelve stories, found crumpled on Division Street. A neighbor, a young marketing student living with his girlfriend, had invited him over for a joint, and in the fragility of the sad anniversary, he agreed to sit with the couple in their living room, taking generous hits of cannabis into his blood stream through the diaphanous membranes of his lungs. A forlorn looking dog rested its long jaw on its paws in a corner of the room and tracked the joint as it passed from hand to hand.
"So, what do you do?" Tony asked. "We see you on your balcony from time to time, and we've wondered about you."
"I'm a physician," coughed Artur, attempting to relax himself. "I practice psychiatry, and I teach at the medical school."
The coupled looked at him with amusement. The girlfriend, Mandy, with her bare toned arms mindlessly tossed a yellow tennis ball over the dog, who artfully pulls it from the air and sequesters it under his chin in a single motion. A swell of anniversary melancholy in Artur as the dog allows the ball to become lost in the fur of his chest, and returns its mandible to its paws.
Indica annihilates the normal representation of one's own body, the subtle pains melt away, and now Artur falls back into the room. Tension and ache are gone. In this corporeal reprieve, the contraction of pain, the mental spheres begin to race. The mood elevates. He begins speaking faster, and louder, which makes him anxious. What if his department chairperson burst suddenly through the door and saw him here, smoking pot with graduate students? He excuses himself, and stares in the mirror of the strange bathroom for ten minutes, as though discovering his face for the first time.
When he emerges: "You're dripping wet!" offers Mandy.
He wanders out of the apartment with an apology as he finds the tone of fear that has settled upon him too grating. He will spend the rest of the day pacing back and forth in his apartment on the tips of his toes, experimenting with painlessness.
***
Short Story
About the author
An academic psychiatrist, writing about people and the world from a materialist and phenomenological perspective.
Reader insights
Be the first to share your insights about this piece.
Add your insights