Could it be?
Audra hears an unexpected cry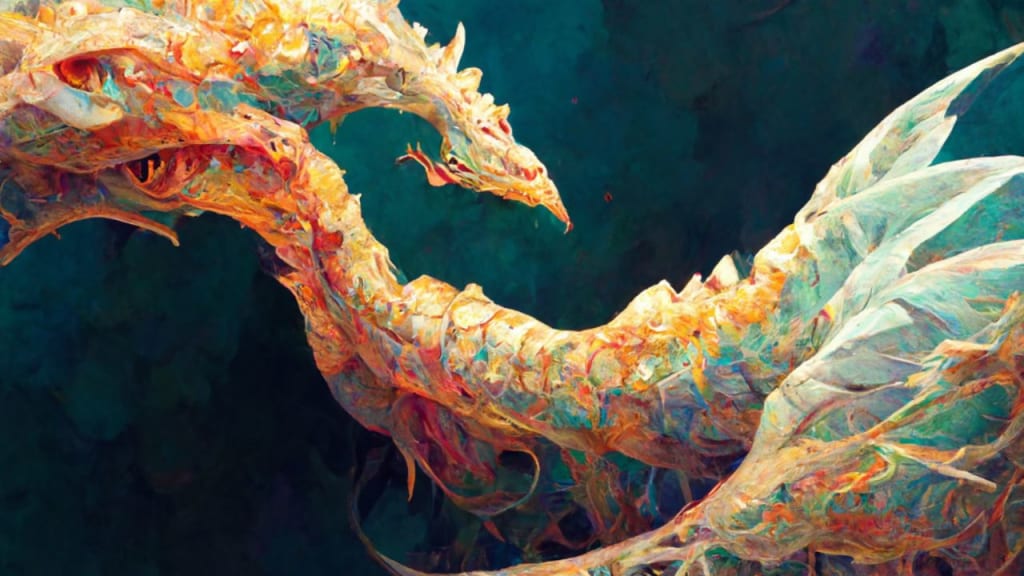 It sounded like a pitiful wail. And it pulled her from the depths of her slumber.
Audra blinked.
No. She thought in the hazy dimness, as she tried to focus on the formless grey that surrounded her. This is not what it was like when I was last awake.
When she moved, she flowed. Her form floated and then whipped around her as though she were a drop of brilliant ink in a glass of distilled water.
The movement made her dizzy and she fell back into her memories. She could hear merriment now. But that, she knew, wasn't real. At least, not anymore.
As she remembered, the images solidified around her, painted in the brightest colors of the sunrise. Audra took it all in as warm contentment flooded her senses.
There were laughing people everywhere, running, playing, their silhouettes blurring as they formed around the wind and the gentle breeze. Their voices sounded like silver bells on a sunny winter morning.
Audra moved among them, knowing their names. Her luminescent curls swirled and danced around her features. She smiled.
She was still smiling when something ran into her and stopped. She looked down and straight into the eyes of a little golden boy with tears welling in the corner of his eyes.
She lowered herself to the ground in front of him until she could look into his upturned face.
"Little one," she spoke, her voice sonorous, soft. A big tear spilled down his cheek and his lips curled into a gentle bow.
She reached out to him with both arms, lifting and cradling his little hands in her soothing palms and curling her fingers around his. The connection was instant. She could feel his sadness, his loneliness, his innocent sorrow.
Audra held him like that, her head tilted slightly to one side as she studied him with tender eyes. His tears flowed freely now, the corners of his lips dipped even more. As she held him, she let him pass his aching darkness to her. It tinged her light like unexpected storm clouds on a bright afternoon.
When he was done, he squeezed his last tears from beneath soaked eyelashes. It was her turn now. And she shared herself with him, freely.
Warmth, love, softness.
She watched as light passed from her touch to his childlike features, traveling up his arms and suffusing his being with luminescence.
Despite having done this for thousands of years, the beauty of it took Audra by constant surprise. Every soul who sought her nurturing was different. And each time she gave of herself, the reaction was unique.
She watched the little boy whose fingers gripped hers tightly. "You are not alone, little one," she said. "I am here. We are here. You are never alone and all is well. See?"
The defiant willfulness in him fought her for a moment; as though he wanted to argue that he was alone in their eternal realm. But the moment was fleeting, and his shoulders soon softened. He let her glow envelope and cloak him until he wore a golden mist of joy that flickered and twinkled like endless stars.
He pulled his little fingers from hers and then threw himself into her still-outstretched arms. His small ones wrapped around her neck, holding tight. She could feel the gratitude from his little frame, and she held him as long as he needed until he stepped back and ran to join the others.
Audra watched him go, then raised herself slowly. She was a little less brilliant than she had been before she shared her light with the little boy. She would have to replenish soon.
This was her eternal duty.
Another breath. Another pulse. Another memory. But also not a memory.
Audra heard it again.
The pitiful wail was no more than a mournful whimper now, as though the one who cried was too weary to weep. Audra raised her eyes to peer at the distant dome that held the darkness trapped beyond. She reached toward it, extending her thoughts. Her fringe straightened and quivered around her head, a trembling halo.
The cry felt as distant as it had been when she first heard it.
"Could it be?"
The lessons of the elders pressed themselves against her mind. "Keep yourself contained," they had told her time and time again, "if you extend too much and too far, you can not come back."
She had memorized the lessons, the commandments, the rules. But in the stillness, all she heard was the cry. It summoned her heart and she could not resist its call.
Audra stretched out a little further, wisps of light and brilliance flirted with the edges of the dim shadow beyond her reach. She reached just a little more, her ears tilting to catch the sound better.
The moment she let her guard down too much, she knew that she had made a terrible mistake.
The elders had been right.
And now she found herself in the unbroken shade, in the space-between-time where all was empty of direction.
Her light ebbed into the incessant hunger of that endless slumber, too far from the invigorating power of the seat of plenty.
The whimper had turned into the tiniest mewl. Audra turned to catch it, but the movement had been too sudden. Light fled in an eruption around her, dissipating nearly instantly into the formless nothing. When it slowed, there was only half of her left.
Audra paused, stilling herself and keeping the rapidly fading memories at bay. She could not afford to lose the whimper.
It was faint now, nearly gone. Audra honed in on it. She was determined that she would not let her light be extinguished in this way. After all, the elders had only ever said that she could never go back, but they had said nothing about going forward.
"I am... " Audra said, as though to remind herself. But the words were stolen by the empty silence like the night engulfing sparks from a flickering bonfire.
Audra's brow furrowed as she concentrated.
"I am the Keeper of the Gate, the Matron."
A shield, like the one that had protected her once-eternal domain shimmered into existence around her.
"I am the Aegis!"
She burned, her essence brilliant as she extended herself towards the cry, splitting the hungry darkness like the blazing trail of a comet.
One more moment. One more cry. One more story.
Audra felt the human infant long before she collided with it. Its demand for love and affection was so absolute, that Audra wasn't sure if every ounce of light in the seat of plenty could have quenched its need.
The cry was strong, hungry. Without her barrier and without any replenishment to draw from, Audra could feel herself disintegrating. So, she gave the last of herself to the child.
New life filled the little one's lungs and it cried, invigorated, insistent, demanding.
Shortly before Audra lost all of herself, she watched through the little one's eyes as someone approached. His light flickered, still strong, despite deep sorrow that would have made Audra weep had she been whole.
The flickering man gathered the infant in his arms. In the gentleness of his embrace, Audra felt regret, but also resolve to care for the child. Relieved, her mission accomplished, Audra surrendered to slumber.
Reader insights
Outstanding
Excellent work. Looking forward to reading more!
Top insights
Heartfelt and relatable

The story invoked strong personal emotions

Compelling and original writing

Creative use of language & vocab

Eye opening

Niche topic & fresh perspectives
Excellent storytelling

Original narrative & well developed characters

Masterful proofreading

Zero grammar & spelling mistakes

On-point and relevant

Writing reflected the title & theme

Easy to read and follow

Well-structured & engaging content
Add your insights