Challenged Writing
Why I do or don't do them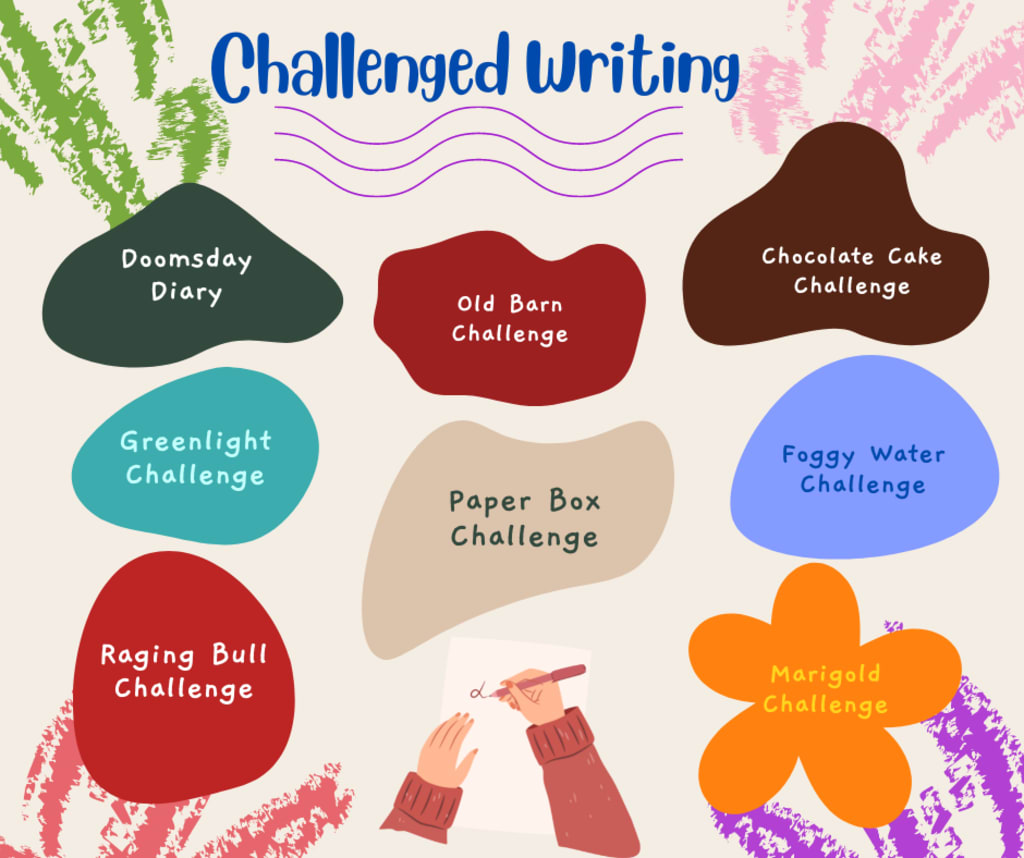 Who knew Challenged Writing was a thing. Writing can be a challenge as anyone knows, but in this case, the word challenge is more like a prompt or perhaps a dare or call to action.
For many, the pull of large money prizes is more so than inspiration by topic. Although money does grab my attention and I could definitely use more of it, the money is not the biggest draw for me on entering a Challenge. First and foremost I must be captivated by the topic and I am more likely to be intrigued by fiction than any other kind of writing. Although I may lace my fiction stories with life lessons or create story lines that tap into raw emotions, I am not and never will be a fan of social justice topics, nor am I a fan of the articles that cover trending topics. There is so much pulp writing out there, social justice warriors thumping their blogs, opinions hurling through keyboards, I'm unmotivated to contribute to the din. It will be fiction everytime that draws me in. The money is an added bonus only if I win.
My very first introduction to Vocal came to me second-hand via their advertisements on Facebook....
It was after 10:00 pm when a friend shot me a FB message with an ad by Vocal for a $20k cash prize in their Doomsday Challenge. I had a very short window of time to open an account and get something written. As you can imagine, although I technically pulled all the pieces together to make the deadline, in such a short time frame, my entry was very meager. I relied on some moody broody pieces I had already written that I pulled together and fleshed out into a literal diary entry in apocalyptic circumstances. Mostly it felt good to actually do some writing and it was exhilarating to be participating in something so grand.
My Doomsday Diary Challenge entry:
The Summer Fiction Series Challenges
Right behind that challenge came a Summer Fiction Series of eight challenges. My creative spark lit, I was up for the challenge of writing entries for each one.
My entry in Old Barn challenge. I can't fully explain where my inspiration came for this story. Many farms in my area are falling by the wayside as families die off and extended family moves on. Sometimes people come back to tiptoe through the past and sometimes, life forces them back to deal with unpleasantries. Taking all of that, I wound it into this story. More than any prize money could have provided me was the joy I experienced when a friend read my story and sent me a wonderful personal message. That message has spurred me to keep on writing.
What could be more fun than chocolate cake, other than a root beer, a witch with southern sensibilities, and a psychic intervention? I really had fun with my entry in the Death by Chocolate Challenge. Although this is not based on a personal experience, it is very much what I have always wished I could harness my psychic abilities to become. I dearly loved Ms. Rayven, Psychic Witch Extraordinaire, and have toyed with the idea of creating a series based on her. That note is still on my list of things to do.
The Brown Paper Box challenge gave me the opportunity to write a story that explored the complex feelings that revolve around children and their absent parents.
I had originally started writing a story called A Broken Life as my entry for the Brown Paper Box Challenge but didn't finish it. Instead, it was so intense that I moved on and wrote My Almost Dad and entered it instead.
The A Broken Life story came to me as a flow of consciousness that started as I was actually on my ride to work. It was a very intense vision that I felt as though I were living it as it unfolded in my mind's eye. That is why I set it aside and couldn't finish it as my entry for the Paper Box Challenge. But once My Almost Dad story was completed and entered into the Challenge, I revisited this story, the stream of consciousness returned and I was able to finish the story. However, not until after the Brown Paper Bag Challenge has closed to entries.
Next was the Golden Summer Challenge (Marigold Challenge). My entry for this story was deeply personal. Once again, this story touches on the complexities of family relationships. This time a mother agonizing over being used by an adult child, knowing the situation is wrong, hurting in the pain of it, and not quite sure how to handle it. Family can really hit us hard in the softest of places.
If we're allowed to be proud of our own writing, I have to say, I really truly loved the story I entered into the Raging Bull Challenge. Children being the comical little beings that they are, I had a lot of fun writing this. I did worry a bit whether writing it in colloquial speech would grate on a reader but since it was a short story, I decided a reader could handle it.
I ended up loving my character James Fergus Jackson so much, that when Vocal launched their Interview Community, little James seemed like the perfect "person" to interview. I almost wish he was a real child where I could pinch his little cheeks. I guess I will just have to pinch my little grandsons' cheeks and make due. Although I'm rather sure they would rather I wouldn't.
The Green Light Challenge came next. My entry this time was a bit futuristic wrapped around our virus-riddled reality, with a touch of conspiracy theory, rebellion against big pharma, and distrust of the government. Pretty much sums up all the chaos we've endured the past couple of years.
I started a story for the Long Thaw Challenge but it just wasn't working for me so I stopped writing it and moved on. In fact, I almost skipped this Challenge entirely because I couldn't seem to get motivated to write a story that clicked for me. As time passed, I suddenly found a flow of words and came up with Life at Beck's Farm Frozen Pond. It is a strange hodge-podge of personal life issues (bookcases sitting in the boxes they came in) and a love of nature photography (one of the photos used in the story was actually mine). I did have at least one critique that said they found the photos intrusive and unnecessary and yet, those photos are what propelled my storyline. As enjoyable as it was to write, like all my other stories, it did not place. And looking back on this challenge, I do still have a fondness for the photos whether intrusive or not.
I can't begin to explain what possessed me to write a comedic piece for the Pear Tree Challenge. It played only a minor roll as a snack while the character entertained odd musings in this stream of ridiculousness. I suppose I should have written a second piece knowing that this one wasn't going to measure up against the hundreds of other entries -- but, hey, sometimes you have to take chances even when they are slim to none. So, this was my only entry in this Challenge. Although it didn't place, it brought a chuckle to everyone that read it and in the end, isn't that the point? To create something for another to enjoy? So, my job was done.
In the Threading the Needle Challenge, we were asked to write about a craft we enjoyed doing that brought us inner peace. Mine had nothing to do with yarn, or embroidery thread or sewing even though I can do all three and have made awesome projects. Instead, I wrote about the craft of writing. One thing I would do over is change the title for this piece because it is too click bait and doesn't really give a clear idea of what my story was about. Live and learn. Sometimes we outsmart ourselves trying to be cute.
For a shark story to enter in the Deep Dive Challenge, I chose to write about an experience my husband had as a child. We all do things as children that our wiser, older selves look back on and cringe. Since this wasn't one of his prouder moments, I wasn't sure he would be ok with me publishing it. Turns out he was surprised I had remembered him sharing it and he was pleased with the way I told it. So, here's the tale of a young boy that accidentally turned himself into shark bait and then punished the shark for its natural behavior. He can't go back in time and change that day, but he can educate others so that the same mistakes aren't made.
I had a bit of fun with Fan(dom) Favorite Challenge writing about my favorite fantasy world. I was a dorky loner as child and teenager. I lived in the country and had no neighbors to play with. My favorite pass time was reading and I was a voracious reader. My bedroom was where I could be found any time of day sprawled on the bed turning page after page from early morning to the wee hours of the night. Once I got hooked into a book, I barely took time to eat and toilet. During and after reading the Hobbit, my imagination was on fire. I had an old red coat with a hood and it suddenly became my favorite thing as I pretended I was in the Hobbit adventure. I was in the seventh or eighth grade when I read it which time I was in mid-teens. So, while other teens my age were sneaking out windows and going to parties, I was traipsing the woods on a magickal journey.
This Challenge hit close to my soul. I actually wrote it about my parents and in particular about a door that my father made. The special thing about that door was my father was dying of cancer. He was easily fatigued. Of all the things he could have done with his last days, he spent them putting a door next to my Mother's side of the bed so that if ever there was a fire, she had a way out. My mother is disabled by multiple sclerosis and my father was painfully aware that his passing was going to leave her behind without him to assist her in her day-to-day life. That door was his final act of love for my mother.
The story for the Inside Jokes Challenge was more like a guilty confession from our childhood. The funny thing is, when we actually told this to our Mom, she barely remembered those ash trays. I can still see them to this day, that is how strong our worry. And to think I've carried this secret for more than 40 years before confessing!
I had to do this Challenge because my little buddy is aging out on me. He can't begin to know how much he has meant to my life. I don't know that I even expressed it all adequately. As I am watching him in his final years, it tears my heart to know that he won't be with me much longer. I'm glad I wrote this piece so memories of him can live on and that others can know what a great little guy he is.
I had a lot of fun with my Foggy Waters Challenge. When we lived in New Orleans for three years, you heard a lot of tales about the Rugarou and Marie Laveau and Voodoo, so I stirred it all up and came up with my entry for this challenge.
Parrots live an incredibly long time. Most people only expect to have pets between three to fifteen years. Imagine something that can live nearly eighty years with owners with attention spans of three to fifteen years. So my angle on this story was to follow a bird named Scarlet McCaw through all his different circumstances and various owners to get a birdseye view of what that might be like for such a creature. I guess in a way, that kind of longevity is very much like the lifespan of a human .... but without having any autonomy to lead a life on your own.
This Challenge was supposed to be a story about ourselves. For whatever reason, I found it a bit difficult and almost skipped it. But I dug deep and made myself do it. In day-to-day talking it seems I can easily share something about myself spontaneously but when it came to writing something with conscious intent, I floundered a bit. I did manage to write this for the Challenge though.
It's funny that I was tripped up writing for the Remarkably Real Challenge and yet I easily whipped out something for a challenge in the FaceBook groups to write your own bio. And its title says it all...
I skipped several Challenges including the big Vocal+ Fiction Awards before finally writing something for the Return of the Night Owl Challenge. I wasn't around for the first Night Owl Challenge so this was fresh for me. I wrote this story with the entertainment of my grandchildren in mind. Sadly, even with a first and second place and one hundred runners up, I didn't make the list. Nonetheless, I was happy with this story.
Even though my Dad has been passed since September 22, 2009, memories of him are still pretty painful so I couldn't bring myself to write anything new for this challenge. So, I did something on this challenge I'd never done before -- I did multiple entries and all of them were old stories.
This piece about my Dad was also my entry for The Homecoming Challenge, so if you read it above, you won't want to read it again but I place it here to show it was entered.
This piece was a tribute to my Father-in-Law after his passing. Even though he wasn't my bio-dad, he was a hell of a father to his brood and therefore, worthy of being entered in the Dads are No Joke Challenge.
And then I entered this piece I wrote for the Paper Box Challenge about a fictional Dad that never quite got it right until the end.
My poetry is always a bit dark. It is more of a therapeutic journaling than it is a creative endeavor. I used to hide such writings in journals I called the Dark Day Diaries. Now I share it, not because I've suddenly become proud of it but because I realized other people have dark days too and we all suppress it as though ignoring it makes it not so. Others who are unable to bring the words together themselves can see them written by another that also lives their pain. ❤ So, if you're somebody looking for poetry that expresses the darkest feelings in life, I've written plenty that you can find here.
For the Campfire Ghost Story Challenge, I finally came up with this piece called Old Cabin on Summerton Lane. I'm proud of it, not because it is great or even good, but because I actually managed to get it written and submitted before the deadline closed. I had 5 different false starts that I abandoned before I got this one written to a conclusion. It definitely could have stood editing and polishing that there was no time left to give it. My grandchildren were intrigued until the end. Then they erupted in protests that the ending was NOT an ending. They wanted to know what happened next. So, perhaps there is a "next" episode in this story's future.
***********************
When I enter more Challenges, I'll be sure to update this story.
Short Story
About the author
Stifled wordsmith re-embracing my creativity. I like to write stories that tap into raw human emotions.
Author of "Bristow Spirits on Route 66", magazine articles, four books under a pen name, technical writing, stories for my grandkids.
Reader insights
Outstanding
Excellent work. Looking forward to reading more!
Top insights
Easy to read and follow

Well-structured & engaging content

On-point and relevant

Writing reflected the title & theme

Heartfelt and relatable

The story invoked strong personal emotions
Compelling and original writing

Creative use of language & vocab

Masterful proofreading

Zero grammar & spelling mistakes

Eye opening

Niche topic & fresh perspectives

Excellent storytelling

Original narrative & well developed characters

Expert insights and opinions

Arguments were carefully researched and presented
Add your insights