Blackbird Fly * Part Three
The Rollercoaster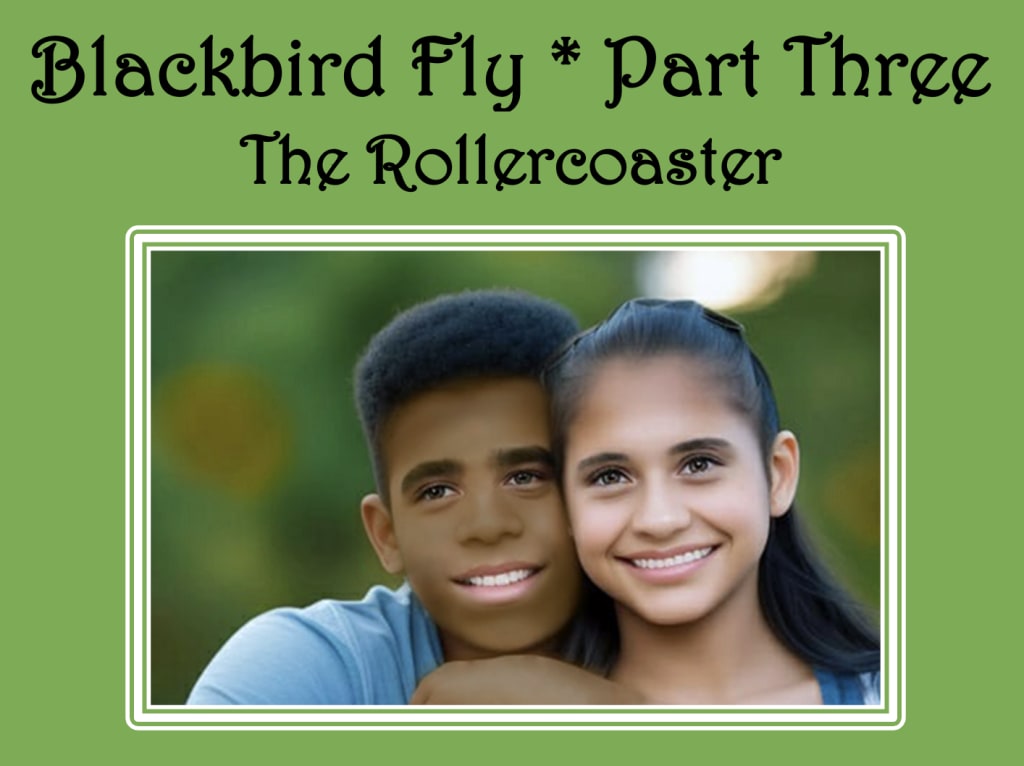 If you have not read "Blackbird Fly (Part Two): Little Angel" you can read it by Clicking Here
https://vocal.media/fiction/blackbird-fly-part-two-little-angel
Cafeteria Confessions
After a warm and intimate kiss Jack walked Angelita back to the school cafeteria.
When they made it back Estrella and their classmate Pandy were eating lunch together. Jack and Angelita joined them.
Pandy had several polaroid photos spread out on the table.
What are these?" Angelita asked.
Pandy answered, "They're the pictures from last week's basketball game."
"Oh yes, Jack and I went," Angelita said, "We had a lot of fun."
Pandy pointed out one of the guys, "Mark Christopher is hot, but he doesn't even know I exist."
Angelita and Pandy bonded as they looked at the pictures. Giggling and sharing their memories of the game.
"Estrella," Jack said, "Something very strange just happened."
Estrella slid across the bench closer to Jack, "What happened?"
"Angelita and I were having a nice lunch. Then I asked her if she was happy. She became very upset and told me to leave it alone."
"That's one thing Jack, Angelita is very private and doesn't like anyone digging into her psyche."
"Well, she got up from the table and ran out to the football field. She started talking like she was crazy. She said something about 'those dirty men' and that they were going to kill her."
"Yes," Estrella responded, "She's mentioned those dirty men before."
"But wait there's more," Jack said, "When she mentioned the dirty men, she pointed out beyond the football field. I looked but there wasn't anybody there."
Pandy and Angelita left to get sodas.
"But the strangest thing," Jack continued talking, "She kept asking for my hand. It was as if she was lost and didn't see that I was standing right next to her."
"Yes, yes!" Estrella replied, "I've seen that also. When she gets agitated or stressed out, she gets tunnel vision. It's the strangest thing."
"Have you ever talked to her about this?" Jack asked.
"She shuts me out whenever I try to bring it up."
"Estrella, Angelita needs professional help," Jack said in a whispering voice, "This really upset me. She was mean to me and physically pushy. I did not like it."
Estrella interjected, "You can't take it personally Jack. Angelita is sick."
"See you said it right there; she's sick. I knew she had issues from her past. But I wasn't ready for the anger. You could see it in her eyes. They became bloodshot with hate. It scared me."
"What are you trying to say Jack?"
"I think Angelita and I need to take a break. I need time to make sense of all this."
"No, Jack. Not right now. She needs you."
"But, Estrella, I am hurt and confused. I experienced a major emotional roller coaster out on the football field. I kissed her and told her I love her out of confusion."
"Okay, okay," Estrella said, "Let me tell her. She will take it better from me."
"Okay," Jack nodded in agreement.
The Walk Home / "9 to 5"
The school day ended. Estrella met Angelita outside of her geometry classroom.
"Estrella," Angelita questioned, "Where's Jack?"
"He had some sort of emergency at home and had to leave."
"Oh, okay. I hope everything's fine."
It took about 12 minutes for the two to walk to Angelita's house.
When they entered the house, they hurried into Angelita's bedroom to avoid her mom who seems to talk forever non-stop.
Inside her room Angelita turned on the radio: "Pour myself a cup of ambition and yawn and stretch and try to come to life."
Angelita perked up and began singing along. Estrella joined in with a bouncy dance,
"Jump in the shower and the blood starts pumpin' / Out on the streets, the traffic starts jumpin' / For folks like me on the job from 9 to 5 / Workin' 9 to 5 What a way to make a livin'."
They laughed as the two twirled around in each other's arms.
Estrella commented, "I love Dolly Parton. But I just don't know how she handles those huge…" as she motions at her own breasts.
"I know," Angelita giggled, "They're the size of milk jugs. But I love her. She's so uplifting - pun definitely meant."
The two continued giggling.
Estrella walked over to Angelita's bed and sat down. "Come here Angelita," she patted the bed next to her, "Let's talk."
Angelita sat next to Estrella, "What's up?"
"Well, it's Jack.
Angelita tried to play it off, but she showed a worried concern on her face.
"I don't know how to say this."
Angelita's expression went from worried to scared.
"Jack," Estrella paused, "Needs some time away."
"What does that mean?"
"It means he wants some time away from you."
Angelita kept a strong composure, "Well, if that's what he wants."
A Talk with Mom
Jack arrives home…
"Mom, where are you? I need to talk."
Sheryl Amsbury emerged from the kitchen, "Right here, I'm marinating some halibut for dinner."
"I need to talk about something. It's important."
"Okay, let's sit down in the living room."
The two walk over and sit down on the cushiony L-shaped sectional sofa.
"Mom, I'm thinking of breaking up with Angelita."
"What?"
"Mom, I'm confused by her sudden outbursts of anger. She hides too much stuff from me and, and she talks to people that aren't there. It's too much of an emotional roller coaster."
"Let me ask you something. Has she physically hit you? Is she calling you names?"
"No, but that's not the point. It's the emotional roller coaster. All I want is to hang with the fun and intelligent Angelita. Not the crazy one whose eyes bulge out and become bloodshot."
"Do you care about her?"
"Well, yes. When she's upbeat and talking about the cellular structure of muscle fibers or something sciency like that. She fascinates me."
"Well son, I can't tell you what to do. But one thing you need to know about relationships is we can't just pick and choose what we want to like about a person. We have to embrace the entire person - the good and the bad."
"I understand that mom. But…"
"It's the weekend, maybe you should take the next few days to weigh the pros and cons and decide if things balance out. If the negative aspects of Angelita's behavior outweigh the good, then maybe you need to sit down and have a heart to heart with her."
Miniature Golf and Pinball Games
Saturday evening Jack joined up with his classmate Jimmy Cracorn for some fun time at Camelot. They played a round of miniature golf but spent most of their time in the huge video game arcade. Jack gravitated toward the pinball machines even though they were becoming less and less prevalent.
"What's up," Jimmy asked when they sat down with some burgers and fries, "You don't seem like yourself."
"It's Angelita, I love her. I don't even mind that she's clingy. But this roller coaster of emotions. I don't know if I can handle it. But when she and I snuggle up together and talk about our future it's like magic. Her eyes sparkle when she smiles, and she has such small delicate hands."
Jack takes a bite of his burger. Jimmy continues to listen.
"I really miss her and it's only been one day. But then there's that other side of her, the anger, the secrecy, the bulging eyes. I don't know."
The Letter
Angelita spent her Saturday night at home writing a letter to Jack:
Dear Jack,
You mean the world to me. When you hold my hands you light my world and set my heart on fire. Your voice is gentle and tender. When I hear you speak it sends me sailing on a cloud of wonderland and fantasy. Jack you are my everything. You're the Clark Kent to my Lois Lane. The flowing water to my winding creek.
"No," She said out loud, "This is too mushy." She crumpled the paper and flung it to the waste basket. "Jack doesn't deserve it anyway."
The Reconciliation?
After the weekend Jack concluded that he just could not make it without Angelita.
At the end of the school day, he showed up at her geometry class where Estrella was waiting to walk her home.
"Jack?" Estrella questioned, "What are you doing here?"
"I want to talk with Angelita. I can't live without her. She's always on my mind."
"I don't think that's a good idea. She's very upset with you. She feels that you betrayed her."
Angelita came out of the classroom and saw Jack. He walked toward her.
"Angelita, I need to talk with you."
"No Jack," She raised her open palm to his face, "Leave me alone." She walked quickly away from Jack.
Estrella ran to catch up with Angelita.
"Go away Estrella. You could have let me know Jack would be here."
"But who's going to walk you home?"
"I can walk myself home," she said as she walked out of the building.
Estrella and Jack both followed behind her.
Once she was outside the rumbling of a car engine starting caught her attention. She looked over at the parking lot and froze when she saw the back of a green Impala.
"What's going on Angel?" Jack gently asked with a raised voice.
"No! No! Xochitl," Angelita screamed.
(Xochitl is a female name pronounced Sow-cheel)
She ran after the car as it drove away, "Xochitl, Xochitl. No, don't take her!"
Angelita fell to her knees in the parking lot crying.
Jack was confused as there weren't any girls in the car. He ran up to her and called her name as he stood by her side, "Angelita, are you okay?"
"Jack, is that you?" She called out, "Where are you?"
Jack answered, "I'm right here."
Angelita was disillusioned and confused, "Where? I don't see you."
Jack stepped closer to her and reached his hand out to help her up.
"I see your hand," she said in a soft and shaky voice, "But where are you?"
"I'm right here," Jack said as Angelita grabbed his hand and pulled him toward her.
Jack stood directly in front of her and she said, with a sigh of relief, "There you are. I was scared that I was all alone out here."
"Angelita, I'm here for you. I'm here." He said with tears in his eyes.
/// This story will continue into Part Four ///
Thank you to:
Thank you for reading my friends...
About the Creator
Writing is a distraction for me. It takes me to places unknown that fulfill my need for intellectual stimulus, emotional release, and a soothing of the breaks and bruises of the day.
https://www.facebook.com/groups/vocalplusassist
Reader insights
Outstanding
Excellent work. Looking forward to reading more!
Top insights
Compelling and original writing

Creative use of language & vocab

Easy to read and follow

Well-structured & engaging content

Excellent storytelling

Original narrative & well developed characters
Masterful proofreading

Zero grammar & spelling mistakes

On-point and relevant

Writing reflected the title & theme

Heartfelt and relatable

The story invoked strong personal emotions

Expert insights and opinions

Arguments were carefully researched and presented

Eye opening

Niche topic & fresh perspectives
Add your insights