Behind You Chapter 21
U is for Uriel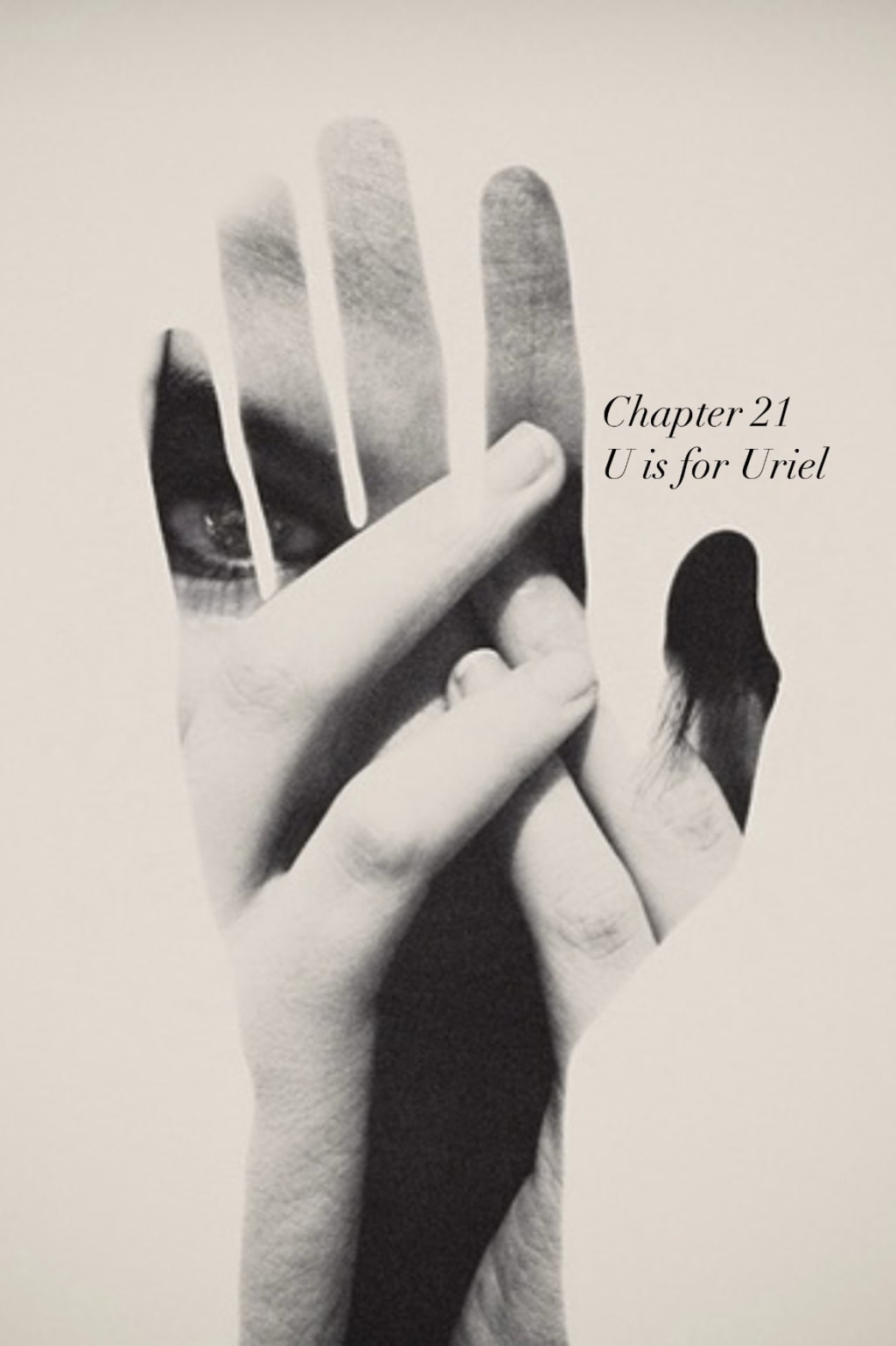 Image by Dan Mountford, edited by author
~
"I can fly Ima! Look, look! I can eat clouds and race the birds! Ima look, look, are you looking?"
The clouds are so pretty in purple and blue and pink, they look like cotton candy from the park. It tastes like sweet grapes and it sticks to my mouth. I am the cloud monster! The more clouds I eat the faster I fly!
"Ima look how fast I can fly! Zoom!"
I keep trying to look for Ima but I don't see her and that makes me sad. I am standing on a big yellow cloud and I am trying to find her. I hear her voice in the wind and try to chase it, but when I get to the sound she is not there. Where are you Ima?
I jump down to a red cloud and I see Noa underneath it, they are swinging on a swing attached to a small blue cloud.
"Noa where is Ima?" I yell but they don't hear me. Maybe Ima is playing hide and seek. I wish Ima was here with me. I fly down to Noa and sit next to them.
"Uri you have wings!" Noa is shocked but starts laughing so silly like. I want to laugh too, but I miss Ima.
I wake up and my pants are wet, it feels cold and itchy and I want to cry. I whimper a little and kick away my Dinosaur blanket to the floor. Everything is smelly and I hope Ima won't be mad. Ima!
I scramble out of bed and go to Ima and Noa's bedroom. The door is closed but when I put my head on the floor and peek through the crack, I can see some light. "Ima…"
I slowly twist the door handle open and feel my heart like a butterfly. Ima is lying on Noa and has her eyes closed, Noa is just playing with Ima's hair and looks a little sad. Ima has not been feeling good for a long time.
"Noa? I peed the bed…" I whisper, rubbing my eyes feeling embarrassed. I will have to go to Senior Kindergarten soon and Ima and Noa tell me that I will be the big kid in the centre. I'm not really scared, but maybe just a little. I hope it won't be hard.
Noa groans a little and sits up in bed slowly, their hair looks funny sticking up everywhere. They slowly lay Ima on the bed and then get up to walk back to my room with me so we can change the blankets. I really love Noa, they don't get mad when I pee the bed or spill my juice. And they are really silly and make funny faces at me when Ima isn't looking. We do moose antlers and bunny ears and duck faces!
"You were in my dream Noa! And I could fly everywhere, it was really cool." I throw my pajama bottoms in the laundry bag as Noa takes off my bed sheets and gets new ones.
"Yeah?" Noa stifles a yawn and motions for me to help with the bed.
"But Ima wasn't there" I mumble quietly as I pull the corner of the bed sheet down. Noa usually does most of the bed but they have me help. I kind of like helping, it makes me feel less bad inside.
After we finish the bed and I take a quick wash in the bath and change my pajamas, Noa tells me to go pick a book to read to help me fall asleep. But I still feel a little weird in my tummy.
"Noa… is being the old kid in kindergarten hard?"
They ruffle my hair and make a big mess!
"It can be sometimes because it is a change, but changes can also be really good and fun. You'll be like a big brother to the younger kids and you can help them out." We get into the blankets and I lie down on Noa so they can hug me. Now puts the book down on the floor.
"I guess that makes sense… will it be a lot of numbers and letters?"
"Hmm, maybe! You'll be a numbers wizard and you'll learn lots more and maybe even be able to read some of these bedtimes stories." I like when Noa plays with my curls, it makes me sleepy but a happy-sleepy.
"Will you be there like at dayca-?" I yawn so big I think I will swallow the world!
"I got to stay in daycare with the younger kids UrUr, but I'll be there to pick you up afterwards, yeah?"
"O-kay mommy" I am so comfy. Nighty night.
And Ima?
~
Huge apologies for the delay in posting, I was out of the country and didn't have the original document with me so I couldn't post from afar. Hopefully this chapter was worth the wait! Albeit, shorter, it gives you an inside look at how Uri is dealing with everything.
I have reached the point where I am actively writing the rest of the chapters, so posting will become hopefully weekly. I will be aiming to have chapters published for your lovely weekend-reading-material time.
Feel free to leave a heart, some insights, comments, or even a tip; anything is appreciated!
Series
About the author
Stories from the TRUE NORTH with a side of humour, adventure, good food, and snowy poetic dreams
Reader insights
Outstanding
Excellent work. Looking forward to reading more!
Top insights
Compelling and original writing

Creative use of language & vocab

Easy to read and follow

Well-structured & engaging content

Excellent storytelling

Original narrative & well developed characters
Heartfelt and relatable

The story invoked strong personal emotions

On-point and relevant

Writing reflected the title & theme
Add your insights