Behind You Chapter 17
Q is for Queen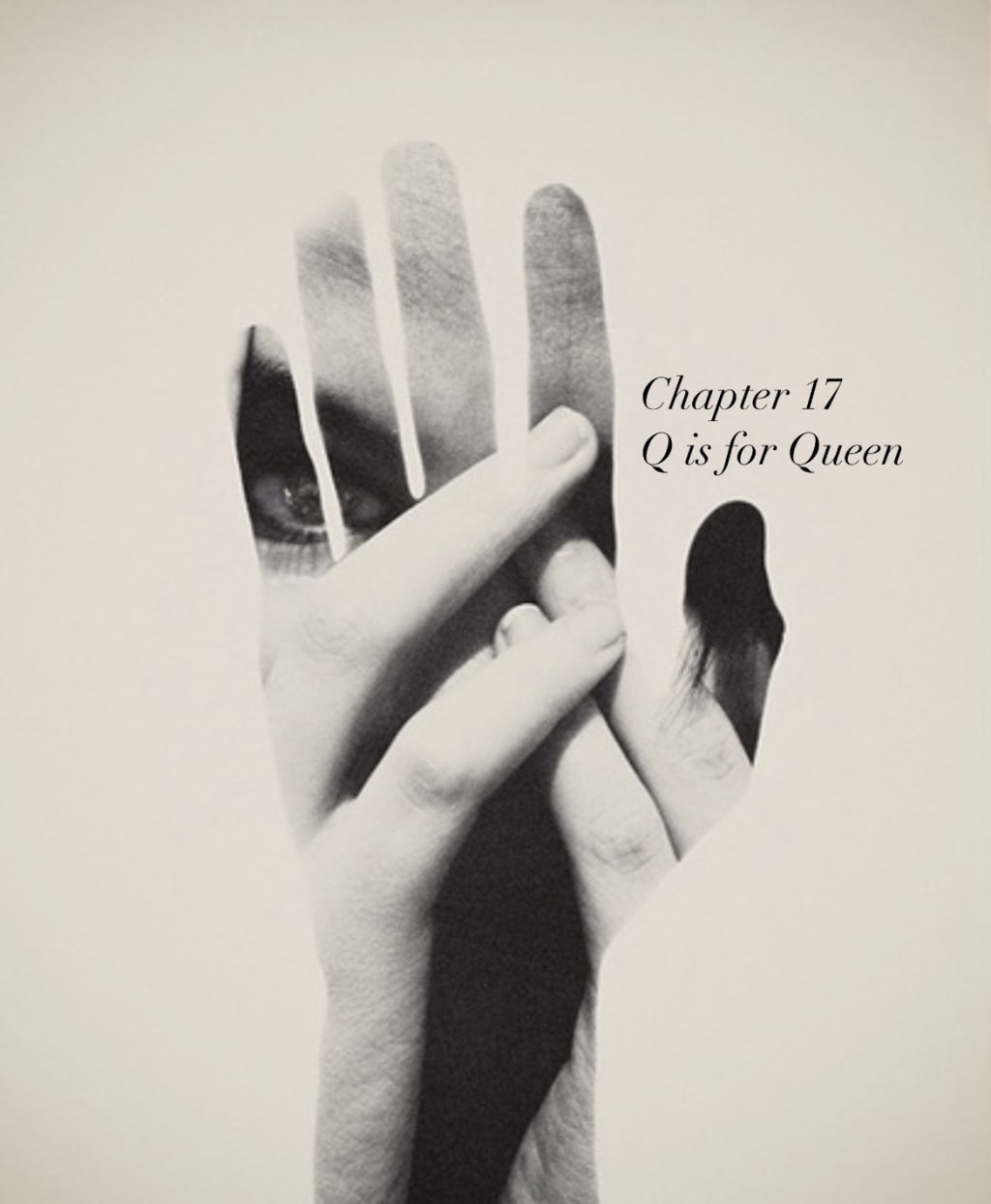 Image by Dan Mountford, edited by author
~
"Move in with us?"
"Yeah?"
"Yeah"
"Okay"
Most of you by now probably feel that everything has been perfect in the last few months, and honestly it really sometimes feels that way. It's nice that things finally work out, don't you think? I mean, for so much of our lives we worry about overcoming the closest hurdle and it's so easy to lose sight of the whole race ahead.
We try to focus on what is in front of us without letting the past weigh us down too much, and we struggle with that. We struggle. And sometimes we give up or give in to it all and get swallowed. But sometimes, if we just keep going, the road gets a little less rocky. And sometimes, we get better shoes or better people to help run the race. Running feels a lot easier these days. And so does waking up.
Except on Tuesday morning.
Tuesday morning sucked.
Tuesday was the day I was officially moving in with Lilah and Uri.
They both seemed super excited about it, although it's not like I wasn't already there 24/7. Regardless, having a morning shift along with making sure I gave back my landlord the keys before 5pm, and then getting last minute doubts and jitters, did in fact, not help.
Even after working consistently for the last three years or so, one would think that I would have adjusted to the zombie feeling of rising before dawn. The extra-large coffee I was drinking said otherwise. The thing was, the coffee- although waking me up- did not help the anxiety. There's always a catch, eh?
As I flicked the daycare lights on and went to place my belongings away, I attempted to calm my wired brain down by making lists. Someone somewhere said that making mental lists helps put things in perspective and eases the anxiety clawing at the mind.
1. Clock in
2. Get the coffee maker going, for the staff
3. Put down the chairs around the kiddie tables
4. Get the bowls of cheerios ready
5. Remind the landlord about the keys today
6. Pay my cellphone bill
7. Pick up flowers for Lilah
"Good morning Noa" a bubbly voice pulled me out of my thoughts and back into reality. The first few toddlers were coming in.
"Good morning Zaara, and good morning sleepyhead" I greeted Miriam and her mother. Miriam was half asleep still and rubbed at her eyes with the back of her hand. I led her over to the breakfast table and got her settled in, her mother lingered at the door.
"Uh Noa, do you have a moment?" Zaara fiddled with the strap of her purse a tad piquing my curiosity. "Is everything alright?"
"Oh yes, it's not the biggest deal, but… I was wondering if Miriam has mentioned anything about a monster? Or if she has any nightmares during naptime. We've noticed that she's having a lot of trouble sleeping the last few weeks and we're considering taking her to someone." Zaara's gazed floated towards Miriam who was eating her cereal happily.
I took a moment to think back about the last little while, but I couldn't for certain recall anything in her sleeping or behaviour patterns that stood out. The only time she had mentioned anything about a monster was… months ago. "Does she talk about imaginary friends or something like that?"
"I mean, I'll see her playing with her toys and talking to the air, but I assumed imaginary friends are pretty normal, no?" Zaara's attention returned to me.
"They are, don't worry. The only time I can think of anything to do with a monster was so long ago though. But I'll definitely keep a closer eye on her behaviours, thank you for letting me know."
Zaara turned to go and almost collided with Lilah and Uri who were just entering the daycare. I tried to keep a professional vibe, but I won't lie, my stomach definitely did a few front flips.
"Good morning you two" I said with a full moon smile. Uri rushed to give me a big hug and I could see Lilah craved to do the same, but we had talked about keeping it a bit more formal at work.
"Hi Noa" Uri mumbled into my pants and looked up with his big blue delighted eyes.
"Hi Uriuri" I sang and gave him a squeeze, "go get some breakfast."
As if he was on the clock, he took off to do so without even saying goodbye to his mom, who faked being offended.
"He's not even off to college yet and I'm already the wallpaper!" Lilah's laugh made it harder to contain my desire to kiss her.
"Don't worry, I'll give you all the attention in the world tonight, okay?" I spoke quietly and winked.
"Ugh bye Noa!" Lilah blushed lightly and left before everyone else would notice, I could see her shaking her head and smiling as she went to the parking lot. I still got it.
~
Today had gone by so quickly it was hard to even recall all that occurred. Work sped by, everything between the daycare and officially moving in had gone by in a blur- luckily. My landlord was a tad sad to see me leave, but he was happy to see me in a healthy and growing relationship. Though he was an older traditional gentleman, he understood how excited I was about this new chapter in my life.
"'bout time you found yourself a proper home" he had said. "Don't fuck it up now, eh Noa?" he added with a gravely chuckle.
~
"I can't wait to treat you like the queen that you are later tonight" I whispered huskily into the back of Lilah's neck as she finished rinsing the dishes from dinner. I could feel the goosebumps on her neck and arms as she cleared her throat.
"Well if you let me finish here, later will become sooner" She combatted trying to regain composure. I just hummed a response and drew circles on her upper arm with the tip of my fingers.
"Uri still needs to be tucked in, don't forget" Lilah absentmindedly said, her eyes closing slightly at the continued touch.
I gave her a slow kiss at the base of her neck and left to go find Uri, hearing Lilah let out a flustered sigh. I chuckled to myself as I headed towards Uri's room to help him get ready for bed. It wasn't that late, but our dinner and a show tuckered him out quite a bit. He had aided his mom with dinner and with decorating the house for the little welcoming party they threw me. After that we had a mini dance party in the living room before dinner. I don't know where Lilah had found him a little top hat but he looked absolutely dashing!
Uri was playing with his toy cars in his bedroom, he had built a sort of racetrack using his blocks and put his stuffed animals around as roadblocks. I could hear his 'vroom' sounds as he raced around the toys and smiled. This kid man, he's too cute.
"Hey buddy, it's time to get ready to sleep okay?" I flopped down on his bed and pretended to take a nap.
"That's my bed!" He started driving his toy cars on me which tickled like crazy, so in retaliation I tickled him back making him squeal.
After a while we calmed down and I helped him into his 'Thomas the Train' pyjamas, and we went to brush his teeth. During his whole bedtime routine, I couldn't help admiring how at ease he has been about everything. Either he really likes me, or he's just incredibly easy-going. Uri is one special kid.
Once the stories were told, the cuddles were given, and the elongated yawns were heard, I knew he was off on a train ride to sleepyland. I quietly tiptoed out of his room and closed the door behind me. I could see the light under Lilah's bedroom- well I guess it was now 'our' bedroom- and I gravitated towards it. I gravitated towards her, always.
~
~
I hope you enjoyed this chapter so far, some changes are coming! Feel free to leave a heart, some insights, comments, or even a tip; anything is appreciated!
I am aiming to publish chapters twice a week, so keep an eye out for the next one!
I originally posted this story on Wattpad under my old pseudonym KarahOneg, and am now releasing it on Vocal.
Series
About the author
Stories from the TRUE NORTH with a side of humour, adventure, good food, and snowy poetic dreams
Reader insights
Outstanding
Excellent work. Looking forward to reading more!
Top insights
Heartfelt and relatable

The story invoked strong personal emotions

Easy to read and follow

Well-structured & engaging content

Excellent storytelling

Original narrative & well developed characters
On-point and relevant

Writing reflected the title & theme

Compelling and original writing

Creative use of language & vocab
Add your insights