A Curious Read.
The Vocal + Assist Lost in a Story Challenge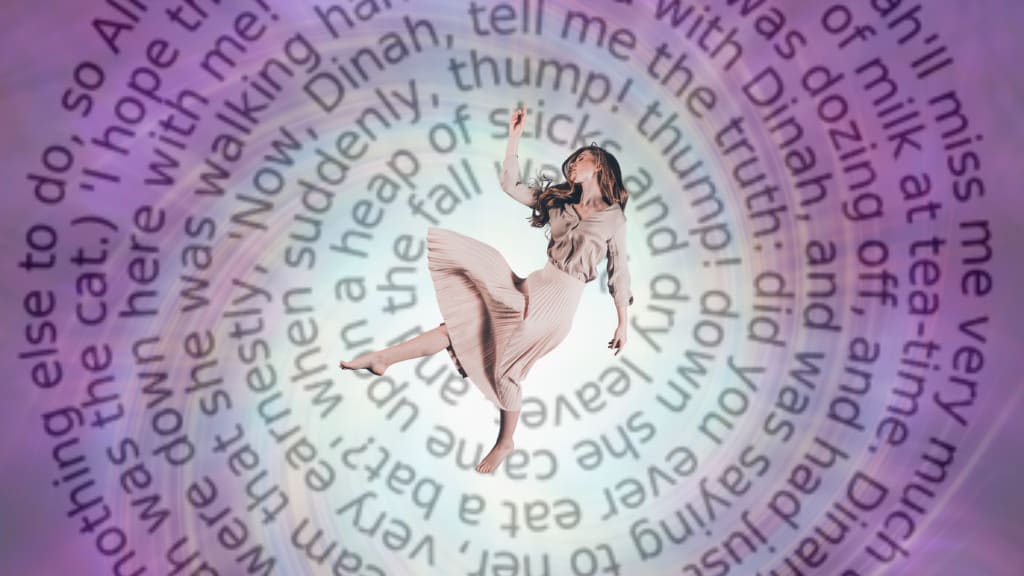 This story is part of the Vocal + Assist on Facebook Lost in a Story Challenge. You can learn more about it here:
A little predicatble I know, but I just couldn't help but give it a go!
"Down, down, down. There was nothing else to do."
As I read I began to feel a little queasy. My palms were damp with anticipation and the whiteness of my room began to contort, the book I held between my childish hands pulsated rhythmically and it grew. It grew and grew until I could no longer contain it. It towered over me. Page 3 swirled into a whirlpool of words.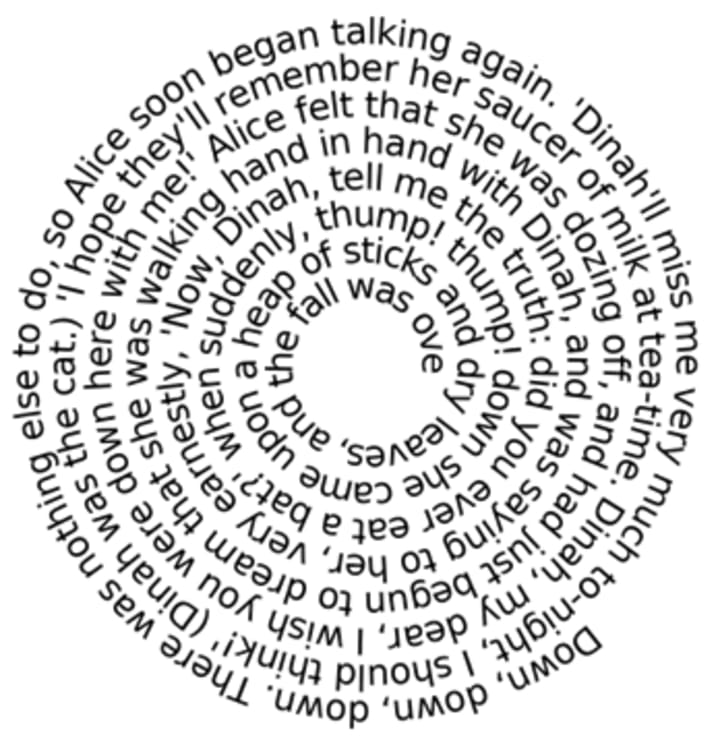 Down,
Down,
Down.
Until it swallowed me whole like a whale snacking on a minnow.
Thump.
He peered suspiciously into my face as if inspecting a sample for a biology experiment. His hair flew in wisps, sprouting wildly from the underside of his top hat, "Have I gone quite mad?" He giggled hysterically. "Yes, yes, yes. I am sure it is terribly quite true." He pointed at me accusatorily, "For you are not she!"
He plopped down on the floor with a terrible thud.
I could barely gather my voice before the hare interrupted.
"Exactly so" He proclaimed, holding up his monocle for a closer inspection of my visage. Just to be sure. "It is indeed not she"
"Tea?" The hatter sprang from the floor.
I nodded, still bewildered. Possibly concussed.
"Milk? Sugar? Lemon? Candy cane!" He poured the azure liquid from the teapot with a swift movement and placed a china cup and saucer in front of me. I reached out my hand –
'You're late. Late. A white bunny leapt in front of me, spilling tea across the chequered table cloth. He grabbed my hand in his paw and waved his pocket watch impatiently, "late!"
I had no idea for what.
As I was dragged from the table by a feverish rabbit, I heard The March Hare announce haughtily, "Well, that was rather fleeting. And rather impertinent, don't you think?"
About the Creator
Just a voice finding its echo. Teacher - reader- bystander -weird as a koala in The Arctic, but slowly learning to ditch the ecalptus and embrace the ice pop. #evolutionaryroad
Reader insights
Be the first to share your insights about this piece.
Add your insights