A Bittersweet Moment
A short story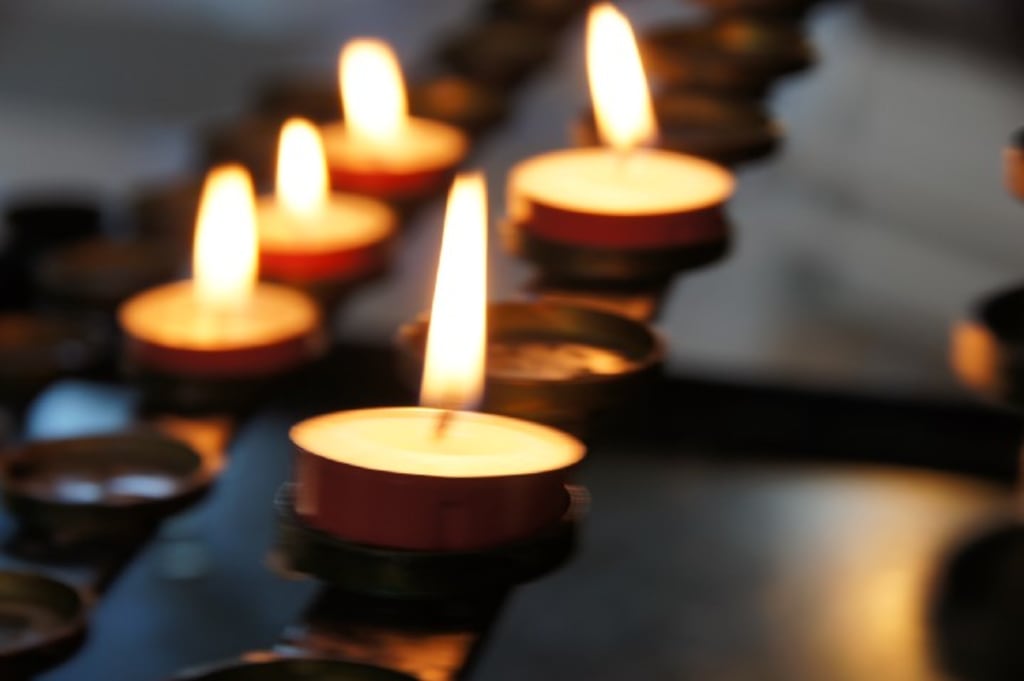 Photo by Eli Solitas on Unsplash
Jen pinned a black lace doily on her hair, took a deep breath and slowly let it out as she entered the synagogue. She lit one of the synagogue's numerous yahrzeit candles in memory of her husband, Aaron. She murmured a prayer standing among others lighting memorial candles, leaving as soon as she finished.
She never stayed for services; she wasn't religious. But she felt it necessary to observe the tradition of lighting a candle during the High Holidays in memory of immediate family members who have passed away.
She had been raised in a religion-apathetic family, as had Aaron. But lighting the memorial candle was vital to Jen. She remembered watching her grandparents and parents writing candles for one another. It was one of the few traditions her family followed.
But Jen came alone to the synagogue to light Aaron's yahrzeit candle. She had no family in the area.
The sun was trying to fight through the clouds, occasional rays escaping. Jen wanted to remember her memories with Aaron. They both loved the beach. Jen drove to their favourite beach spot, parking in what seemed to be the last empty spot. Jen smiled, looking at the sky.
Thanks for saving me a parking spot, Aaron.
Heels in hand, she walked to their favourite spot at the local beach to picnic, sunbathe and just get away to be alone together. Dressed in a black jacket and pencil skirt, she took off the jacket, laying it on the sand. She awkwardly sat down on it, her skirt constricting her movements.
Jen removed the black lace doily from her head and pulled the pins from her hair, letting it flow free in the slight breeze. Aaron always loved it when she wore her hair loose.
They had been high school sweethearts. They met when she was 15 and he was 16. They broke up and got back together several times as teens do, not yet ready for such a deep commitment. They dated other people but always ended up back together.
Oh, Aaron, I miss you so much.
Less than three months ago, Aaron kissed her goodbye, saying he'd be home for dinner. But he never came home. Jen waited and waited. All her calls went to voice mail. Eventually, a police officer rang the doorbell to tell her Aaron would never be coming home. A drunk driver ran a stop sign, immediately killing him.
She wrapped her arms around her belly. Jen had set the table with candles and flowers and made Aaron's favourite meal. She couldn't wait to share the news she'd gotten that day. But she never got the chance.
Jen didn't remember much else about that night, but she didn't want to remember.
Deep down, Jen knew Aaron was with her. She cradled her belly, looking at the sky.
We're going to have a baby girl I plan to name Arianne, sweetheart. I'll need your help. I can't do this alone. I need to know you're still with me.
A ladybug landed on Jen's hand, near her tattoo of a ladybug on her inner left wrist.
You are still with me.
The ladybug sat in Jen's cupped hand for almost an hour. It flew away as a light gust of wind ruffled her hair.
I love you, sweetheart, and know you'll watch over us.
Jen smiled at the sky. Aaron would always be with them.
******
Available for hire for various freelancing work. Contact: [email protected]
If you're feeling generous and would like to help support my writing — including putting food on my table — you could buy me a Ko-Fi, or leave me a tip, for which I would be extremely grateful!
If you enjoyed what you read, subscribe to receive all my work!
2022© All Rights Reserved. (Robin Christine Honigsberg)
About the Creator
Sensitive eccentric with numerous mental illnesses who often describes personal experiences with mental illness to raise mental health awareness. Suicide attempt survivor. Writer of different topics, in various genres. Please have a read!💚
Reader insights
Be the first to share your insights about this piece.
Add your insights