Your Local Diner
RESTAURANT REVIEW/ESSAY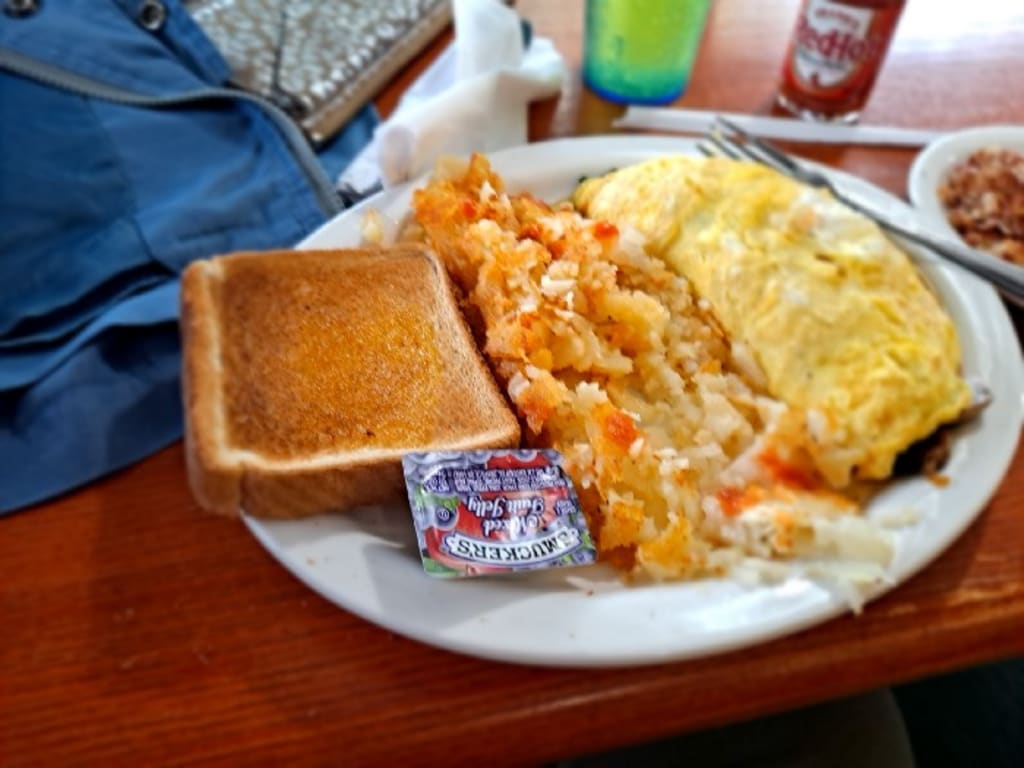 Photo taken by the author
Although I call myself a writer, most of the time, I find any excuse to not write. A new Riverdale episode came out? Well, have to watch that (I fully admit that the show is objectively terrible, but I don't care #IStillLoveThatHotGarbage). A mildly interesting scandal involving a minor celebrity broke? Well, have to read all about that on Buzzfeed and Reddit. It's not raining outside? Well, have to take a walk then (I tell myself that it's to improve my physical health, which is partially true, but really, I just want to avoid the blank page or computer screen).
The other day, my excuse to not write was that I was hungry and I wanted some damn eggs.
I'm a big believer in supporting local restaurants, and since COVID-19 happened and started killing small businesses left and right, I became an even bigger believer. So instead of heading to a chain diner like IHOP or Denny's, I went to Nate's Deli, a little local diner in Fairview Park, Ohio. (And if you're in Ohio and driving to a chain diner to get your eggs and pancakes, what the hell are you doing? There are locally owned diners freaking everywhere! Support your local businesses!)
I ordered an omelet with spinach, mushrooms, and cheddar cheese (one of my lactose-sensitive body's nemeses) with home fries and Texas Toast, a side of corned beef hash, and Mountain Dew though it was 8 in the morning (don't judge me. A girl needs her morning dew). The side of corned beef hash was a mistake, however. Not because it wasn't good — it was delicious and wonderfully greasy — but the omelet and home fries turned out to be more than enough food.
The corned beef hash
The omelet was massive and packed with spinach, mushrooms, and cheddar cheese (the last of which would later be cursed by my lactose-intolerant body). It was fluffy and well-seasoned, and I didn't find myself asking for salt or pepper. The home fries were tasty as well — lightly crispy and also well-seasoned. They were good on their own but even better with a few dabs of Frank's RedHot (#NotASponsor; it was just the hot sauce that Nate's Deli had. But Frank's RedHot, if you have somehow stumbled upon this article by a minor smut writer, I am open to discussing sponsorship opportunities).
I have to give mad props to my server Terri. Though she was the only one working the busy diner, she always made sure to keep my glass filled with Mountain Dew (the amount of soda I drank is probably going to make my dentist cry during my next visit) and did everything to ensure that I was a happy customer.
By the time I finished my breakfast, I was groggy from eating so much food and definitely in no mood to write (you might be asking, Why are you trying to do the writer thing if you seem to hate writing so much? I don't hate writing. I love writing — especially smut — I just suck at self-discipline and am way too easily sidetracked).
But anyway, if you find yourself driving to IHOP or Denny's or McDonald's for breakfast, drive that freaking car around and go find a local diner. The food will most likely be just as cheap and almost certainly be more delicious.
Due to my food-induced grogginess, I didn't have a very productive day. Surprise, surprise. Instead, I wasted time reading about the latest YouTuber drama, taking a long walk, and getting a burrito though I was still full from breakfast.
Did I regret getting a burrito? Yes (but I just had to use my free burrito coupon!).
Did I regret getting such a big breakfast at Nate's Deli?
Of course not.
If you're ever in the Cleveland area and looking for classic diner food, here is Nate's Deli website.