Winter Winds and Blue Moods Call For Bread Pudding with a Butterscotch Kicker (GF version included)
Pantry plundering ingredients for a soul-warming hug of yumminess.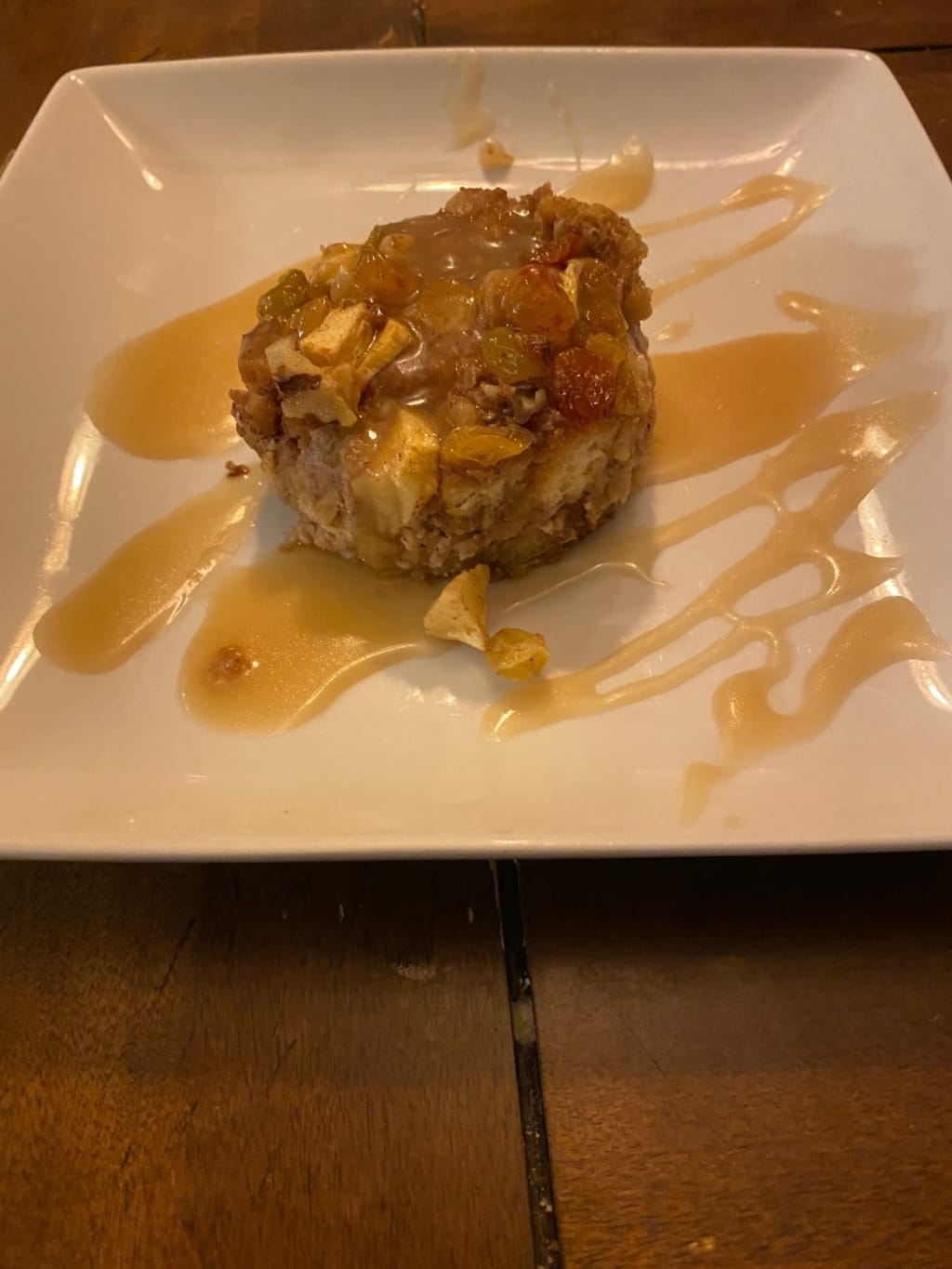 Photo by Author
For more recipes, why don't you check out our Vocal Cooks Collaborative! Click here!
Old man winter is blowing his first icy breath of the season and here in Alberta, it has turned decidedly cold. High winds and grim, gray skies have held for days, and all forecasts call for a long, hard, snow-packed winter.
The shift in weather patterns often causes many of us to feel a change in mood. Moving from light and bright to blue, bleak and bothered. You can see the shift looking out the window, but you feel it down deep inside.
In times like these, the right food can shift you back to a place of warmth and comfort.
Planning my tasks in the kitchen, I saw that the remaining half loaf of homemade bread was losing its freshness, and my daughter, who has a spoiled but accurate palate, wouldn't be enjoying school lunches on stale bread. So fresh bread was first on the list.
While I began the yeast and organized the ingredients for the bread, I looked at the half-loaf of last week's bread. On the counter next to the bread sat the remaining quarter box of fall apples. I opened the fridge and saw the sack of freshly shelled walnuts. An idea was born! Bread pudding!
Who doesn't love the warm, gooey cinnamon goodness of bread pudding kissed with vanilla and brown sugar? Now, giving it the crunch of walnuts and a sweet bite of apple would lift this simple dessert.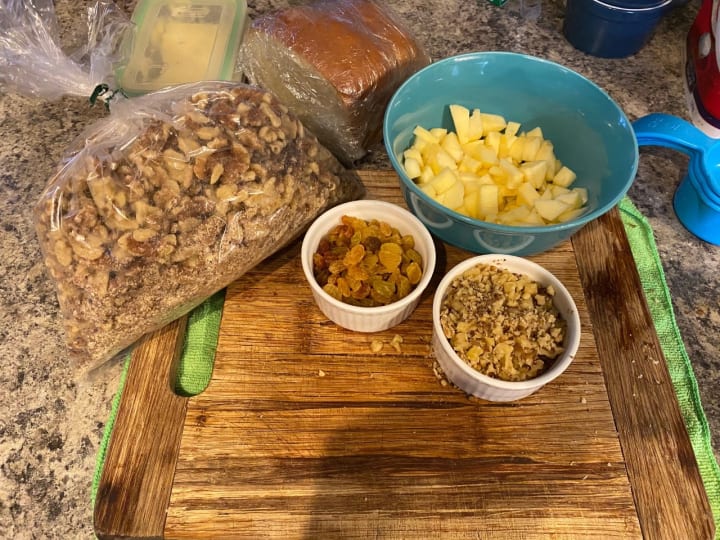 I also added an additional stage to the prep for a gluten-free version. I love my wife, but I do not love that she is gluten-intolerant. So, in most cases, I have adapted and adjusted recipes to make them work for her. But, it does happen on occasion that she has to miss out, and it's challenging to enjoy the food I've made when she sits across from me with a sorrowful expression watching me eat while she has none. 
However, some things just won't work well in a gluten-free version. Other dishes would simply be insulted to be turned into a sans gluten travesty. I respect the ingredients I use and the essence of where those dishes originated. If there's such a thing as crimes against food, making things gluten-free is first-degree murder, and I won't even discuss vegans.
Both versions of the bread pudding are described below, with only minor adjustments for the GF version.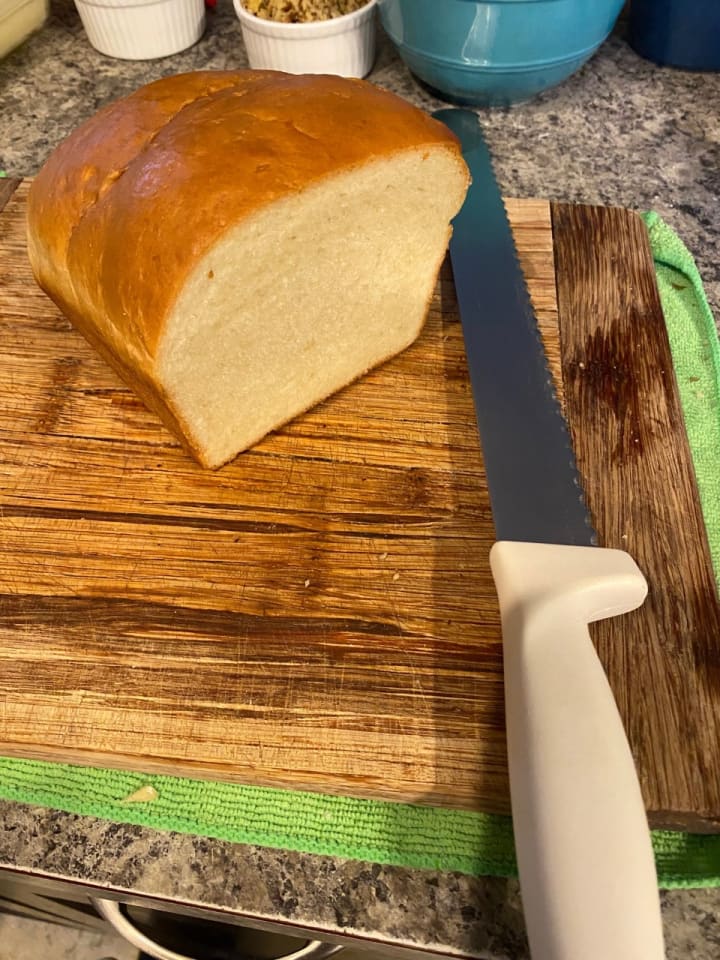 Bread Pudding - Full Gluten.
Ingredients
Bread- approx. 9 slices or half a loaf
2 tablespoons butter - melted
½ cup raisins
½ cup walnuts-chopped
½ cup apple-peeled, cored, and chopped
4 eggs
2 cups whole milk
¼ cup white sugar
½ cup brown sugar
1 teaspoon cinnamon
1 teaspoon vanilla extract
Method.
Preheat oven to 350°f
Slice bread into large chunks. I cut three slices across lengthways and three across. Arrange bread in a buttered 9x13 baking dish.
Drizzle the bread with the melted butter, then sprinkle with the chopped walnuts, raisins, and apple.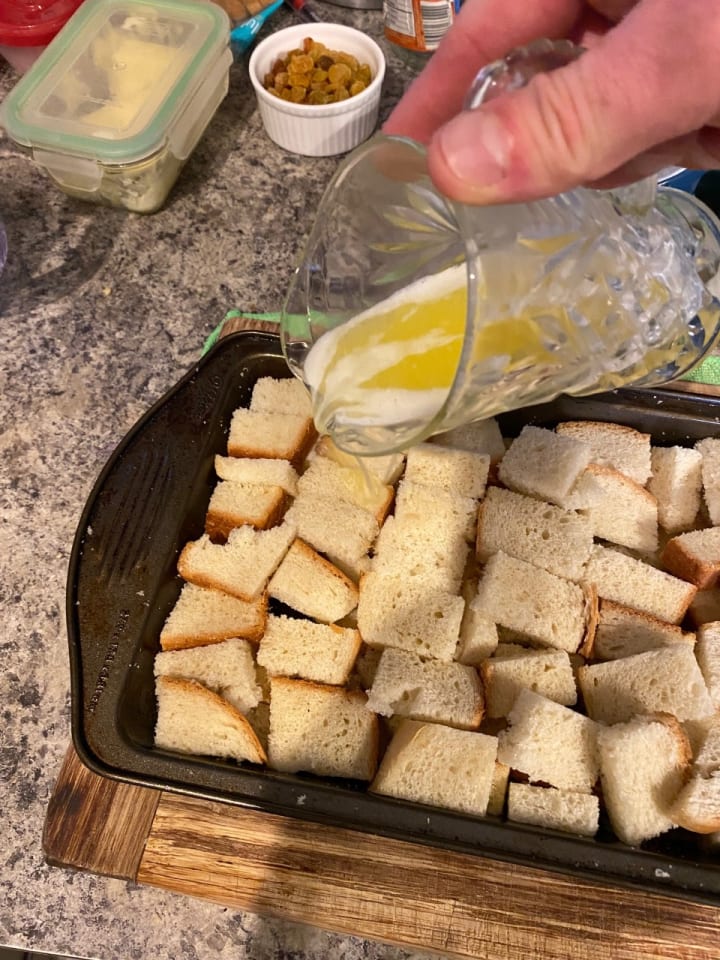 In a large bowl, combine the eggs, milk, sugar, vanilla, and cinnamon. Whisk until well incorporated.
Pour the milk mixture over the bread, then press down on the bread slightly with a fork so that it drinks up the milk.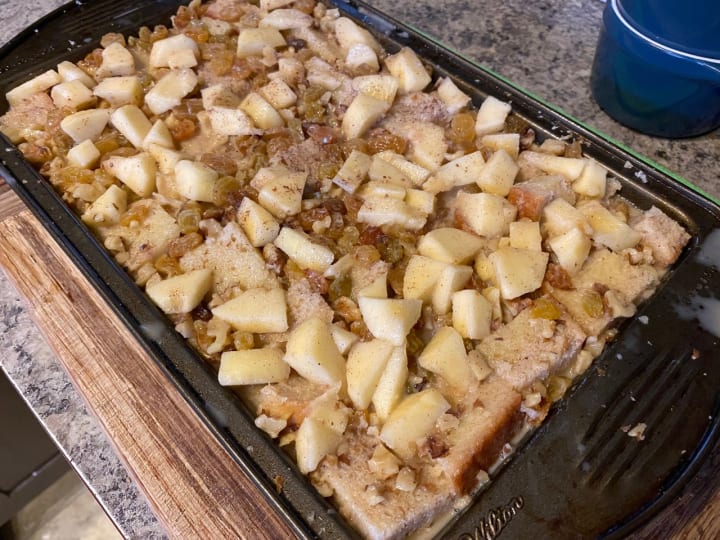 Place in oven and bake for 45 minutes or until the top fluffs up and is spongey to the touch. If the center still looks too wet, bake an additional five minutes.
For the Gluten-Free Version.
Everything is the same ingredients-wise except that I made a little less of the milk mixture and slightly cut the sugar. This will give four individual servings. If you plan to make the entire 9x13 baking dish, change nothing except the bread.
Reduced Milk Mixture.
Because my wife loves rich, creamy, buttery dishes, I substituted part of the milk required with 10% cream. I used the following measurements for her version. I also made hers without raisins to accommodate her preferences.
½ cup whole milk
½ cup 10% cream
½ cup brown sugar
2 tablespoons white sugar.
½ teaspoon cinnamon
1 teaspoon vanilla extract
6 slices of gluten-free bread
½ cup chopped walnuts
½ cup chopped apples
2 tablespoons melted butter.
The method changed only by drizzling the bread with the butter, then tossing with the walnuts and apple.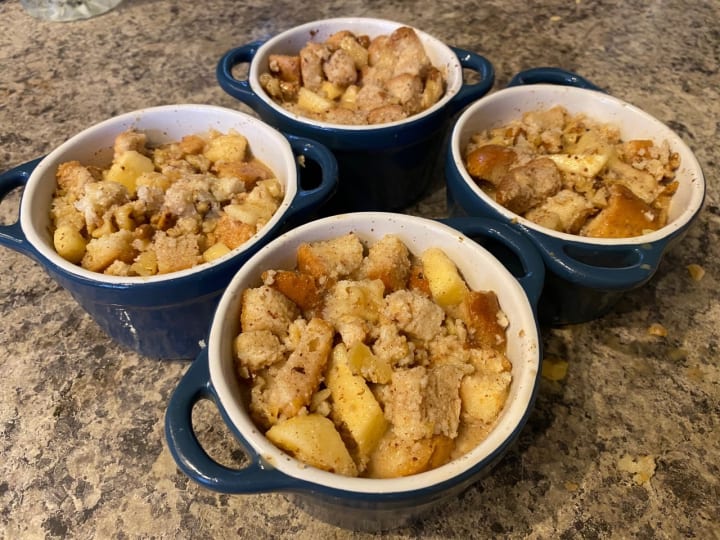 Pack gently into ramekin dishes and drench with the milk mixture.
Bake at 350° for approximately 25 minutes or until fluffy and spongey to the touch.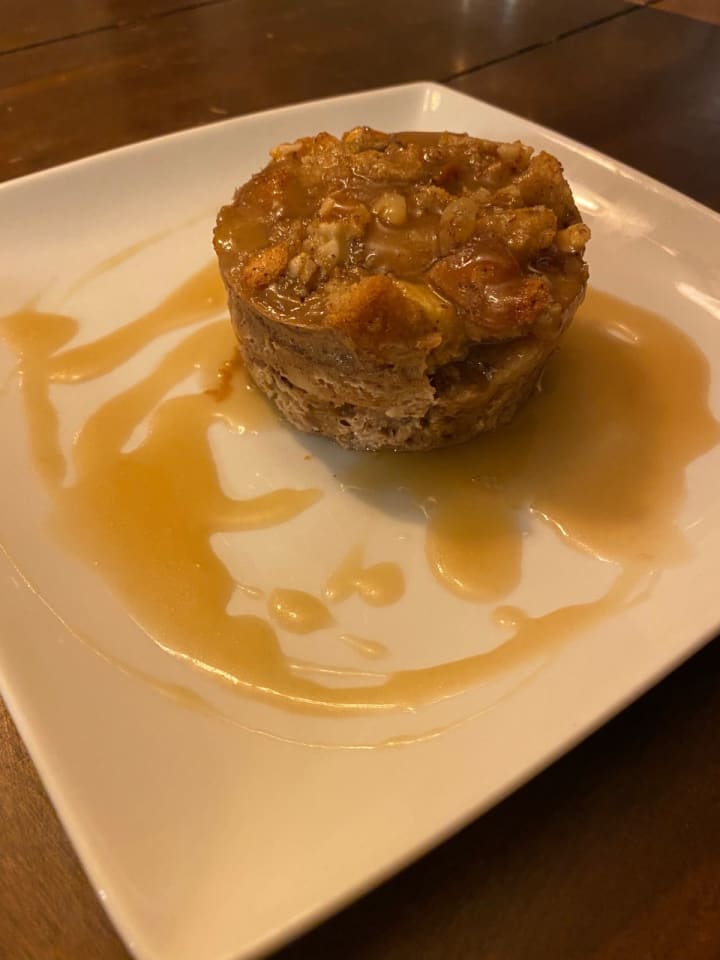 For the Butterscotch Sauce.
Ingredients
1 cup brown sugar
1 cup heavy cream
½ cup-1 stick unsalted butter
¼ cup scotch, or rum if desired
2 tablespoons light corn syrup
1 teaspoon vanilla extract
¼ cup water
Method
In a heavy-bottomed saucepan, combine the water, brown sugar, cream, butter, corn syrup, vanilla, and the scotch or rum if used.
Stirring over low heat, cook until the sugar is dissolved.
Increase the heat to medium, bring ingredients to a low boil, and cook until the sauce is thick enough to coat the back of a spoon, about 8–10 minutes.
Remove from heat and cool to room temperature.
Pour liberally over the top a serving of bread pudding and enjoy!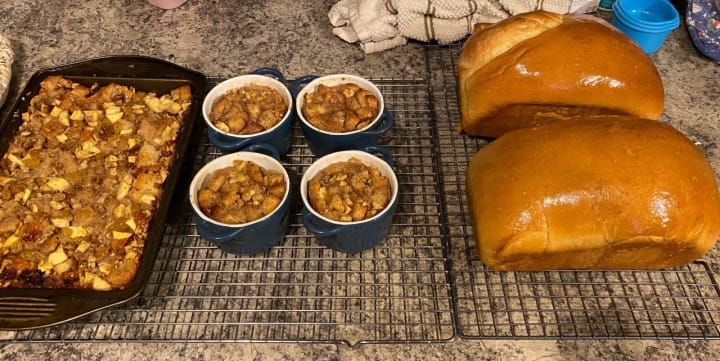 If you have the means and desire to help support my writing, you can do so here. Everyone needs helps at one time or another and I sincerely appreciate any that comes my way. Click here if you feel like buying me a coffee!
Thanks in advance.
recipe
1st generation Canadian-Hungarian
Father, Fly fisher, Chef, Reader, Leader, and working on writer.
Feedback appreciated anytime. Tips always appreciated.