Meal Planning
Weekday Winners and Weekend Wonders
Seven delicious meals to see you through the week.
You know the feeling when you read a recipe and realise you only have a fraction of the seasonings they expect you to use in your cupboard? Or when they call for ingredients you have never even heard of or would have to find a specialist shop to get them? Seeing a list of ingredients as long as my arm puts me off trying the recipe. That is why all the recipes I have chosen with you include seasonings that most of us will have in our cupboards and a limited number of ingredients. 
I am also not a fan of sweating in the kitchen for hours and hours, which is why I prefer recipes that are simple to follow and take no longer than an hour to get on the plates. You can cook the weekday recipes in half an hour, the weekend recipes take a little longer but are worth the extra time. Also, while your delicious weekend meals are cooking in the oven, you can chill and enjoy a glass of wine. Or, if you are like me, wash and tidy up so you don't have too much to do after the meal. 
For each recipe, in addition to the listed ingredients, you will need salt, pepper and olive/vegetable oil. I have not put measurements for spices. That's because I never measure them. I start with a little and then add to get the right flavour. You could start with 1/2 teaspoon and then add more to your taste. If you are not a huge fan of spicy food, go easy on the cayenne pepper and hot paprika. All the recipes are for two people. 
Happy cooking!
Weekday Winner One: Hake on a Mexican inspired Stew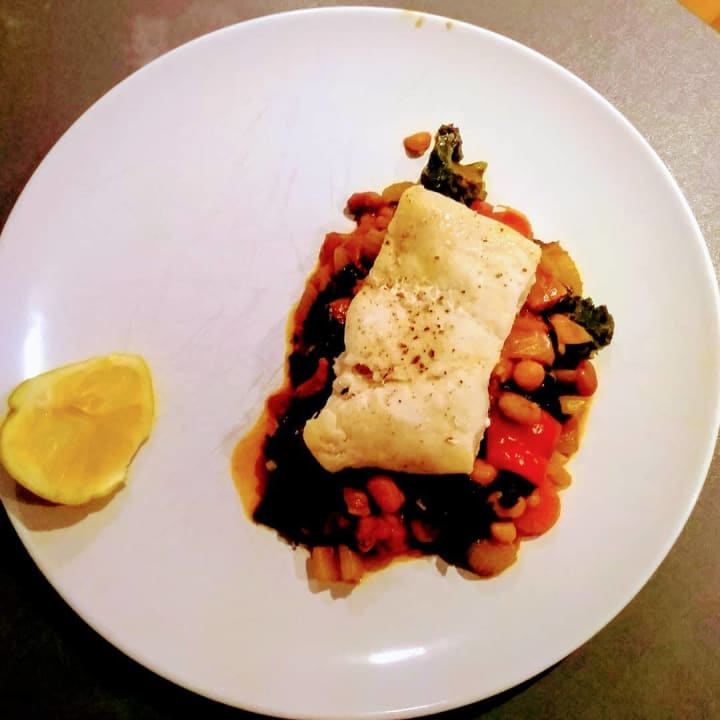 2 hake fillets
4 small carrots
1 red pepper
2 celery sticks
1 white onion
1 garlic clove (use more if you are a fan of garlic)
Mixed beans
Kale
Chopped tomatoes
1 vegetable stock cube
Cayenne chilli pepper 
Hot chilli powder
(Note: use the last two sparingly if you are not a fan of spice)
Heat the oven to 180°C or 200°C if using a conventional oven. Sprinkle some oil on the hake fillets and put them in the hot oven for 16-18 minutes until the fish is translucent and flaky. 
To prepare the stew, finely chop the garlic and onion and add into a pan with some oil. Cook until softening (about 3-5 minutes). Make sure the pan is on medium heat as if it is too hot, the onion and garlic will  burn. Meanwhile, roughly chop the carrots, pepper and celery and add in the pan. Cook for another 5 minutes or so until the vegetables soften. Add the chopped tomatoes. 
Then add 300ml boiled water (use your kettle), the stock cube and your spices. Cook for 10-15 minutes or until carrots and celery are ready almost ready. Then add your kale. Season with salt and pepper. 
When you are ready to serve, place your stew on the plate first and your hake on top. 
Weekday Winner Two: Refreshing Tuna Salad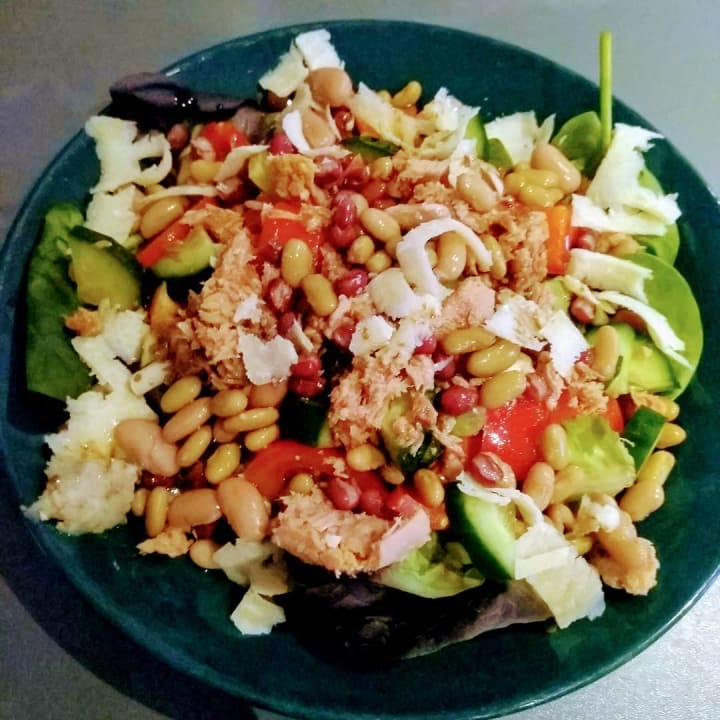 Mixed lettuce
Cucumber
Tomato
Red/yellow pepper
2-3 Spring Onions depending on size and whether you are a fan
Mixed Beans (I like a mix of cannellini, flageolet and adzuki beans but others will do just as well.)
I can of tuna (I prefer it in spring water)
Parmesan Cheese
Olive Oil
Balsamic Vinegar
Sugar and salt
Chop up your lettuce and your vegetables and give them a good mix in a bowl. Strain the beans and rinse them before adding them to the salad mix. Finally, add the tuna and give everything a good mix. 
In a small cup, mix an equal amount of olive oil and balsamic vinegar with a pinch of salt and about half a teaspoon of sugar. Give it all a stir and pour over your salad. Serve your salad topped with paremsan and a side of crusty bread.
Weekday Winner Three: Sea bass with vegetables
2 sea bass fillets
4 tomatoes
1 pepper
Sugar Snap peas (they usually come in perfect size portions in the supermarket)
Spinach (as above)
Turmeric
Cayenne Pepper
Oregano
Feel free to add garlic. 
Chop the tomatoes and pepper roughly and add into a pan with some oil. If you are using garlic, chop it finely and cook it in the oil for about 30 seconds before adding the tomatoes and pepper. Add the spices to the tomato and pepper mix and cook for about 5 minutes before adding the sugar snap peas. I always cook them whole. Cook until the sugar snap peas begin to soften. 
The spinach only needs a few minutes so only add it in until you are nearly ready to serve. 
The fish will need about 6 minutes depending on the size of your fillets. Heat some oil in a frying pan over medium-heat and then add the fish skin side down. Try not to move the fish in the first few minutes to let the skin get deliciously crisp. Cook for about four minutes, until the skin is crispy, then turn over and cook for 1-2 minutes more until your fish is flaky and translucent. 
Serve with your vegetable mix. 
Weekday Winner Four: Vegetable and Bean Broth
2 celery sticks
2 carrots
1 green pepper
1/2 butternut squash
1 tin of mixed bean
Edamame beans
Broccoli (about two handfuls)
Fresh Coriander
1 white onion
1 clove of garlic
2 veg stock cubes
Cumin, Ginger, Turmeric, Cayenne Pepper, Hot Paprika
Chop the carrots, celery sticks, pepper and butternut squash into bite-size pieces. Finely chop the onion and garlic. Heat a bit of oil on medium heat and add the onion and garlic and cook until they soften. About 3-4 minutes should be enough. Add the carrots, celery, pepper and butternut squash and cook for about 10 minutes or until softening. Add your spices and give everything a good mix so all the vegetables get coated in the spices. 
Add 300ml of boiled water and the two stock cubes and the beans. Bring to simmering and cook for 10 minutes before adding broccoli. Cook for final 5-7 minutes until broccoli is ready. I like it to still have a little bite. 
Serve with chopped coriander sprinkled on top and with fresh bread. 
Weekday Winner Five: Chicken Soup
1 large carrot
2 celery sticks
2 potatoes
200gr chicken thighs/breast
1 garlic clove
Thyme sprigs
Solid coconut cream (optional)
Peppercorns
Chop the carrots, celery and potatoes into bite-size pieces. Chop the garlic finely. Cut the chicken into smaller pieces and cook on a pan with some oil. Once cooked through, set aside for later. 
Heat up some oil on medium heat and add the garlic. Cook for about half a minute before adding the carrots and celery. Cook for about five minutes until carrots and celery start to soften. 
While the vegetables are cooking, boil some water in a kettle and dissolve the stock cubes and the coconut cream into a 400ml water. If you do not have coconut cream, you can do without it. I like to use it as it adds a bit of a Thai flavour to the soup. Once the celery and carrots have softened add the water in the pan together with the thyme sprigs (pick of some leaves and save for later), peppercorns and potatoes. Cook until potatoes are soft. 
Chop the thyme leaves you saved. Once potatoes are ready, serve your soup with a sprinkling of thyme leaves. 
Weekend Wonder One: Cottage Pie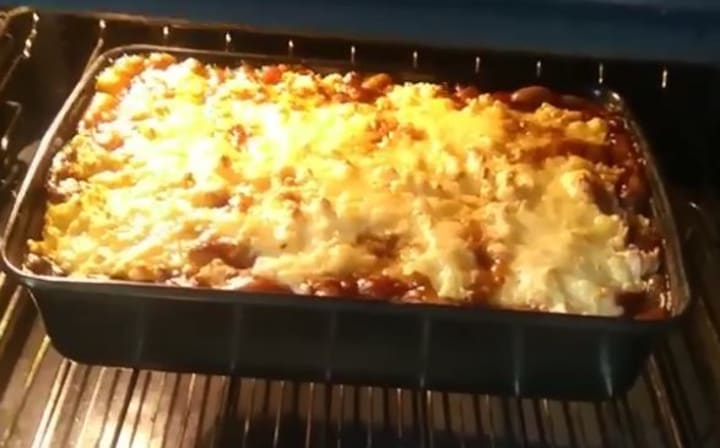 I love a Cottage Pie and have spent a long time honing my recipe. Mostly I use beef mince, but lamb will work just as well as will Quorn mince for a vegetarian option. 
1 red or white onion
2 cloves of garlic
2 carrots
2 sticks of celery
peas
5 white potatoes
500g mince (only use 250g if you want a lighter version)
Flour, milk, butter
For the gravy
gravy granules (beef or a vegetarian option)
Stock cube (beef or vegetarian)
Worcester sauce
Tomato paste - optional
Marmite - optional
Turn the oven on 200°C and boil a kettle. Chop the potatoes into bite-size pieces. The smaller the pieces, the quicker they will boil. Place the potatoes into a pan with some salt (about half a teaspoon will do) and add the boiled water. Leave about 300ml of boiled water for your gravy Cook until soft. Test with a fork and if the fork pierces the potato easily, they are ready. Pour out the water and add some water and butter and mash roughly. I use a hand masher because I don't like it too smooth. 
While the potatoes are boiling, chop the carrots, celery and onion roughly and finely chop the garlic. Heat some oil in a pan on medium heat and add in the garlic and onion. Cook for 3-5 minutes or until softening. Add the carrots, celery and mince and cook until the mince is ready. Add the peas. 
While the mince and the vegetables are cooking (make sure to give it a stir now and then), prepare your gravy. A good gravy is the secret to a delicious cottage pie. Using the boiled water you saved for the gravy, add your gravy granules (brands vary, so add until you get a slightly thickened mixture), stock cubes Worcester sauce, tomato paste and marmite into a jug and mix it all up. When your mince is ready, add the stock and let it cook until slightly thickened. Season with salt and pepper. 
Now, layer your cottage pie into a roasting tin. The mince mix goes first, then the potato. Finally, top it up with grated cheese and stick it in the oven for about 20 minutes. 
Serve with your choice of vegetables or a salad. I like to serve mine with steamed broccoli and cauliflower. 
Weekend Wonder Two - Roast Potatoes and Chicken
6 white potatoes (I like Maris Pipers)
2 chicken breasts (You could also use a whole chicken. I prefer breasts as I am very fussy with my chicken and only like certain parts of it.)
Lemon
Thyme
Garlic
Onion (I prefer red onion as it is sweater when cooked.)
Gravy - use chicken gravy granules
For The Yorkshire Pudding
1 egg
40g flour
90ml milk
Turn the oven on 200°C and boil a kettle. Chop the potatoes into bite-size pieces. The smaller the pieces, the quicker they will boil. Place the potatoes into a pan with some salt (about half a teaspoon will do) and add the boiled water. Cook for 12-15 minutes depending on the size of your potatoes. You can test them with a fork. Run the fork over the potato and if it leaves a groove, they are ready for the next step. 
The secret to great roast potatoes is heating the oil first. So, while the potatoes are cooking, pour some oil onto a baking tray. How much depend on the size of your tray. Put it in the oven to heat. Once the potatoes are ready, pour out the water and sprinkle the potatoes with flour. Place the lid back on the pan and shake the pan to rough the potatoes. Take out the cooking tray and pour the potatoes straight from the pan on to the tray. If your oil is hot enough (it should be by now), the potatoes will sizzle as they hit the tray. Turn the potatoes over so they are fully covered in the oil. Put the tray in the oven and cook for 45 minutes. 
Meanwhile, cut the onion into four quarters. Once the potatoes have had about 15 minutes, add the onions on the tray, coating them in the oil, too. 
The chicken will take about 20-25 minutes depending on the size of the breasts. First, paste the chicken with oil and rub it with the garlic. Sprinkle over the thyme leaves and a squeeze of lemon. Put in the oven. 
Yorkshire pudding only has three simple ingredients but can be tricky to get right. Just like with the potatoes, you need to heat the oil first. So, before you start mixing it, add some oil into muffin tins and put into the oven to heat. Pour the milk into a jug and gradually add the flour. Add the egg and mix it all together into a smooth paste. Once the oil is hot, take out the muffin tins and pour in the pudding mix. Put in the oven and turn the temperature down to 160°C. Important: do NOT open the oven while the puddings are cooking or they will collapse. They will need 15-20 minutes, so put them in shortly after the chicken. 
Serve your chicken, potatoes and Yorkshire puddings with a generous helping of gravy and your chosen vegetables. 
I hope you enjoy these dinners as much as I do.
If you enjoyed my article, show it by giving it a like.
If you really enjoyed it, show it by sharing it on your social media.
If you loved it, show your love with a tip.
You can also follow me on Instagram for updates on new articles, short stories and the progress of my debut novel.