Variety is the spice of Korean side dishes
There are over 100 types of (Banchan) otherwise known as side dishes in Korean cuisine, like kimchi!
The number of side dishes in Korean cuisine is so immense that Koreans themselves do not know how many different types actually exist. That is because over time, the amount grew so large, and it's also possible to invent your own type of side dish. Ultimately making it impossible to count how many there are. Most side dishes also take hard work to make, and many mothers in Korea can spend all day cooking just 1 or 2 types of banchan.
Intro to Banchan
Side dishes are so popular because almost every Korean meal contains rice; side dishes add variety. I have been lucky enough to have a boyfriend whose mom can cook exceptionally amazing side dishes (and much more).
The magic of Banchan is the many flavors they come in.
Salty, spicy, sweet, and savory side dishes are just a few examples.
So no matter what you are eating, there are at least 10+ side dishes that would pair well with your meal.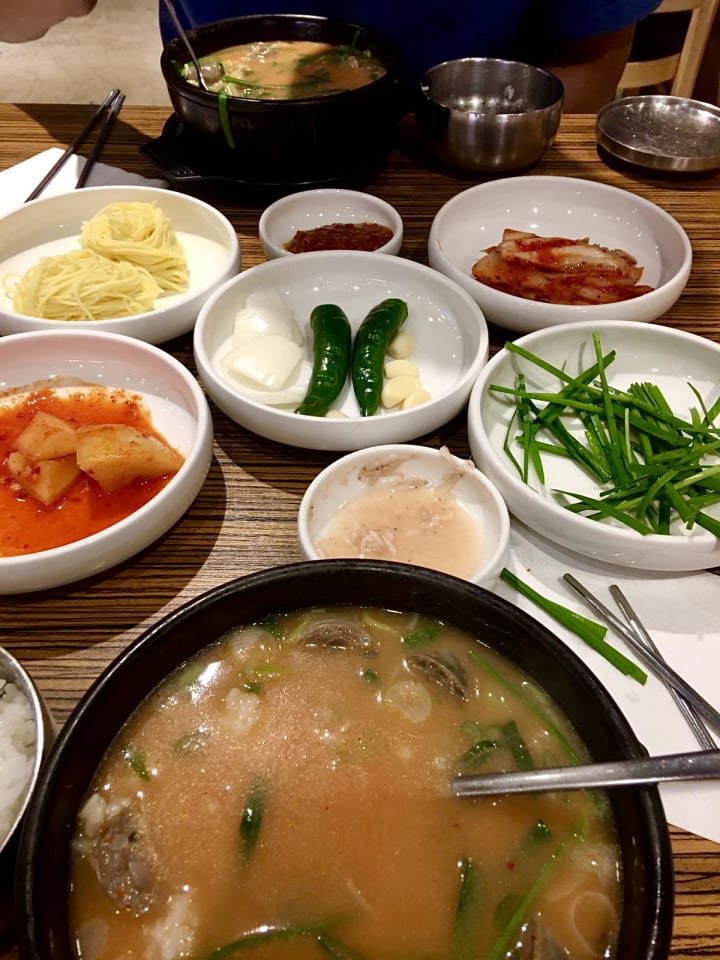 Of course, kimchi is one of the most well-known side dishes.
My favorite type of kimchi is radish kimchi, as shown on the left side of the above photo. The most internationally famous type of kimchi has a base of napa cabbage, but there are countless types of kimchi made from various vegetables.
In Korea, each region is also known for a different type of side dish or meal.

In Yeosu (a beachside city), got kimchi is a specialty.

In Danyang (a mountain city), garlic side dishes are famous.

One thing I love about Korea is that almost every city has some specialty cuisine. Everywhere you go there will be some dish that was either perfected or originated in that city.
Now let's get down to my favorite side dishes.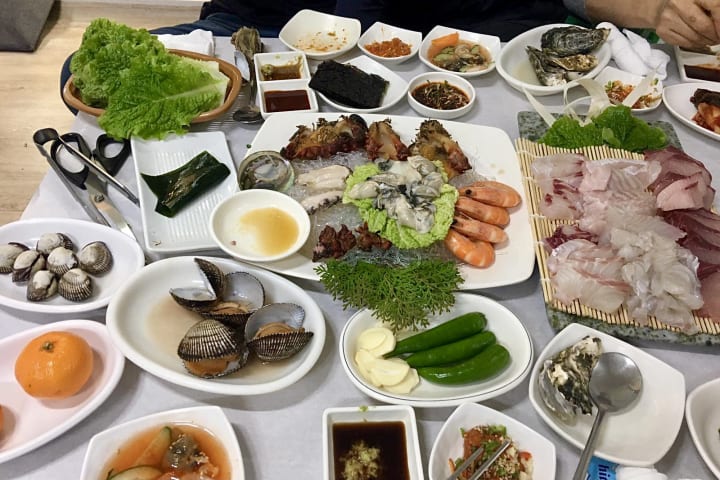 When I first came to Korea, I didn't think much of side dishes. But after traveling around the peninsula, I fell in love with many types of banchan.
In the above photo, you can see just how many side dishes one meal can have. That brings me to my first favorite banchan on the list.
1. Miyeok julki (Seaweed salad)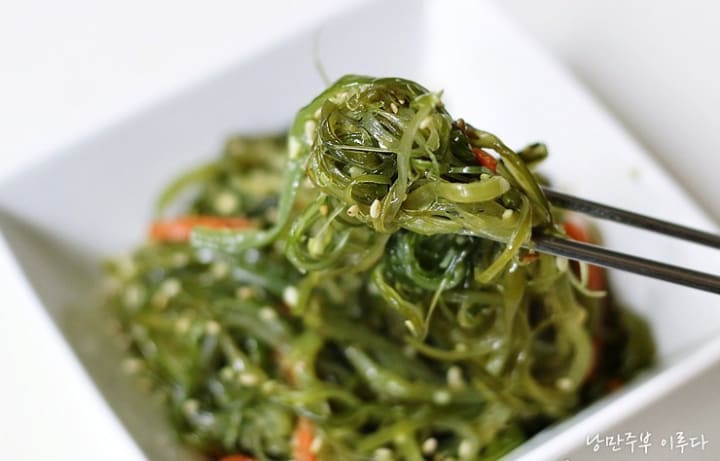 You may have seen a similar dish like this at sushi restaurants in America, but the authentic one holds much more flavor.
The ingredients for this side dish are as follows
Seaweed stems

onion

salt

chopped garlic

soy sauce

sesame seeds

perilla oil

oligo sugar
After mixing all of these magical ingredients, you create seaweed salad! The cool crunch of the seaweed along with the savory oil and sesame seeds, gives it a nice crunch and brightens up any meal. This side dish is especially refreshing during the summer months. I ate this countless times to help me cool off during summer in Korea. It was always the go-to banchan after bike riding or sight-seeing in Seoul.
2. Sugared garlic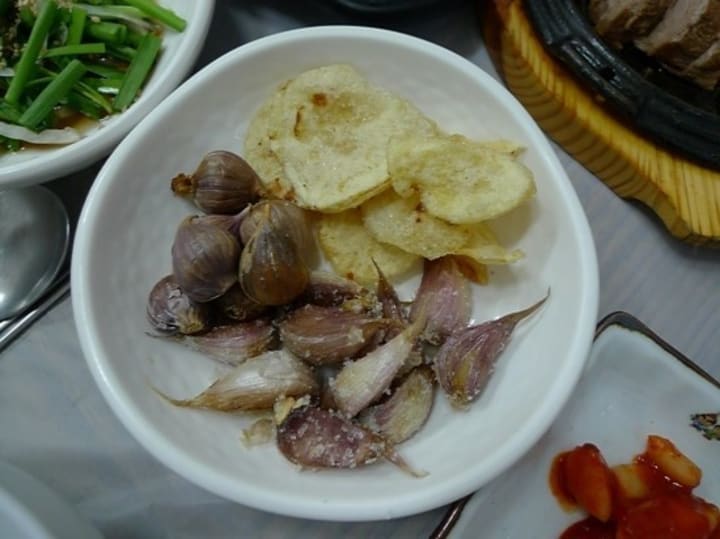 As weird as it may sound, sugared garlic is immaculate. On my first trip to Danyang, I made a promise to try all the famous garlic dishes since they put garlic on literally everything! The first restaurant we ate at was a traditional Korean restaurant, but with a flare of garlic. I sadly lost the photo, but the table was completely covered with different garlic side dishes. On the trip to Danyang me and my friends joked that if someone in Danyang did not smell like garlic it was suspicious. If you find yourself brave enough to experience the beauty of this dish, you will need these ingredients.
Garlic with skin

sugar

salt

cooking oil
The recipe I found says to fry the garlic on medium-low heat until it is crispy and then add a generous amount of sugar and a little bit of salt.
These two recipes are delicious, yet they do not even begin to represent the magnitude of good side dishes that exist.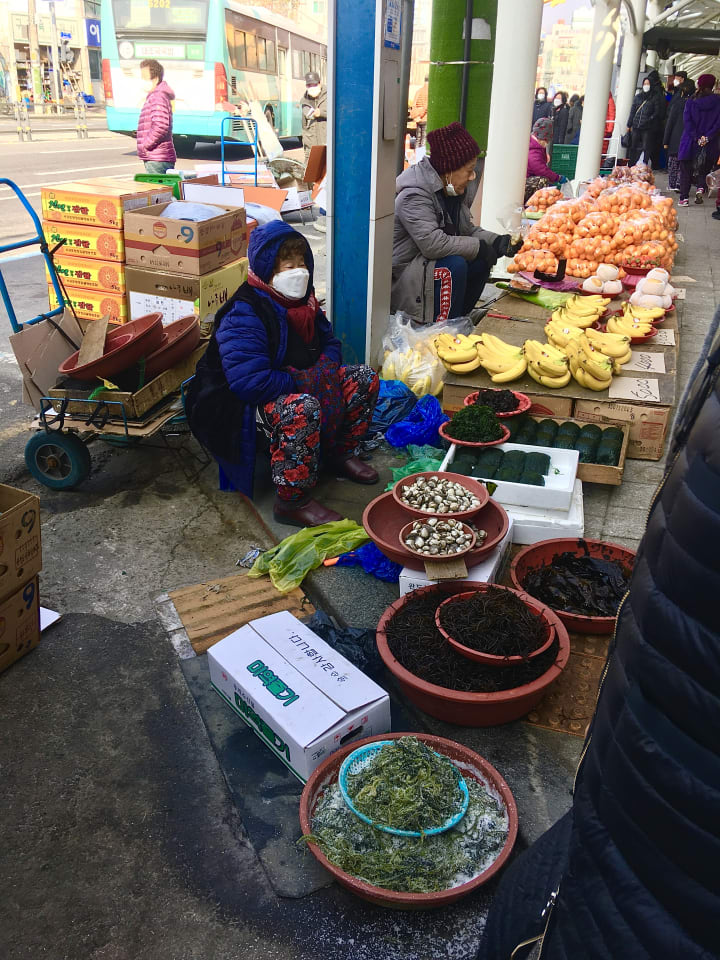 Some families even specialize in a certain side dish or food. If you go to a traditional market in Korea there is almost always a store dedicated to selling side dishes. They have everything from kimchi, pickled squid, to seasoned lotus root.
When I am back at home with my mother in America, one thing we love to do together is make kimchi. Although it is traditionally done in large quantity by more people, me and my mom always enjoy making it. It was actually my mother's idea to make kimchi, and she ended up creating her own type that included a whole bunch of ginger.
I always show my mom photos of what I eat while in Korea, so she finally wanted to make some herself. I will never forget how cute she was while making it in our small kitchen, especially since she is'nt the type of person who cooks much. Our materials were not ideal, but she made it work and created amazing ginger and cabbage kimchi for us.
Banchan is not only a delicious addition to daily meals, but also something that holds nostalgia. Just as collard greens remind my mom of her late grandparents, seaweed salad reminds me of my joyful and free summers spent on Korea.
Side dishes aren't just food, it is a lifestyle for enthusiasts as me!
list
I am Sophy. I love to travel and write poems. Sometimes I say wise things and I try to post them here.