Two Minute Fudge
A 12 Days of Christmas Cookies Recipe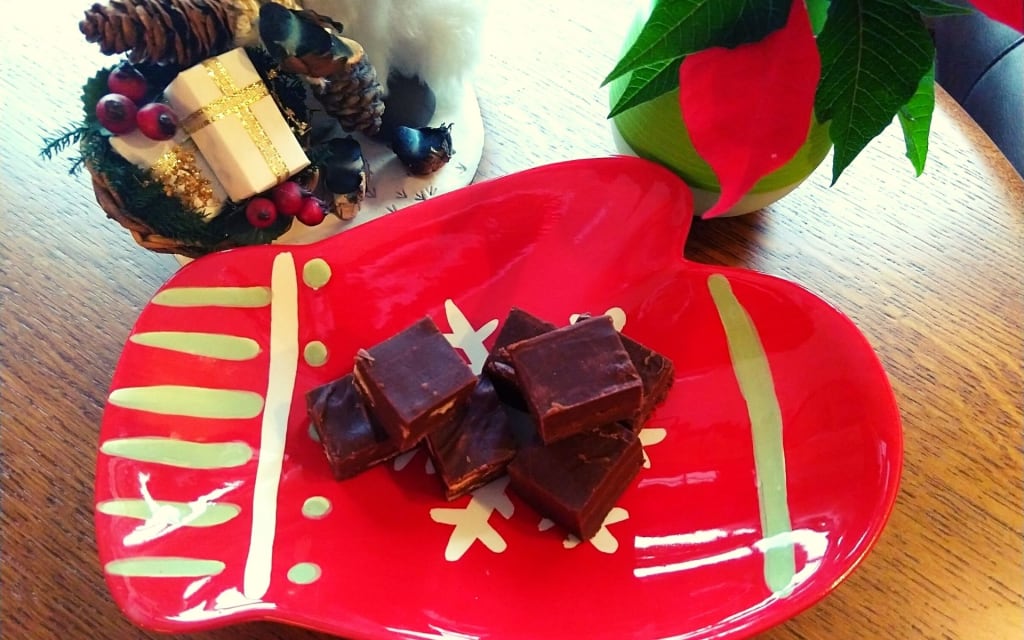 Two Minute Fudge
This recipe hails from the golden age of the microwave, and while you may find a richer fudge recipe, you definitely won't find one that's quicker. I'm pretty sure cleaning up the dishes afterwards takes longer than cooking this decadent treat. Best yet, all you need is a microwave and a refrigerator.
I make two varieties of Two Minute Fudge, nut filled and nut free. Some family members don't consider it proper fudge without the walnuts to give it some texture. Others want nothing more than the creamy melt-in-your mouth chocolate. Both varieties are best when they're slightly chilled. During the holidays, we store it in the fridge until it's time to go on the cookie plate. Or be snitched from the fridge in the dark of the night…I'm pointing no fingers.
As easy as this recipe is, there are a few areas where it can go wrong. It calls for butter. Butter seems to be the preferred spread these days, but if you're still a margarine devotee you're going to want to take note. While a lot of recipes can take butter or margarine interchangeably, this is not one of them. Margarine just doesn't seem to like being microwaved and we've found it separates out quite weirdly when used in Two Minute Fudge.
You will also want to line your pan with either aluminum foil or parchment paper so that you can lift the fudge out to slice it into squares. In my opinion, aluminum foil works a little better here because you can mold it into the corners. Cut the pieces small. It's almost pure sugar with a big hit of cocoa. You want it to melt away in your mouth as a bite-sized treat.
Ingredients
3 ½ cups powdered sugar
½ cup cocoa
¼ cup milk
1 stick butter
1 tablespoon vanilla
½ cup chopped walnuts (if desired)
Melt the butter. Blend the sugar and cocoa in a large microwave safe bowl. (Use a bigger bowl than you need, as you don't want it to bubble over the sides). Pour in the melted butter and milk and mix well. Microwave uncovered for 2 minutes. Stir. Add the vanilla and nuts (if desired), stirring really well to make sure the vanilla is completely mixed in. Pour into a lined 8x8 pan. Refrigerate for at least one hour before cutting and serving.
If you're making two batches like I always do, don't be tempted to combine them into one big batch. Trying to double it will cause issues with your microwave time and make it harder to thoroughly blend in the vanilla. Also, the longer it takes you to pour this into the pan and get it in the fridge, the grainier your fudge will get. It's just not worth the trouble, in my opinion. I have much better luck making each batch separately.
Two Minute Fudge freezes really well and can be prepared well ahead of the holidays. This batch is already hiding under the frozen vegetables. Fudge? What fudge? There's no fudge in here.
If you're bored with the idea of just chocolate and nuts, Two Minute Fudge is the perfect palette for flavor experimentation. Why not add some of the green mint chips left over from Overnight Meringues? Or break up some soft peppermint puffs and stir them in. You could also try adding orange juice or extract for a hit of citrus. Or Cinnamon Imperials for a little holiday heat. Or why not cayenne pepper to really spice things up? The dark cocoa provides the perfect backdrop for just about any flavor. Okay, maybe not ANY flavor. I think we can rule out ketchup.
If you're looking for some more quick holiday recipes, check out yesterday's Seven Layer Bars. They're as easy as throwing a bunch of stuff in a pan. We really don't mess around at the holidays. We've got too much snow to shovel.
I'll be back soon with some more holiday favorites, but until then, I wish you and yours all the warmest regards of the season. Also, ice-free sidewalks. I'm off to scrape mine right now.
recipe
About the author
Former archaeologist, currently on an adventure. I write a little bit of everything.
tweet: @emwescott
Reader insights
Be the first to share your insights about this piece.
Add your insights