Travel with Us to Taste Bud Island - Indulge - Satisfy - Become a Friend
Welcome Home to Cookies Grill, Chilliwack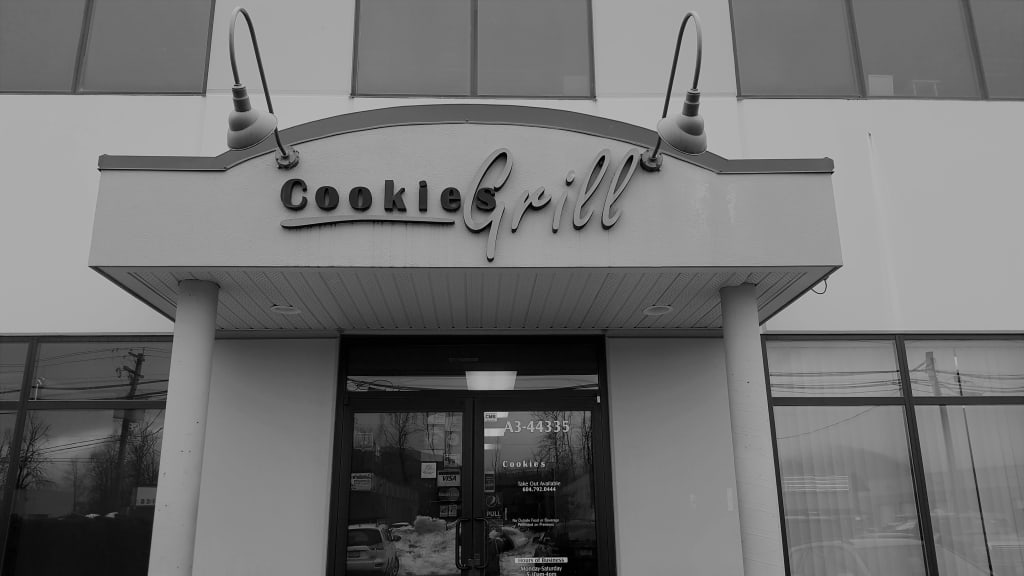 Time and time again you walk through that door and you begin your experience. You smell the hot and freshly roasted craving lingering through the air. A whiff of the freshly cooked special of the day becomes mystifying as your soon-to-be friendly face walks by and delivers it to an eager table. Suddenly your ears look to the background chiming of a lineup forming behind you. Phew. You are happy you got in when you did and now it is only a matter of time. Before your senses are indulged. Before your gut is permanently satisfied. Before you savor a taste. This is about to be an experience.
In not long at all, that friendly face from before greets you with a sunshine of a smile and waves their hand like a flag in a gentle breeze. You don't realize it but you grin back and before you are even that far, your feet have made up their mind and are walking towards that flag—that beacon of success. As you seat yourself you hear a radiant "Would you like some coffee today?" As you peer up your mouth can't even utter the words and you are nodding in acceptance as if you are tipping a hat off to an old friend. "Please."
It is only a matter of seconds that pass before the travel brochure of taste bud island lands in front of you. The ship is harbored at bay and awaiting your boarding. You interrogate yourself as you only have one shot at making this perfect today. Do you feel like becoming submissive to your sweet tooth? A golden brown sugary welcoming topped with some fresh and juicy delights to deem it okay. Perhaps you feel like appeasing to your hard-earned summer body and favoring the hearty home-style breakfast that is so well-known in this land. You pause. You are interrupted by the intrusive wave of a fresh and decadent aroma. You are being called away from the harbor of taste for but a moment and your detour begins in the dark pool that is a Garden of Eden but oh how good it is to indulge. You subconsciously lift your weight of a hand and clasp it around the inviting grab-me shape in front of you. How can you possibly tame yourself to say no. You bring that glorious revelation to your mouth and tip it just a bit. Your senses go wild as you swish back and forth and finally take it all in. Instantly your heart is warmed and your purpose for travelling here is due the path to fulfillment.
You return to glance at the harbor of taste bud island where you still need to get on board. After careful consideration, your inner devil prods you to the cream filled treasure that is two pieces of French deliciousness, those sweet juicy berries, and your home-style breakfast to compliment. You applaud yourself for a decision well made. The friendly face from before revisits your post and grants you the sensational question you've awaited. With a smile, she grants you the ticket. You are on board. Your ship is gliding out of the bay and you are tantalized and distracted by the dark pool poured for you not long ago. It is only a matter of minutes before you storm the dock of where you have invested all morning to arrive. The sun shines, the palm trees waver in the breeze, and the crystal blue water waves back at you as you step onto taste bud island. Snapping to reality, your ears turn you to a clatter and your eyes open like the binoculars of a bird watcher on the most optimum of days. A delectable gift from somewhere greater than you has arrived.
Armed with fork and knife, you are trembling. Your mind is running laps, your stomach is drooling for the treat you have been presented and you are crawling out of the trenches to go mouth first into your target. Over the course of what seems to last a pleasant eternity, you are fulfilled. You savor each addicting bite and chase it with that hot fresh aroma in a cup from before. As you plunge into the stacked creation, the cream cheese oozes from the sides. The juicy strawberries topple off the top of the tower. The sauce is running like a river through a forest full of taste defying sausage links and eggs filled with yolk that are about to pounce right at you. This land is to forever be remembered. Bit by bit, you invite all of this to take refuge into a place you know it will remain safe. There is no fighting it, just a complete entwining of the senses. There is no self-control. Only satisfaction and the linger of it's remains throughout the whole of your body. You radiate with a newfound pleasure. Other travelers around you glow in acceptance as they too tip their hat off in your direction. Seemingly, we are all old friends. Together, we are one.
You disregard anything that happens after this point as you know it will always be worth it. As you bring yourself to a tall tower, you are beaming. In good spirits you begin to take control of yourself again and lift your legs to step towards the light. A buoyant sense of gratitude and contentment touches those passing by. You propose to your hand to push forward and force away from the harbor. As the see-through welcome begins to cork shut another memory, you peer back. With a faint smile, you are content to see the many other travelers packing their bags and taking your advice.
Welcome home.