Top 10 Indian Street Foods Which You Should Try This Weekend!
Decorate your snack with Indian Cuisine this weekend!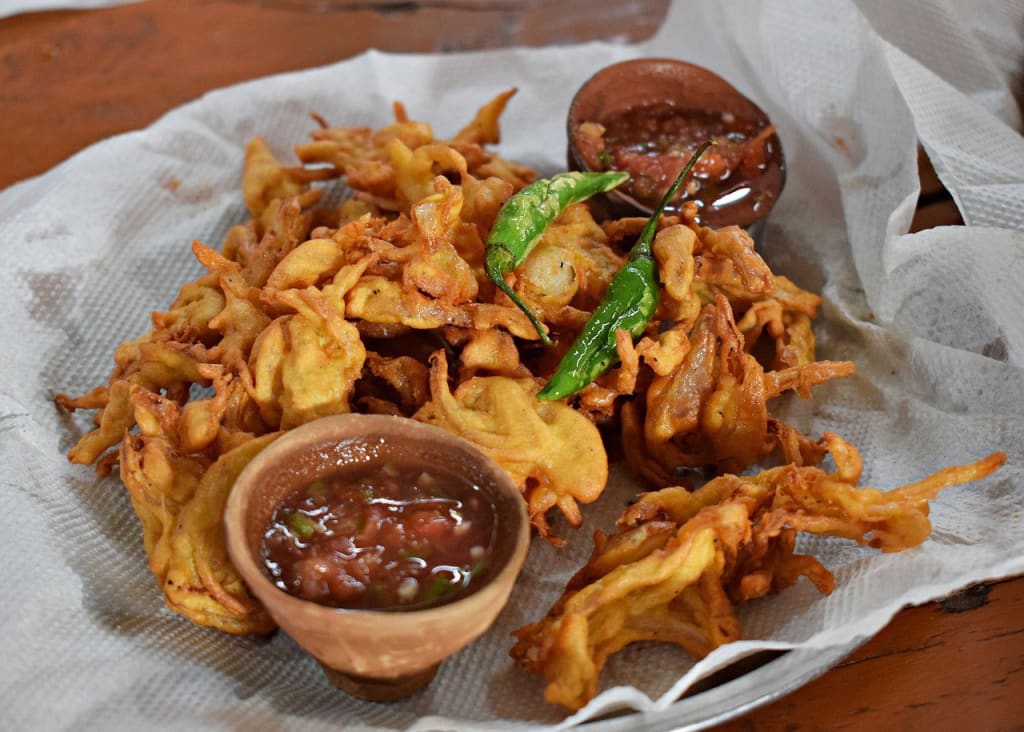 It is known to almost everyone that India is the land of spices. Almost all the best qualities of spices that are used in the kitchens of different countries come from the Kerela of India. More than 100 spices are cultivated and used in India. The varieties in spices give birth to various dishes in India. North Indian flavors and South Indian flavors are very much popular not only in India but in the whole world including the USA, UK, and middle eastern countries.
So, today we will explore the 10 most famous and infamous street and spicy dishes of India which will bring water to your mouth. You must try these on weekends to make your evening delicious!
10. Pakoda
Pakoda is the most famous evening snack across the Indian continent. Pakoda is a deep-fried snack made up of flour, spices, and vegetables. At home, it is taken as a snack along with tea. Pakodas are also offered in almost all restaurants. They are also sold on the streets of North India and people love this spicy snack.
You can easily make Pakodas at your home. You need not be a great cook to make Pakodas. You will need to have just flours, spices, and some veggies like onion, capsicum, carrot, potato, cabbage, etc. You will have to mix flour(use chickpea flour) with spices(must add salt, red chili powder, turmeric powder, cumin powder, and coriander powder) and vegetables(must add onions) to make a batter. Add water to mix properly and consistently. Leave this for 30 minutes and then fry it in oil till it becomes reddish-brown. Now, serve on a plate and enjoy.
9. Bachka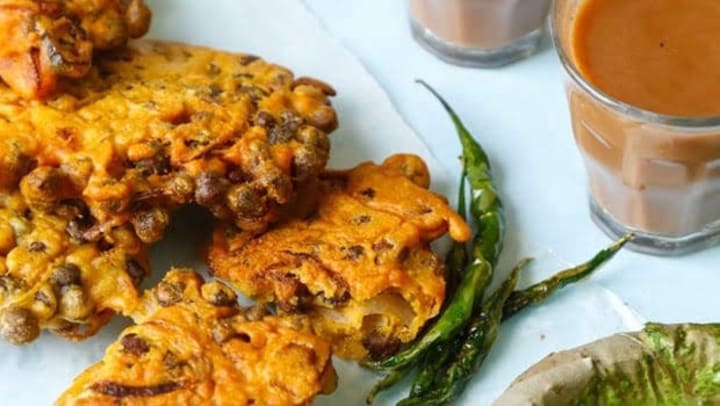 Bachka is an infamous food of India but believe me, it is awesome for morning breakfast. The process of making bachka is very much similar to pakoda. It is also a deep-fried snack made using flour, potato or pumpkin, or green chickpea(overnight soaked) and spices. It is usually eaten in the morning, especially on monsoon mornings. The bachka recipe is not so difficult. You can check the recipe on the internet also. Here, I will explain you in short.
You need to mix vegetables or chickpea, spices, gram flour to make a batter. Leave it for 30 minutes and then fry it in oil and your bachka is ready to be eaten.
8. Kabab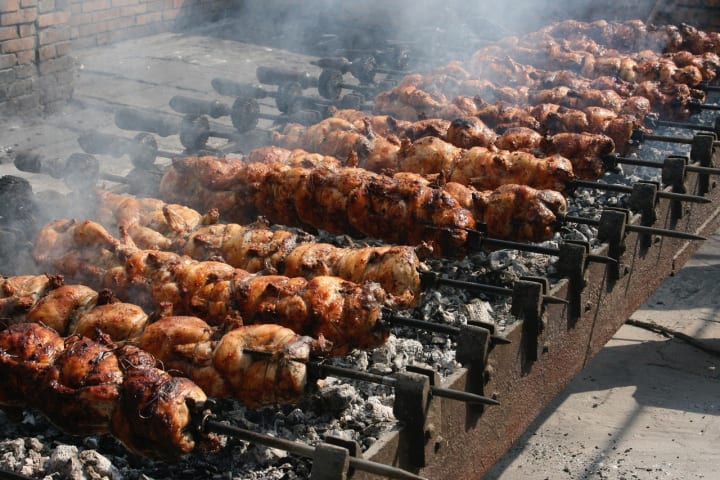 Kabab is a Muslim dish and very much popular in India and middle eastern countries. You can easily find kabab in restaurants and hotels of India. Kabab is a non-veg dish prepared using a lot of spices and meat. It is said that it was brought to India by the Mughals around 500 years ago. Now, it is loved by every Indian. However, kabab is so much common in Muslim families and festivals. Kebabs are prepared by roasting the meat on coal. You can also use oven but coal gives it a smoky flavor which makes this dish more delicious. I personally love Kababs and they are just awesome. The recipe of kabab is so long to explain here. So, please check it on internet.
7. Chole Kulche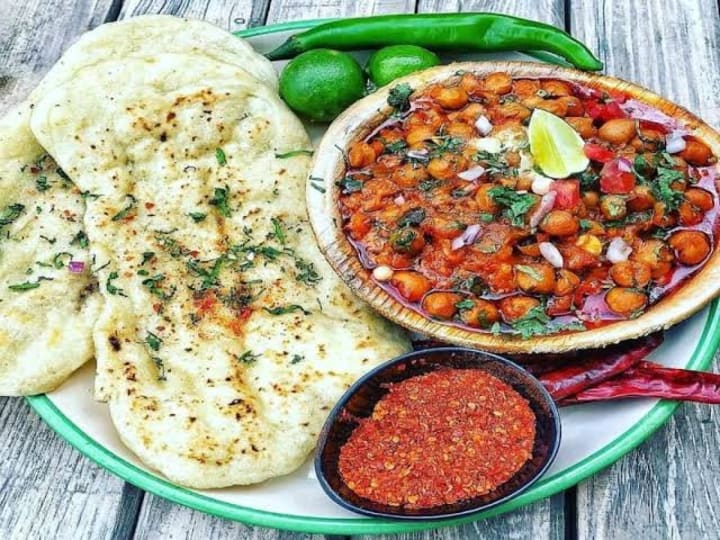 It is also a very popular dish that originated from the Punjab state of India. Chole kulcha is a snack food and a combination of white pea and bread. It can be taken as morning breakfast also. You can prepare this dish at your home anytime. The recipe of chole is not so hard to be tried but for kulchas, you need to have some prior training in the kitchen. Kulcha is nothing but a type of bread made from all-purpose flour. Kulcha is then dipped in Chola with spices and onions and tomatoes.
6. Muslim Style biryani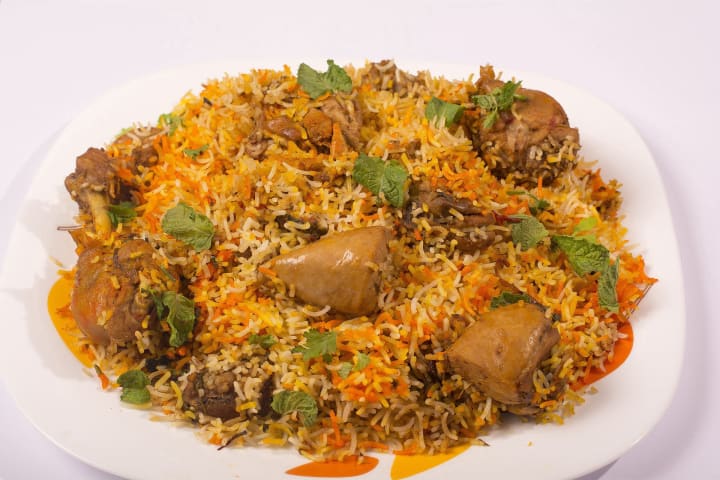 Image by www.pixabay.comBiryani is originated in India and its history in India is almost 400 years old. Biryani is a rice dish mixed with meat or chicken. It was firstly cooked by Muslim laborers under the Mughal era. Gradually, it became so famous that it is now served in every festival and wedding. Biryani is the main attraction in almost all events where food is served. It is not only consumed by Muslims but by almost all communities. This had led to the birth of different versions. However, chicken biryani is so much famous. Other versions are veg biryani, maggi biryani, mutton biryani, etc.
Biryani is the main dish of Eid-Ul-Azha. Eid is incomplete without biryani. Its rich flavor and textures are loved by everyone. Nowadays, there are various special restaurants for biryani. You can taste this meal either at your home or in any Indian food restaurant.
5. Litti chokha
Image by www.pixabay.comLitti chokha is the most famous and popular meal that originated from Bihar of India. Bihar is known for its famous litti chokha. Many Indian actors even the prime minister of India have been seen enjoying this delicacy. And, why will they not? It's such a tasty meal.
Litti is a small ball-shaped dish made up of wheat flour and stuffed with roasted black gram flour. Chokha is its partner dish made with mashed brinjals, tomatoes, garlic, mustard oil, salt, lemon juice, etc. Together they are known as litti chokha. It is such a famous dish that you can find it at every corner of Bihar. The recipe for this dish can be found out on the internet easily. Try this delicious dish this weekend.
4. Samosa
Image by www.pixabay.comOne of the most well-known street food in North India. Every Indian loves this dish. Samosa is a triangular-shaped fried snack made up of wheat flour and stuffed with spicy potato fillings. The specialty of the samosa which makes it popular is its potato filling. Potato filling is prepared using various spices and mashed boiled potatoes. It is a spicy filling that adds an extraordinary flavor to samosa.
Samosa is not only enjoyed in India but in other parts of the world also. However, it has its origin in middle east but north Indian loves this food from their bottom of heart.
Let me give you an idea of the recipe. You need boiled potatoes, spices like red Chilli powder, turmeric powder, etc. and coriander. You need to smash potatoes to mix the ingredients properly. If your filling is ready, then, move to prepare flatbread. Now, if it is ready, stuff it with the potato fillings and fry it in oil and then serve it in on a plate with tea.
You can use meat filling too instead of potato that will also taste you good. For this, you have to prepare a grinded boneless meat. For full recipe, please google it.
3. Dosa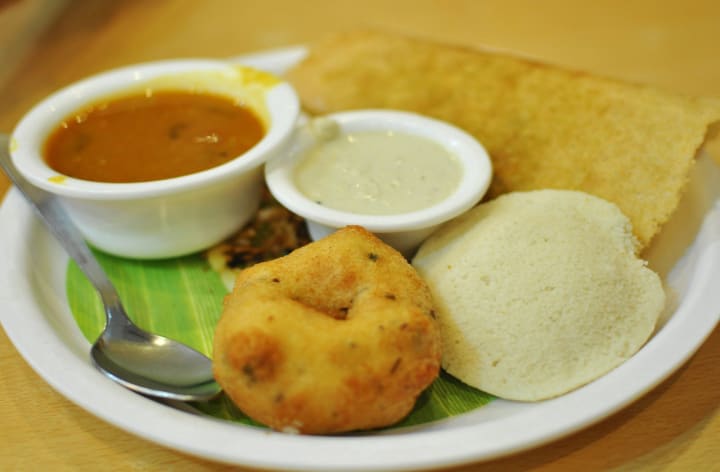 Dosa is another famous meal but it is originated from south India. Dosa is a rice pancake roll filled with vegetable fillings. It is eaten whole all over the world and even actors and actresses recommend dosa as a good diet. The speciality of dosa which makes it different from other meals is its health benefits. Dosa is not a deep fried and oily food. It contains the right amount of fat and protein. So, you should not hesitate to eat this. It will not negatively affect your health.
The recipe of dosa is quite long, so you have to google the recipe. I will give you a basic idea of the recipe. You will need overnight soaked lentils and rice. You will have to grind this with water to make a fine batter and leave it for 2 hours. In the meantime, you can prepare the stuffing. For stuffing, you will need smashed boiled potatoes, onions, tomatoes, coriander and spices. You have to mix all these evenly. Now, the further process is similar to the egg roll. You have to make rolls from the batter and fill it with potatoes. Serve hot with sauce and enjoy.
2. Chaat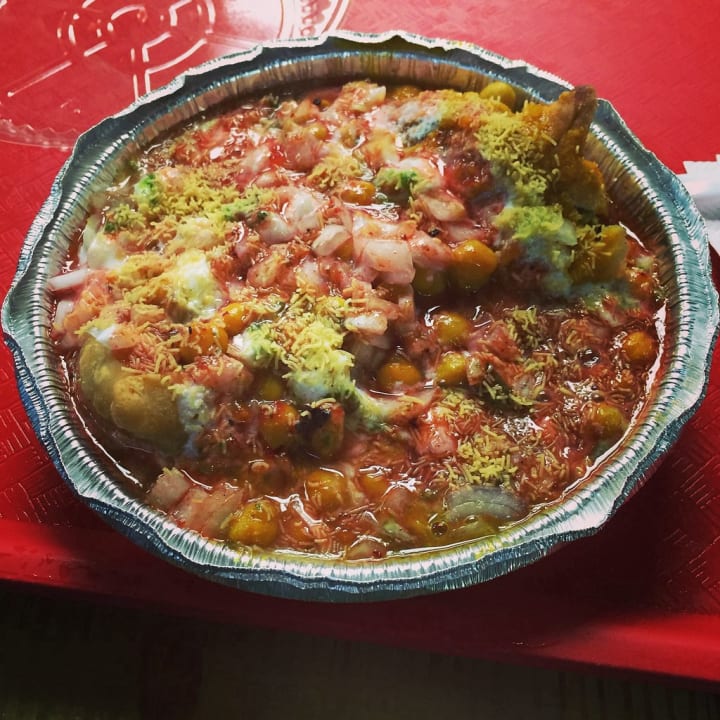 There is hardly anyone who doesn't know chaat. A north Indian food which is the favorite street food of almost every Indian. It does not need any introduction but let me please introduce it. Chaat is a rich flavored snack that describes an entire category of Indian street foods that offers the palate a symphony of exotic flavors and textures. If you visit India must try this dish. It is just amazing.
There are different varieties of chaat. These varieties adds speciality to chaat. Samosa chaat, aloo chaat, papdi chaat, meat chaat are the famous versions of chaat. Chaat is now also served in restaurants of India and outside. If you know a restaurant where Indian foods are served, then you must search for chaat. You can also make this at home.
Chaat is so spicy, hot and salty food. So, it might be unhealthy for some of you. It can't be eaten daily. But, you can try it on weekends. You can also add ketchup or sauce to your chaat to make it tastier.
1. Pani Puri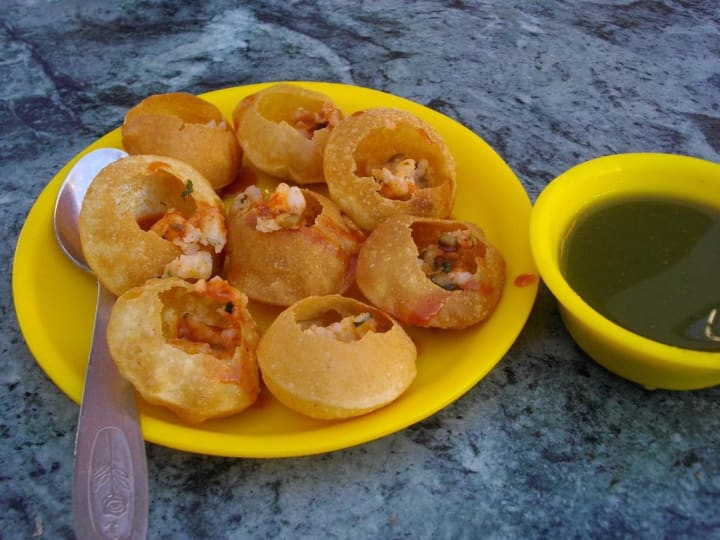 Pani puri does not need any introduction. Everybody despite of their country or whoever eats pani puri fall in love with it. It is so popular in India, Pakistan, Middle East and the West also.
Pani puri is a small ball-shaped flour dish, opened from the top and filled with potato and wheat pea filling and tamarind water. The specialty of pani puri is its filling and the tamarind water. This adds flavours to the dish which makes it spicy and hot.
Pani puri is known by different and very interesting names. Somewhere it is known as gol gappa or somewhere as phuchka. It can be found at every Indian corner. It is also served in restaurants. Pani puri is a favourite snack of especially children and ladies. Youngsters also love it.
I would suggest you to try pani puri at your home. The smell of pani puri is just enough to bring water into your mouth. It does not need to be served hot. In all the seasons and weather, you can enjoy pani puri.