Tomato Soup
It's worth the effort!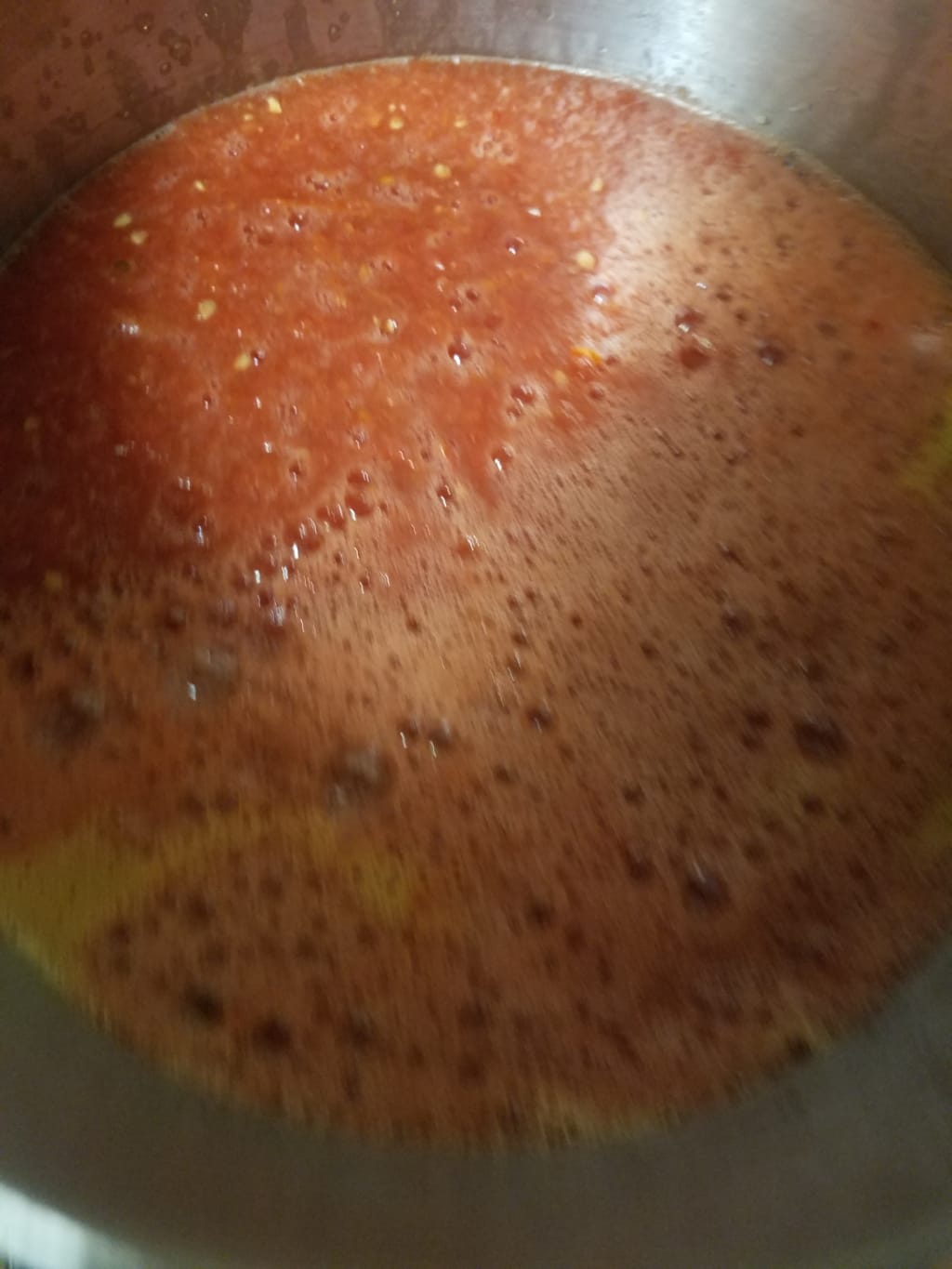 Before adding heavy cream
I love tomato soup on a chilly fall day! It's one of my favorites, because I use tomatoes grown by myself or a local farmer that have ripened on the vine! If you haven't tasted a tomato straight from the ground, you are missing out. Soup is versatile and I believe this to with my basic tomato soup recipe. If you try this soup, please feel inspired to add your own favorite ingredients to customize it to your taste. This is my daughters favorite thing that I make for her and she asks for it quite a bit (every day). My youngest daughter (who is also pick) also loves this soup. There is no sugar added, because I caramelize the onions adding it's own rich texture and sweetness.
There are 3 things that I always like to do to in order to make my soup meet the standards of my own taste buds (aside from choosing only farm fresh tomatoes)
#1 I always bake my tomatoes first, the amount of time and the temperature doesn't matter to me as long as the skin is peeling off.
#2 I always add a cooked potato and I blend it in with the tomatoes, most people won't know it's there but it will add to the creamy texture
#3 I almost always add onion soup mix... it's so good! It will add a new layer of flavor.
In fact, I had a friend ask me for my tomato soup recipe last week. I told her I would find a similar one online, and I suppose I've deviate from recipes so much that there isn't one like it. This is what I did tonight.
First I sliced two onions length wise into thin strips and let them cook between low and medium on a cast iron skillet for about an hour. This will bring out the delicious sweetness to your soup.
Next, I lined a cookie sheet and filled it with tomatoes, I bought these ones from farmers. There are so many great varieties of tomatoes, any kind will do. I roasted those in the oven for 45-55minutes at 350 degrees.
I cheated on the chicken broth, I used half a gallon of water and about four ounce of better than bullion (or store brand equivalent) . I let it simmer while I waited for the onions and tomatoes. I added about 7 cloves of garlic to the onion when it was finishing up. When the tomatoes were finished I stuck them in the blender, a much better option is to use an immersion blender but I didn't have mine. I also Blended the onions with the tomatoes. Some people like to strain this, however K, My oldest daughter prefers her tomato soup to be at the slightly chunky so I was not worried about making it smooth.
I dumped the tomato onion juice into the broth. Then I served it with heavy cream. I most definitely would have added basil, but I didn't have any on hand. You can also add baked potatoes (white, red, sweet, whatever)to make it creamier. Season to your taste!
Ingredients:
One cookie sheet lined with tomatoes and baked at 350 for nearly an hour (the skins should be peeling off)
One pan of caramelized onions (any onion will taste great (about 2 large onions)
Garlic to taste, cooked for about 10 minutes with the onions
Seasoning to taste, including basil, heavy cream, and onion powder, consider adding a cooked potato (blend it in) to add a creamy heavy texture to your soup!
Blend first three ingredients together and season to taste :)
Hint: This will freeze! If you have a large harvest or you are able to benefit from local farmers buy purchasing a box or two, perfect! You can have reheated tomato soup all winter long.
Hint #2 Try it with goat cheese and ciabatta bread.