This Donut Scene Ain't Dead
FOOD REVIEW/ESSAY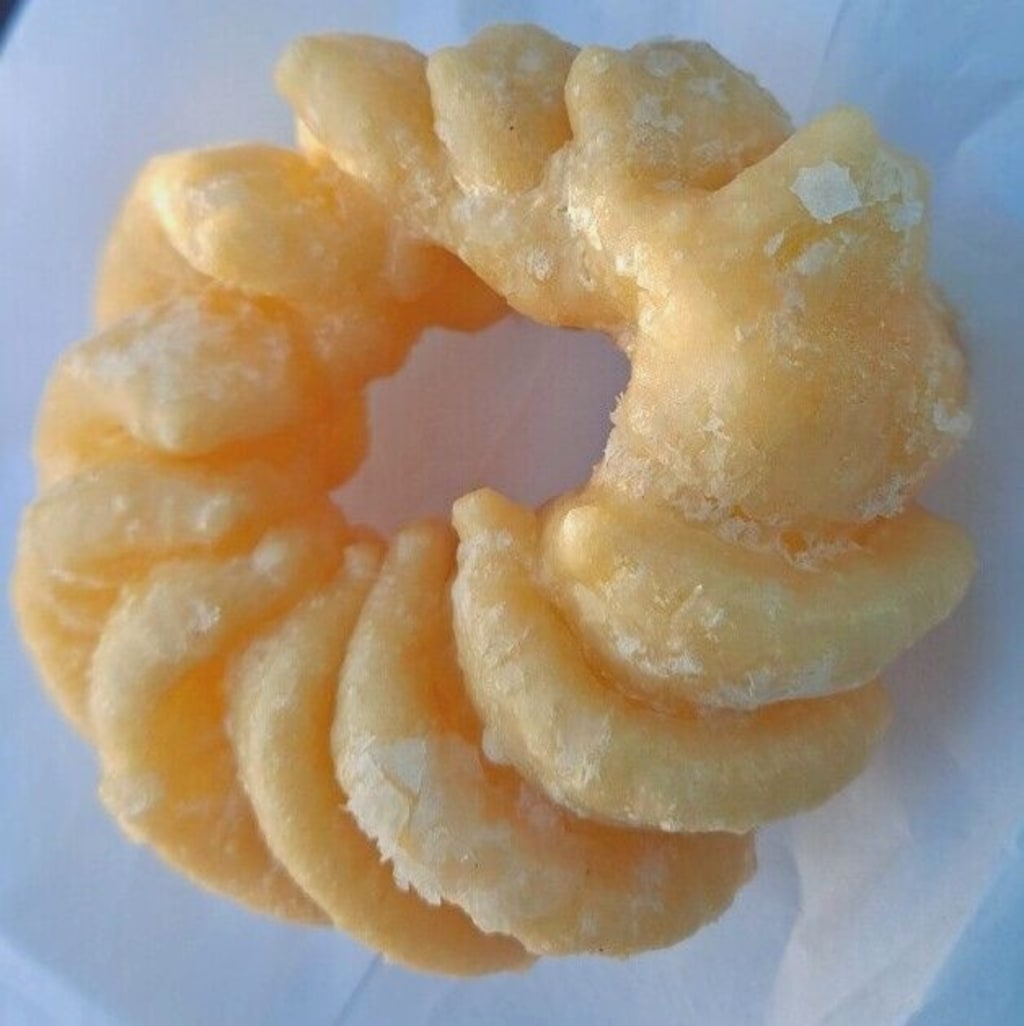 Photo taken by the author
Every year, I tell myself that I'm going to lose weight.
And every year, I fail to lose weight.
It's just so freaking hard because what is a food-loving girl supposed to do when there are free bagels at work/all-you-can-eat buffets/bags of kettle chips calling her name?
In college, losing weight was especially impossible because, away from my parents' house and left to my own devices, there was no one to stop me from having a midnight snack (or two or three) and/or ordering mediocre Chinese takeout at 2 in the morning. Thus, gaining weight, unfortunately, was very possible and inevitable with my lack of self-control (freshman 15? I wish! More like the freshman 35 for me).
So it's a good thing that there wasn't a place like Donut Scene near my college. Because if there were, I would definitely have diabetes and/or a mouth full of rotten teeth from all of the sugar and fried dough that I most definitely would've consumed.
Donut Scene is a bakery in Strongsville, Ohio that's open 24/7. They of course sell donuts. When you walk into the shop, it feels like walking into an old-timey diner. The décor gave off a retro vibe and was vaguely run-down. But though Donut Scene wasn't much to look at, the place offered fantastic donuts.
Because I fully admit that I'm kind of a basic bitch (I do unironically like the food at Panera, after all! #AsAlwaysI'mOpenToBeingASponsorPanera #CallMePanera), I ordered two standard donuts: glazed and a French cruller.
When I got into my car to devour the donuts, the delicious smell of the fried dough struck me immediately.
Like the décor of Donut Scene, the donut wasn't much to look at and wasn't exactly photogenic. (Though I'm sure a far more skilled photographer than I could have produced a food-magazine-worthy photograph or at least produced a somewhat attractive picture) It wasn't perfectly round, and the glaze kind of reminded me of dried…well, I'm not going to write it, but I'm a writer of romance and smut. You can probably guess what comparison I was going to make 😉
(This food review is not suitable for work)
But once I bit into the donut…mouthgasm. The dough was insanely soft. It felt like a goddamn pillow. The glaze — though looking like something I'm not going to directly mention — was the perfect amount of sweetness. You could just tell that this donut was freshly baked, unlike the baked goods in certain chain coffee shops (*cough* Starbucks *cough* Dunkin' *cough* I'm going to add allegedly not freshly baked because I don't want to get slapped with a potential lawsuit #Can'tAffordALawyer). The French cruller — my favorite kind of donut — was even better. Soft, melt-in-your-mouth fried dough with a sweet, delicious glaze. It took all of my willpower to not run back into the shop and order a dozen more donuts, my dentist's recommendation to eat fewer sweets and my doctor's recommendation to eat healthier food be damned.
Instead, I forced myself to drive away from the shop and go to the library, where I had every intention to write. Spoiler alert — I did not. I spent a couple of hours looking up other local bakeries to visit in the future. My top productivity killers: social media, eating, thinking about eating.
While I was looking up bakeries, I got a little nostalgic for my college days. I missed getting midnight dim sum and greasy diner food at 2 in the morning with my friends. Well, the next time my friends come visit me in Ohio, we'll definitely hit up Donut Scene, whether it be for breakfast or at noon or at 3 in the morning after a night of binge-drinking (*cue sigh from my doctor*).
If you're ever in the Cleveland area and craving donuts in the morning or in the middle of the night, here is Donut Scene's Facebook page.