The hidden beauty behind the 'classic' Victoria sponge...
And a quick coffee recipe to go along with it.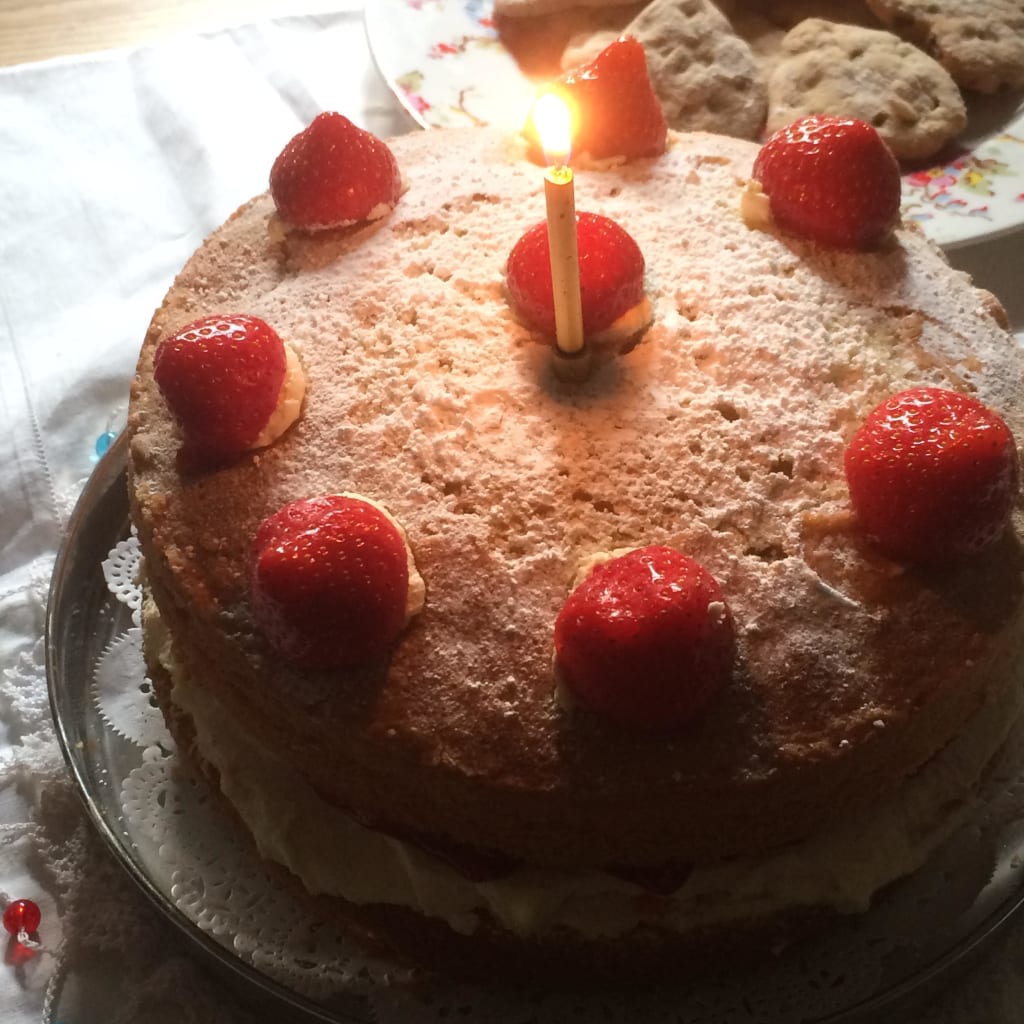 Photo of my finished victoria sponge
Victoria sponge...a classic in the world of cakes, it's a soft, cushioned sponge filled to the brim with thick cream, sweet sticky ham and dusted with icing sugar.
Through thick and thin I've made this recipe, It is my go-to for birthday parties, warm summer days and Sunday afternoons. A recipe which covers me in thick flour and causes my fingers to turn numb from stirring cake batter.
Many, would call this recipe 'too classic' for it's simplicity and sameness. But in my eyes, sometimes going classic can be good. Especially in these unprecedented difficult times, where we can't control most things.
Sometimes it's better to be in control of something as simple as baking.
The Victoria sponge recipe:
For the recipe: follow the link, but below is the recipe copied with my extra tips.
Ingredients:
Base:
- 200g caster sugar or as an alternative light brown sugar (though colour will differ)
-200g of softened butter (microwave for 30 seconds)
-4 eggs beaten
-200g of self raising flour or as an alternative use plain flour with baking powder and a little salt.
-1 tsp of baking powder or as an alternative baking soda
-2 tbsp of milk
Filling and top:
-300 ml double cream or as an alternative thick cream
-Strawberries or as an alternative raspberries
-icing sugar to decorate
-half a 340g jar of strawberry or raspberry jam
Method:
1) Heat oven to gas mark 5/fan 170c/190c and butter two 20cm sandwich tins which are preferably non-stick, but if you don't have these, then simply use some non stick baking paper.
2)At this point I beat my eggs in a separate bowl, for ease. If you don't have a whisk then use a bowl. And for added airiness to the cake mixture, I often sift the flour into a separate bowl as well. Then beat the 200g of caster sugar, 200g of softened butter, 4 beaten eggs, 200g of self raising flour, 1tsp of baking powder, and tbsp of milk until you have a smooth soft batter.
3) Divide the mixture between tins, smooth the surface with a spatula or the back of a spoon.
4) Bake for around 20 mins until golden and until the cake springs back when pressed. Another way to check whether the cake is cooked is by putting a knife, or wooden cocktail stick into the batter and seeing if the batter sticks to the stick/knife or not. If it doesn't and the stick/knife is dry then the cake is done.
5) Turn onto a cooling rack and leave to cool, or place onto a pair of plates. Either way it is best to get the cake sponges out of the tins so that they can cool.
6)Whip the double cream with a electric whisk, or a hand held whisk. Or you could do this as an alternative in the electric grater (we have done this before and the cream has whipped, though I would recommend keeping a close eye on the cream)
7)Cut up some strawberry halves and then dress the now cool cake halves with the whipped cream and strawberry jam/raspberry jam. After doing this, it is optional to place the strawberry halves in the middle of the cake, for added sweetness and texture.
8)Place the halves together, and then place strawberry halves onto the top of the cake, dust with icing sugar and keep in an airtight container for up to 2 days.
Added extras:
This cake is lovely when enjoyed in the garden, or at a nearby park, with a mug/travel coffee. But it also suits well, as a afternoon treat, a Sunday lunch desert etc.
I especially enjoy Dalgona coffee/whipped coffee, a simple recipe:
Use a teaspoon of instant coffee, and whisk with a little hot water until whipped. Then place on top of a glass of milk.
Thankyou for reading this article,
If you liked it give it a heart or possibly a tip.
-Jessica M