The Dip We Can't Quit!
A Super Bowl Worthy Snack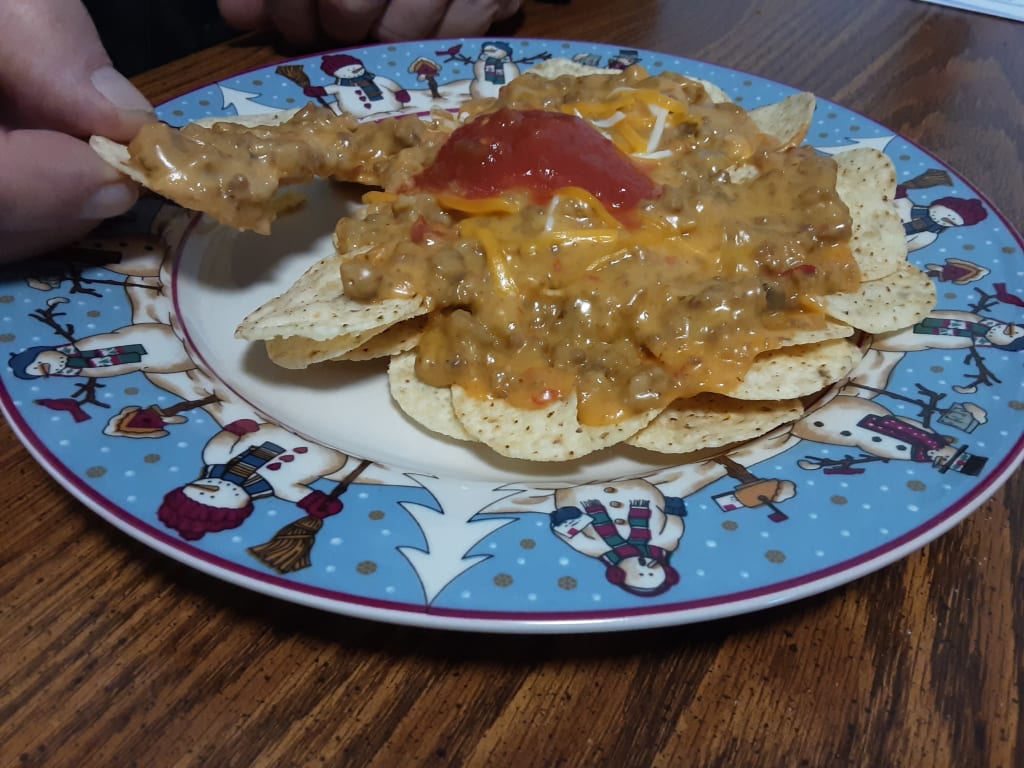 My Dad, digging into "Hot Dip" covered nachos.
Being a lifelong Minnesota Vikings fan, it's fairly obvious that the Super Bowl game itself rarely evokes excitement for me (apart from when Prince played the Halftime show in 2007, of course). That being said, I still look forward to our yearly family gathering on Super Bowl Sunday. (Even though, recent gatherings have been of a much smaller variety, thanks to the current pandemic.)
Once our beloved Vikings are out of it, I don't pay too much attention to the play-offs, aside from hoping the Packers don't make it to the end. So, we normally gather to root for whichever team we hate least (this year, the Buccaneers, largely due to hometown Joe Haeg playing for them) and indulge in a meal made up of a variety of snacks. None of which, however, compare to our favorite Hot Dip. Brought with my mom when she moved to the Land of Lakes from Ohio, this game day staple relies on Velveeta (or your favorite melting cheese) for it's gooey goodness.
For as long as I can remember, Hot Dip has been eaten at every game day gathering our family has had, and it's one of the few foods that every member of my family adores. Of course, it is also rather versatile, boasting several variations from within my own family. Here is the most basic recipe:
1 lb. ground beef
1 lb. pork sausage (not Italian, as the spices don't compliment the other ingredients well)
1 can of cream of mushroom soup
1 can of diced tomatoes with chilis-undrained (We use Rotel)
1 block of melting cheese-cubed
salt
pepper
To begin, brown meat together in a skillet, seasoned with salt and pepper to your liking. Drain grease when cooked thoroughly.
After the meat is fully cooked and drained, place in a large (6 to 8 quart) pot or crock pot and put on low to medium heat.
Add diced tomatoes with chilis (undrained) along with the cream of mushroom soup (undiluted) and mix well.
Add cubed melting cheese a little at a time until completely melted and mixture is hot, stirring to keep dip from sticking to bottom of pan.
Serve hot with tortilla chips or soft pretzels.
This is the most common way we prepare Hot Dip in my family, but we have enjoyed several variations over the years. I have also seen similar recipes in many cook books, so variations are easily accessed, if looking for inspiration. Here are a few my family has used in the past:
1. My sister, who detests mushrooms, uses cream of chicken instead of cream of mushroom soup.
2. Ground turkey or chicken can be substituted for either or both meats. (Make sure to use "Sausage" for 1/2)
3. Adding in a 1/2 cup of sour cream just before serving adds creaminess.
4. For extra cheesy flavor, some add in a cup of shredded cheddar cheese.
5. I've been known to double the amount of tomatoes with chilis, though I drain still only drain one can.
6. Sweet onions or peppers can be diced up and added to the meat during browning. (The secret is to undercook the onions a bit.)
Tips for Success:
1. If making Hot Dip in a crock pot, be sure to leave the lid loose and stir occasionally to maintain consistency.
2. Be sure to add a cream soup and an undrained can of tomatoes with chilis to insure that the Hot Dip is not overly thick.
3. If chilis are too spicy for you or your company, simply replace the Rotel style tomatoes with plain diced tomatoes.
4. If using more than one can of tomatoes, make sure that 1 can is undrained, and drain any additional cans so that the dip is not too spicy or thin.
5. Serving Hot Dip with cold sour cream, salsa, or guacamole adds to the flavor palate and makes the dip seem a bit less heavy.
Bonus Meal Solutions:
Hot Dip can be used in subsequent meals as well! This is a real bonus for busy parents like myself.
Spicy Cheeseburger Mac Hot Dish (We call casseroles Hot Dish in Minnesota)
Simply add cooked (or oven ready) pasta of your choice into a baking dish with warmed Hot Dip and bake. Top with crushed tortilla chips and/or shredded cheese during last 10 minutes of baking. Garnish with salsa, sour cream, or guacamole. This dish is easy and delicious!
You can also use Hot Dip as a queso topping for tacos, nachos, or burritos. Just warm up leftovers and serve as desired on Taco night.
Ya know a Game Day snack is a winner when cheese and meat are involved! I hope you get a chance to try this, and maybe it will become a part of your own Game Day traditional line-up. Simple things often taste the best, and this simple dish offers a lot of versatility, so make it your own! And, if you don't get a chance to try it out this season (as we Vikings fans say) there's always next year!