The Best Reuben Wrap in Ohio
In this smut writer's humble opinion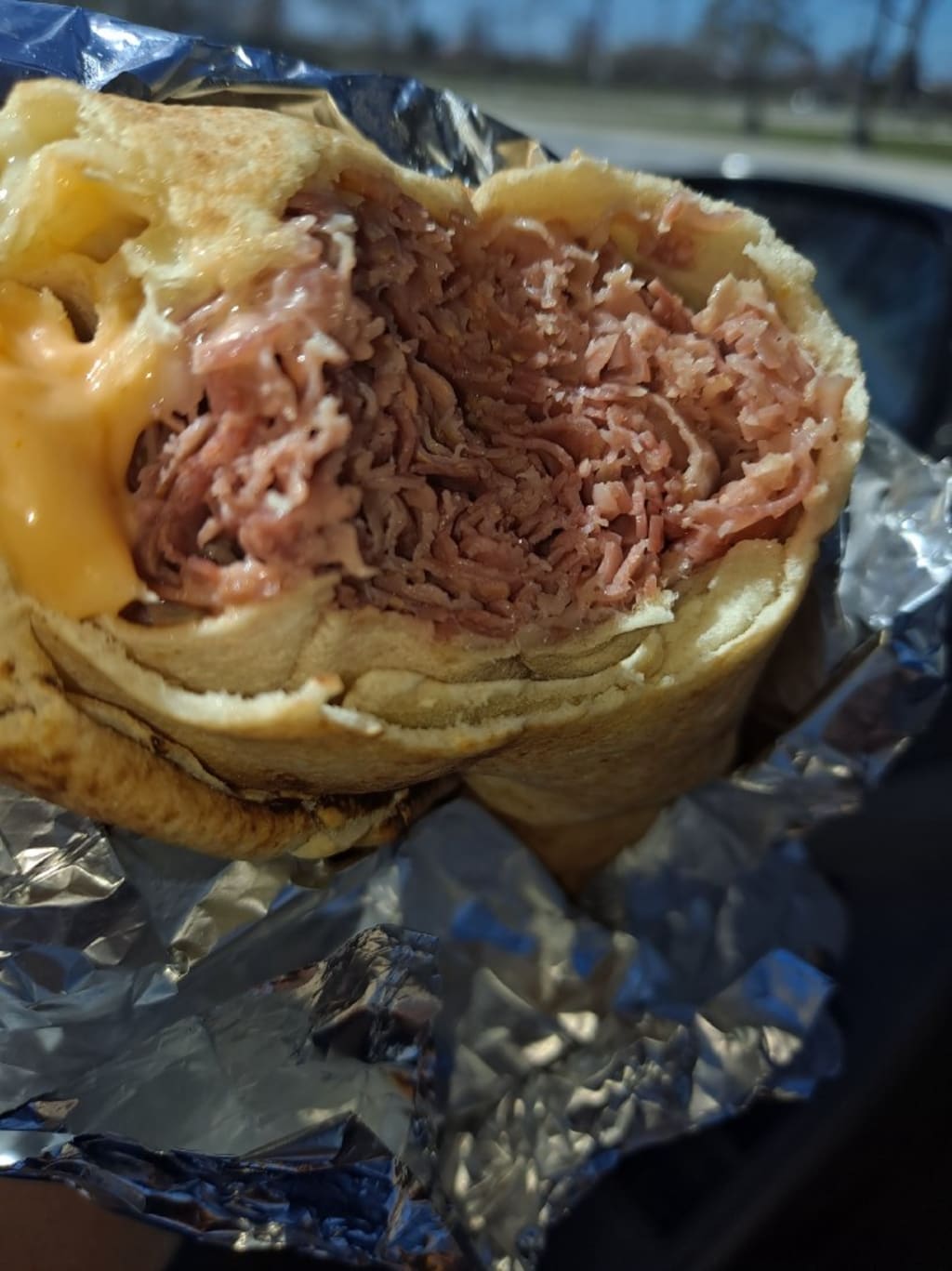 Photo taken by the author
Confession — in college, I ate a lot of Subway. In my defense, it was the only place that was open at 1 in the morning. And when a girl has been looking at her math notes for hours and understanding pretty much none of the words on the pages, a girl gets hungry.
(Fun fact — though I am now a writer of romance and smut, I have a bachelor's degree in mathematics. Can you ask me about mathematical theories? Sure, you can, but I will not be able to tell you a damn thing)
So in the wee hours of the night, I would walk into Subway and be confronted/assaulted/pleased/titillated by that classic Subway smell. Then I would order a footlong oven roasted chicken (which might not be completely chicken) sandwich with a fuckload of honey mustard. Then I would devour that bitch like I was a starving Snorlax.
I would also get Subway after a night of debauchery (and by debauchery, I mean getting tipsy while playing a board game with my buddies. Yes, I was and am #SoCool).
Though I have fond memories of Subway, I have since then recognized the chain for the soulless mediocrity it is and no longer eat there. And why would I when there are fantastic locally-owned delis?
One such local business that I am highlighting today is Express Deli in Brook Park, Ohio. From the outside, it just looks like your average convenience store. Even the name is super average and basic. What's not average? Yeah, you guessed it, their food.
In the days before COVID-19, as soon as you came into the store, you were greeted by a smiling Pierre, who runs the store with his family. In the current days of the pandemic, I'm sure I was still greeted with his smile when I walked into Express Deli, but I couldn't tell because of his mask (which also unfortunately covers up his mustache).
If it's your first time visiting the deli, ask for the tasting tour and the family will give you samples of 3 of their most popular sandwiches — turkey, pastrami, and the Reuben. A year ago, during my first visit, the second I bit into my sample of the Reuben, I shouted, "GIVE ME THE FUCKING REUBEN!" Actually, I politely asked, "May I please have the Reuben wrap?" because I wasn't raised by wolves, but my point is the Reuben=holy mouthgasm.
During today's visit, I ordered a cup of chicken noodle soup and — of course — the Reuben wrap.
As soon as I paid for my food, I got into my car and tore open the aluminum foil wrapper, revealing the Reuben wrap I've been dreaming about for the past few nights (I'm kind of exaggerating but also kind of, uh, not). I took a bite and let out a loud groan in the privacy of my Toyota. So. Damn. Good.
Stuffed inside the pita wrap were huge amounts of corned beef (100% real meat unlike *cough* Subway #ShotsFired), gobs of creamy Thousand Island dressing, tangy sauerkraut, and melted Swiss cheese (the last of which would later be felt by my lactose-sensitive body #WorthThePain). It was wonderfully greasy and immensely satisfying. The chicken noodle soup was also good — full of big pieces of chicken and thick noodles, and providing welcome warmth for the chilly day.
Hopefully, the next time I visit Express Deli, most of the population will be vaccinated, and I'll be able to see Pierre's smile and mustache. But in any case, there will be a next time.