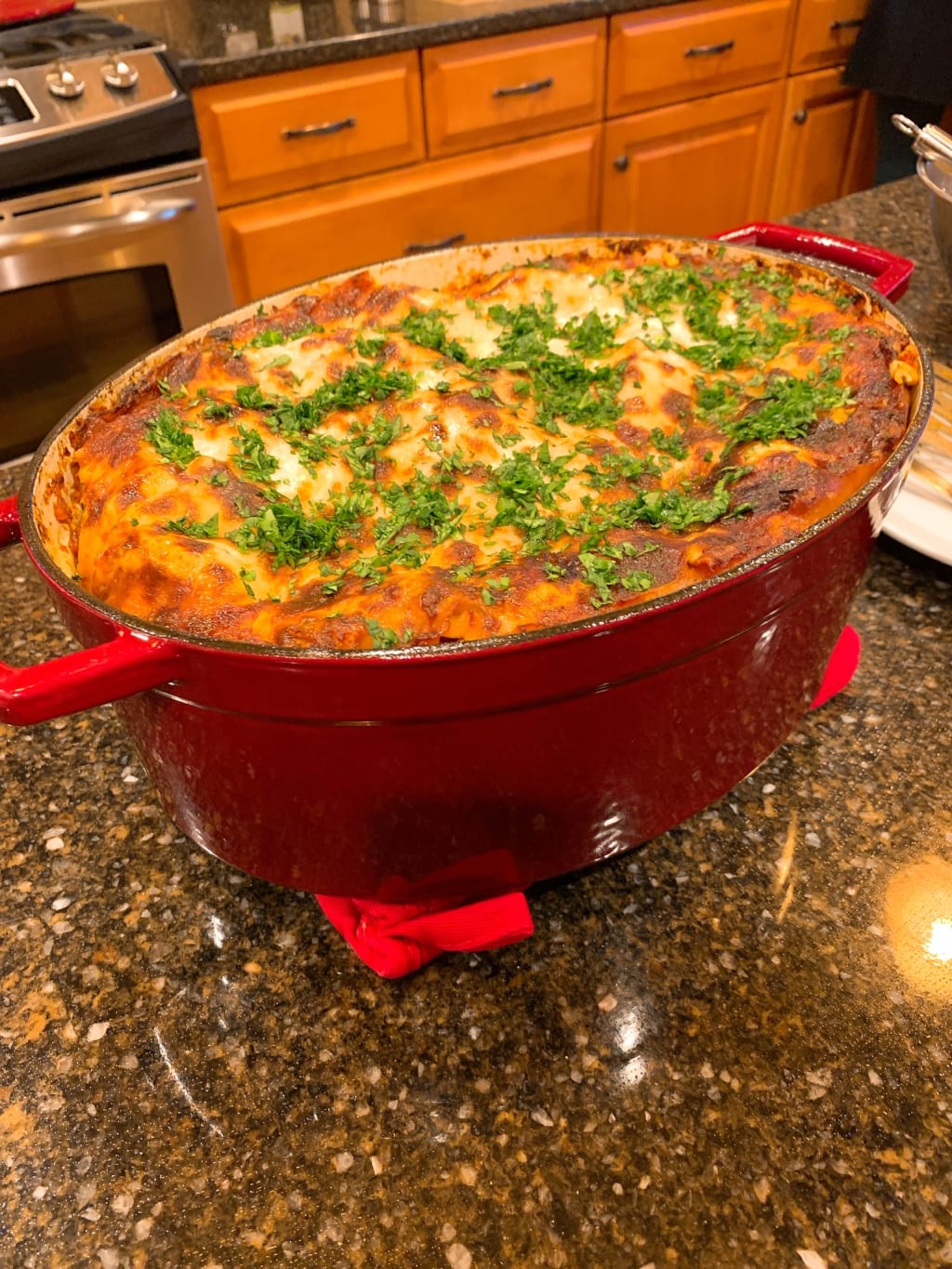 First thing's first. In Italian, the word "lasagna" means just one "layer," while "lasagne" means multiple "layers." Which version of this delectable delight would you rather devour? Same. (I'm a linguist. What do you want from me?)
Now that we've gotten that taken care of, we'll move on. Get your stretchy pants ready.
For those that may know me personally, have no fear. This is my husband's recipe, so you can rest assured that these instructions are coming straight from the chef's kitchen! I may have Italian blood running through my veins, but it manifests itself primarily through my taste buds rather than my cooking skills (or lack thereof). They say all roads lead to Rome, and that may be so… but the words below lead to heavenly bliss on a fork.
Yield: 1 big lasagne, about 12 servings
Bolognese Sauce (more than you need for one lasagne)
Tip: I recommend making the sauce the day before.
Ingredients
1 cup diced carrots
1 cup diced celery
1 cup diced yellow onions
2 tbsp finely chopped garlic (about 5 small cloves) or 1 tbsp pressed garlic
4 lb ground Italian sausage (Johnsonville is the best - choose sweet, mild, or combo of both)
2 tsp salt
1 pinch of pepper
1 tbsp finely chopped thyme
1 tbsp finely chopped rosemary
1.5 oz chopped basil (about 2 packages)
¾ gallon canned San Marzano tomatoes with puree (Nina brand from Costco)
1 bunch parsley
3 tbsp olive oil
1½ cups red wine
Instructions
1. In a big bowl, squish tomatoes by hand. Squish down, not out. Watch out.
2. In a big pot on medium heat, sautée olive oil, onions, carrots, celery, and garlic. Cook until tender.
3. Add Italian sausage, thyme, rosemary, salt and pepper.
4. Mix constantly until sausage is cooked, all ingredients are mixed, and the sausage juices have been reduced to half.
5. Add wine.
6. Mix ingredients until wine is reduced to half (about 5-7 minutes).
7. Add tomatoes.
8. Cook the sauce until it starts boiling.
9. When it starts boiling, add basil and parsley.
10. reduce heat to simmer.
11. Cover and simmer for 1½ hours, stirring occasionally.
12. After 1½ hours simmer uncovered for 10 minutes.
13. Add salt to taste.
Lasagne
Ingredients
1-2 box(es) Barilla lasagne noodles
3 lbs ricotta cheese
16oz grated parmesan
16oz grated, chopped, or pearled fresh mozzarella
3 cups shredded mozzarella
3 eggs
2 pinches of salt
1 bunch of parsley
Instructions
1. Preheat oven to 350°F.
2. Boil the lasagne noodles for about 7 minutes. Do not cook all the way.
3. Lay noodles on a flat surface. Apply olive oil to prevent sticking.
4. In a large bowl, combine ricotta, eggs, 1½ cups parmesan, parsley and salt.
5. Assemble the lasagne.
A. Line the pan with Bolognese sauce.
B. Layer the noodles, having each one overlapping the next by 1 inch.
C. Spread ricotta mixture over noodles.
D. Sprinkle mozzarella, fresh mozzarella and parmesan.
E. Add more sauce.
F. Repeat Steps B-E until you reach the top of the pan.
I. The top layer should be cheese, including some extra mozzarella.
6. If cooking immediately, bake covered for 30-35 minutes. If cooking a cold lasagne, bake covered 40-45 minutes.
7. Uncover and bake for 10 more minutes.
8. Broil until cheese is golden brown.
9. Remove from oven and let rest for 10 minutes.
10. Sprinkle fresh parsley and serve!
I do so hope you enjoy this lasagne as I have countless times! My work here is done, and I leave you with these parting words:
Live. Laugh. Lasagne.
A mangiare!