Ten Tipsylicious, Chocoplonk Pairings (Everything's fine with chocolate and wine!)
Today's forecast: Very chocolaty with a 50% chance of bubbles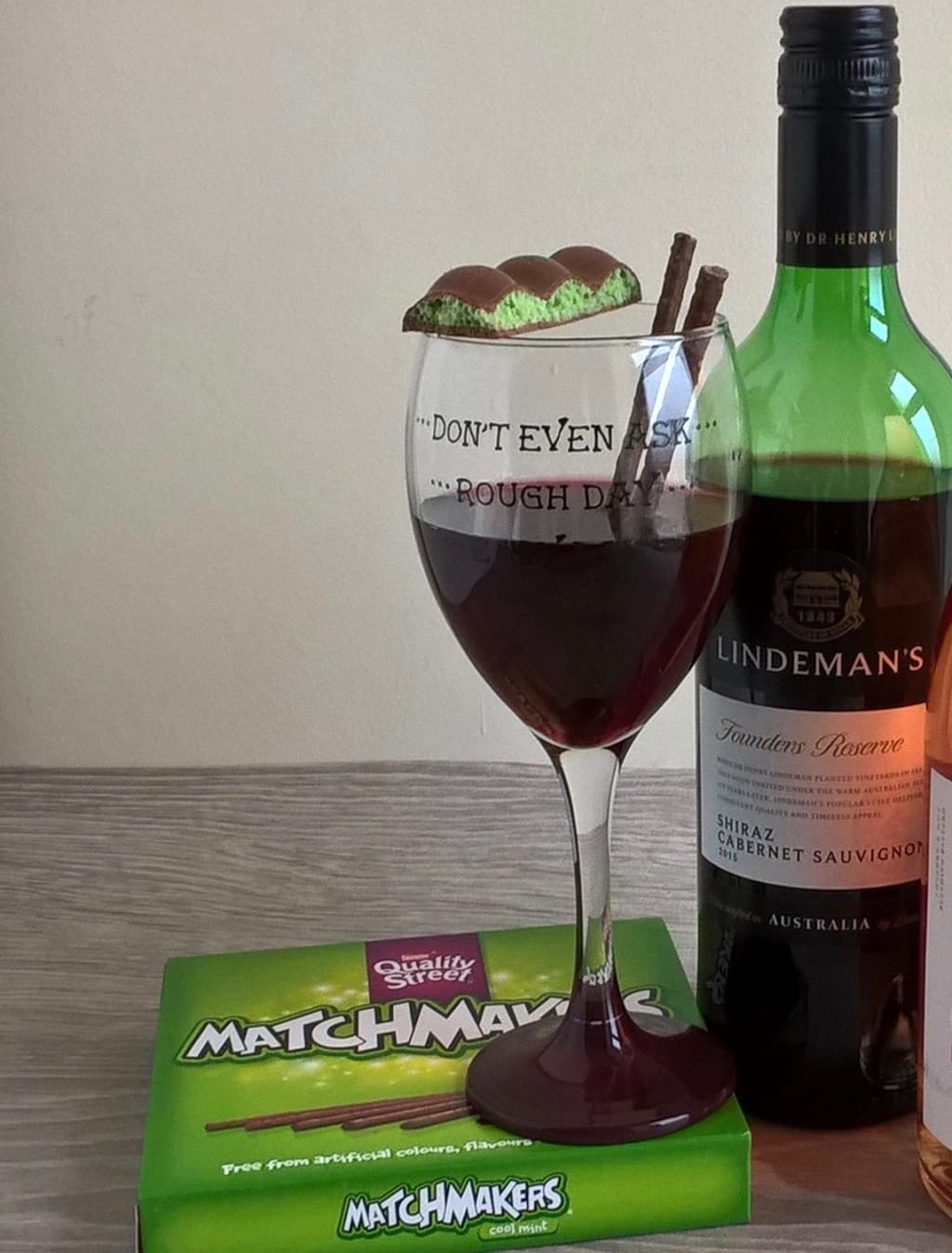 There's no denying it, I am a chocoholic. I'm rarely without chocolate – At this very moment, I have at least four different varieties of the cocoa elixir living in my fridge in case of… Well, anything.
I also enjoy a large glass or three of wine, although I'm more of the 'found it on the supermarket shelf' kind of girl – who is often led astray by the pretty bottle and under the influence of a quirky label most of the time.
So it's fair to say that when it comes to wine, I'm not that well red and I'm pretty certain that for anyone else like me, the art of trying to read between the wines is not that much different to being disoriented and befuddled in a vineyard maze where nothing is quite simply red or white.
But have you ever tried to mix and match your chocolate and wine? Because although scandalously tasty by themselves, these two I'm learning, have a lot in common. From bog-standard and bodacious to bohemian creations, chocolate and wine can work wonders together.
And now that it's an especially festive wine o clock, I'm more than ready to get uncorked and comfortably numb while I taste, toast and share my ten, top, tipsylicious, chocoplonk pairings with you.
1. Ferrero Rocher & Prosecco?!
Forget your Milky Ways, Magic Stars and your Galaxys (save this one for a minute), because this record breaking and challenging wafery, hazelnutty milk chocolate, (even I couldn't eat nine of these planetary shaped delights in under a minute, although I gave it my best shot) aligns perfectly in cosmic heaven with the sweet airy bubbles found in a Prosecco, preferably Scavi & Ray if you can find it. Now that's what I call being spoiled.
2. Galaxy & Brut Champagne?!
When it comes to milk chocolate, some say everything happens for a Riesling or a pinot noir. But let me introduce you to something finer to accompany those galactic chocolate cravings that I always seem to get when I daydream about a smooth and creamy Galaxy milk chocolate bar – Brut Champagne. A sexy, bubblelicious combo that will have you opting for silk over cotton every time.
3. Raffaello and Martini Asti?!
Forgive me if I've just shaken and stirred you from your reverie of ninja turtles and secret agents from the 80's and 70's but welcome to the lighter side of the bean and grape. Raffaello is a white chocolate with almond flavours and coconut 'snow' and if you let this little ball loose to roll alongside a peachy and sparkly Martini Asti, I promise you a sweet bundle of fun and fizz with the temptation to party any time, any place, anywhere.
4. White chocolate KitKat & Viognier?!
If like me you are a demon of a chocolate finger breaker, why not become a fiendish rule breaker as well and dare to try a dry white wine with your crispy white chocolate-covered wafer? Sommeliers and Chocolatiers may well reprimand you with a waggle of a finger and their mantra that for the best chocolate and white wine pairing, find a slightly sweeter wine - but Viognier is the devil in disguise. It might look and smell sweet, but it's actually mostly dry with a zesty, fruity flavour. So take a break and don't be surprised when these two simply melt in your mouth in perfect harmony.
5. Milkybar and Brachetto d'Acqui Alasia?!
Who doesn't remember The Milkybar Kid? The hero who rode into town one day and not only was he strong and tough, he was generous to boot! My childhood fling with this creamiest milk, the whitest bar, the good taste that's in Milkybar was truly special. Today, I prefer to resurrect this sweet fatty treat into an experience that is ultimately more seductive… Rasperries dipped in smooth melted Milkybar, chaperoned by a bottle of Brachetto d'Acqui Alasia – a sweet, lightly fizzy rose. Together, they will entice a mouth-watering and juicy fruity tenderfoot dance all over your tongue.
6. Ruby Chocolate & Barefoot Bubbly Pink Moscato?!
Ruby chocolate. I must admit this rosey coloured chocolate does confuse me. It's not bitter. It's not milky. It's not sweet. And...
SPOILER ALERT! IT HAS NO CHOCOLATY FLAVOURS?!
That said, Ruby chocolate offers a totally new, smooth and fruity scrumptious taste. Share and sip your Ruby chocolate with a glass of Barefoot Bubbly Pink Moscato and anything becomes surprisingly possible with this duo of pink and sparkle.
7. Terry's Chocolate Orange & Sauternes?!
A bar of all-time favourite chocolate that's 'round, but not round for long' needs an all-time favourite drink – a 'nobility that has stood the test of time' to pair with. Needless to say then that Sauternes mixes exceedingly well with a deliciously unsquare, chocolaty orange, with its sweet, breakfasty acidity slicing magically through every single, humble segment.
8. Mint Matchmakers & Shiraz Cabernet Sauvignon?!
These moreish, nobbly, bobbly mint chocolate sticks can provide hours of satisfaction and entertainment. Ever played 'Lucky Launchpad' where you balance a matchmaker on its end in the centre of a circle divided into quarters and try to predict where it will land to win the incredible, edible prize? Or maybe you prefer a more classic game of 'pick-a-stix'? Either way, it's time to up your game. So why not try and dunk, stir and munch these minty matchmakers with a Shiraz Cabernet Sauvignon full of dark fruits while watching The Crown on Netflix pretending to be elegant? Now that's what I call binge-worthy.
9. Lindt dark chocolate with a touch of sea salt & Lassègue Saint-Émilion Grand Cru 2016?!
Once upon a time, there was an extraordinary and lovely Right Bank Bordeaux rouge with a blend of 'You had me at merlot' dominance who, according to the grapevine came from an 18th-century chateau – usually only discovered in the pages of a fairy-tale. One day, along came Lindt, a thin yet exceptionally rich and sophisticated individual with silky smooth features. Their connection was as sublime as dark chocolate and feeling on cloud wine, they fell instantly in love. And what with their bodies wrapped together and laced with the aroma of freshly picked violets, risky flavours of blackberry and plum, tangy pops of black liquorice and of course salty, dark chocolate, it was, as you can probably imagine, a wickedly delicious and sinful affair. And they lived happily ever after.
10. Green & Black's Advent Calendar & Chinato?!
Semi-sweet dark chocolate may like to dominate but somewhere nestled in the anticipation of advent is a small bar of dark chocolate with a generous measure of Madagascan vanilla that wants to take you forty cocoa solids darker… Sadly there is no Miss Green or Mr Black in this suggestive reality – just ethically sourced cocoa and high quality, deliciously intense and creamy tasting chocolate. And while dark chocolate doesn't usually like to share and can become very bitter sweet over pallet space – enter Chinato, rich and dark, with a touch of my favourite, familiar Christmassy flavours. Let's just say I've found my perfect pairing to go with today's cheeky chunk of exquisitely dark and festive chocolate.
Wishing you all a very tipsylicious Christmas full of chocoplonk cheer! 😇 😈
list
I'm Shelly - a self confessed chocoholic into all things creative. Take a peek at some of my other chocolaty delights and creative shenanigans: www.cocoa-skies.co.uk