Tabitha Brown Shares the Tips That Made Becoming Vegan Easy and Fun
Brown opens up about why she adopted a plant-based, vegan diet and offers some first-hand advice on how to make the transition easier if you'd like to do the same.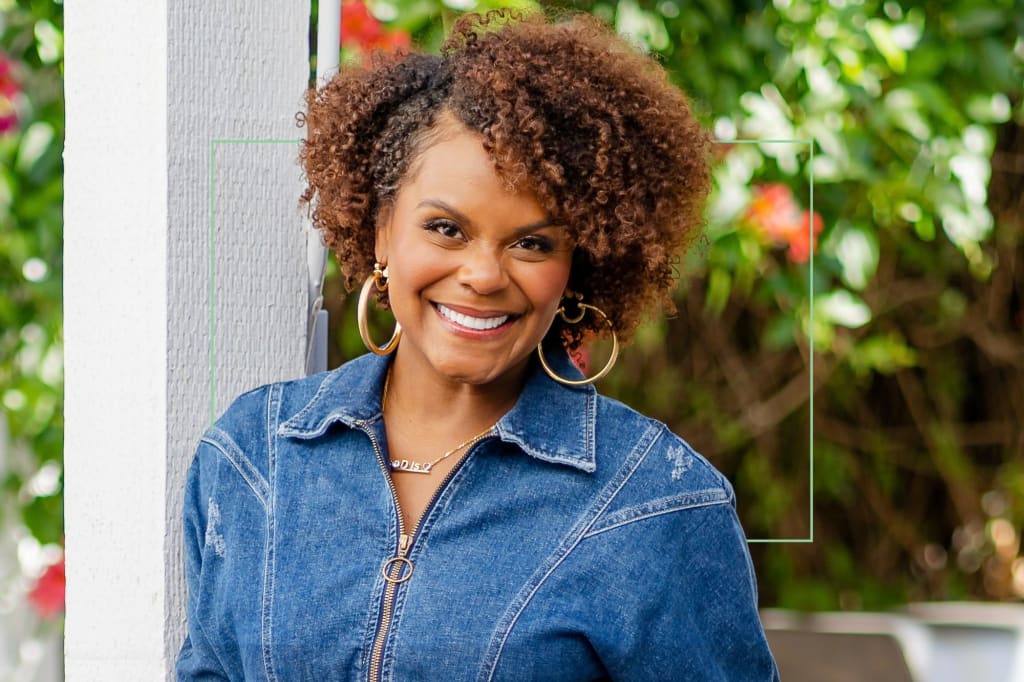 When Tabitha Brown pops up on your TikTok feed with her famous "Hello, there" greeting, you know you're in for a minute or two of positive vibes. The 43-year-old social media personality has attracted nearly 5 million followers on the app with words of wisdom, hilariously relatable food reviews, and of course, delicious-looking vegan recipes. It's no wonder she's deemed herself "America's favorite mom." (Related: Black Vegan Foodies to Follow for Plant-Based Meals and Recipe Inspiration)
You'd never guess that Brown was originally hesitant to download TikTok because she "thought it was just a platform for kids," she tells Shape. After some convincing from her Gen Z daughter, 20-year-old Choyce Brown, she caved and joined the platform. "I started creating content and really became passionate about sharing my plant-based journey with others," she says. "I love interacting with my fans and sharing tips and tricks on how to make delicious and nutritious meals for anyone who's looking to start this journey or for those who are just genuinely interested in learning more about veganism." (If you need a refresher, a vegan diet excludes meat, dairy, and all other animal products. "Plant-based" can describe any diet that primarily includes plants.)
Brown hasn't always been vegan, though. The food influencer was motivated to try the diet because of health concerns. "For a year and a half, I had been dealing with chronic head and neck pain, anxiety and depression, and just sort of dealt with it thinking this was the way I was going to live the rest of my life," she says. After watching the documentary What the Health (available on Netflix), which takes an investigative look at the intersection between diet and disease in America, Brown decided to give a plant-based, vegan diet a go. "I tried out this 30-day vegan challenge [about five years ago], and by the end of it, my chronic headaches, pain, and fatigue disappeared, and that's where I began my journey," she explains.
While critics of the documentary argue that the film exaggerated data to promote veganism, they admit that research has uncovered possible health benefits to the diet. For example, in a study published in the American Journal of Health Promotion nearly 300 people were split into one of two groups: those who adopted a vegan diet and those who other continued to eat their standard American diet over the course of 18 weeks. The vegan group's depression, anxiety, fatigue, and emotional well-being "significantly improved," and they had better daily functioning and general health compared to the control group, according to the study.
While Brown personally noticed positive physical changes and felt encouraged by these effects, her journey into veganism wasn't easy at first since she was the only one in her family who followed the diet at the time. She would cook two separate meals, one for herself and another for her family, which was "tiring," she says. Still, she loved the challenge of getting creative and dreaming up meals that excluded animal products. "I went into it open-minded, and I was pretty much blown away at how delicious everything was," she says. One of her favorite meals became "pulled pork" nachos, which she makes by shredding up jackfruit, a popular meat alternative. "I [also] add some of my homemade vegan cheese sauce, guacamole, salsa, lettuce, and I truly can't tell that it's all plant-based." (Related: 12 Things No One Tells You About Going Vegan)
If you're interested in trying a plant-based, vegan diet, but don't know where to begin, try recreating your favorite non-vegan foods using only plant ingredients, recommends Brown. "Don't be afraid to get creative in the kitchen," she says. "There are a variety of plant-based options available nowadays and so many easy and fun recipes that you can find online to whip together with very few ingredients, taking as little as 30 minutes."
And if you're worried about whether a vegan diet offers enough protein, rest assured this lifestyle includes many foods that can help you get an adequate amount of the macronutrient. "You'd be surprised by how much protein is in plant-based ingredients, including chickpeas, lentils, quinoa, tofu, and spinach," says Brown. "The key is just knowing how to mix everything to create delicious goodness." (Related: 12 High-Protein Pastas That'll Leave You Satisfied for Hours)
On her part, Brown likes to meet her daily protein requirement — which is 0.36 grams of protein per pound of body weight, according to Harvard Medical School — with the help of protein-filled shakes from the brand orro. Brown recently partnered with the brand to celebrate the launch of the plant-based mini-meals. The shakes come in vanilla and chocolate flavors and contain 16 grams of protein and 23 vitamins and minerals in each bottle, which is one serving.
Nearly five years into her vegan lifestyle, Brown continues to inspire others to try new things, including her family. "My dad even followed in my vegan footsteps a year after I did, and then my daughter and husband," she says.
So, if you've ever thought of trying the vegan diet or even want to start eating less meat in general (hello, meatless Mondays), Brown's journey might be the confirmation you need that it's worth giving it a shot.
celebrities
About the author
I am a person who is positive about every aspect of life. There are many things I like to do, to see, and to experience I like to read, I like to write I like to think I like to dream I like to talk, I like to listen I like to see .
Reader insights
Be the first to share your insights about this piece.
Add your insights