(Superfly) Pizza
Keeping the community smiling, 1 slice at a time
How these Brisbane-based pizza champions are staying connected to their community.
"Pizza"
That's not the first word you'd expect a baby to utter. Clearly I wasn't normal. I imagine most babies (as with my older and younger sisters) said something along the lines of "mummy" or "daddy". Being raised in a household that was up the road from the local pizza shop, my parents recalled how entranced I became in the backseat of the car, each and every time we drove past it. The big illuminated neon light with the word "PIZZA" clearly had an aura or near spell-like affect on me.
26 years on and having relocated to Brisbane, Australia (just before the global onset of COVID-19), I suspect that upon first seeing the illuminated sign outside of Woolloongabba's own Superfly Pizza ('SP' for the remainder of this piece) must've brought about a feeling of calm and nostalgia to me. And in the current world of uncertainty, I don't think I'm alone in longing for a sense of the innocence and naivety of my younger years.
Describing themselves as a balance of 'chill' and 'professional', the atmosphere at SP felt unmistakably so, sprinkled with an unconditional warmth towards both long-time loyal customers, as well as fresh ones (i.e. yours truly).
Originally birthed as 'Superfly Funk Eye' serving Japanese finger food with a laidback 'pub' style, SP evolved into a more 'all-week friendly' restaurant but retained their focus on simplicity through their concise menu of thoughtful pizza options (7 pizzas sprinkled with occasional weekly specials) and delicious sides.
Manager 'Jono', head chef 'Guy' and their team have stepped up their efforts to continue serving delicious and distinctly unpretentious pizzas, which is likely to have correlated with the increase in takeaway orders they've been experiencing in recent weeks. That said, they observed an initial lull immediately following the Federal government's announcement which restricted dine-in restaurant operations. But as subsequent announcements clarified guidelines around restaurant operations, 'takeaway only' quickly became the path forward for SP and other local businesses.
The team are all notably down-to-earth and very honest about what their secret sauce is; their customers and their community of fellow-pizza lovers. Whilst they may not boast an astronomical social media following, the engagement and loyalty amongst their customers is truly phenomenal.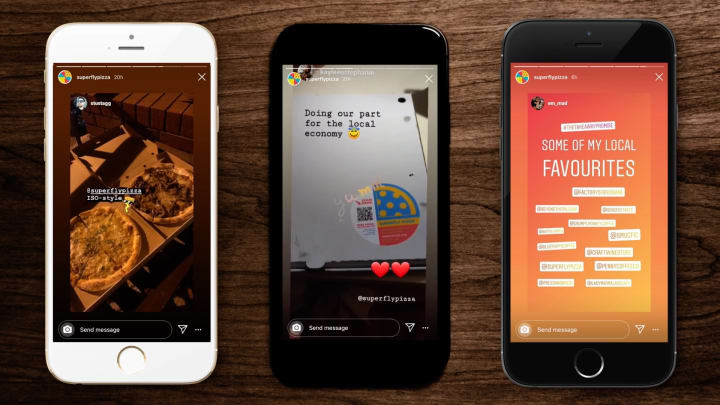 Guy, having worked extensively in the hospitality industry, prior to joining the team, notes that he's seen a trend in the industry of brands and major restauranteurs aspiring to acheive "rockstar status" yet simply service "good food and good service" is often what gets lost in that pursuit of stardom.
I agree fully with Guy, when thinking about how this trend isn't just limited to the hospitality or food industries, but just about any industry nowadays.
In a similar vein, Jono quips that "...our customers love us, and we love them". Understanding and appreciating just how comforting, communal and inclusive (where are my vegetarians at?!) pizzas can be is what helps them deliver happiness with every (takeaway) box.
Not only was 'pizza' my first word, but it's also been my favourite food so having eaten my fair share of pizza in my lifetime, I can only genuinely commend how well the team have curated and considered their menu, whilst also catering to all preferences.
What's the strangest order they've ever received?
Through a food delivery platform, Guy recalls receiving a request for the pizza to be "well done". Proceeding to lower the temperature of the oven and cooking for slightly under the average time, they pizza out promptly and never heard any (negative) feedback.
If you're craving a 'well-done' pizza and want to support a set of pizza champions in Brisbane, head down to Superfly Pizza at 17 Gibbon St, Woolloongabba QLD 4102 or connect with them on Instagram at @superflypizza.