Sachet You Say?
What's A Sachet?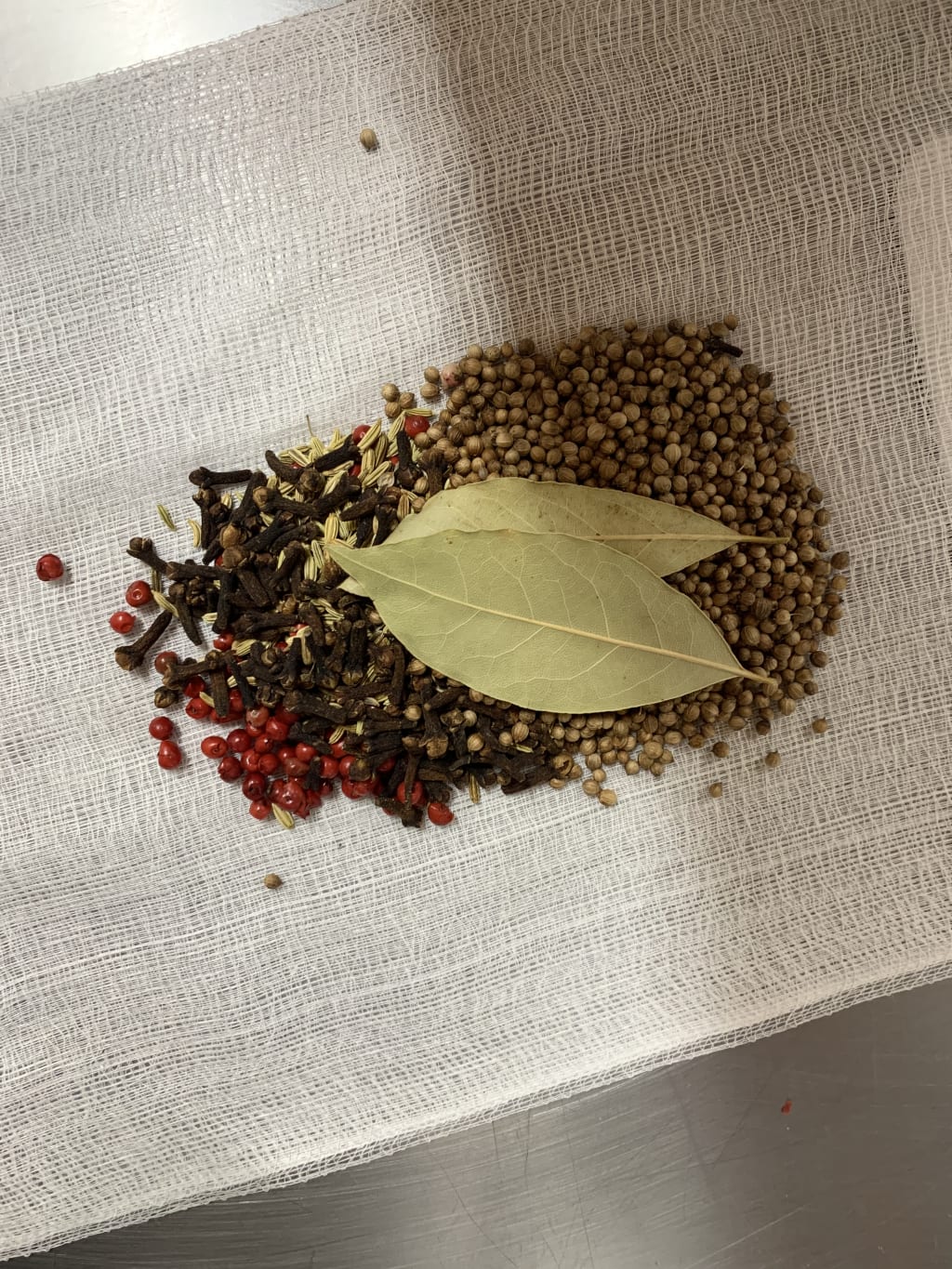 A Sachet In The Making
The first time I made a crockpot stew, I was having friends over for Thanksgiving. Nervously, I added about 20 more peppercorns than were necessary and found myself fishing them out a few hours later. It was a terrible dinner. The company was a mixed bag of uncomplimentary personalities. Peppercorns cracked in unsuspecting teeth. Needless to say, my newness to both cooking and hosting gatherings in my home were apparent to all present and as awkwardly so as the deluge of unwelcome spices.
A simple sachet could have saved me a lot of trouble.
So what is a sachet? The word means "bag" in French, but the use of small bags of spices, or a sachet d'épices, is likely as old as cloth and cooking. The purpose of a sachet is to contain spices or herbs in cheesecloth so the flavors will be infused into a liquid medium without the plants getting lost in the food.
A few herbs wrapped in cheese cloth and tied with butcher's twine, or placed in these reusable spice bags, is a quick and easy way to add flavor and medicinal intention to your home-cooked meals as well as those extra dimensions of flavor of course.
Heating food and boiling it allowed our ancestors access to a wider variety of foods. Certain plants, like Stinging Nettles for instance, require cooking or drying to become edible. Experimentation with plants through cooking led to all kinds of wonderful adaptations in our species so, while potentially quite a primitive technology, the sachet is a perfect example of how small, simple steps accumulate into complex and wonderful results that hopefully lead to better dinners than that fateful, sachetless, Thanksgiving.
Since my novice introduction to this useful technique, I've used a sachet in stocks, soups, and a wonderful fig compote once. I'm tempted to include tea in the mix of listed, sachet-utilizing consumables, but that would be only half-true as, in terms of the ceremonial hot infusion, tea comes with its own set of rules. A tea sachet is a bit larger than your average teabag, triangular, and typically includes larger loose-leaf.​
Which brings us to the important question of considering always what use the infusion in question will be put to. If your stock has hints of fresh thyme and cinnamon stick, such may be excellent for that added warmth in a chicken and roasted vegetables dish, while a more basic recipe, like the one below, can be salvaged from most pantry's dry spices.
As for the cheesecloth and butcher's twine, these are the typical for wrapping herbs and spices and tying them up in a mummified-looking little bundle. Cooks are a resourceful type and I've known people to resort to other means of infusing herbs such as pillowcases, tea towels (hopefully clean), a free-form boil followed by straining all liquid through a chinoise, or even placing the herbs in a chinoise and leaving it submerged (do not recommend for the sake of the equipment).
The truth is, cheesecloth is cheap, plentiful, & highly useful in a scratch kitchen, from homemade cheeses like paneer, fromage blanc, or goat cheese (recipe coming soon), to small bursts of flavor as in the sachet or tea. I once re-used a piece of cheesecloth as a coffee filter for a week after forgetting many consecutive times to pick up coffee filters. In the case of our sachet, there's something perfectly timeless about taking a good clean bolt of cheesecloth out of the box and tucking some herbs to sleep to be doused in boiling hot water.
The recipe below is hardly precise and hardly need be, really. Depending on the flavors I want to enhance or compliment, I'll add or take away spices as necessary. The below is a base for most of our sachets at Cooking With Lemons. Note the anise and fennel are well complimented by clove, citrus, and white or pink peppercorn.
So, here's the sachet. A simple, delightful little bag of spices.
Simple Stock  Sachet D'Épices
1/2 Star Anise
7 black peppercorns
1/2 tsp fennel
2 Bay leaves
1/2-1 cinammon stick
Pinch chili flakes
Wrap in cheescloth. Tie with butcher's twine. Place in stock or infusion medium. For the purposes of a stock, the sachet is strained out along with and vegetables and/or bones & giblets you may have used. Next up from Cooking With Lemons, a simple, light veg stock and homemade gnocchi. Follow us on Twitter and Instagram @CookingWLemons, or visit our website cookingwithlemons.com.
(We like to be transparent about being Amazon Affiliates who may earn a commission from post links. All links are shared with the intention to spread useful knowledge about reliable brands and products we believe in.)
recipe
About the author
Cooking With Lemons is about scratch cooking, foraging, and self-sufficiency. We're exploring food from the ground up, enjoying excellent experiences and tastes along the way. See more about us at cookingwithlemons.com. Squeeze the day!
Reader insights
Be the first to share your insights about this piece.
Add your insights