Refrigerator Cookies
A 12 Days of Christmas Cookies Recipe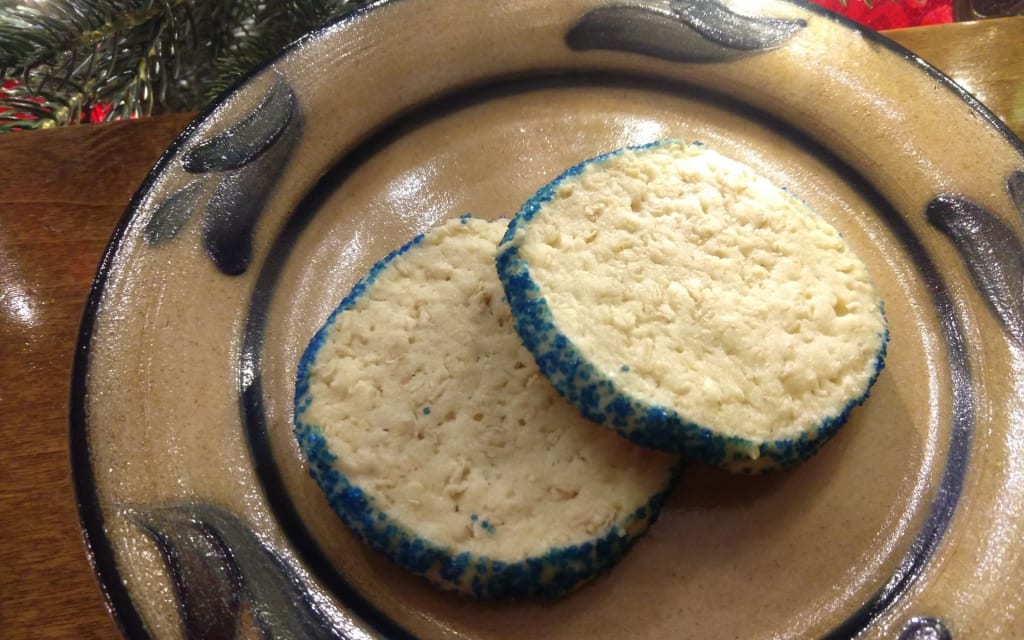 Refrigerator Cookies
The recipe for Refrigerator Cookies comes to us from the Depression era. My grandma made it year after year, and I still make it for the sake of nostalgia. Also, because my mom tells me to and it behooves us all to listen to our mothers. Especially this close to Christmas.
These cookies aren't iced, which makes them a great choice for crowded cookie trays and also means they freeze really well. My grandpa used to refer to them as the Freezer Cookies since that's where he'd always find them. You see, I'm not the first generation of my family to hide all the good stuff under the frozen vegetables...
Ingredients:
1 cup butter
1 cup powdered sugar
1 ½ cups flour
½ teaspoon baking soda
2 teaspoons vanilla
½ cup quick oats (any oatmeal works, just know that if you use raw oats the cookies will be coarser)
Icing sugar or sprinkles in a color of your choice
Let the butter soften at room temperature before starting. Cream the butter and powdered sugar together. Add the flour and baking soda. Then add the vanilla and the oats. Chill for 10 minutes in the fridge. Do not overchill here, or they will be as hard as a rock.
Form the dough into rolls and then roll them in the icing sugar or sprinkles. This is where things may go sideways. If you can't get the sprinkles to stick, brush the outer surface of the dough with warm water, a little goes a long way, and try again. I sometimes find it easier to set the roll on a plate and sprinkle from above. Once you've gotten sufficient coverage, or given up in despair, roll tightly in waxed paper and refrigerate overnight or for a minimum of 4 hours.
When ready to bake, preheat your oven to 350 degrees. Take the rolls out of the fridge and slice off discs with a sharp knife. Refrigerator Cookies should be about ¼ inch thick. Place on a baking sheet, leaving room for expansion and bake for 10 minutes. Sometimes they expand quite a lot. Sometimes they don't expand much at all. This cookie is a bit elderly and it doesn't care how you'd like it to behave, it's going to do what it wants. Did you survive the Depression? No? I didn't think so.
Of all the recipes we make at the holidays, this one causes the most consternation, because it behaves differently every single time we make it. They always wind up tasting the same, but we've had years with partially nude cookies and years where they're so well covered in icing sugar that it was like a hard candy crust.
I eventually got the blue sugar on this batch, but the kitchen looked like I'd been fighting Smurfs before I was done. Everything, including my fingers, was a lovely shade of blue. If you're really struggling to get the sugar to stick, my recommendation is to give up and bake them as they are. Then mix up some easy icing. Just combine powdered sugar with milk until you get a smooth icing consistency. Dip the baked Refrigerator Cookies halfway into the icing and sprinkle icing sugar on that. It's an extra hassle, but sometimes they just refuse to cooperate and at least then they'll have sprinkles.
Despite all the swearing over the decoration, these cookies are worth it. The oats give them a different texture than our traditional sugar cookies and who can argue with actually getting some grains at this time of year?
This recipe also has potential as a vegan recipe, since it doesn't contain any eggs and the cup of butter is easily substituted with a plant-based spread. One of these years I need to try them with coconut oil, since I think the coconut flavor would be a really nice addition to these. I'm just not sure how it would change the bake. If anyone tries it, let me know!
I'll be back soon with some more holiday favorites. In the meantime, you can check out yesterday's Two Minute Fudge. There's no quicker road to a delicious chocolate treat!
recipe
About the author
Former archaeologist, currently on an adventure. I write a little bit of everything.
tweet: @emwescott
Reader insights
Be the first to share your insights about this piece.
Add your insights