Poached Pear Frangipane Tart
Feeling the vibes for some fancy fall baking.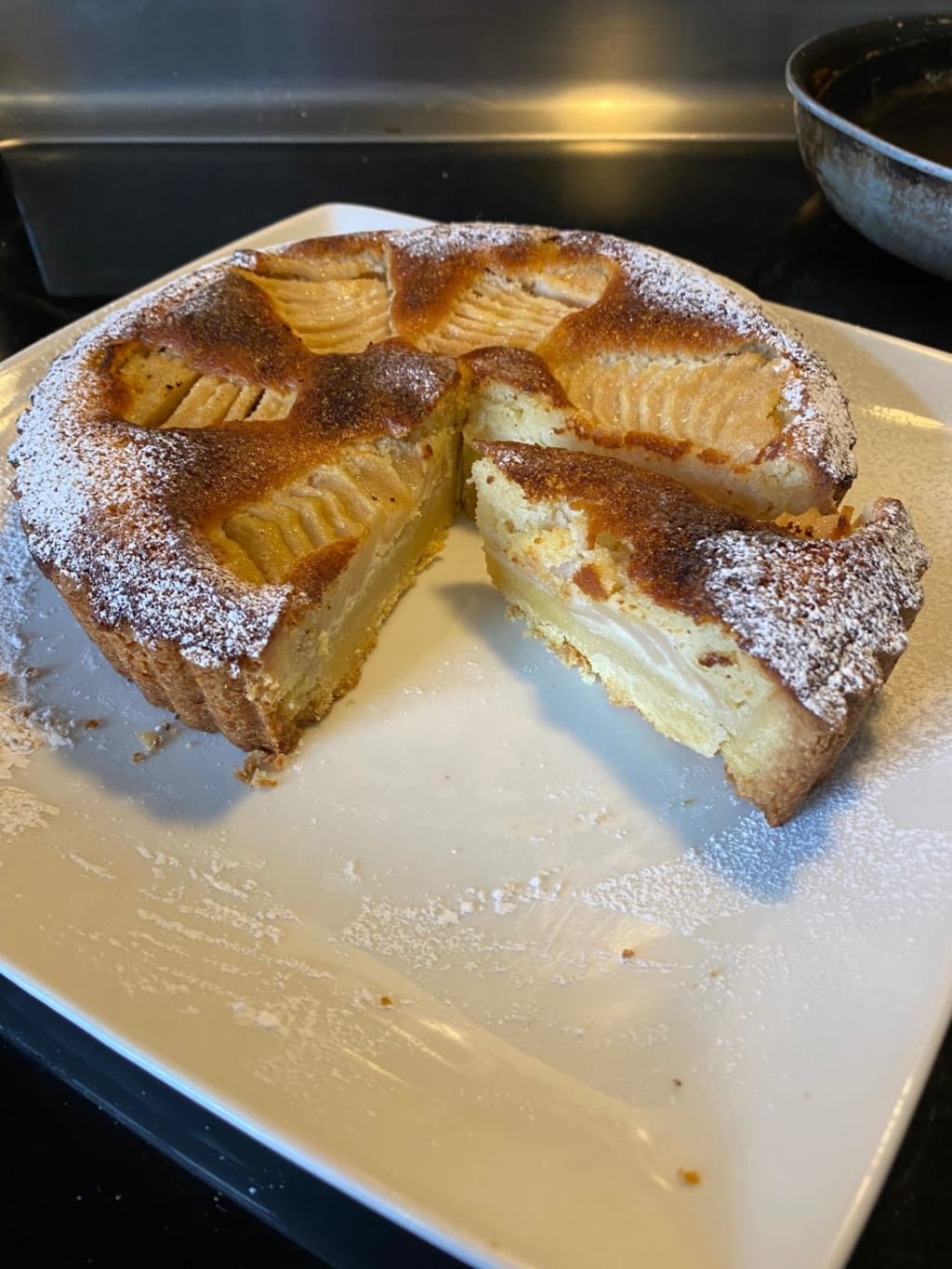 Photo by Author.
Interested in more interesting recipes? Click here for the Vocal Cook's Collaborate Index.
Fall is well settled in now. The fallen golden, yellow, and red leaves scatter lawns, the green trees of summer now half skeletons dot yards along the streets. The mornings are crisp, frost hugs the edges of car windshields, and you can see your breath in the exhale of mornings out the door.
It's a season for warm soups, deep-dish comfort foods, and pies of all flavors. Yesterday was a busy day but a good busy. Things that needed doing got done, and there was some satisfaction with moving ahead through another season. After supper, I was feeling extra content. I looked at the bowl of apples and pears on my kitchen counter and knew I had to give them their due attention before losing their peak, sugary perfection. I claimed Spotify from my daughter and told her I felt like being fancy and wanted my kitchen playlist while I put together a fall pie. My blend of fun, upbeat, classical, crooner tunes with cameos of select operas was just what I wanted while working something up in the kitchen.
Checking the pantry, I saw the ingredients to the end product; Poached Pear Frangipane Pie. This isn't a pie-pie. It's a cake-pie, a cookie-pie, and it does ask for time and attention, but like all things requiring a dedicated effort-it's; worth it.
Before beginning this recipe, make sure you have the one vital ingredient available-time. From beginning to end, this is about a three-hour and change project. That doesn't mean that you will need to be slaving away for 3 hours. It just means between making, baking, filling, and finishing the tart; it's a 3-hour commitment. Once you sink your fork through the finished pie and let that first bite melt in your mouth, you'll know it was worth it.
Other things you will need for this recipe;
Parchment paper and a Tart Pan with removable bottom. Beans for baking weights.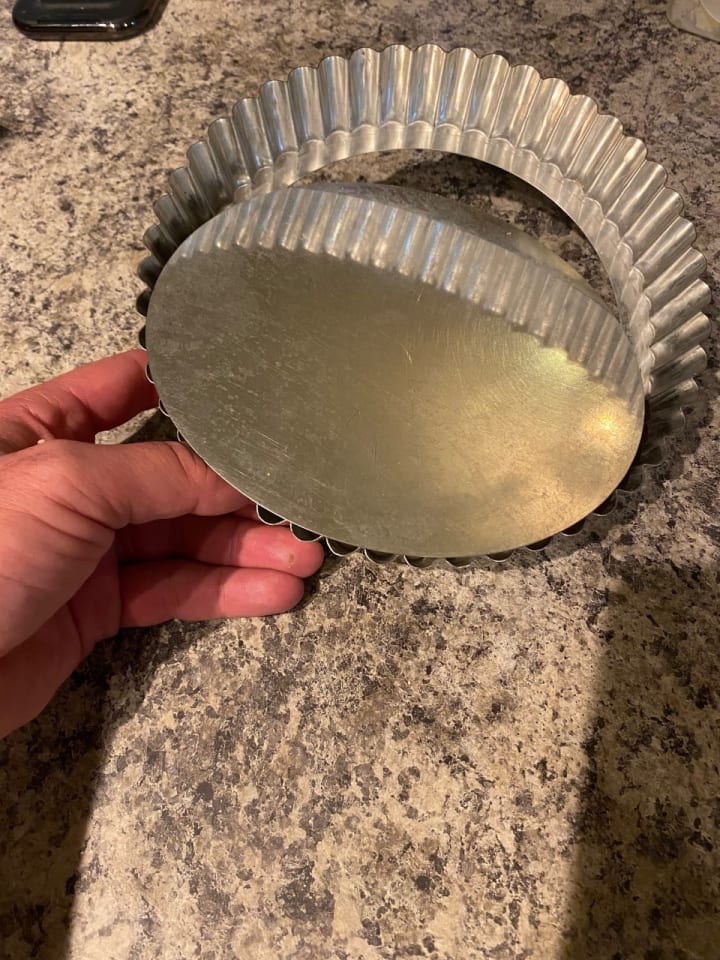 It's a three-stage recipe;
1) Tart dough and blind baking the crust
2) Poaching the Pears
3) Frangipane filling.
Ingredients.
For the Pie Crust
2 cups all-purpose or cake and pastry flour.
½ cup sugar
1 teaspoon lemon zest
1 teaspoon orange zest
¼ teaspoon salt
½ cup (1 stick)+ 3 tablespoons butter
1 egg yolk.
1 teaspoon vanilla extract.
For the Poached Pears.
6 cups cold water
2 cups sugar
2 cinnamon sticks
6-8 whole cloves
6-8 whole allspice seeds
2 strips lemon peel (with as little of the white pith as possible)
1 strip of orange peel
3-4 pears. I had Green Anjou, Forelle's, and a few Comice on hand.
Small bowl with lemon juice for preserving the pears.
Chef's note. I had more pears than the pie required, but I peeled and poached them all. The remaining pears make for a good breakfast or afternoon fruit snack.
For the Frangipane Filling
4 oz. unsalted butter softened.
½ cup + 2 tablespoons sugar
1 cup fine almond flour
3 eggs, - large
1 tablespoon flour
1 teaspoon vanilla extract
½ teaspoon lemon zest
½ teaspoon orange zest
1 tablespoon dark rum-recommended but optional
Method
Preparing the pie crust.
Don't fire up the oven just yet; the pastry crust will need about an hour of chilling time before blind baking.
Grease the tart pan and set it aside.
In a stand mixer or the bowl with a hand mixer, combine the flour, sugar, salt, lemon, and orange zest. Mix at medium speed for a few minutes until you've turned the mixture into crumbly looking peameal.
Add the egg yolk and vanilla. Blend at medium speed until well combined.
Chef's note. At this point, it will look like the dough won't come together, but it will. So don't fret if it looks dry. Once you get your hands on it, you will feel it just wanting to become a dough.
Working on a clean counter, dump pastry dough into a pile and begin gently pressing together into a ball. It will tend to fall apart as you work it but keep pressing and softly kneading. Once the dough starts to form a solid shape, gently roll and press (not quite knead) the dough into a smooth mass.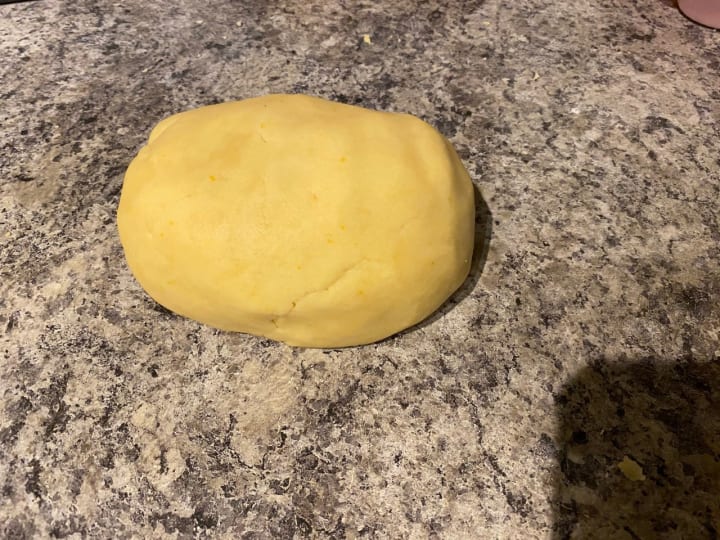 Transfer the dough into your tart pan and press the dough into the pan, packing and forming the edges to the top of the pan, then working evenly along the base. Trim off excess dough.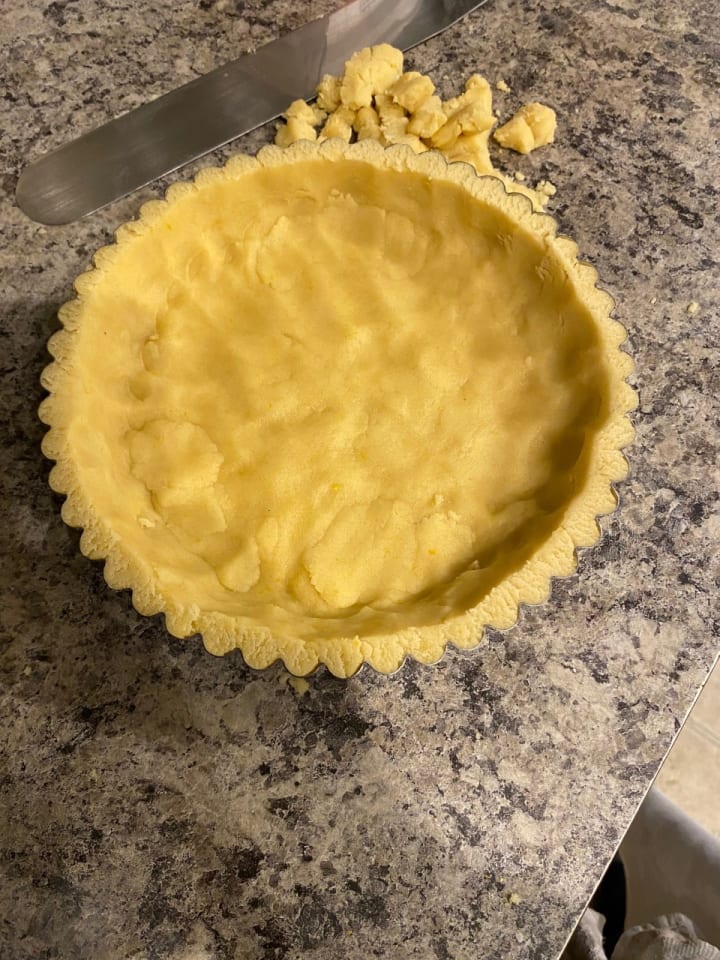 Place uncovered into fridge or freezer for an hour.
You will be blind baking the crust after chilling time.
For Blind Baking
Preheat oven to 375°f
Cover the dough with tin foil, making sure to have all the crust top edges well covered. Fill the tin foil with dried beans or baking weight.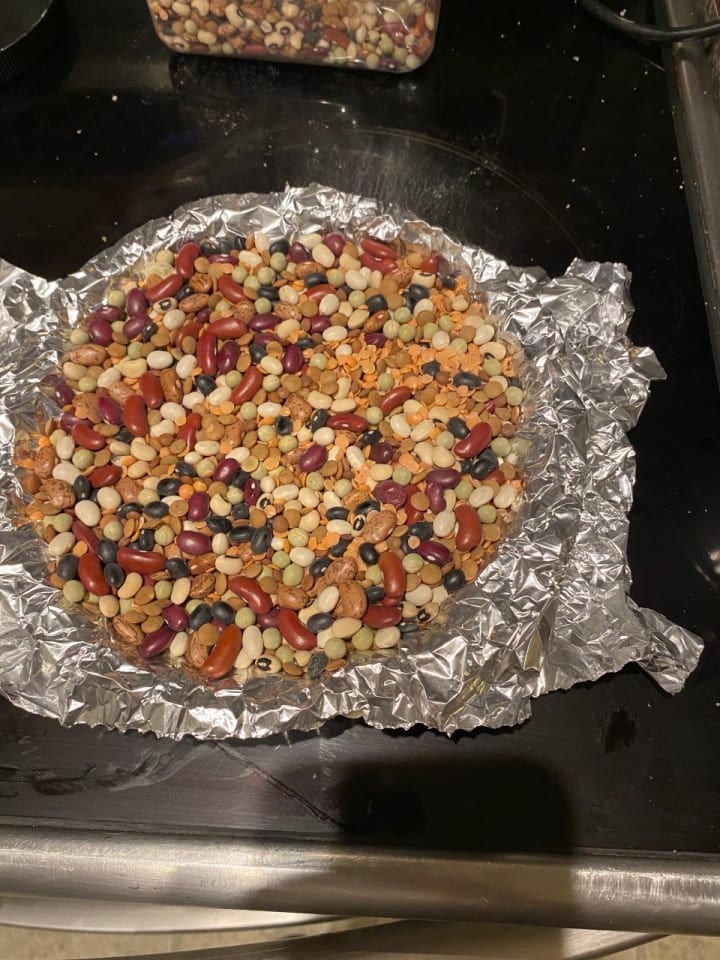 Bake for 20 minutes. Remove from oven. Remove baking weights/beans and tinfoil.
Return to oven for an additional 10 minutes baking.
For the Poached Pears.
While the pastry is chilling, move to poach the pears.
Combine all ingredients in a medium saucepan. Bring to a simmer.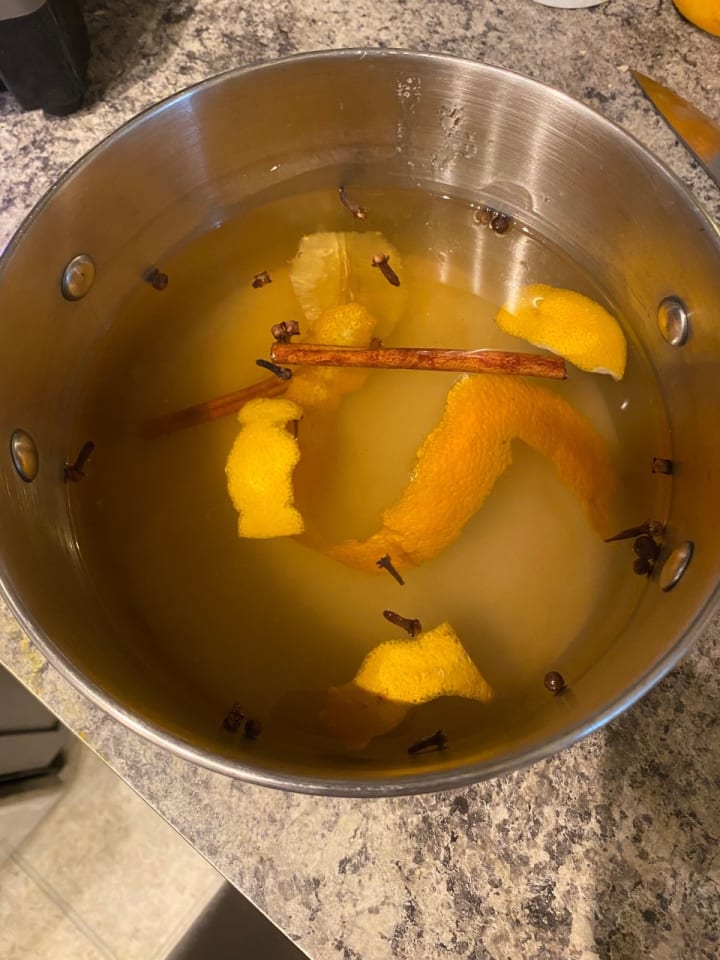 While the poaching liquid is heating, peel the pears and with a paring knife or lemon baller, core out the bottom stem of the pear, then drop each pear into your lemon juice bowl, rolling the pear in the lemon juice, then transferring to another plate or bowl. This will keep the pear from oxidizing into that rusty-brown appearance.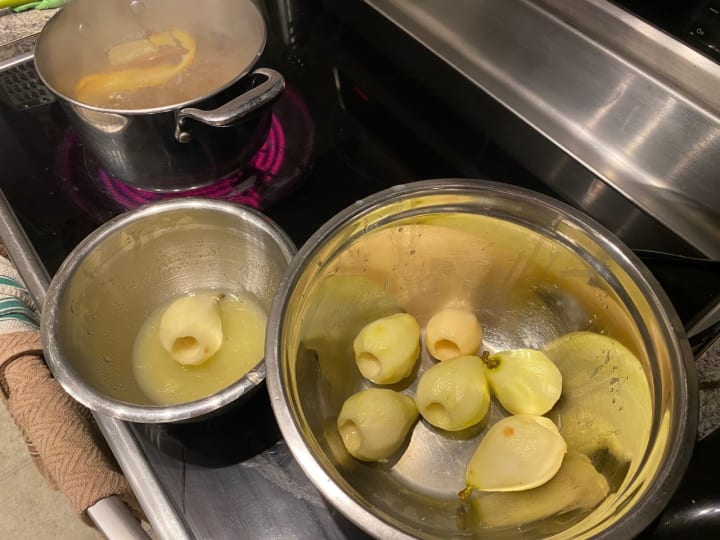 Add the pears, one a time to the poaching liquid, keeping the poaching water at a low simmer.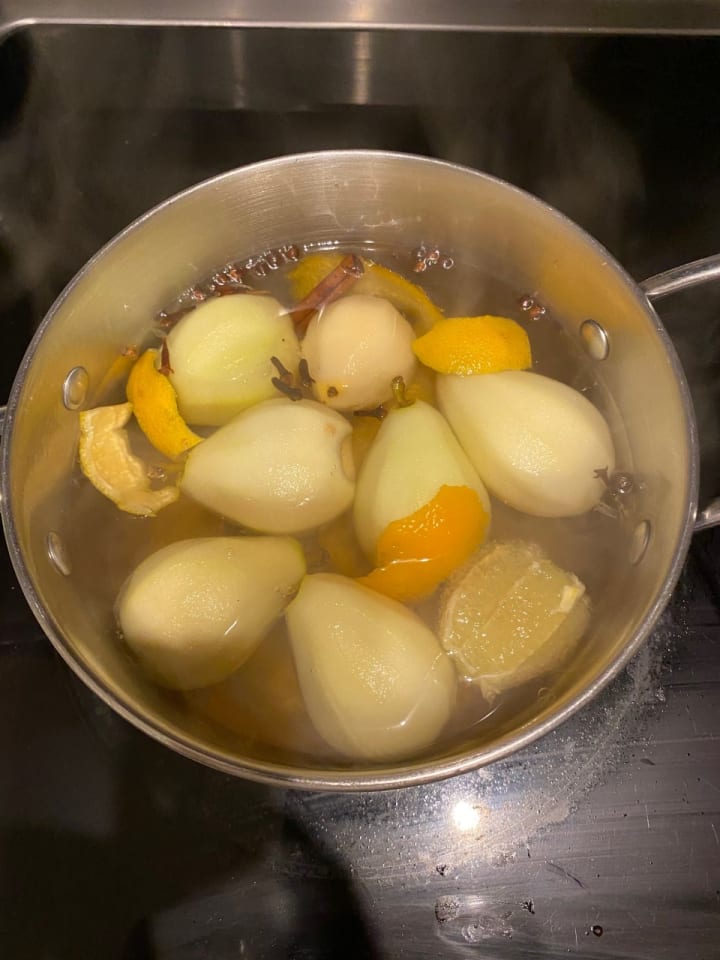 Now, cut out a round of parchment paper that will act as a lid for the pears in the pot. A little blanket helps keep all the flavors nicely infused to the pears.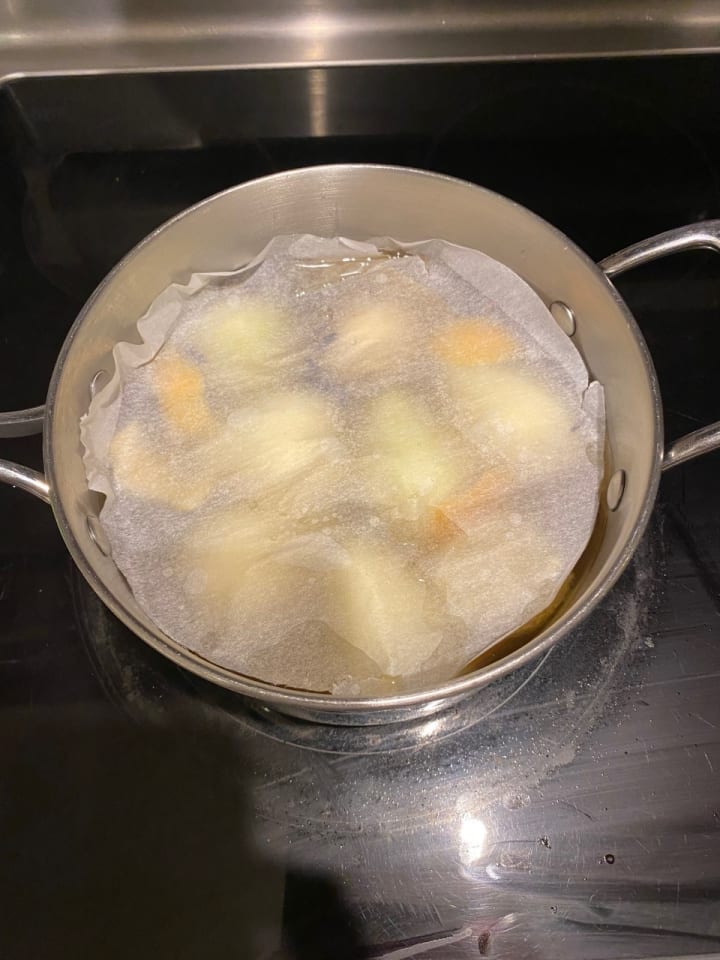 Poaching time will depend on the ripeness of your pears. For firm pears, you will want about 10 minutes of poaching time. Pierce the pears with a fork to test for tenderness. You want the pears to have a little bit, but to also slide off the fork easily.
Gently remove pears from poaching liquid to a paper towel-covered plate. This will drink up the excess juice. Allow cooling to room temperature.
Once cooled, slice the pears in half and complete coring them out. Next, thinly slice the pears crosswise and return to the paper towel plate.
For the Frangipane.
In the bowl of a stand mixer or hand mixer, add the butter and sugar and whip until pale, light, and creamy. Over low speed, add the almond flour and eggs, alternating between the two, until well combined.
Add the vanilla, lemon, and orange zest, and the rum. Mix until just combined.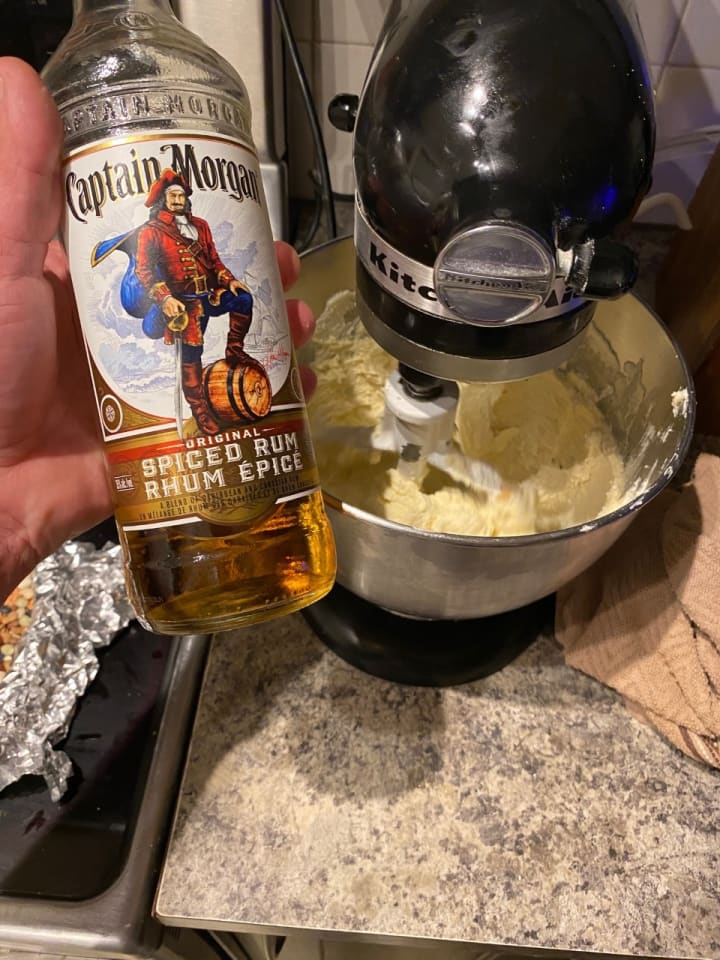 Move the bowl to the fridge to keep chilled until the crust is baked and ready. If you already have the crust ready, then you can use the filling immediately.
Assembling the Pie.
Using a spatula, spread the frangipane filling into the pie crust, filling right to the top edges.
Lifting your pears with a knife or spatula, transfer the sliced pears to the pie, and press into the frangipane while fanning the pears towards the center of the pie just slightly.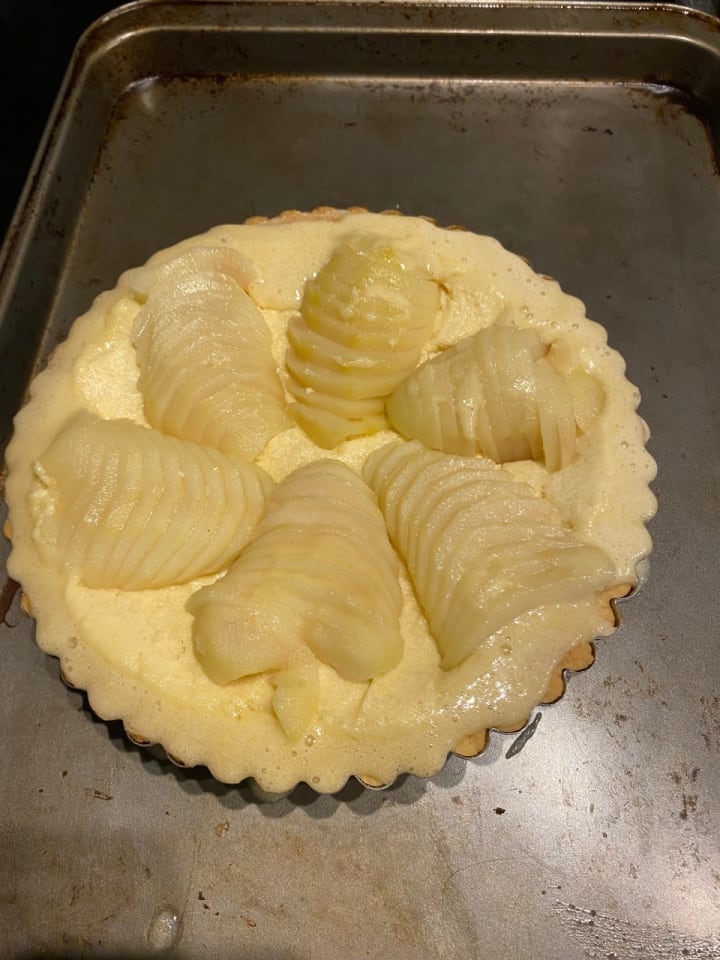 Set your prepared pie onto a baking sheet and bake in the oven, still at 375°f, for about 35-40 minutes, or until the top is golden brown.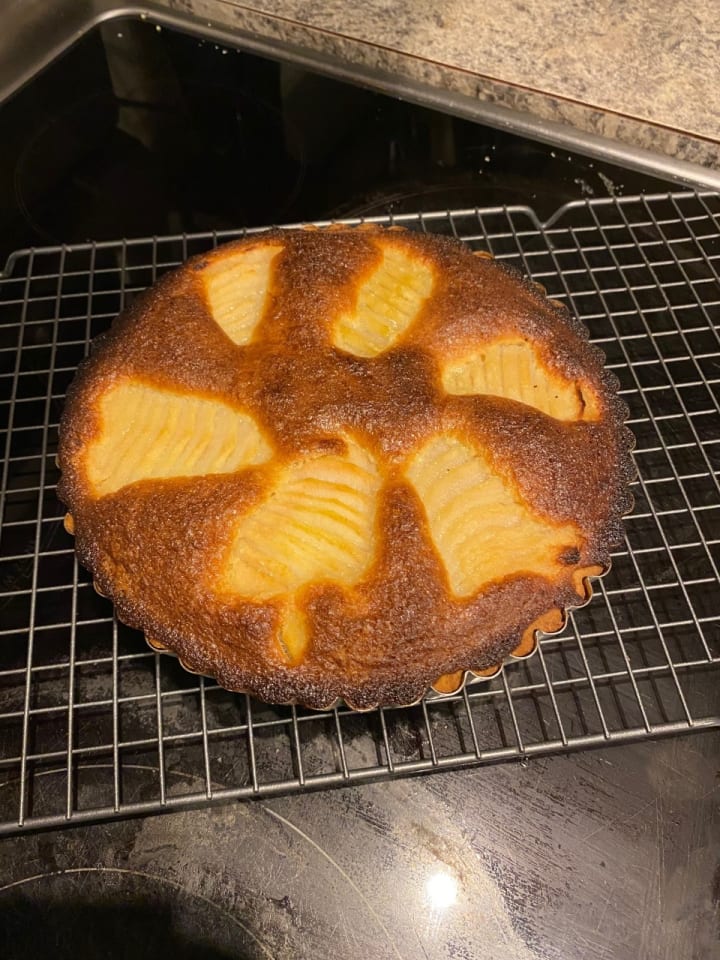 Remove from oven and set on a wire rack. Allow to cool thoroughly.
Dust with icing sugar when cool.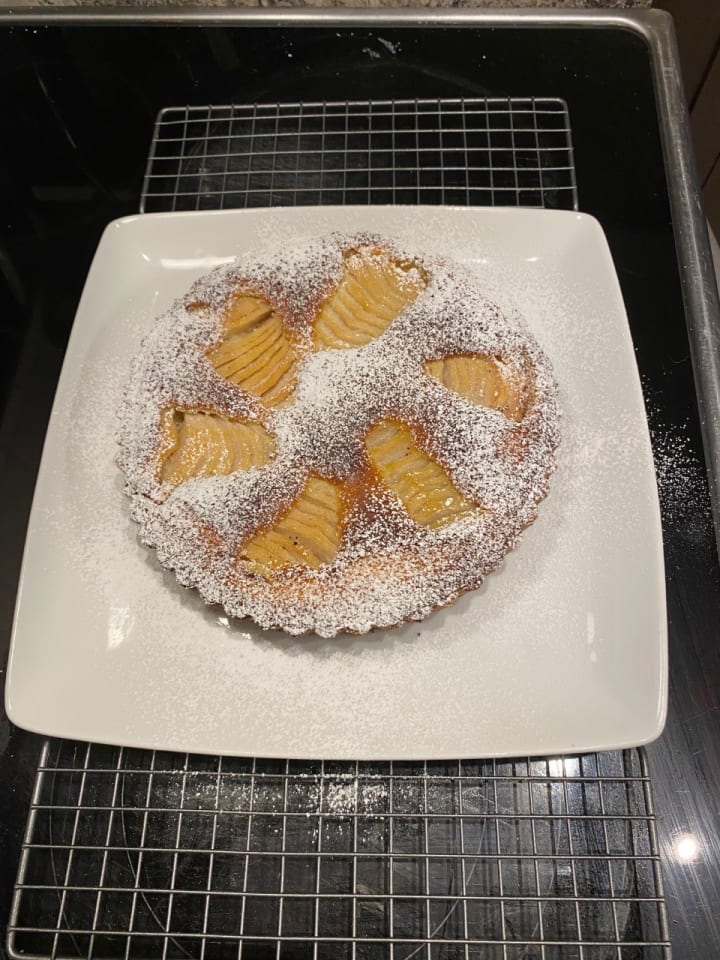 Slice and serve as is or with fresh whipped cream.
Enjoy! You've just made a beautifully sweet, very fancy pie.
recipe
1st generation Canadian-Hungarian
Father, Fly fisher, Chef, Reader, Leader, and working on writer.
Feedback appreciated anytime. Tips always appreciated.