Pizzapocalypse in Fresno
It isn't just in Fresno either, it's all around the world
It's all about the dough. Not the money-like dough; we're talking flour-like dough. Rye, wheat, all-purpose, and bread dough, and the kind used to make pizza.
I'm a realist. I knew when I moved to California, especially here to Fresno; I would never taste New York, Rhode Island, Boston, or any other New England or eastern style of pizza again. Instead, I'd have to travel back east to grab a starter dough from a local pizza parlor and keep it sealed. Then once I returned to Fresno, open that jar and immediately make the pizza. Only then could I possibly get authentic New York or other city-style pizza.
Before I get into the details of this phenomenon, I want to thank all the local pizza parlors here in Fresno, Clovis, and surrounding cities for trying their best to recreate New York style pizza. It isn't easy, and it's pretty much impossible unless you have a starter from back east.
Like a sourdough starter, it's in the microbes in the air that make different pizza dough have their taste.
A New York pizza isn't going to taste even close to a Rhode Island pizza nor a New Haven pizza. Both of those are great in their own right, but they're still not New York pizza.
There never will be anything like New York except a pizza from New York. But, ask an authentic New Yorker, they'll tell you I'm not lying.
Pizza is all about the crust and its favor. Then, of course, you can discuss the sauce, the toppings, and the seasonings used, but it comes down to the dough and that distinctive flavor.
There's Neapolitan, Sicilian, New York, Detroit, Chicago, and many other styles, but in each case, it's about the dough underneath and the microbes that went into the starter.
Microbes
The microbes create metabolites responsible for flavor and originate from the starter, the environment, the hands of the baker, the equipment, and the flour.
The microbes in flour depend on their type, all-purpose, wheat, rye, for example. Also, the manner and location in which the grain was grown and processed. In addition, the flour's protein content plays an essential role in the dough's texture and ability to hold gas bubbles. The amount of water is crucial, too, as an elastic dough is necessary to expand when gas is made.
Three Doughs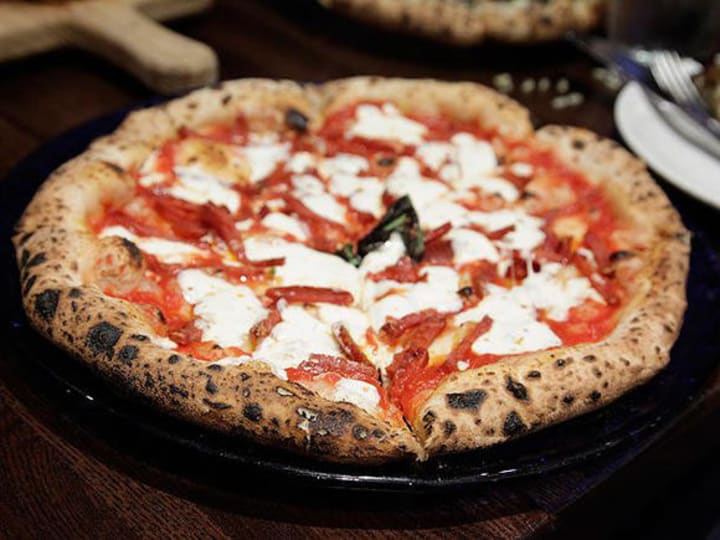 Neapolitan
This is where all pizza started. It's the easiest due to so few ingredients, but it's the most difficult to achieve in the same breath.
Neapolitan pizza is made from lean dough that's made up of flour, water, and salt. Add in the local microbes, and you have a fantastic pizza.
Between the few ingredients and the high temp at which it's cooked, 900 degrees, while it's not an easy pizza to make, it's not impossible.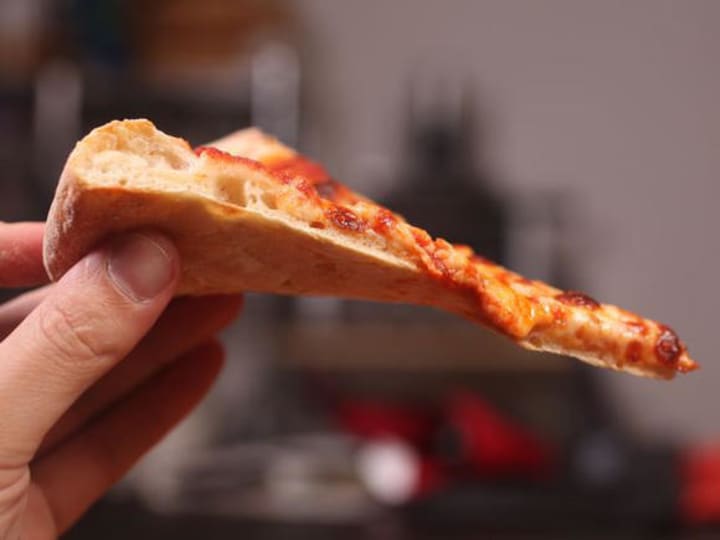 New York Style
It's thicker. It's cooked at a lower heat and most times cooked in a coal or wood-fired oven.
The crust must be crunchier than the Neapolitan, and the thickness is needed to hold more toppings than on the Neapolitan.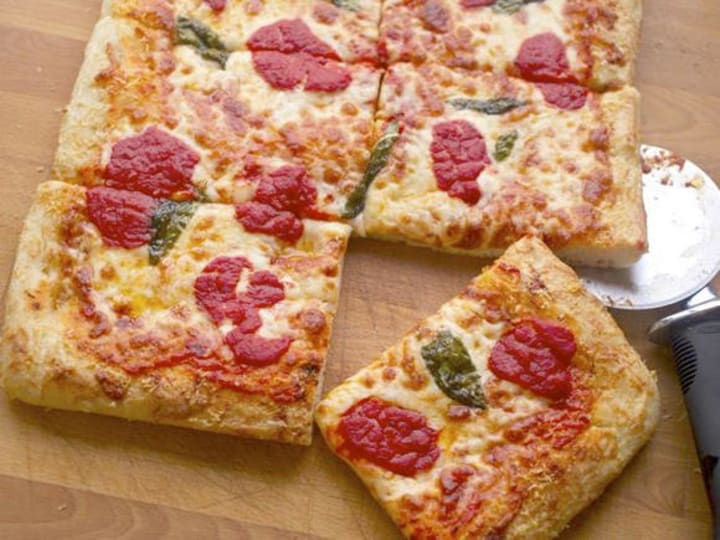 Sicilian
This style of pizza is the most forgiving pizza to make. In New York City, you can get it in inch-and-a-half-thick slabs coated with a thick layer of garlic-heavy tomato sauce and melted mozzarella cheese.
Technically, Sicilian style is as close to Chicago style deep dish pizza you're going to get.
Fresno & Other Locales Pizza
As I stated above, I have a lot of respect for the local pizza parlors around town that try to recreate New York style or any other back east style pizza, but you have to move on.
Stop trying to recreate something virtually impossible unless you have back east microbes in your kitchen.
Be happy and promote your pizza as having the flavors of Fresno/Clovis or whatever city your restaurant is located in. Let it have its flavor and fans, and let its taste dictate where it originated, like Fresno or Clovis.
There's nothing wrong with Fresno, Clovis, or other local cities pizza, don't try and compare it to back east, especially New York.
Our pizza in Fresno or Clovis is unique to our location. You won't find this taste back east, and that's okay.
I'm not here to criticize the local pizza parlors, and I'm just being honest and letting everyone that lives here know not to expect getting a real or even an imitation New York Style pizza. It isn't happening.
You're going to have to travel to New York, New Haven, or all points back east to get that authentic taste.
Buon Appetito!
cuisine
Family comes first. I love to cook or bake, mainly bread, and sometimes think I'm good at both. I was born in Catania, Sicily, then lived on the east coast for most of my life, till I moved to California.
Receive stories by Mark-John Clifford in

your feed