One Minute Mug Cakes
Bet you can't eat just one.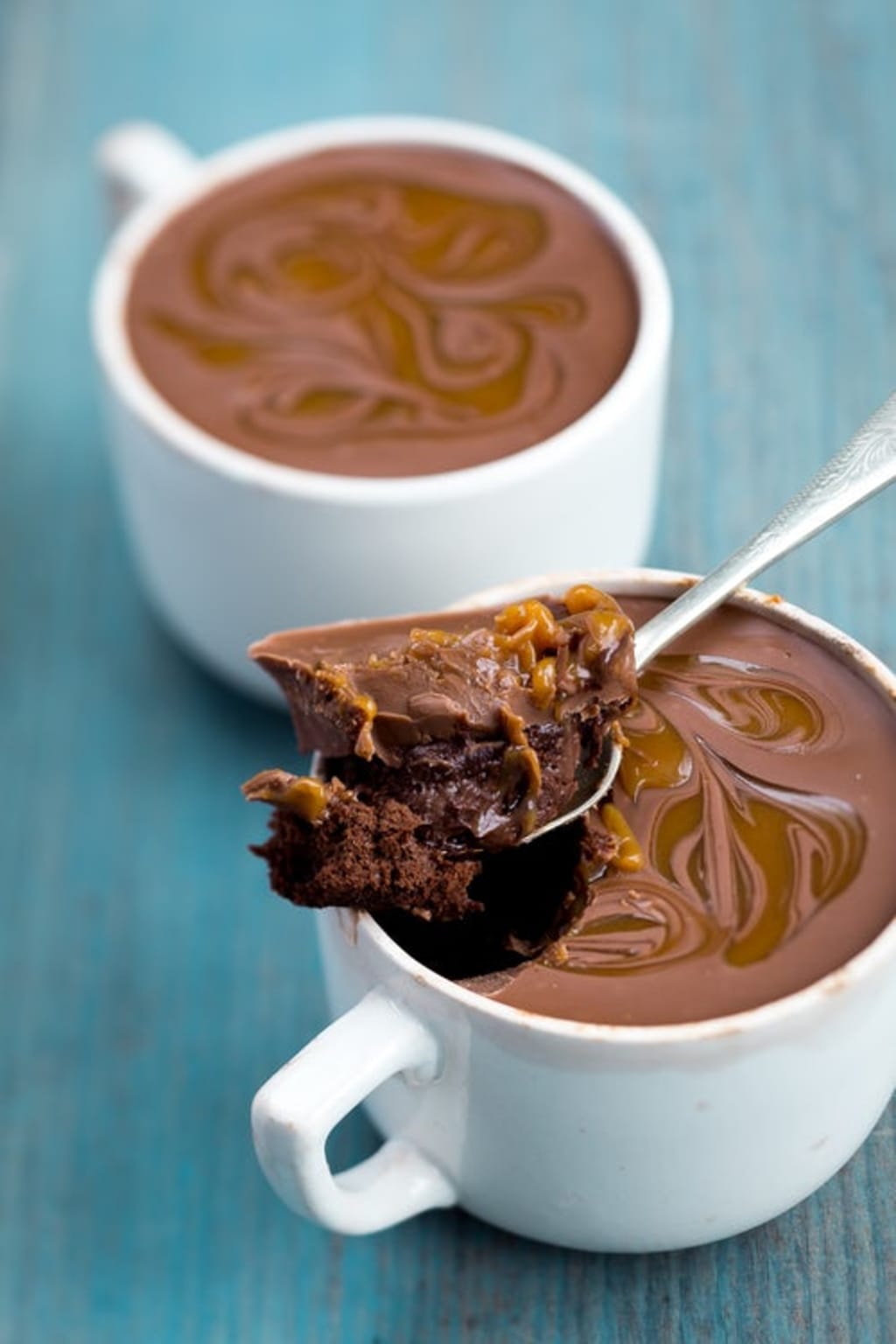 Words simply cannot express my love for mug cakes. They are easy to make and there is no chance that I might consume an entire cake in one sitting. I have been known to do that from time to time.
I have tasted the store made variety, but nothing beats the homemade version. In my opinion, eating cake out of a mug is the ultimate comfort food. One of my sweetest memories is eating chocolate and peppermint mug cakes on Christmas Eve with my closest friend. It was the perfect evening of sharing mug cake and watching the first snowfall of the year out of my front window.
My roommates and I have movie night once a week and binge out on Netflix, popcorn, and mug cakes. It has become a contest to see who can come up with the best ideas for toppings. We use this recipe quite often.
Ice cream is a really popular addition. One evening, I added a scoop of chocolate salted caramel ice cream and melted two squares of Ghiradelli's salted caramel filled chocolate. I was in a chocolate coma the rest of the night... but I won the contest!
And the best part is these are real cakes. So they have that rich, delicious texture you can only get with real cake ingredients. Plus it only takes a minute for them to cook in your microwave! It's a great, quick, and easy dessert if guests unexpectedly turn up at dinner time.
What I really like about these mug cakes is that the recipe calls for real cocoa. Studies have shown that cocoa consumption is associated with decreased blood pressure, improvement in cholesterol levels, and improved blood vessel health. Plus, these little cocoa beans are loaded with polyphenolic flavonids which have the potential to prevent heart disease.
In addition to all of the above benefits, cocoa has also been shown to decrease "bad" cholesterol and increase good cholesterol. And, cocoa consumption is also linked to reductions in risk factors for diabetes.
I have to say that personally, the benefits of the cocoa in this recipe are more than enough to coax me to enjoy every delicious mouthful.
Here is what you will need to get started:
Always make sure to use at least 12 or 13 ounce mugs.
7 tablespoons of all purpose flour
3 1/2 tablespoons of unsweetened cocoa powder
7 tablespoons of granulated sugar
1 tablespoon of brown sugar
1/4 teaspoon baking powder
1/4 teaspoon baking soda
1/4 teaspoon salt
1 egg
1/4 cup and 2 teaspoons of whole milk
2 tablespoons of melted coconut oil or vegetable oil
3/4 teaspoons of vanilla extract
Pour the flour, cocoa powder, sugar, brown sugar, baking powder, baking soda, and salt into a small bowl and whisk together. Gradually whisk in the milk, egg, oil and vanilla. Mix together until just smooth. Don't over mix. Pour the mixture evenly into three large mugs.
Microwave one mug at a time on high heat for 1 minute. Microwaves vary, so it may take 10 seconds more or less.
Remove the mugs and top with your choice of toppings. I would suggest chocolate chips, a half a teaspoon or so of Nutella or my favorite topping.. a piece of Ghiradelli's salted caramel filled chocolate and, of course, whipped cream!
Half the fun of this recipe is actually coming up with new and improved toppings. You can let your imagine run wild with the toppings. A Reese's Peanut Butter Cup would be awesome. Or, how about a little bit of buttercream frosting or a toasted marshmallow?
Let the cakes cool down a bit and then... enjoy!