Nepal Food Culture
Three Must-Have Culinary Experiences for the Traveler in Nepal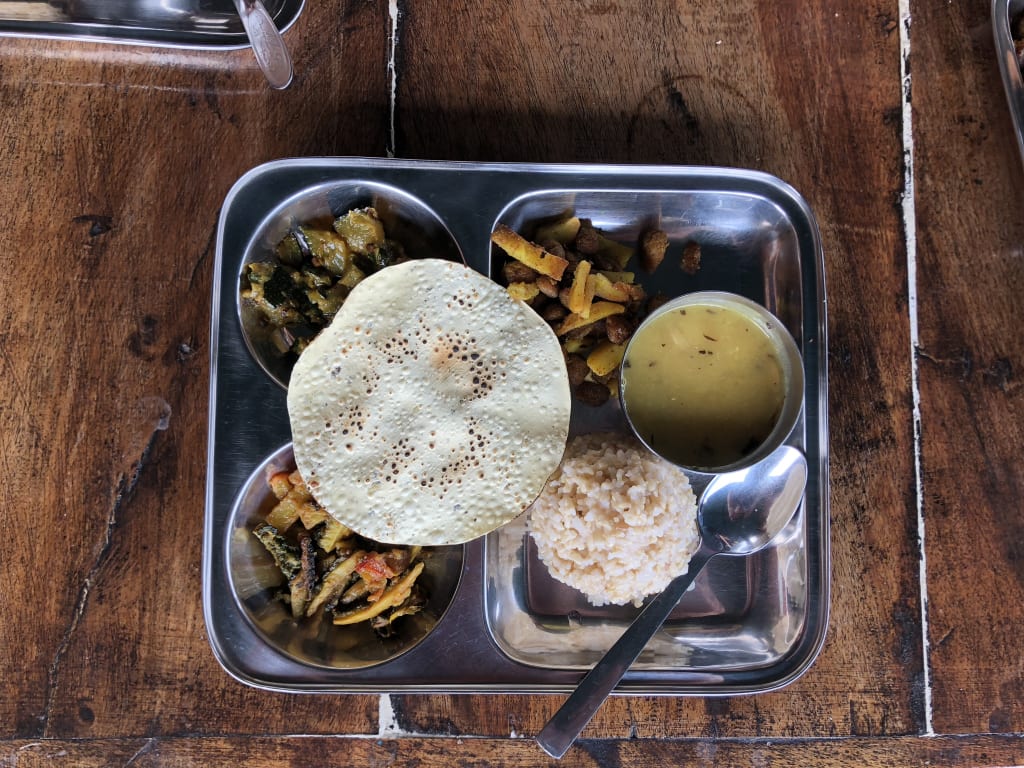 Bara, Newari Cuisine
Tucked away in one of Bhaktapur's many market streets sits Hole in the Wall, a Nepalese restaurant that certainly lives up to its name.
Hole in the Wall is one of the most intimate dining experiences to be had in Bhaktapur. The restaurant consists of a single low-ceilinged room which contains both the kitchen and dining area. Stooping low to enter you will notice the chef sat to one corner cooking on a large frying pan and to the right two small wooden candlelit tables.
The restaurant's humble setting is also found reflected in the food. One must simply choose between two traditional Newari dishes: Egg Bara or Beef and Egg Bara.
Within minutes of ordering, our plates were placed down on our table. I chose the carnivorous option; a hearty serving of Bara, a traditional Newari pancake dish, which came liberally topped with fried egg and salty minced meat.
You won't experience particularly new or delicate taste sensations eating Newari cuisine, but if you appreciate authentic dining experiences, this Nepalese comfort food has to be tried.
Momo
Momo is the second of what I consider the trifecta of traditional Nepalese eats. Essentially a steamed dumpling, Momo is an unavoidable pleasure whilst traveling through the country.
I was lucky enough to sample the dish across a range of prices and qualities. I found that Momo is better suited to fast food establishments and thankfully this means that often the best restaurants serving the dish are cheap.
In Bhaktapur, I enjoyed a full plate of Momo for 160 Nepalese Rupees (equivalent to £1.60) at a small street food corner. This was where the locals seemed to get their fix too which is always a good sign.
Above street level, the Nepalese food in Bhaktapur seems to suffer. Ordering Momo from the tourist-focused rooftop bars often meant a wait of more than 20 mins and while the end product was a little more presentable, the taste was just the same.
You'll find just as many options when it comes to Momo in the capital, Kathmandu. I would recommend sampling the fried variant of Momo from any one of the restaurants in and around Thamel, however, if you are strapped for time make a b-line for B.K.'s Place and sample their offerings.
Dal Bhat
Dal Bhat is a rite of passage for travelers in Nepal. Haven't tried it? Then you haven't experienced the country's national dish. Most Nepali people eat Dal Bhat for lunch every day and I don't blame them.
Dal Bhat is a simple vegetarian platter consisting of steamed rice and lentil soup (Dal). It always comes flanked with at least a vegetable curry also and a chapati or poppadum for dipping.
It is a simple filling dish, much like buff bara and Momo and is exceedingly affordable. The most I paid for Dal Bhat during my time in Nepal was 400 Nepalese rupees (around £4). If you are trekking, you might grow tired of the Dal Bhat as it is a staple of the teahouses which dot the trails to Everest base camp, around the Annapurna Circuit and even to Poonhill and back.
Dal Bhat can be found anywhere at a good price and is an unavoidable culinary experience for anyone traveling in Nepal. As for recommendations, Kathmandu hosts the best range in price points for the dish.
You can enjoy the traditional dish alongside a fine dining experience at Bhojan Griha just outside of Thamel in the Dilli Bazaar Neighbourhood or, for a more bohemian experience, pop into OR2K a well-known restaurant amongst backpackers in Thamel with floor seating and a relaxed atmosphere.