My Lockdown degustation menu
Food preparation - First attempt!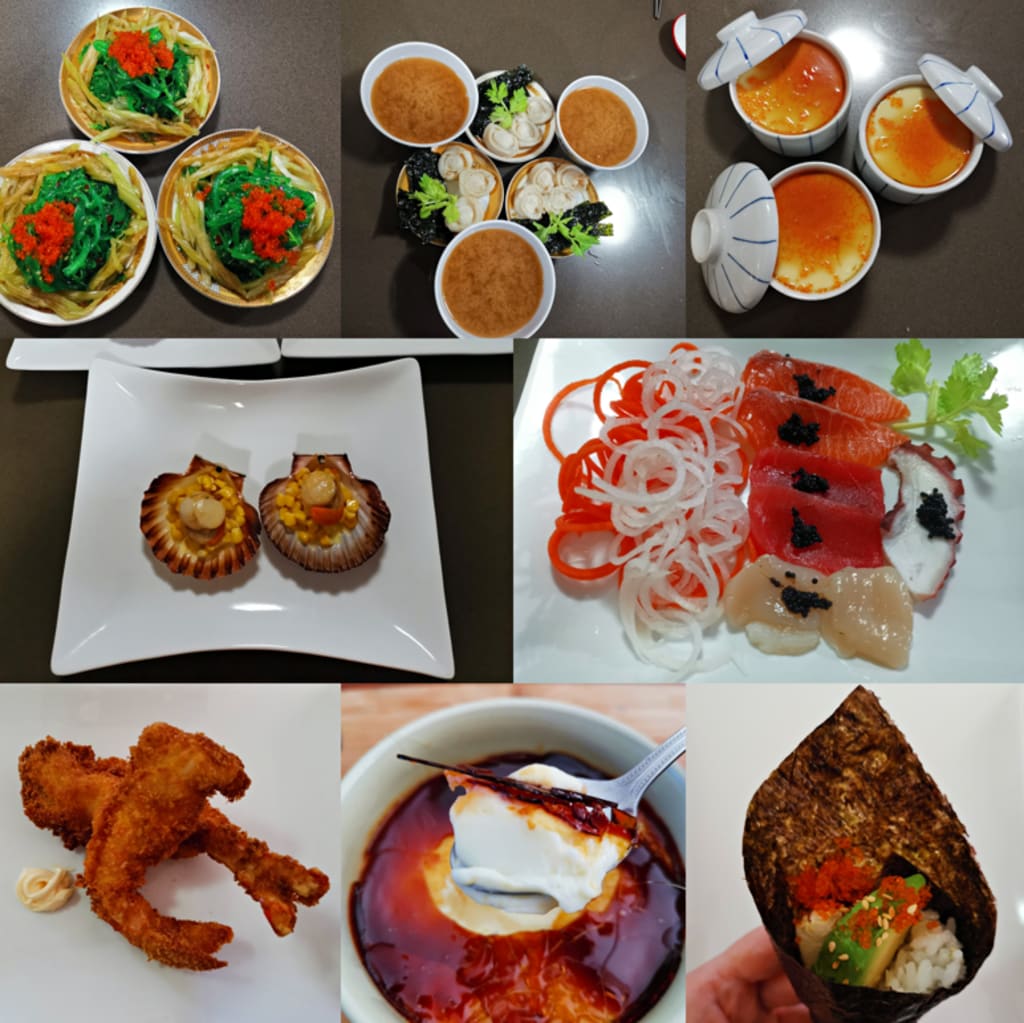 I haven't left my house for almost 3 weeks. There is no boundary between home and work these days. Weekdays and weekends are just the same. I am praying every day that my foodie adventure can continue after all the lockdown is over. Dreaming and dreaming, counting the days, watching the TV to see any signs of the government lifting lockdown restrictions. Then one day, I have this idea of creating my own degustation menu, instead of browsing the menu of my favourite restaurants and cafes! Why not? If they can do it, I can do it too! Except that I am an amateur and they are the professionals! The only customers at home will be my parents and myself. I guess mum will not mind me being the Queen of her kitchen for one night.
Where should I start? What cuisine? What kind of meat? Too many questions on my mind and I don't know where to start. How about seafood? Cool, I love Japanese food. One of my favourite. It does not hurt to order from the local seafood shop and get them to deliver some fresh ingredient. Supporting local businesses is always my goal living in this beautiful Aussie land. Great! Done deal! How many courses? I guess 7 will do for start. The last one needs to be my favourite Creme Brulee! I know this is French, but I am desperate for a heart warming, melts in your mouth custard! Dessert is done! Next!
Starter will be a seaweed salad. But wait! That will be too boring. How about some quick boiled celery, soaked in soya sauce, roasted sesame seeds and sugar? Yes, that is one of my favourite side dish for life! What is the next course? Soup? Yes, soup! I love miso soup, but I want to add some elegance to it. Yes...I know. A deconstructed miso soup with roasted seaweed salad and abalones. That will be interesting. Next, will be the seafood. Where should I start? I love cream corn, so butter pan fried scallops with cream corn would be very appetising! I forgot to include egg, but what can I do with it? I love my eggs, either poach, boil, fried or scramble. Nah, too common. Let's do a Japanese steam egg custard with mushrooms then. This will be fun and challenging at the same time. Ok, the eggs and stock mixture needs to be the ratio of 1 to 2.5. Don't ask me why, I learned that somewhere, forgot where.
I also need to bring in some rice dishes or my parents will be upset. I am not fan of rice but they need it every day. Oh wait, cream cheese and eel handrolls will be good. There's rice in there. I love my eel. Great. I miss my tuna, salmon and scallops sashimi. Let's order it. I also need my fish roe and caviar. Added to the shopping list! How about some fried prawns? Tempura? I remember that there is still a packet of Panko bread crumbs in the pantry. Yes, I will use that instead. Let's review what I've got on my degustation menu. Oh dear! Looks like I have forgotten that I will be the one preparing and cooking them all. Here comes the ultimate test for multi tasking and working under pressure. Guess I can mention this in my future interviews? Ok, I need to call the local seafood shop. I need some scallops, raw tuna and salmon sashimi and large fresh prawns. Comfort food for the family. I could have ordered large chunks of salmon and tuna, but my imperfect knife skills will turn them into something unrecognisable. Let them do the perfect job for me then.
Now after a hectic evening of preparing and cooking the meals, I am so relieved. It turns out to be very stressful but fun at the same time. Will I do it again? Sure, I will be more prepared next time!
cuisine
About the author
I am just an ordinary Sydneysider who loves the idea of writing! Constant lockdown has given me the time to reflect on what I want to do and writing is one of them! I hope my stories will inspire you as you read them!
Reader insights
Be the first to share your insights about this piece.
Add your insights