My Grandad's chicken noodle soup
The recipe that stuck with me during difficult times.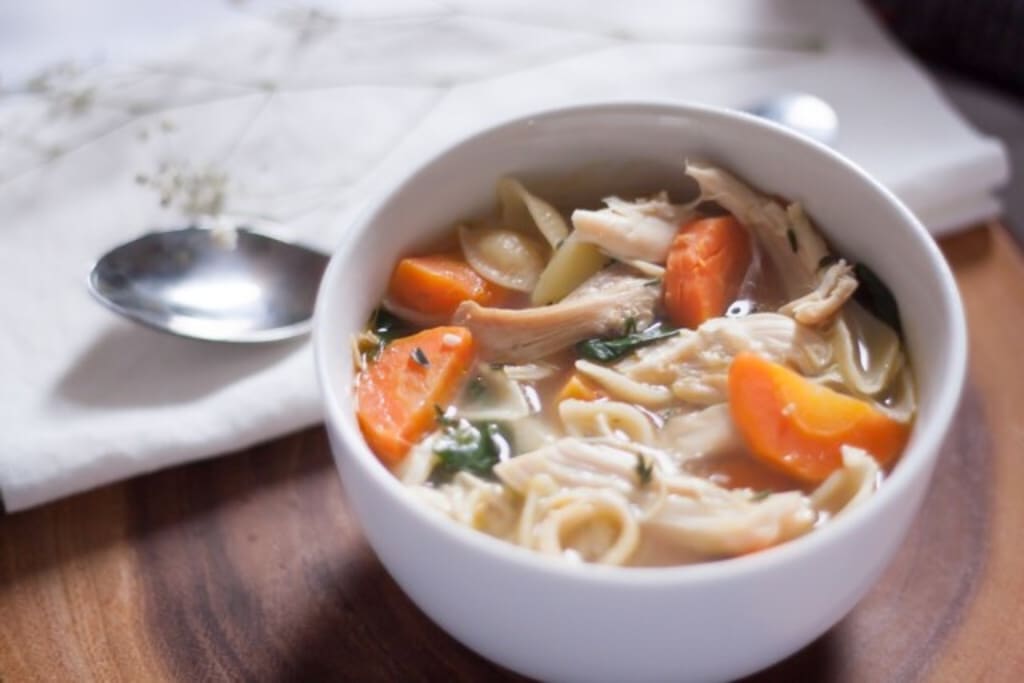 When the sun was low, and the sky was a watercolour canvas, we would topple into my Mum's dark ivy car and head to my grandparents house.
My grandparents house was swelled with warmth and practically dripped with cosiness. The sofa was textured, an electric fireplace was carved into the wall and my Grandads bar was compiled into the corner of the room.
We would sit against large cushions, talking about the happenings in our lives, what was on the television and whether or not we wanted pudding after dinner.
All while, the mouth watering smell of roast beef and brewing soup would waft into the living room mockingly.
In our family, Grandad was famous for his signature soup. And as a little girl, I idolised his recipe as a secret. My mother would tell me amusingly that 'Grandad is the only person who can make the soup just right'.
Starter was always soup, a cloudy stock, with chicken, noodles and veg. It would always be brimming with egg noodles. My grandparents would pair it with bread, and we'd dip the thick chunks into the liquid greedily.
Then the bread would swell, and drip. It was such a comforting meal, the kind which always caused a slight smile to plaster onto my lips.
When both my Grandparents passed away, my mother continued to create Grandad's soup. At first, the taste was off, but after a few attempts, we had perfected the warmth.
Grandad's soup got me through difficult times, the cold wintry nights where iciness seeped through glass windows. But it also got me through good times, like Sunday afternoons spent reading good books and drinking hot coffee.
I suppose this is why, I wanted to share this recipe...to bring comfort to others homes through difficult and through heartfelt times.
This recipe is one which is similar to the one my Mum follows, as my Grandad's recipe has changed through the years. You can also freeze this recipe and defrost for further use.
The ingredients:
2 large carrots, chopped.
2 leeks, trimmed and thinly sliced or spring onions thinly sliced.
1 tin of sweetcorn or 2 corn on the cobs with corn kennels cut off.
Egg noodles or tagliatelle
For the stock...
Leftover chicken or chicken that you have in the freezer, or alternatively for vegetarians, no chicken
salt and pepper (for seasoning)
vegetable stock or chicken stock
Method:
1) Put the stock ingredients and chicken into a pan and cover with water.
2) Bring to boil and let simmer for 1 hr to 1hr and a 1/2 until the chicken is tender and cooked through. This will bring out the flavour and cook the chicken. If you don't want to use chicken, then use more vegetables within the stock.
3) Add the carrots, leeks and sweetcorn, add more water and let simmer for another 10 mins.
4) Then trim the meat from the chicken and add the egg noodles or tagliatelle, follow the instructions for either one until cooked. Season with salt and pepper.
Recommendations:
My mother usually uses stock from another meal, she'll put leftover chicken into a sauce pan with water and will leave it to create stock. She has done this with roast dinner's where we don't eat all the chicken etc.
Add lots of noodles, noodles give texture and are especially good if your serving this soup to children, as it encourages them to eat their veg as well.
Enjoying the recipe:
We usually have this soup for lunch, or as a starter to a dinner. Sometimes we even have it as a dinner.
The soup is especially nice served with bread, soft rolls or baguettes.
Another lovely idea for this soup, is to serve it in the winter months, whilst wrapped up in blankets and watching TV.
Thank you for reading, if you enjoyed this article then give it a heart or if your feeling inclined possibly give me a tip.
-Jessica M