Moist and Delicious Banana-Apple Muffins
When a sparse pantry leads to combining just enough ingredients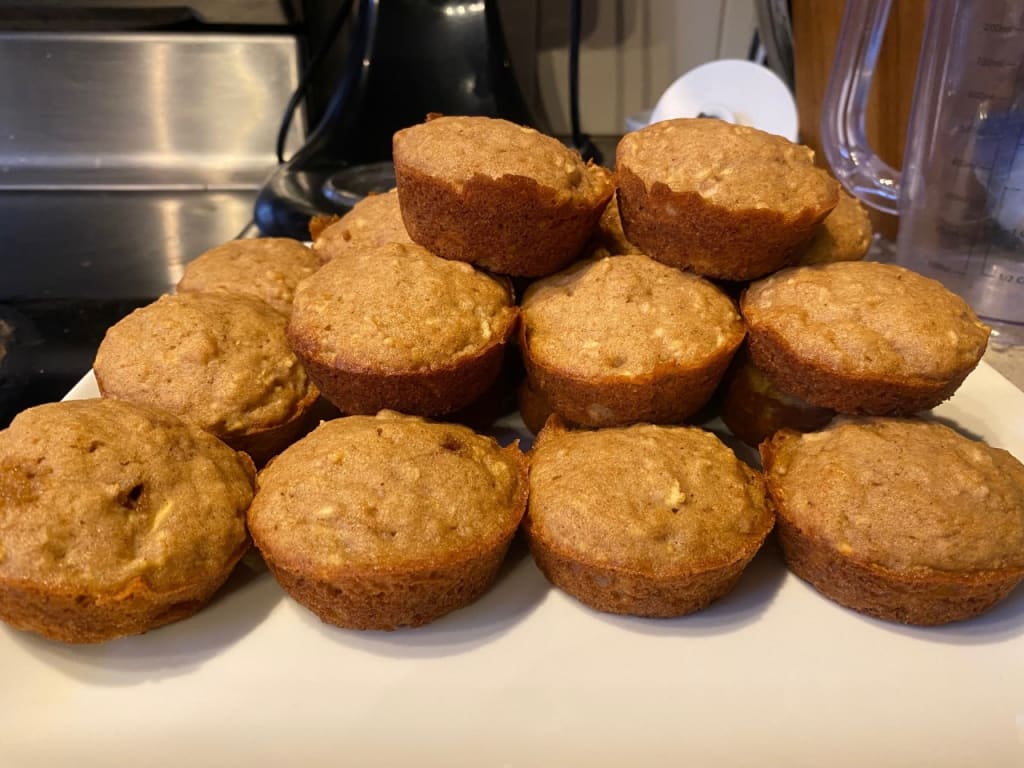 Photo by Author
For more great recipes check the ever-growing index from Vocal writers in the Vocal Cooks Collaborative, here.
I love it when my daughter bounces downstairs into the dining room, "Dad?" her sweet little voice calls out, "Do we have any more of those banana muffins left?"
Or "Dad, could I have a peanut butter sandwich? You made fresh bread, right?"
I do my best to ensure our table has fresh, homemade food. From cookies to biscuits, buns to bread or muffins, it's a point of pride that my daughter is eating food where I know all the ingredients. All good things. Butter, eggs, fruit, and no words that you can't pronounce on the first try.
I also love it when I sneak in some convenience food out of a time crunch necessity: the packaged and powdered pasta carbonara, Rice-a-Roni, or God-forbid, store-bought bread. My girl wrinkles her nose and consumes only the barest amount to quell a hungry tummy. "Sorry, Dad, is that enough? I'm kinda full." That doesn't hurt my feelings.
The child knows good food, understands that McDonald's is poison, and loves that her friends always tell her how they love eating at her house.
Maintaining a healthy diet means making regular trips to the grocery store, and this morning I didn't have the energy. I awoke with a higher than usual level of pain from the physical issues I'm currently dealing with. So instead of slipping on boots and going to the store, I slipped in some medication and scoured the counter and pantry. Whatever I had here was going to have to do.
With not enough mashed bananas for a full recipe of banana muffins, I decided on supplementing them with fresh apples. Keeping to my simple banana bread recipe, I would add enough grated apple to make up the difference, sprinkle in a little apple spice, and voila! Twenty minutes later, I had two dozen small gluten-free banana-apple muffins cooling on the rack.
This recipe is my all-time favorite for banana bread. I usually add chocolate chips because my wife is disappointed if I don't, then fill a muffin tray for a dozen and turn the remaining batter into a small loaf pan. It's quick, easy and if you have twenty minutes from beginning to end, you can have fresh muffins before you brew a second pot of coffee.
Gluten-Free (Or Not) Banana-Apple Muffins
Ingredients
Mashed Banana-About 2 cups for the full Banana bread recipe. I had a little less than 1 cup on hand.
4 medium apples. Peeled and grated all around until you scrape the core.
¼ cup sour cream
1-1/2 teaspoons vanilla extract
½ cup (1 stick) unsalted, softened butter
1 cup- packed, dark brown sugar
2 eggs-large
1-2/3 cup GF or regular flour
1 teaspoon baking powder
½ teaspoon baking soda
½ teaspoon salt
Method
Preheat oven to 350°f
Organize two bowls and your mixer bowl.
In the mixer bowl, add the brown sugar and softened butter. Beat butter and sugar on medium speed until light and fluffy. Then add the eggs, one at a time, until incorporated.
Add the flour, baking powder, baking soda, and salt to a second bowl. Blend.
Combine the mashed banana, shredded apple, sour cream, and vanilla in the remaining bowl. A little cinnamon and ground clove or allspice works nicely here, about a ¼ teaspoon of each. Blend to combine.
Add the banana-apple mix to the butter/sugar. Blend, then add the flour mixture to the banana mix. Blend until just combined.
Chef's Note; If you are making the recipe as straight banana bread, I throw in a half cup of chocolate chips at the end. However, I am not a fan of chocolate chips with apples, so I omitted the chips in this one.
Divide the batter into greased muffin pans. If you fill each muffin form half full of batter, you can squeeze out two dozen, not too small, not too big muffins.
Bake for 15 minutes or until a toothpick comes out dry when poked in the center of the muffins.
Rest the muffin tins on the counter for 10 minutes, then turn over and shake the muffins free, moving them to a wire rack for cooling.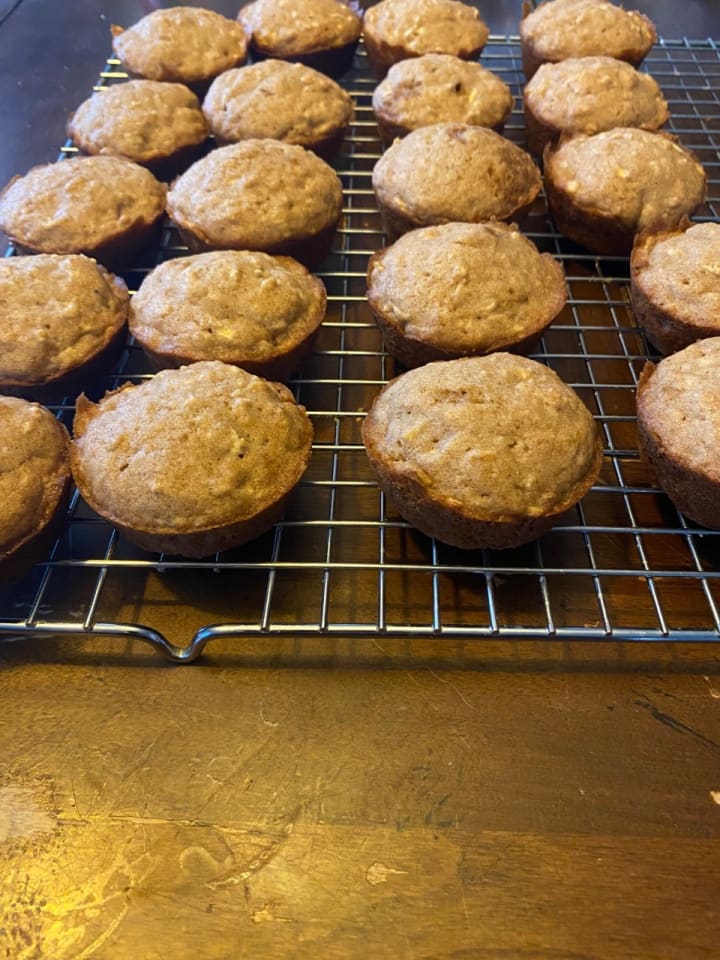 That's it! A fast, fresh recipe for just the right size, bite-size, banana-apple muffins!
Everyone needs helps at one time or another and I sincerely appreciate any that comes my way. Click on the link here if you want to buy me a cup of coffee! Thanks in advance!
recipe
1st generation Canadian-Hungarian
Father, Fly fisher, Chef, Reader, Leader, and working on writer.
Feedback appreciated anytime. Tips always appreciated.