Mellow Yellow Lemon Butter Soaked Prawn Empanadas
A soft pastry pocket appetizer of prawn and fresh herbs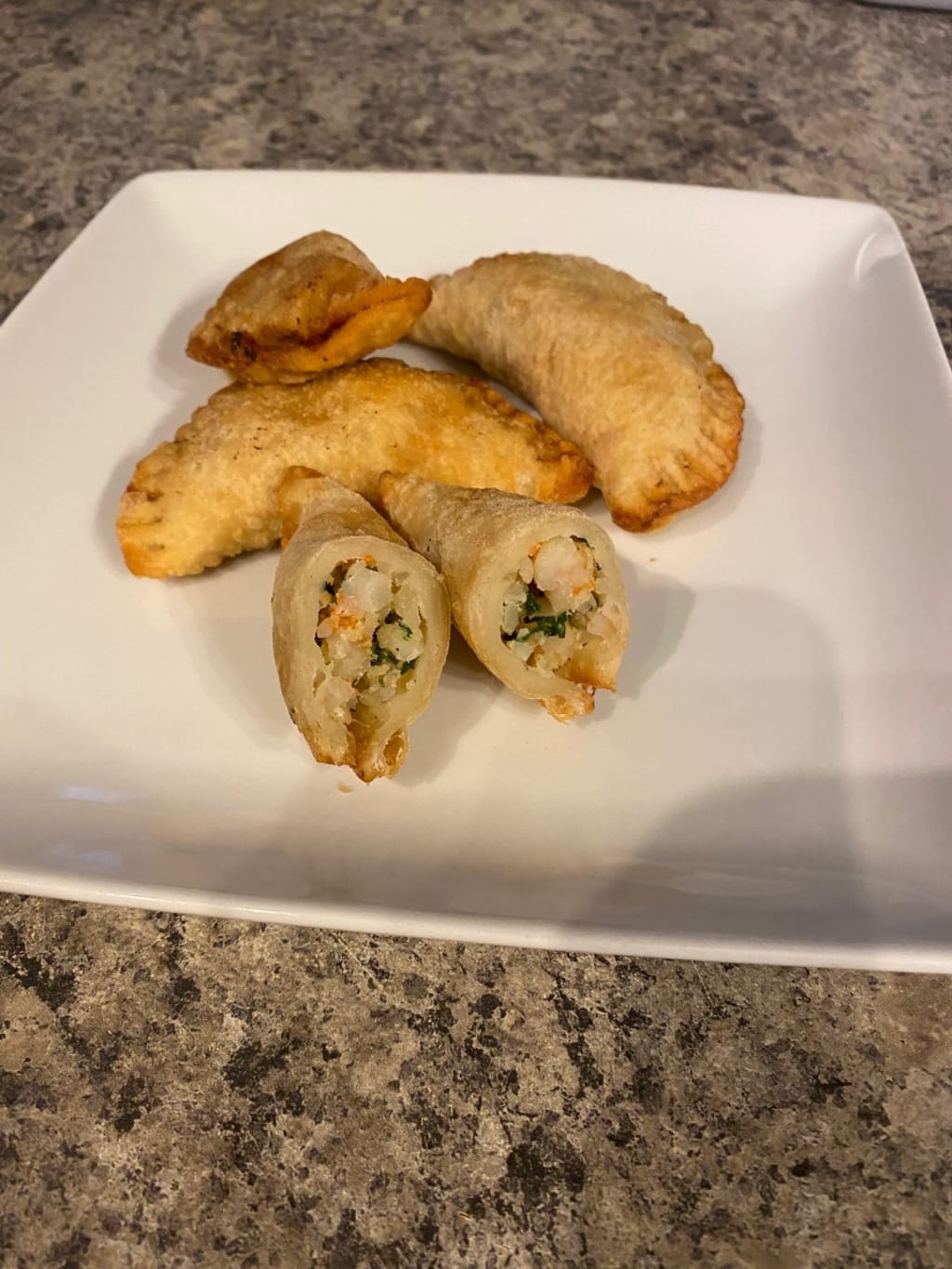 Photo by Author
For more great recipes check the ever-growing index from Vocal writers in the Vocal Cooks Collaborative, here.
I must have been a mariner in a past life because I love the ocean and all she offers. Although I was born and raised far from coastal waters, in a town nestled high in the mountains of the Canadian Rockies, I did manage to marry a girl raised in the salty mist of the Atlantic Ocean.
This fortunate pairing led me to a family whose business was to catch and cultivate the bounty of fresh Seafood and bring it to the table. So, throughout my marriage, I have joined cousins on their fishing boats and journeyed into the cold waters in search of the fruits below.
However, all that beautiful abundance of fresh Seafood does present a problem when you're back in the prairies, and "fresh seafood" holds an entirely different meaning. It's also costly, so finding something that fits the budget and satisfies the taste buds is a challenge. This recipe does both.
A butter braised prawn and lemon soaked filling livened up with fresh herbs and wrapped in a pocket of dough that stays soft after being fried makes it impossible to stop at only one. These empanadas will have you coming back for more.
Lemon Butter Prawn and Cilantro Empanadas
Ingredients
For the dough:
4 oz. lard, melted, and cooled to room temp
1 tablespoon salt
1 tablespoon red wine vinegar
6 cups all-purpose flour
2 cups lukewarm water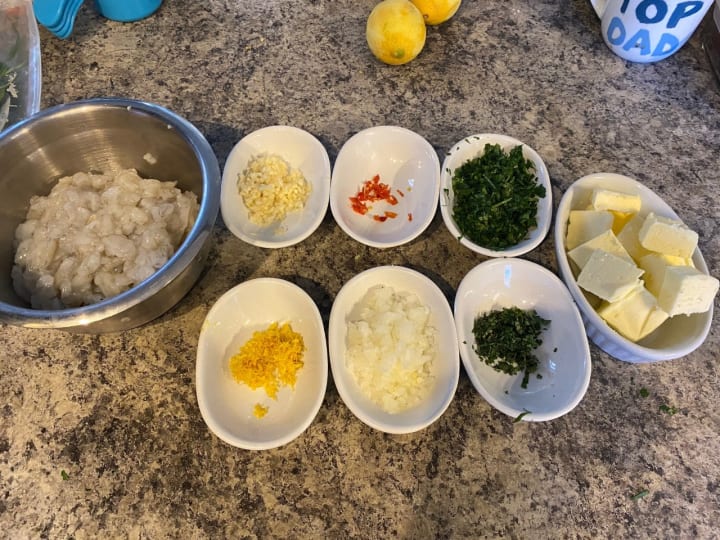 For the filling:
1 lb of shrimp, preferably with shells on (heads on is even better), will give you about two dozen empanadas
¼ cup olive oil
¼ cup salted butter
1 small-medium onion, finely diced
4–5 garlic cloves, finely diced
2 tablespoons finely chopped cilantro
1 tablespoon finely chopped basil (Thai Basil, if available, is even better)
1–2 teaspoons of finely grated lemon zest
1/3 cup dry white wine
½ teaspoon of hot red pepper, finely chopped
6 tablespoons of cold, unsalted butter, cut into cubes
Oil for frying
Method.
For the dough.
In a large bowl, combine the melted lard, vinegar, and 2 cups of lukewarm water.
Gradually add the 6 cups of flour, one cup at a time, while mixing with a solid wooden spoon or by hand until you have a lumpy, damp dough formed.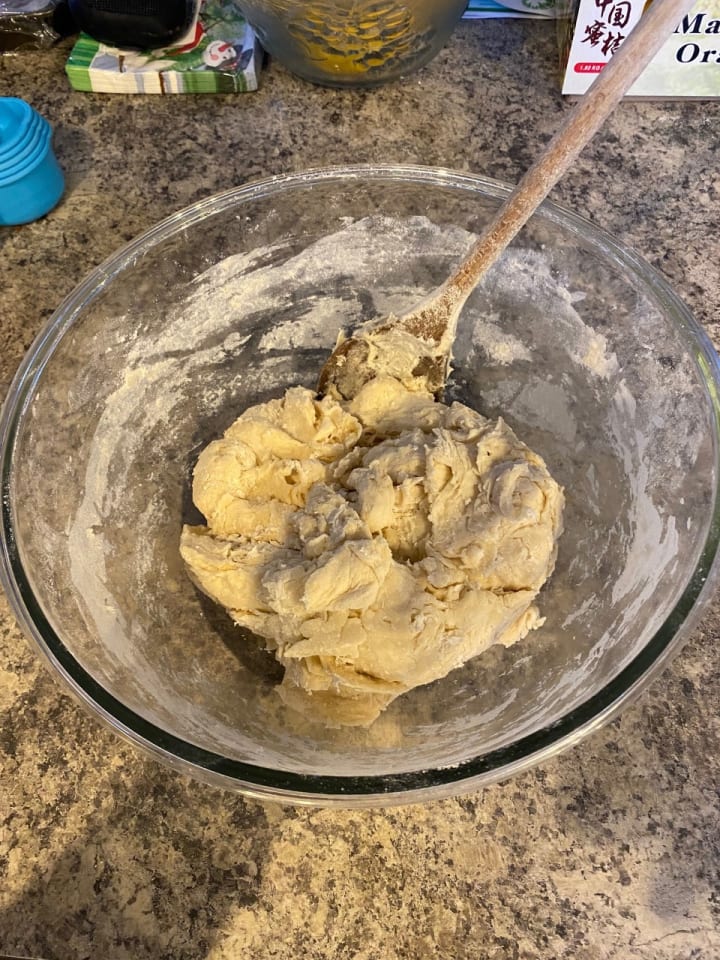 Working on a lightly floured surface, knead and dust with flour until the dough turns smooth with no dry spots left.
Wrap in plastic wrap and chill for a couple of hours.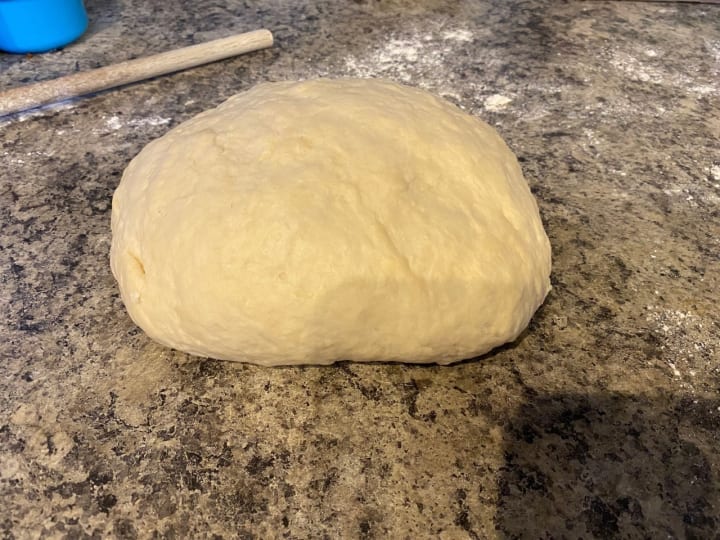 For the filling.
Shell, devein and clean the prawns, reserve the shells (and heads if using whole prawns). Set prawns aside.
In a large saucepan, add 2 tablespoons of olive oil and the ¼ cup of butter, warming until the butter melts.
Add in the prawn shells and cook. Using a potato masher or wooden spoon, occasionally press down on the shells while cooking.
Cook until all the shells turn pink/orange and the bottom of the pan begins to brown. This should take about 3–4 minutes.
Add the wine cook until the liquid is reduced by half. Then add about 2/3 cup water. Cook at a simmer until the broth is reduced by a third.
Pass through a fine-mesh sieve and set aside.
Chef's Tip; On the rare occasions that we indulge in lobster, crab, or prawns, I always keep the shells, storing them in freezer bags and tucked in the deep freeze for any occasion I need a good seafood stock. The method for making the stock is the same as described. You can never go wrong with a robust stock.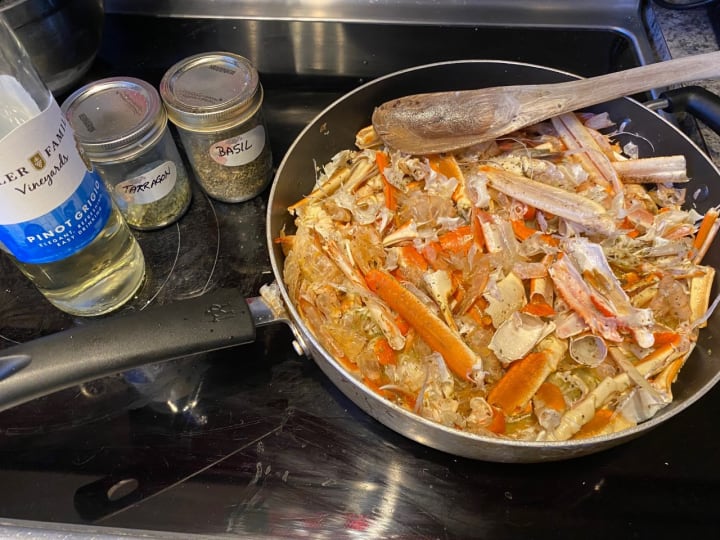 Add the remaining portion of olive oil to the same pan and bring the pan to medium heat.
Add the onion and sweat until translucent. Add garlic and cook until softened.
Add in the prawn stock and the raw prawns. Stirring occasionally, cook until the shrimp have been cooked through. Remove from heat.
Add the cubed butter, cilantro, basil, lemon zest, and hot red pepper to the cooked prawns. Taste and adjust seasoning with salt and pepper.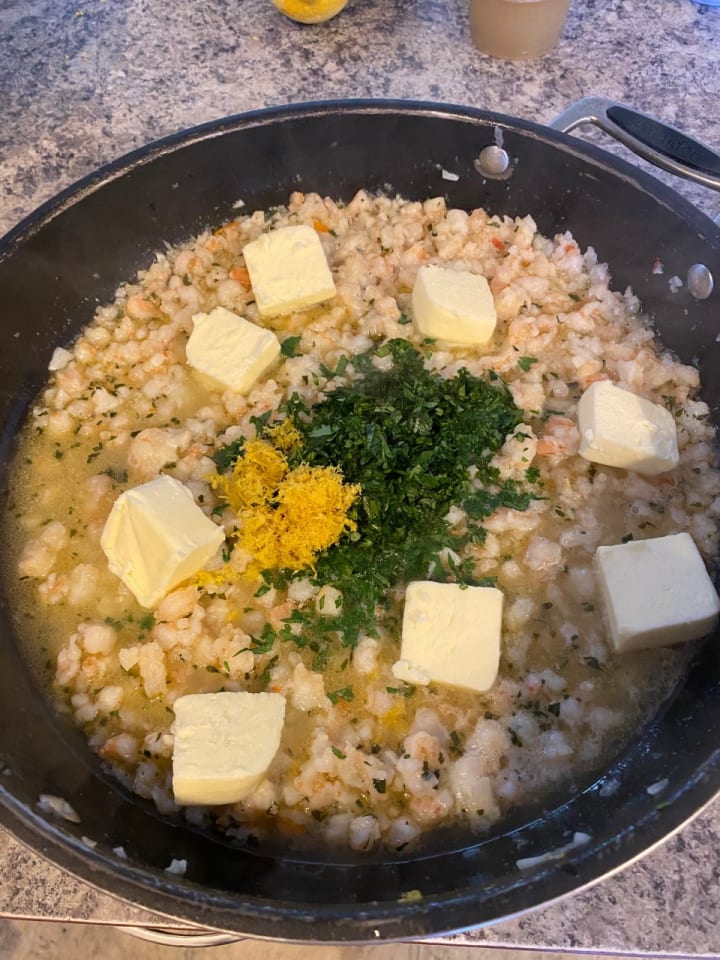 Transfer to a bowl and place in refrigerator to cool for about an hour before moving to fill the pastry.
For the Empanadas.
Remove the dough from the fridge and divide it into 6 equal pieces. Work with one portion at a time, leaving the rest covered with plastic wrap or a dry towel.
Roll out the dough in a round approximately 14" and to about 1/16" thickness-about the thickness of two stacked quarters.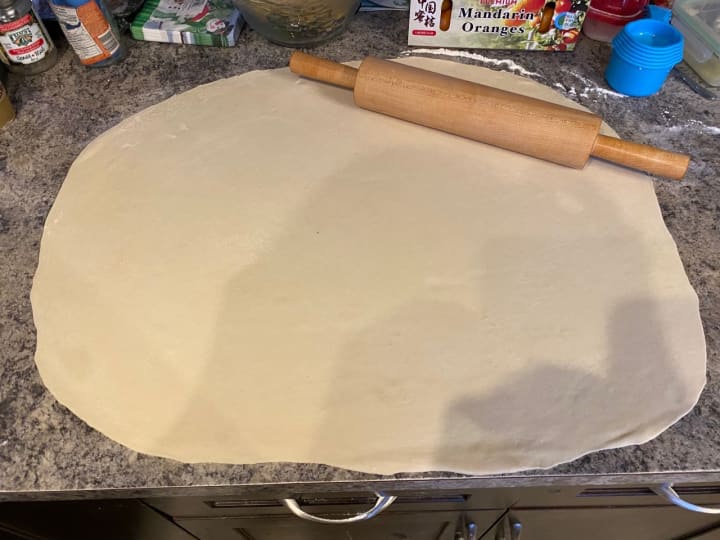 Using a round cutter, cut out 6 rounds from each dough portion. Gather the scraps into a mass that you will add to with each repetition of cutting the dough circles.
Chef's Tip; This dough isn't conducive to being over kneaded and worked over. You can use the scraps for one more dough ball and roll for circles. After that, you will find the dough becomes too elastic and stiff.
With your empanada circles all cut and ready to go, remove the prawn filling and mix gently with a spoon.
Place 1 tablespoon of filling into the center of a dough circle and brush water halfway around each circle (I use my finger dipped into a ready bowl of lukewarm water.) Fold the dry side of the dough over and onto the wet. Using a fork, press and crimp the edges together for the seal.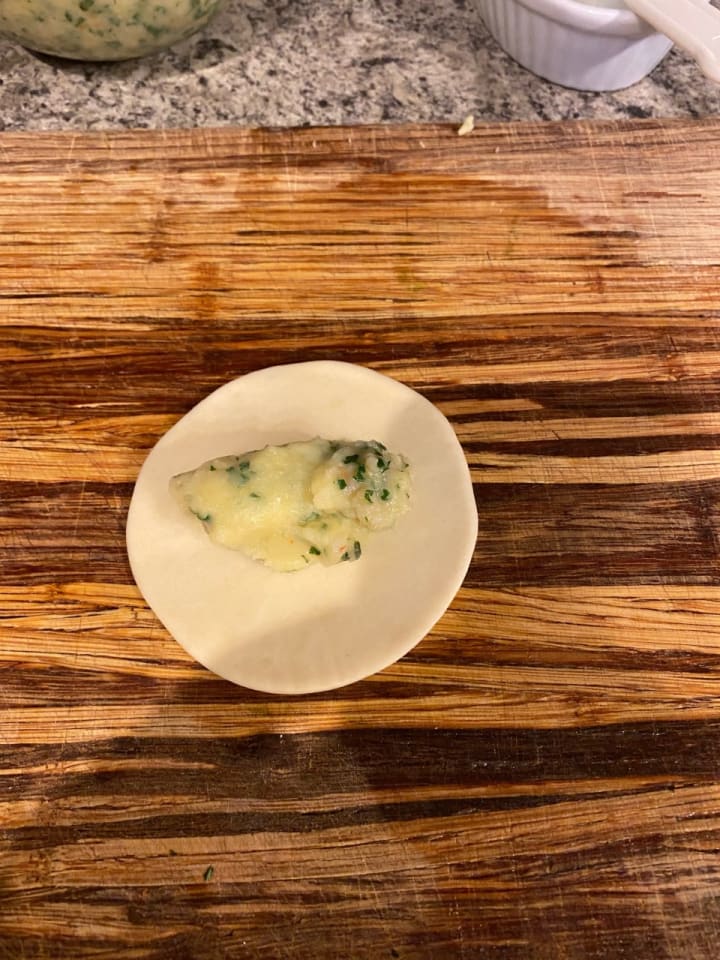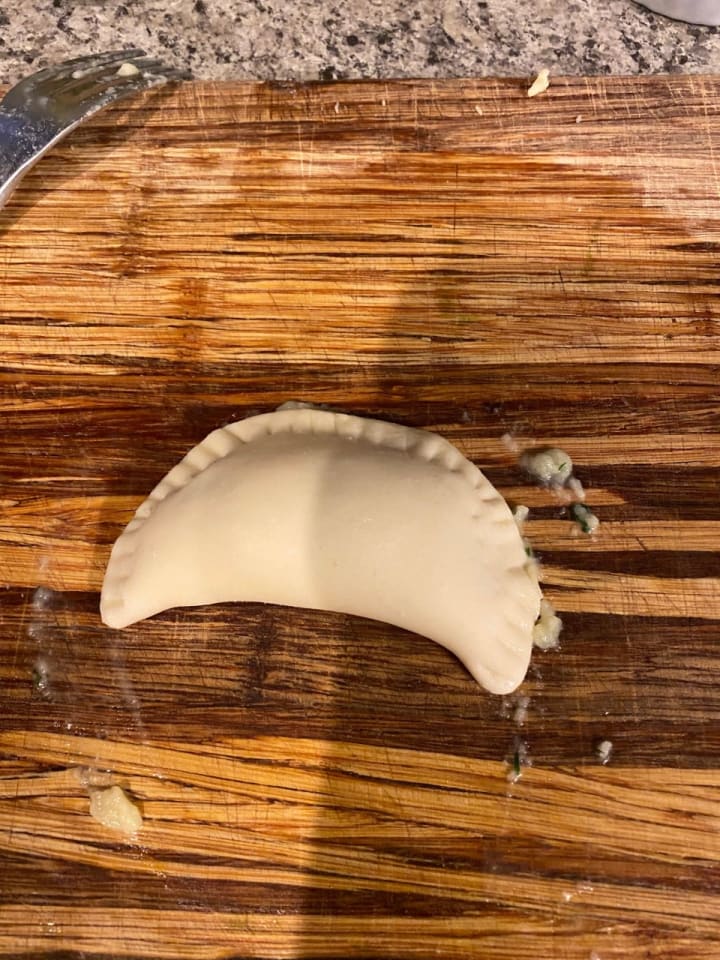 Transfer each filled empanada to a parchment paper-lined baking sheet. When you have filled all your empanadas, transfer the baking sheet to the fridge to chill the empanadas for approximately 20–30 minutes.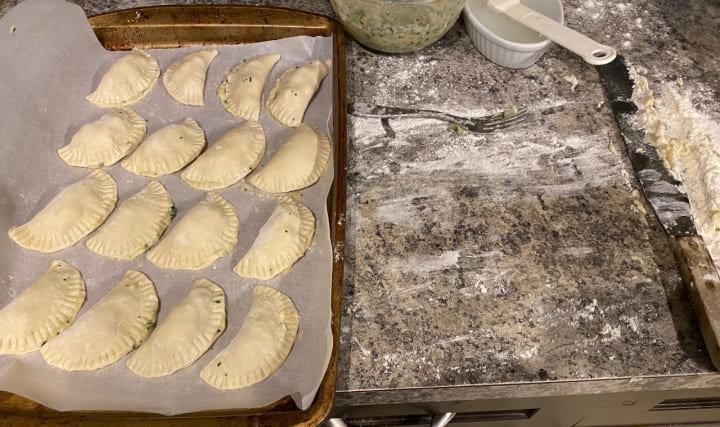 Ready a deep saucepan with vegetable oil for frying.
Heat the oil to 350°f.
Working in batches, gently add the empanadas a few a time and fry until they reach a deep, golden brown. Transfer the fried empanadas to a paper towel-lined tray.
Chef's Tip; It's good to have a thermometer handy to keep the temperature of your frying oil at 350°f. Too hot and they will brown too much and too cool will have dough become "wet" before being able to fry properly.
That's it! Now you have a tray of warm and delicious empanadas to be enjoyed.
These are also fantastic to toss in the microwave the next day for a short blast to heat them and enjoy as an easy snack.
If you have the means and desire to help support my writing, you can do so here. Everyone needs helps at one time or another and I sincerely appreciate any that comes my way. Click on the link here if you want to buy me a cup of coffee! Thanks in advance!
About the Creator
1st generation Canadian-Hungarian
Father, Fly fisher, Chef, Reader, Leader, and working on writer.
Feedback appreciated anytime. Tips always appreciated.
Reader insights
Be the first to share your insights about this piece.
Add your insights