Layering it on a Sunday With Lasagna
It's all about the layers, layers, and more layers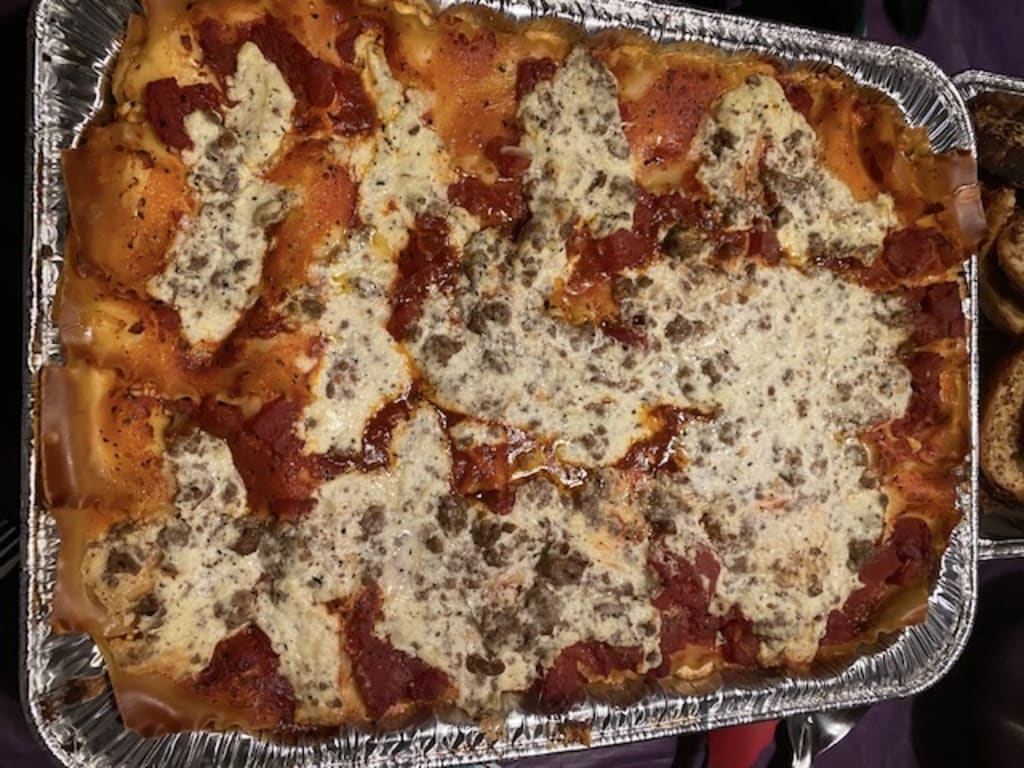 Photo of Sunday Lasagna by Author
I grew up during a time when Sundays were always considered pasta day. It didn't matter what type of pasta or sauce; it was just a fact of life that Sunday was pasta day.
Now don't get me wrong, there were other days during the week when we had pasta, but it was never a for sure thing, but on a Sunday, no matter what month or season, you could rest assured we were having pasta of some kind.
Served along with the pasta was a salad, fresh bread, and sometimes the surprise would be a roast after eating all of that. Usually, the roast came out a couple of hours later, more towards dinner time, but it all depended on the mood and how hungry everyone was.
The one pasta I truly enjoyed having on a Sunday was lasagna. I mean, who doesn't love lasagna, but there's something about lasagna on a Sunday that can't be beaten.
When I was younger, before I started to cook for the family, my grandmother was the cook, and she made the best lasagna I had ever had in my short life then.
I looked forward to those Sundays and my grandmother working hard in the kitchen to cook the pasta, the sauce, the ricotta cheese, and the meat that would go between the layers of lasagna pasta—layer after layer of wonderful fixings.
I never realized how hard it was to make my grandmother's lasagna until she taught me and I had to cook for the family later in life. Now I feel bad for always asking for lasagna when she would ask me what type of pasta did I want on a Sunday. Without fail, my vote was for lasagna. I would sometimes get overridden by my grandfather, who would ask for gnocchi, but most Sundays, I won.
I will admit a Sunday meal made of my grandmother's pork sauce along with some homemade gnocchi was great, but in those days, I would be put to work making the gnocchi and what kid wants to work for a Sunday dinner.
Let's get back to the lasagna.
What made my grandmother's lasagna different from all the others, including my Mom's and aunts and uncles, was how she prepared the ricotta cheese. This little secret stayed with her and me for years. Yes, I was the favorite grandson, or I wanted to believe I was. It had to do with many factors like living there most of the year, being diagnosed with polio and multiple surgeries, and my love for cooking.
The secret is non longer a secret since over the years after her death, whenever I would prepare the lasagna, many of the family would invade the kitchen to see just how I made it. They all wanted to secret my grandmother left with me.
Now that the recipe is well known in my family, I'm here to share it with you and hope you try it and enjoy this little secret that will bring your next lasagna up a considerable notch.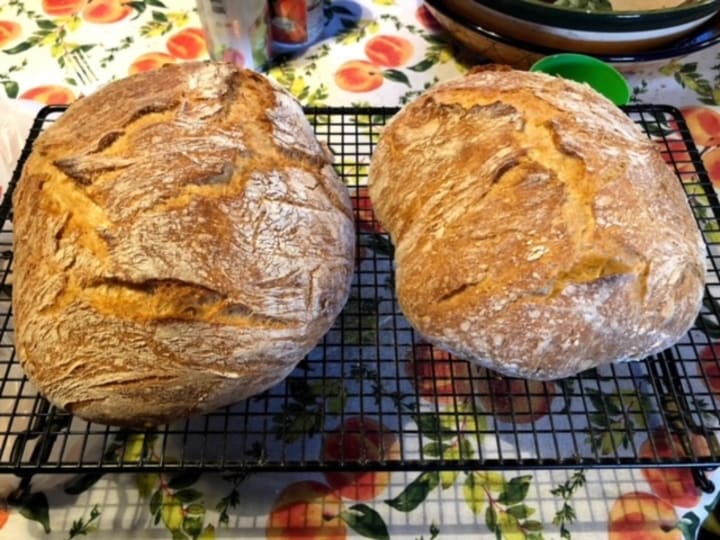 I'm not going to ask you to make your ricotta, even though that's what my grandmother did. It's a lot of work and takes time and patience. I've done it in the past, and to this day will still buy whole milk ricotta before making my own. Lazy yes. Plus, I don't know if I could make it as good as my grandmother, so off to the store for the cheese.
Once you get the ricotta, no matter what brand you buy, as long as it is whole milk, drain it as best as you can. Using cheesecloth is usually the best way, so you can wring it out if you need to.
Once you get it, as try as possible, place it in a bowl. At this point, it won't hurt to break it up with a large metal spoon, so it's ready for the next step.
Grab some fresh parsley or even dry, chop it up, and throw in a handful for starters. Next comes the basil. Again you can use fresh or dry, whatever you have in the house. Chop up if fresh, about half a handful, and less if you have dried. Remember, dried spices have more to them in taste, so you use less.
Now add a pinch or two of salt and grind some pepper into the cheese. As for pepper, not too much, but you want flavor, so don't be afraid. Also, it depends on how much you love pepper. Remember your guests, though.
Salt, of course, is a matter of taste also, so this is a great time to taste everything after a bit of mixing since you'll be adding eggs very soon.
A note on measurements. If you've read some of my other articles here on Vocal, you will know I'm not one for measuring with spoons or any measuring device, and my measuring is all by sight, smell, and taste. The senses are a wonderful thing, and when cooking, they should be used and trusted.
Time for the eggs. You can use one, two, or three depending on the amount of ricotta you have ready. I've used up to four one time, but to be truthful, it was a little too much, so I think three is about the max for a single lasagna. Of course, if you're making a dozen for Christmas gifts as I did one year, you'll find each lasagna will need two each at least. So that's the only time when you'll use more than four.
The Secret Part
Not everyone will like this, and I understand, but the flavor you get from this little extra thing is intense, especially if you're not a fan of ricotta cheese. I mean, some people throw the ricotta in the lasagna untouched, and I can't imagine that, but I've seen it and tasted it like that, and if it weren't for the sauce, it would be a bland lasagna.
Get yourself a pan and drizzle in about 2-3 tablespoons of extra virgin olive oil. Next, chop up about 2-3 cloves of garlic or more if you like garlic as I do. I tend to chop 3-4 cloves, but it's up to your taste.
Sauteé the garlic until it's translucent. If you want, you can add a little basil, rosemary, thyme, or a blend of Italian spices right now to add more flavor to the oil and the cheese, which you will pour that satueé garlic oil mixture into.
Once poured into the ricotta, it's time to mix. Mix your cheese well, and now you can even throw in some shredded mozzarella. Yes, the shredded kind, so it blends in with the cheese and looks all stringy when you cut the lasagna.
Now your cheese is ready to be layered into your lasagna. But wait, it's time for the meat. Don't forget the meat, and there's a little secret to that also.
The type of meat you use is, of course, up to you. I tend to use ground beef and sausage mixture. My grandmother would use ground beef, veal, and sausage, all fresh from the farm, and my grandfather's butcher shop in the barn.
The meat needs seasoning also, like the cheese. Here is where you can get creative. Use spices you feel will enhance the aroma and taste of your lasagna—herbs like basil, rosemary, thyme, Italian seasoning blend, salt, and pepper to start.
In the same pan you used to sauteé your oil and garlic for the cheese, do the same for the meat. The only thing extra in the meat is to add red pepper flakes. It isn't mandatory, but it does give the lasagna the kick it needs to go over the top with flavor.
Just brown your meat mixture, but remember not to overcook it since it will cook when you layer it in the lasagna. Everything will cook inside your lasagna, so no worries about how much you cook the meat.
Now it's time to layer. How many layers is enough, too much or too little? If you ask me, I go by the pan I'm using. I like lots of layers, which means mixing more meat and cheese, but I want a great dining experience, and anything less than three layers isn't on the menu.
I figure go big or go bust. Four or more layers are perfect, with the top layer having fresh mozzarella sliced and covering the top.
As for the sauce, that's for another post or go with your favorite sauce.
As always,
Buon Apetito
recipe
Family comes first. I love to cook or bake, mainly bread, and sometimes think I'm good at both. I was born in Catania, Sicily, then lived on the east coast for most of my life, till I moved to California.
Receive stories by Mark-John Clifford in

your feed